Visiting White Sands National Park In October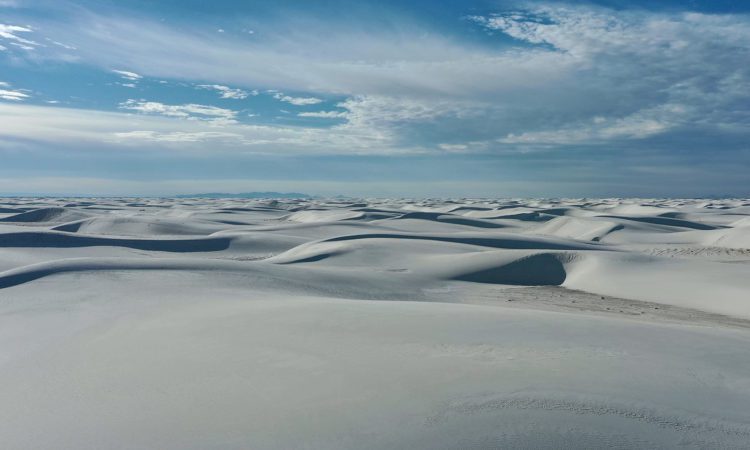 Grounded Life Travel is supported by its audience. When you purchase through links on our site, we may earn an affiliate commission.As an Amazon Associate I earn from qualifying purchases. List of everything we use in our travels.
Cool, crisp air ushers in a promise that Visiting White Sands National Park in October will be a lovely vacation. But is October a good time to visit one of America's most underrated parks?
The kids are back in school and the summer crowds have gone. The temperatures are cooling down and you have some vacation time to kill. This is a perfect time to go to one of the best natural playgrounds a kid or an adult can visit in America. Cooler temperatures mean dune sledding, hiking and biking will be more pleasant, and you'll get to do it all with less people around. Don't we all long for a little privacy on our vacations? You'll get it here while visiting White Sands National Park in October.
Is it worth going to White Sands National Park?
Let's get the challenge out of the way. White Sands National Park is not really on the way to anything. It is a little remote so it may take some planning and time. But, if you are planning a trip in the Southwest, this stop will be well worth it.
Imagine dune sledding through the white hills of the desert, or watching the sunset as you hike one of the five trails the park has to offer. There is so much to do that you will want to build in at least a couple of days into your trip.
The best part is that in October, you don't really have to plan for the weather like you do at other times of the year. The average high in October is 79 degrees Fahrenheit and the average low is 41 degrees. Such pleasant temperatures for any outdoor activity, you have your pick of all that there is to do in the park.
What time of day is best to visit White Sands?
The beauty of visiting White Sands National Park in October is that any time of day is a great time to visit. Get there early and experience the park just after sunrise. Take a hike in solitude or take time to find a spot and practice meditation.
You can also come towards the end of the day and bring a picnic dinner. Dune sled and stay for the grand finale in the form of a sunset you won't soon forget.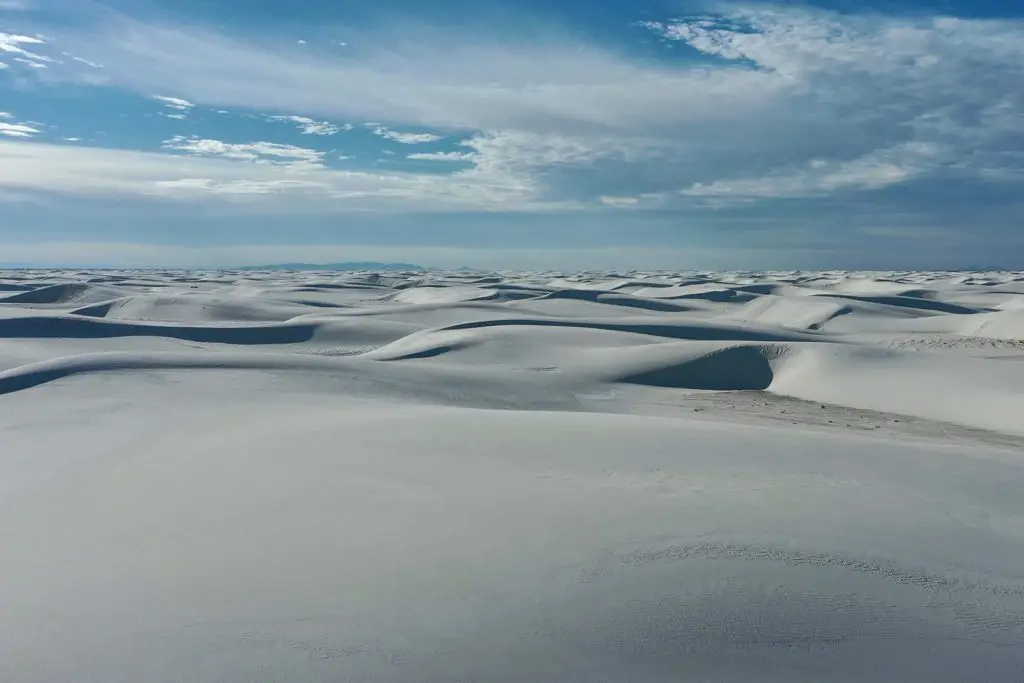 What activities are there to enjoy in White Sands National Park in October?
Dune sledding, hiking and biking are the most popular activities in White Sands National Park. You can rent or buy a saucer sled at the visitor's center and enjoy the dunes.
There are five hiking trails within the park to see the dunes, the animals of the park and the unique plants that reside within the park. Choose from a boardwalk stroll that details interesting facts about the park on your way, or select a more strenuous hike that will take you up and down the dunes so that you can experience the heart of the park.
Biking a fatter tire bike is an interesting way to see the park. The main park road is paved to mile 4, where is then becomes packed gypsum for the next 4 miles. Watch for challenges such as washboard roads or blown sand in the road. But this is an exciting way to see the interior of the park with the wind in your hair. Ensure you have enough time and water to make the trek. The park closes promptly and you don't want to run out of water.
For more help planning your trip to White Sands see our list of the best things to do at White Sands National Park and the best things to do near White Sands National Park. A few other posts that might be helpful are:
Are there any dangerous animals in White Sands National Park in October?
You may think that a desert is a barren wasteland that animals would shun as their chosen home. To the contrary, White Sands National Park is teaming with all kinds of critters large and small. The cooler temperatures will begin to keep certain animals hidden during October. But, on warmer days you will see more life in the park.
Keep your eyes peeled for one of the 220 recorded species of birds in the park, or you may get lucky and see one of the many snakes that call the park home. Bobcats, porcupines, rabbits, coyotes and foxes are just a few of the mammals that you might see while visiting White Sands National Park in October.
Invertebrates take the cake though as the most prominent life form in the park, with over 600 species crawling on the ground and flying through the air. On a moon-filled night watch for beautiful moths or skittering spiders across the desert floor.
Don't worry, the only things that can kill you are more scared of you than you may realize and they stay hidden during the day. There are three species of rattlesnakes that call the park home. You will be very lucky if you see them during the day as they are nocturnal and do most of their hunting at night. I wouldn't go sticking my hand in a skunkbush though, as a rattlesnake may be calling it his home.
Can I see the Milky Way at White Sands National Park?
The park is not open 24 hours a day like some national parks in the system. In October the park closes at 8pm. This is around the time that the stars become visible. Therefore, you will want to make sure you have a special use permit obtained by the Visitor's Center during their operational hours.
When you have this permit you can enjoy the Milky Way as it will be visible after sunset. In 2019, White Sands National Park was certified as an International Dark Sky Park, which means it's perfect for stargazing. Bring all of your night photography equipment or just enjoy the show in quiet contemplation.
You can also take advantage of the two remaining full moon nights that will occur in October. The park will extend their hours and you can stay and see how the park changes under the light of the full moon. This is a unique experience that not many people get to enjoy. It might even be worth scheduling your trip around.
Can I camp in White Sands National Park in October?
Camping in White Sands National Park can be the perfect way to see the Milky Way at night, and experience the isolation and quiet that you may be craving on your vacation. October is a great time to camp, because the temperatures will be cool but pleasant. As long as you pack accordingly, you should be very comfortable while camping in October.
Make sure you pack a backpack and obtain your permit from the visitor's center in order to camp. You will have to take the Backcountry Trail, which is a two mile trail, in order to get to the marked campsites provided in the park. Ensure that you set up your camp within five feet of the campsite marker and pack out any waste or trash that is produced during your stay.
Are there any special closures in the park in October?
You may be surprised to learn that White Sands National Park is located within the White Sands Missile Range operated by the United States Army. Therefore, there could be scheduled closures of the park so that the Army can conduct missile testing.
These scheduled closures are usually scheduled three months in advanced and will not last any longer than three hours. Notice will be given to the park rangers in White Sands. To ensure that closures don't effect your visit, you should call the park and check to see if there are any missile closures scheduled during your trip.
White Sands National Park can be a great destination in the Southwest anytime of year, but October will give you everything you want in the way comfort and enjoyment. Schedule a time to visit this amazing part of the Southwest and make the memories that you crave on your vacation.