Grounded Life Travel is supported by its audience. When you purchase through links on our site, we may earn an affiliate commission.As an Amazon Associate I earn from qualifying purchases. List of everything we use in our travels.
I want to share the top 5 Instagram spots in Bucharest. There are so many great spots but these 5 locations take the cake. I will share directions and where the best spot is to snap the ultimate travel photo. These are all great spots, so I did not rank them, they are in the order I visited them.
Pizza Colosseum
Pizza Colosseum is an obvious choice for your Instagram pic. Walk over to Calea Victoriei, pasaj. You will see a mannequin dressed in lederhosen just outside the alley. When you turn the corner you will immediately see the umbrellas up top. Walk past the tables and the plastic tunnel for the best spot to take your pic. It was not very busy when we arrived so we were able to take our time with our pictures. If you don't have a professional photographer traveling with you, like I do, you can use the portrait mode on your phone for a nicer looking photo. If you search Instagram you will find that this is certainly one the top 5 Instagram spots in Bucharest.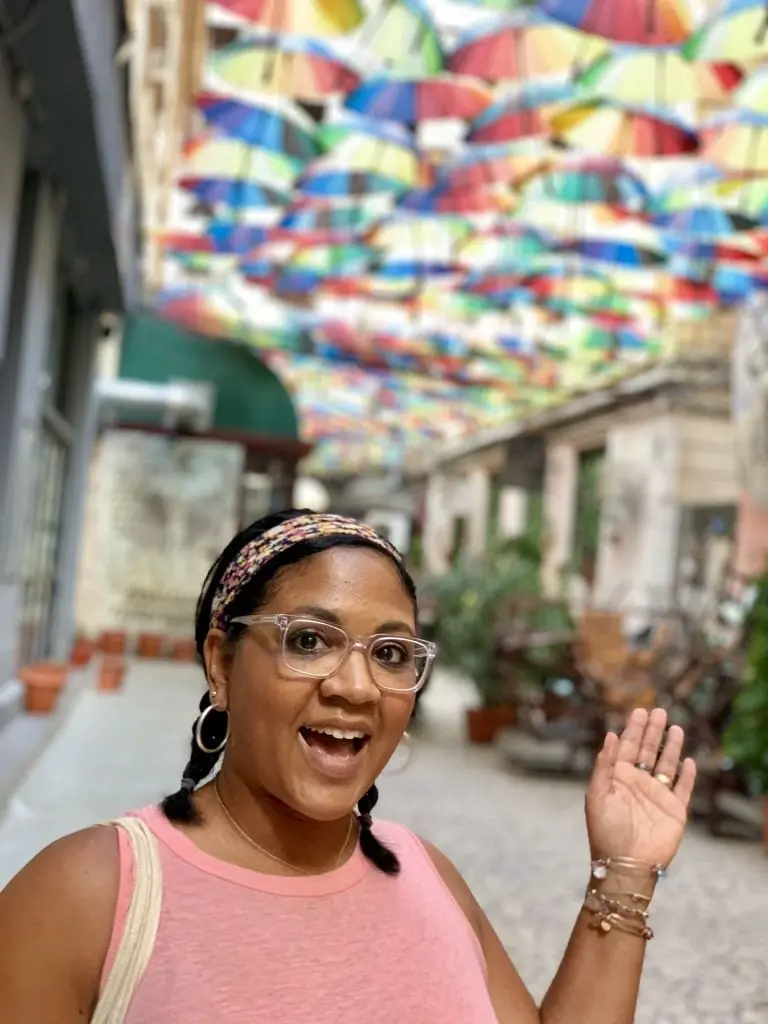 Emilia Cremeria
You might recall Emilia's was also one of our top dessert shops. This shop is on Strada Franceza in Old Town. Grab your ice cream cone and head outside for a photo shoot with your cone. I got lucky and there was a Vespa scooter outside, which you can see in the background of my pic. The best part about this location is you can also enjoy this delicious treat after you are done with your pics.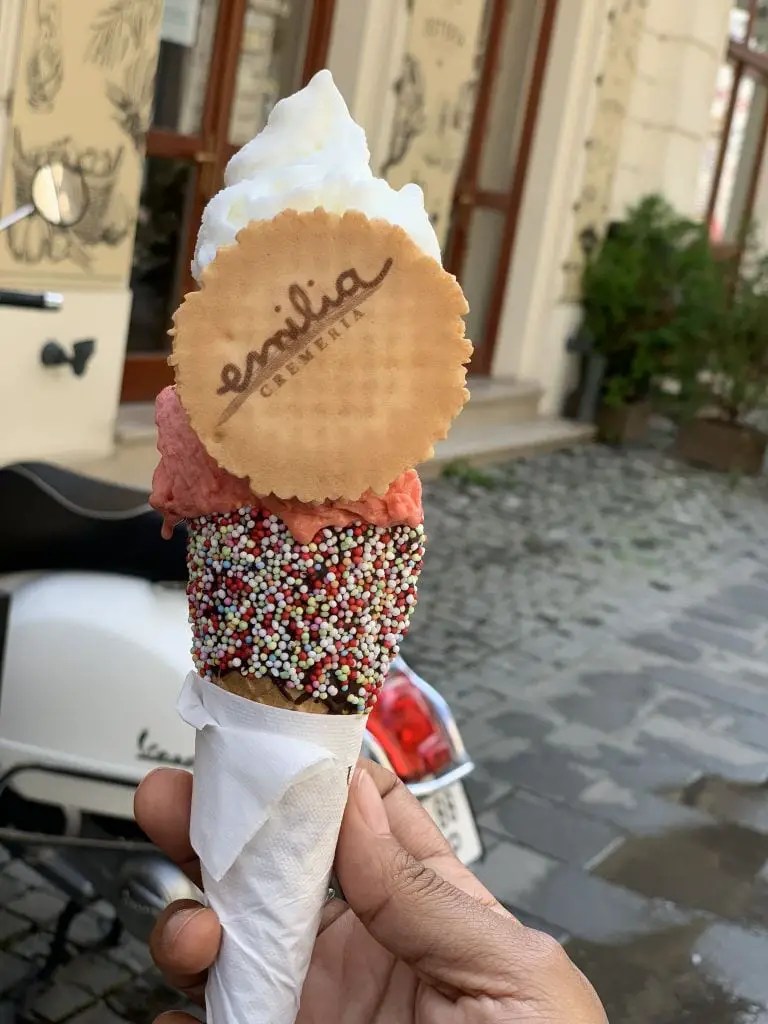 Macca Villacrosse Passage
This place is a true hidden gem. I walked past it several days before I realized this was the spot. It is located on Pasajul Macca next to the old national bank building. Watch the YouTube video so you can see what the entrance looks like. This place reminded me of walking inside the Venetian Hotel in Las Vegas. If you go during the day time you will have the best chance for very few people in your pic. If you want lots of people in the background of your pic then I suggest you go at night when the hookah lounges and restaurants are packed with people. This is certainly another top 5 Instagram spots in Bucharest.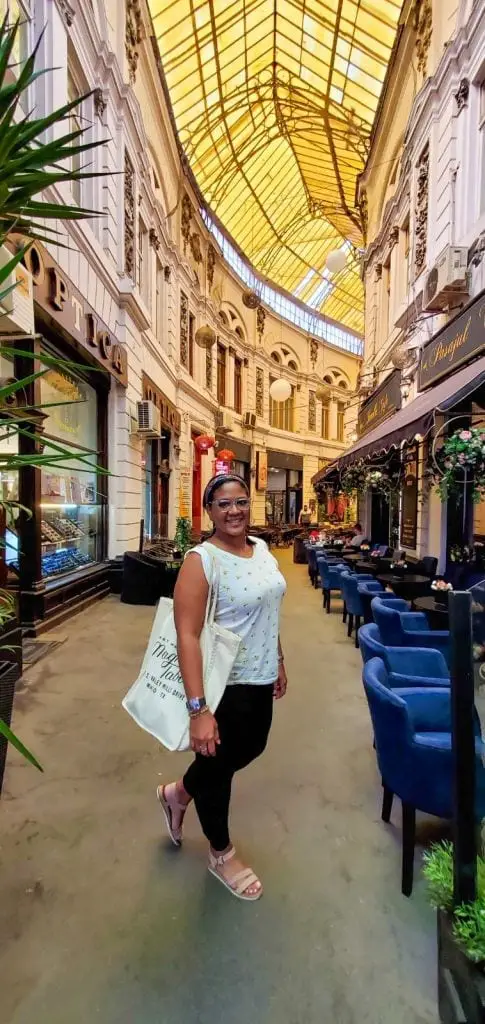 Carousel Carturesti
This is probably the most popular of the top 5 Instagram spots in Bucharest. It was the only place we had to wait to get a pic. This adorable bookstore is located on Strada Lipscani 55, just down the from the Starbucks (there are 2 in Old Town). When you walk into the bookstore you will see a staircase on the right, go past it to the second spiral staircase (on the left). That is where you will want to take your pic. Have your photographer stand on the same level across the bookstore for the best pic.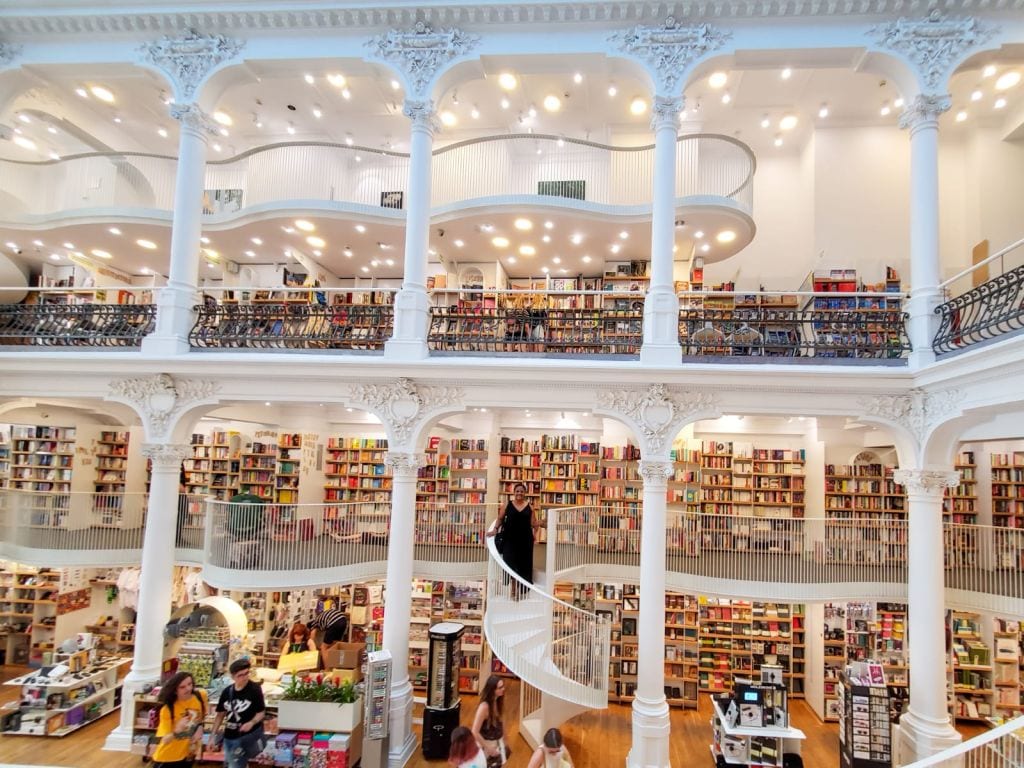 Romanian Athenaeum
My last stop in search of the top 5 Instagram spots in Bucharest was the Romanian Athenaeum. It takes up most of Strada Benjamin Franklin 1-3 in Revolution Square. This place was breathtaking. Many people say all you have to do is bribe the guard but you don't. It's a legitimate system. You walk into the entrance on the far right side of the building (if facing the building). Pay the guard 10 lei, which is $2.50USD, they will give you a ticket. You take your ticket to the next guard who tells you, in Romanian, don't use flash and tells you which staircase to use to see the Big Hall. This place was amazing, I was shocked to see very few people here. We loved this place!! Here is a short video tour.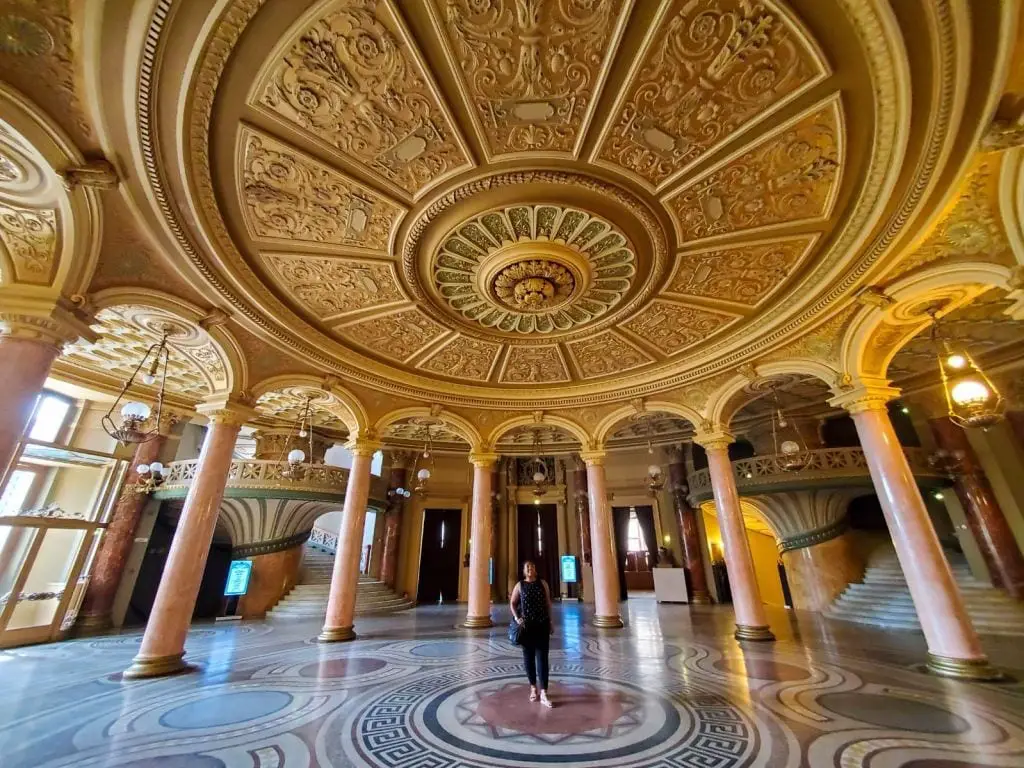 Top 5 Instagram spots in Bucharest
Our journey to find the top 5 Instagram spots in Bucharest was fun. We were rewarded, not only with great photographs but we also got to enjoy some sweet treats along the way. We hope this guide helps you get the best pics when you are in Bucharest. Bucharest is amazing, we enjoyed our stay here and we hope you do too.
Tags :
bucharest
carousel carturestil
emilia cremeria
macca villacrosse passage
old town bucharest
pizza colosseum
romania
romanian athenaeum