Shibuya Station In Tokyo, Japan: A Complete Guide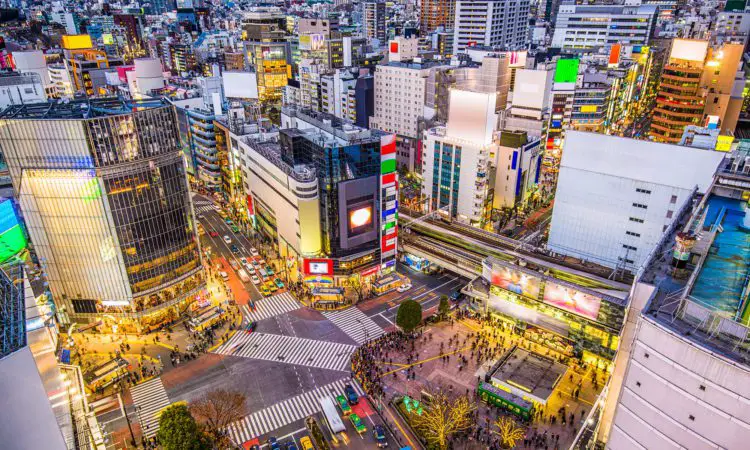 Grounded Life Travel is supported by its audience. When you purchase through links on our site, we may earn an affiliate commission.As an Amazon Associate I earn from qualifying purchases. List of everything we use in our travels.
Where can you find a 64 foot robot, one of the world's largest cuckoo clocks and fish that were bred in outer space? Tokyo, Japan is just one of those places that continues to amaze, inspire and entertain. With cutting edge technology and creativity, Tokyo is a must see before you die!
There's so much to see and do here, that you must carefully craft an itinerary that maximizes the time you have allowed. Ensure you get in a healthy dose of museums, like the Tokyo National Museum, where you'll get the opportunity to see over 110,000 art and objects of antiquity from Japan and all over Asia. Get outside and enjoy the warm Tokyo sun when you ride around Yoyogi Park. After, explore the hip Harajuku neighborhood and grab a bite to eat on Takeshita Street where amazing street-side food and desserts abound.
Once you've satisfied your Tokyo curiosities, hop on a train and explore more of Japan by train. Shibuya Station is the best place to start your next phase of adventuring.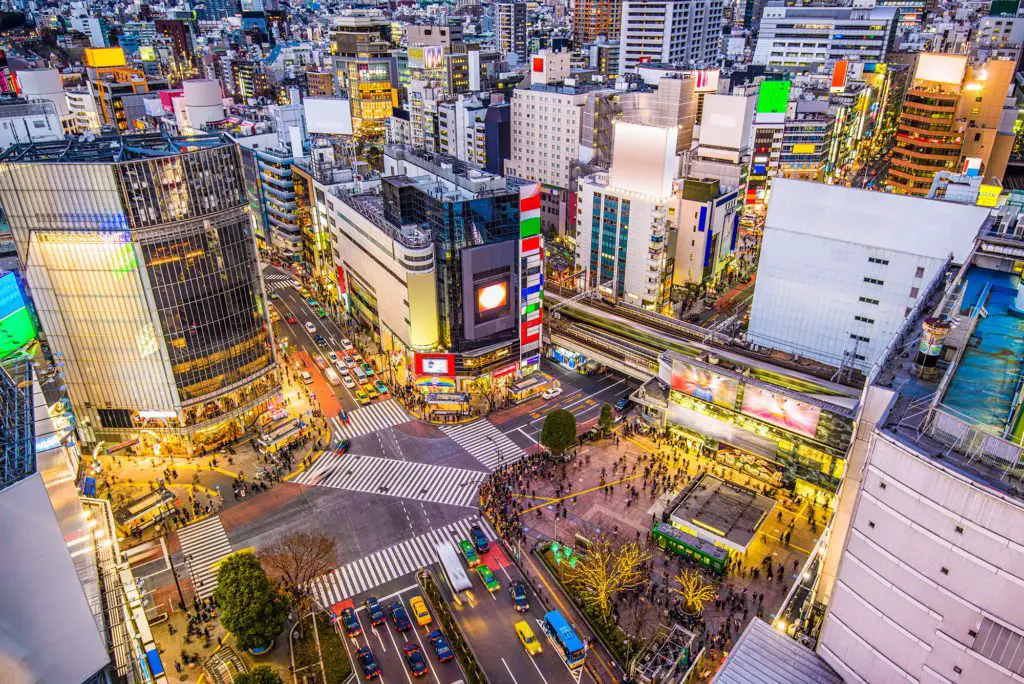 Shibuya Station Overview
This station earns second place as being one of the busiest stations in Japan due to the over 3.6 million passengers that make train travel their chosen mode of transportation daily. However, 2.4 million of those people might be from the famed Shibuya Crossing that you may have seen as one of the busiest pedestrian crossing's in the world. At any given moment there may be up to 3,000 people at a time making their way to the station when the light changes.
While Shinjuku Station serves much of the Western suburbs and surrounding areas of Tokyo, Shibuya Station serves the Eastern portions of Tokyo. Opening in 1885, Shibuya Station has been transporting the masses comfortably and safely ever since. Grab a Japan Rail Pass and you should be able to ride any JR Group trains that run in any stations in Japan, keep traveling by train stress-free and simple.
The Shibuya Ward of Tokyo has elements that are reminiscent of Times Square, in New York City. Marvel at all the city lights, neon and giant video screens for visitors to ensure an amazing selfie. Shop at the twelve floor Tōkyū Hyakkaten, eat at one of the hundreds of restaurants around the station and immerse yourself in the high energy that is emitted from this place so full of life. Next, stop by the famed bronze statue of "Hachiko". This white Akita that met his owner at the train station everyday, even after his death is immortalized in films and books. Pay homage to his likeness after watching the movie to top off your trip to Shibuya. Lastly, book a trip to another city or nearby province to continue exploring the magnificent islands of Japan.
There are five entrances to Shibuya Station. The one you will be entering depends on what part of the Shibuya Ward you are coming from. There is the Hachiko Gate, the Central Gate/Tamagawa Gate, South Gate and the New South Gate. All gates lead to various railway companies that operate several different lines.
Railway Company Railway Lines
JR East Yamanote Line, Saikyo Line, Shonan Shinjuku Line, Narita Express
Keio Electric Railway Inokashira Line
Tokyu Electric Railway Tokyu Den-en-toshi Line and Tokyu Toyoko Line
Tokyo Metro Tokyo Ginza Line, Hanzomon Line, and Fukutoshin Line
The majority of tourists will be entering through the Hachiko Gate, due to the multitude of things to do and see in the area. You will probably want to experience the famous "Scramble Crossing", shop at the famously unique Shibuya 109 and explore the streets of Center Gai.
When entering through the gate that corresponds to your line, the best advice is to put your destination in Google Maps. Following Google Maps, along with the well placed signage, detailing your line and platform is the best tip to get you to where you are going.
How to Buy Tickets at Shibuya Station
Shibuya Station is comprised of four companies that run various train lines through the station. There are ticket kiosks and ticketing booths at each company. However, if you are visiting, chances are you will be wanting to buy a JR Rail Pass that works for many train lines that are popular with tourists. You can buy these online or at the JR Information desk or kiosk in the station.
Where to eat near Shibuya Station
There are so many great places to eat near Shibuya Station, there could be many articles written on the subject. However, the main tourist area outside Hachiko Gates is probably where you'll end up with a hungry tummy, ready to chow. You are in luck, because there are so many places to eat in this bustling part of Tokyo.
Do you need a break from making decisions while traveling? Then, try Pork Vindaloo Taberu Fukudaitoryo. This restaurants keeps the guessing as to what's on the menu, because Pork Vindaloo Taberu Fukudaitoryo is the only thing on the menu. Get a generous plate of , rice, salad, pork vindaloo roux (Japanese curry) and a hard-boiled egg. So good and so satisfying!
Uogashi Nihon-Ichi is the real deal when it comes to sushi. One of the best features of this restaurant is that you can use body language to order by pointing to your favorite and then watch as a highly skilled craftsmen makes it in front of you. Enjoy your nigiri and sashimi as it was intended, in Tokyo.
If you just want a hunk of meat that is charbroiled to perfection like the Americans can only do, head to Whoopi Gold Burger and have a mouthwatering burger named after one of the many famous celebrities. A Sarah Jessica Burger or a Kevin Bacon Burger along with a side of fries will satisfy that craving after the whirlwind of sightseeing.
Where to Stay Near Shibuya Station
This outrageously wild, sensory-overloading, captivating town will steal your heart and your time. You will want to make sure you spend a few days in the area, exploring and documenting your momentous experiences in such a fun-loving city. Therefore, you will need a place to lay your weary head, ready to process the day's excitement.
Try Mustard Hotel Shibuya and stay in the heart of Tokyo and less than .4 miles from Shibuya Station. This stay will be extra special, as the hotel can provide a bike for your transportation enjoyment. A shared kitchen for whipping up a quick lunch and a sun terrace are just two of the special features this hotel provides.
Shibuya Excel Hotel Tokyu is a high rise hotel right in the middle of all the Shibuya Crossing insanity. If you want to always be in the action, this is the place. Only three minutes from the station, you are perfectly poised to enjoy all the shopping, dining and entertainment opportunities that this location endlessly provides. When you get back to the hotel, enjoy incredible evening views of the city, in oversized rooms that have everything you need including a refrigerator.
Sometimes there is an opportunity so rare, that you must take it when it presents itself. Staying in a Ryokan, a Japanese-style house, it a great way to get in touch with the culture and immerse yourself in a full Japanese experience. Try a ryokan in Shibuya and enjoy a Japanese style room with an open air bath and tatami mat. No shoes are allowed, so slide on your provided slippers and experience the secret of relaxation that the Japanese have known for centuries.
How Early Do You Need to Arrive at the Station
Due to the busy nature of this station, you should allow at least 45 minutes to navigate to your platform, keeping in mind you may need to ask for directions if you get to unfamiliar territory. There are also so many great things to experience around the station that you will want to allow time to explore, and of course walk the Shibuya Crossing!
Best Trips from Shibuya Station
Kamakura
This city along the Sagami Bay coast has a little bit of everything that you are looking for in a Japanese holiday. In around an hour you will step off the train into a world of shrines and temples for your exploratory pleasure. You can also get out in nature and hike some of the fabulous trails through bamboo forests that lead you to the famous Giant Buddha. There are also delectable street-side finds if you are hungry to round out the perfect day getaway.
Kawaguchiko
Every traveler to Japan has their sights set on Mt. Fuji before they leave. There is nothing like photographing Lake Kawaguchi with the reflection of the 2 million year old volcano in the distance. Take time to visit onsen (hot spring) and let your body filter through the medicinal, rich minerals that seep from deep within the earth. This stop is jammed pack with nature and opportunities for rejuvenation for the weary traveler, so take advantage to recharge in one of the most beautiful places on the planet.
Taking time to explore the area around Shibuya Station is a must when exploring Tokyo. You can feel the electricity in the air as you walk around such a vibrant, exciting city. When you are ready to recharge, take a short day trip from Shibuya Station into nature and continue your lesson in intimately acquainting yourself with the Japanese culture.