Tokyo Station: A Complete Guide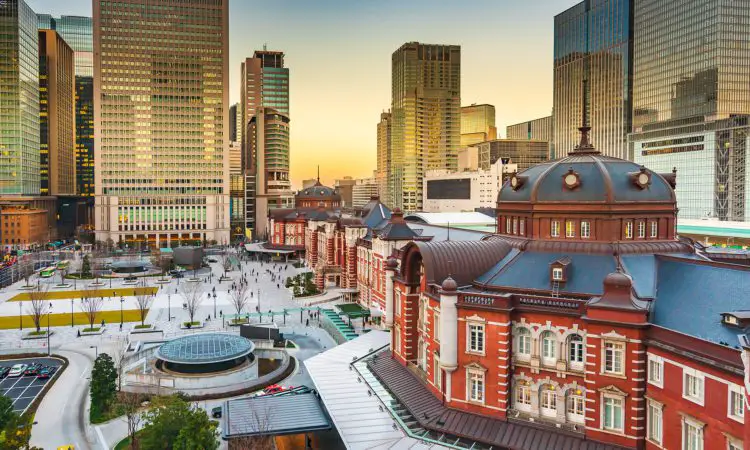 Grounded Life Travel is supported by its audience. When you purchase through links on our site, we may earn an affiliate commission.As an Amazon Associate I earn from qualifying purchases. List of everything we use in our travels.
Once a quaint and sleepy fishing village, Tokyo Japan has grown to include 38 million people living within the metropolitan area. With its unlimited things to do, amazing history and fantastic culinary scene, Tokyo is the perfect place to visit if you are planning a holiday in Japan.
The largest city in the world is fascinating and has some incredible finds for a fabulous time in this "Eastern Capital". Visit the famously beautiful Meiji Jingu Shrine and immerse yourself in Japanese history and religion in the shrine to Emperor Meiji and Empress Shoken right in the middle of Tokyo.
You can also see what the anime craze is all about and visit the insanely popular Studio Ghibli Museum. Hayao Miyazaki's creativity has lent to scores of anime films and short stories. The Studio Ghibli Museum celebrates this and makes for quite an amusing day delving into the world of Japanese anime.
The Tokyo Fish Market is something that every visitor should witness at least once, but you must rise early to get the full effect. Plan to get there at 5 a.m. to see the auctions begin for everything from fresh caviar, to "just off the boat tuna". Maybe you'll get lucky and bear witness to the sale of another $3 million, 600-pound tuna, similar to the one Kiyoshi Kimura paid for in 2021. Now that would be worth getting up for!
See all the sights and experience all the zaniness of this forward thinking, incredible city. Then, plan a trip to another part of Japan starting at Tokyo Station, one of the world's most beautiful train stations on earth.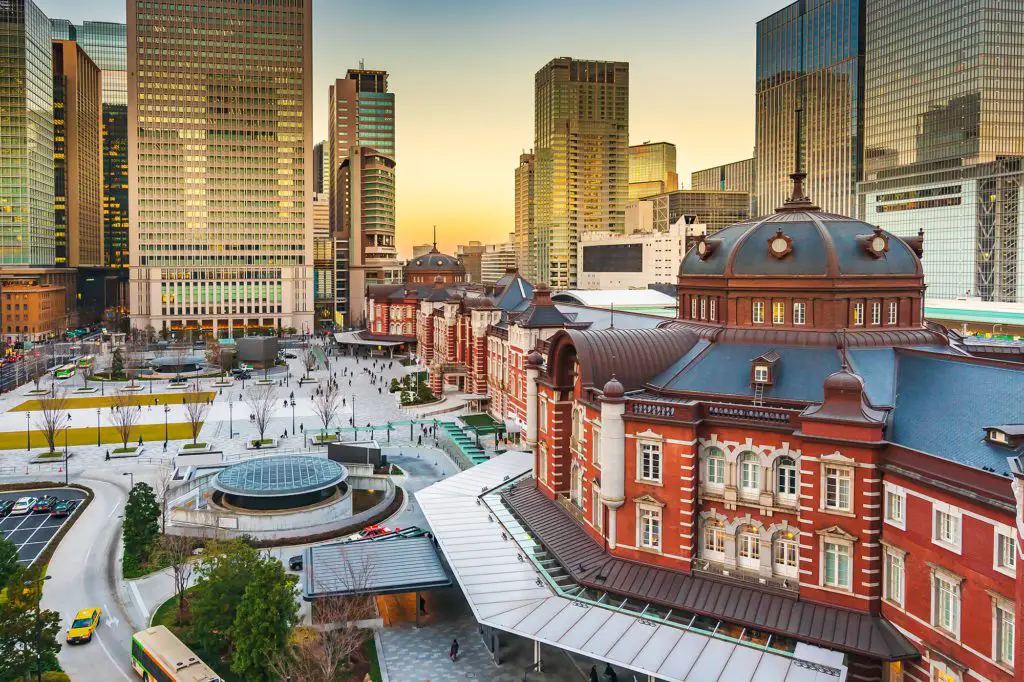 Tokyo Station Overview
Tokyo Station is one of the largest and busiest train stations in the world. With more than 4,000 trains arriving and departing everyday, the hustle and bustle inside the station is an experience you won't soon forget. It took eight years and 900,000 bricks to adorn this station fit for a king, literally. In fact, the front of the station used to be exclusively used by the Imperial Family, while the south dome was used by the more common person.
These days anyone can enter through the front building that was built by the English-educated architect, Kingo Tatsuno. He was so inspired by British architecture, that he created many more important works across Tokyo using this new style of building as seen in the early 20th century in Japan.
Walk into this incredible building and step onto one of the 28 platforms to appreciate the time and resources that went into this treasured landmark of Japan.
The multitude of signage that is placed throughout the station will be your best friend during your visit to Tokyo Station. Each color on the signage corresponds to each separate train line. If you follow the color that matches your train line, you should have no problem getting to your platform.
There are also two main exits, the Yaesu and the Marunouchi exits. The Yaesu Exit on the west side is great for shopping at Daimaru Department Store where you can get anything you need for your visit. Tokyo Character Street is also a must see as it features merchandise and characters from popular anime. On the east side you will see the Marunouchi exit. Here, you will be able to get to the Tokyo Station Hotel and the Imperial Palace with ease.
How to Buy Tickets At Tokyo Station
Ensure that you buy a JR Pass which can get you to anywhere in Tokyo and even beyond. A JR Pass is one ticket that will cut down on the need to buy separate tickets for individual lines keeping confusion in this busy station to a minimum. This also makes traveling more affordable, because you will be paying for one ticket instead of individual tickets per line.
However, you can buy tickets at the ticketing kiosks, as well. Select the amount you would like to spend based on the distance you will be traveling. This ticket will be good to get into the gate for the platform you are headed. Hold onto your ticket, as you will need it to continue your travels when there is a transfer.
Where to Eat Near Tokyo Station
Tokyo Station is full of cafés, sweets parlors, bento shops and bakeries. However, your taste buds and your body might require something a little less hurried and more satisfying. Because Tokyo is considered the "fine dining capital of the world", you will have no problem locating an exquisite restaurant that will give you an amazing experience.
For noodles and dumplings, head to T's Tantan – Gransta Tokyo. If you are looking for the classic Japanese conveyor belt sushi, then Nemuro Hanamaru is the place to be. Ramen is fabulous in Tokyo and it can be found at Ramen Rokurinsha, featuring Tsukemen style ramen.
There are so many other places to eat in and around the station that you may want create a whole other itinerary just based on your gastric choices. Tokyo's culinary scene deserves the attention that your tastebuds are craving.
Where to Stay Near Tokyo Station
Experience accommodations the way architect, Kingo Tatsuno intended. The Tokyo traveler will enjoy the finer things in life the way it was designed for the grand opening of the Tokyo Station Hotel in 1915. Luxurious rooms with that historical feel that you crave on your vacation will be offered in every room. Enjoy The Lobby Lounge for coffee, breakfast or high tea. Then, when it's time to catch your train, walk 380 feet to the station's entrance. Convenient and so elegant.
With affordability as well as accessibility in mind, stay at Hotel Monte Hermana Tokyo and you will be around 1,000 feet from the station so that you can catch your train when the time comes. This hotel is close to so many attractions such as the Imperial Palace, Sensō-ji and the Tokyo Tower. While you sight see by day, enjoy larger rooms, free WiFi and a restaurant onsite by night.
Offering a cigar lounge and a French eatery, this 4-star hotel will feel very luxurious. The Marunouchi Hotel is only 500 feet from the station allowing you to get to your station in no time. This hotel proves that style does not have to be compromised by price.
How Early do you Need to Arrive at Tokyo Station
Because it can take some time to get to your platform, you should arrive 45 minutes to an hour before your train disembarks from the station. Depending on the time of day and how many people may be vying for a spot on your platform, you may want to allow even more time. It is always better to be early and wait for your train, than be late and miss your train.
Best Trips from Tokyo Station
Enoshima
If Tokyo crowds have you yearning for wide open spaces, head to the beach! In just over an hour, you can step off the train and practically onto the sand, fulfilling your need for a little relaxation. Enjoy the history of the shrines, the peace of the parks and beaches and the adventure of the caves. Yes! Enoshima also has caves to explore for the adventurous side in you. Once used for religious practices, these wave-carved caves can be explored, adding something a little different to your vacation.
Takaosan (Mount Takao)
Continuing with the outdoor theme, take a train from Tokyo Station and in one hour you will be at an adventurer's paradise. Mount Takao is beautiful and full of recreational opportunities that are so close to Tokyo. In fact, from the top of the mountain you can see downtown Tokyo and even Mt. Fuji on a clear day. Start at the base of the mountain and take the 90 minute climb to the top. Alternatively, you can take a cable car halfway up the mountain and then continue on by foot. Don't miss Yakuoin, a major temple that is just before the summit. There is also a monkey park, a wild flower garden and some hot springs to soak in, so bring your bathing suit!
Tokyo Station gives the world traveler so many opportunities to explore Japan's diverse landscape, people and culture. Hop on a quick jaunt by train and see a place nearby, or enjoy a weekend away in the mountains. Whatever you do, you are sure to have a memorable experience.