Shinjuku Station in Tokyo, Japan: A Complete Guide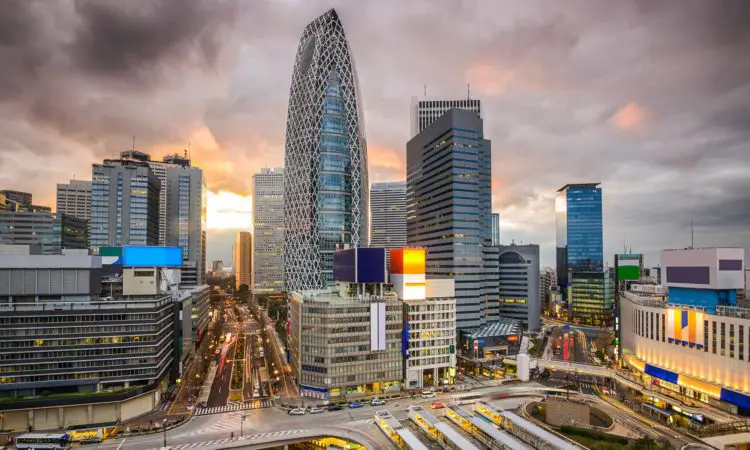 Grounded Life Travel is supported by its audience. When you purchase through links on our site, we may earn an affiliate commission.As an Amazon Associate I earn from qualifying purchases. List of everything we use in our travels.
Japan is one of the most unique places you will ever travel. Its landscape, people and culture are like no other. Starting your tour of Japan in Tokyo, will give you a sense of how special this country is. Bask in a lovely sunset over Mt Fuji, immerse yourself in the peace of the Meiji Jingu shrine or visit the Tokyo Skytree.
You could also get crazy and do things like take a city tour by go-kart, challenge a sumo wrestler or make sushi with an itamae or "sushi chef" at the Tsukiji Fish Market. You could wander the streets of Tokyo for years and never run out of things to do both interesting and outlandish.
However, when it's time to explore another part of Japan, start your trek at Shinjuku Station. It is easy to feel intimidated when you think about entering the busiest train station in the world. Tokyo, Japan is the site of Shinjuku Station where 3.59 million people travel to and from everyday. That is difficult to wrap your brain around. However, this number is so impressive that it has earned this station a spot in the Guinness Book of World Records for the busiest train station on the planet.
Shinjuku Station Overview
Once farmland and a transportation road for samurai warriors heading west, Shinjuku, which means "new lodgings", was a place for these warriors to stop on their trek. The mid 1800's brought the end of feudalism and a new era of modernization. Transportation was a main focus of this new way of thinking and the Shinjuku Station was born in 1885.
With it, the masses came. The area around Shinjuku increased in population drastically. With the influx of people, the station expanded and today consists of over twelve rail lines that run through the station. There are several satellite railway and subway stations that also run through or near Shinjuku Station. The network of train activity is confusing to even the most seasoned Tokyo traveler, yet throngs of people make their way to their destination safely and on time.
The East Japan Railway Company operates the main station a Shinjuku Station and is sometimes known as JR East. Shinjuku Station has over 200 exits and 53 platforms so it is easy to get overwhelmed. The four major access points for the station are the West Gate, East Gate, South Gate and New South Gate. There are underground passageways that run north-south and east-west. There are plenty of signs that will direct you to your platform and get you to where you need to be.
A great place to start to orient yourself is the Tokyo Tourist Information Center located on the south side on Shinjuku Station. You can get any questions answered by helpful agents that can give you directions, exchange currency and store your luggage. You can also get tickets for all sorts of travel here.
How to Buy Tickets at Shinjuku Station
If you are traveling by railway in Japan it is highly recommended that you get a JR Pass and a Tokyo subway ticket. This will save you money as you travel around Tokyo and beyond, as well as cut down on the confusion of buying tickets. The JR East Travel Service Center, located in the New South Gate Exit is a great place to purchase these tickets as well as get other travel information.
You can also purchase tickets at the gate corresponding to the railway line you will be traveling. This Gate Map is great for navigating where your gate ticketing is in the station. As always, it is easy to buy tickets online if you know exactly what line you will be traveling on and where your destination will be. This saves time when you are at the station.
Where to Eat Near Shinjuku Station
Shinjuku Station invites millions of people to its gates everyday. Millions of people have millions of stomachs that need to constantly be filled. Hence, the hundreds of restaurants that surround Shinjuku Station that aim to fill bellies and keep you coming back for more.
With the countless shopping malls, department stores and food halls that are in and around the station, the variety, quantity and quality of food offered is second to none. It is easier to just pick an area that you want to concentrate on in order to decide where to eat.
You can try some of the newest restaurants in the NEWoMan Mall near the South Gate. Your tastebuds can taste anything in the world from pizza at 800 Degrees, to a steakhouse experience at Salon Butcher and Beer.
Go to Lumine and pick from two entire floors of a department store, full of delectable culinary finds and treats. If you want an authentic Japanese meal, go to Komeraku and try their ochazuke of green tea and rice. Top it all off with a yummy dessert from Slappy Cakes.
There's so much for you to literally digest in and around Shinjuku Station that you will have to spend weeks eating your way around the station.
Where to Stay Near Shinjuku Station
The busiest train station in the world definitely has its share of hotels to choose from while you are touring around Shinjuku. There are luxury hotels and economy stays and everything in between.
For a place that will leave you pampered and spoiled, yet has amazing subway access, try the Keio Plaza Hotel Tokyo Premier Grand. Relax on the rooftop pool overlooking the grand view of downtown Tokyo. Later, retreat to your room where you will be treated to Green Tea, bathrobes and slippers and a lounging area to recount the day's events.
For a mid-priced yet comfortable hotel, try the Tokyu Stay Shinjuku. This place is in the middle of it all and is serviced by Shinjuku Station with just a five minute walk. Have you been traveling for days and need clean clothes? You are in luck at this hotel where most units contain a washer and dryer. Buy groceries and enjoy your refrigerator and electric kettle. Sometimes it's great to have the creature comforts of home when you are thousands of miles away.
How Early Do You Need to Arrive at the Station
Because Shinjuku Station is the busiest train station on earth, it's good practice to get there in plenty of time in case anything pops up before you board. Allow at least an hour because crowds, lines and unforeseen events can slow you down, causing stress. This will also give you time to scope the station out, shop a little and grab a coffee for your journey.
Best Trips From Shinjuku Station
Nikko
Imagine speeding at 300 miles per hour on a bullet train towards a land that will show you hiking trails to waterfalls, secluded temple shrines and carvings of tales from childhood. Sounds magical, doesn't it?
Well, in about two hours, you can travel by train along the Romantic Road and step into a mountain town that is mysterious, yet so much fun. See the carved "Three Wise Monkeys" at the Tōshō-gū Shrine, where they will "speak no evil". Then, travel to Lake Chūzen-ji and bask in the spray of the Kegon Waterfall. Stay the night or be back in Tokyo for supper. It's your choice.
Joshinetsu Kogen National Park
Walk among a field of flowers dotted by waterlily laden ponds. Explore among a volcanic region that is increasing in activity and has sprung acidic lakes that are a brilliant blue. Hang out with primates that love nothing more than a soak. Take a soak yourself, in some of the best hot springs in Japan. You will find all of this and more in Joshinetsu Kogen National Park, one of Japan's best places to visit.
Getting to the Joshinetsu Kogen National Park region from Tokyo will take around 3.5 hours. When you get to the city of Nagano, you can take a bus into the park which adds an additional 45 minutes. When you get to the park, you will have your choice of hot springs to soak in at Shima Onsen, or watch monkeys soak in hot springs at Jigokudani Hot Springs. It is a sight to witness a band of snow monkeys enjoying the hot springs in such a beautiful snow laden environment. However, there is so much more to do in the form of snow skiing, hiking and catching the beautiful sights of the mountains.
Your adventures to and from Shinjuku Station will take you to places you only read or dreamed about. Do your research, pick a few places in Japan, and launch a fabulous vacation from Shinjuku Station and ride the rails!