Rocky Mountain National Park Itinerary
Grounded Life Travel is supported by its audience. When you purchase through links on our site, we may earn an affiliate commission.As an Amazon Associate I earn from qualifying purchases. List of everything we use in our travels.
When you want to go to one of the best national parks America has, you need to plan in order to keep the chaos and unknowns to a minimum. Who wants to be stressed on their vacation? Coming up with an itinerary that matches how long you want to stay can be the best thing that you do.
What you want to do on a one-day itinerary will be very different from a three-day plan. Many people that visit follow the three day itinerary to ensure that they are seeing and enjoying the best parts of the park.
You want to get some hiking, sight seeing and relaxing under your belt when you visit. This three- day itinerary will help you accomplish it all.
Day One
Arrive at Estes Park
Estes Park is at the eastern entrance to the park and is considered the Gateway to Rocky Mountain National Park. Here, you will find all the accommodations, restaurants and entertainment that you will need for a fun filled vacation. Get there early and settle in to where you are staying for a bit, then it's time to enter the park.
Entering the park
The park gates are open 365 days a year 24 hours a day, weather permitting. For the purposes of this article we will assume that it is summer and all the trails and roads are free of snow and ice and are fully open.
If you are entering the park between the end of May and Mid October, a Timed Entry Permit will be required to enter the park that you can access by visiting Recreation.gov. A permit reservation costs $2 per vehicle and a daily pass is $25 for one day or $35 for a 7- day pass.
You can pick from two types of permits, Park Access and Park Access+. Park Access will give you access to everything in the park except the Bear Lake Road Corridor. This road includes many hiking trails. Therefore, if you are not a big hiker, you may want to choose this pass.
Park Access + includes everything in the park plus the Bear Lake Road Corridor. This is a must if you are an avid hiker or just want to see the sunrise over Sprague Lake.
This initially seems like a hinderance, but this system has been put into place to curtail crowds during the busy months, resulting in a more enjoyable time in the park.
*Secret tip-If you drive into the park before 5a.m. you don't have to register for a permit. Great if you want to see the sunrise!
Stop at Beaver Meadows Visitors Center
Before entering any national park, it is essential to stop at the visitor center. Here you can peruse museums and collect maps and other literature that will help you navigate the park. You can also find out about ranger programs and even talk with a ranger. You can also get backcountry permits and reserve camping if it is available.
Drive Trail Ridge Road
Once you are in the the park, it's time to explore! Driving Trail Ridge Road is the best way to get a feel for the park and experience the varying terrain that is an adventure in itself. This 48 mile road will take you from the eastern park entrance at Beaver Meadow Visitor Center to the western entrance at Grand Lake. You will begin at 8,231 in elevation and climb to 11,796. You will pass through three distinct ecosystems that are only matched by that of Alaska!
Alpine Visitor Center
The Alpine Visitor Center is at the top of Trail Ridge Road and the highest visitor center in the national park system. Here, the air will be thin and you may have difficulty catching your breath. Go easy and climb the 0.6 mile paved Alpine Ridge Trail to the summit. Experience a 360 degree view of the Never Summer Mountains and all the highest peaks of the park.
Kawuneeche Visitor Center
At this point you will trek down the mountain, over the continental divide towards Grand Lake. Take note of all of the viewpoints and stops along the way so that you can come back later in your trip. The Kawuneeche Visitor Center is a great place to stop to learn about the western side of the park. This side has much history and is a great place to see wildlife. Gather information for your two remaining days.
Grand Lake
Grand Lake is a cousin to Estes Park and is also a great place to stay, eat and amuse yourself. At this point you will be ready for dinner. Pick from a multitude of selections that hug the shores of the largest natural lake in Colorado, Grand Lake. Lakeside dining is what you want after a long drive. Take in the sights of Grand Lake at The Waterfront as you dine on the deck and gaze at the lake and mountain views.
You are now armed with all the information and have oriented yourself for a great fun filled time at Rocky Mountain National Park. Drive the 48 miles back to Estes Park on Trail Ridge Road and be ready to get your heart pumping the next day.
Day Two
Wake up bright and early to see that glorious Rocky Mountain sunrise you've always heard about. This will require getting up VERY early, bit you will be handsomely rewarded.
Catch a Sprague Lake Sunrise
Enter the park and turn onto Bear Lake Road. You will find the Sprague Lake Trailhead about 5.5 miles down. Choose your spot and watch the sun come up as you sip your favorite, "Wake Me up" beverage. After the sun crests, take the short 0.9 mile walk around the lake and take in the scenery bathed in morning light.
Bear Lake Trailhead
Next, it's time to do some real hiking. The Bear Lake Trailhead located off of Bear Lake Road is the springboard for many popular hikes in the park. Take the park shuttle to this spot from the Estes Park Visitor Center or Beaver Meadow Visitor Center to the Bear Lake stop. You can also drive, but getting a parking space can still be tough even with the Timed Entry System in place.
Bear Lake is an easy 0.7 mile loop around a pristine sub-alpine lake that is wheelchair accessible for some of the loop, therefore, a great walk for anyone. The view of Hallett Peak and the Continental Divide surrounded by the fragrance of pine is nothing short of heavenly.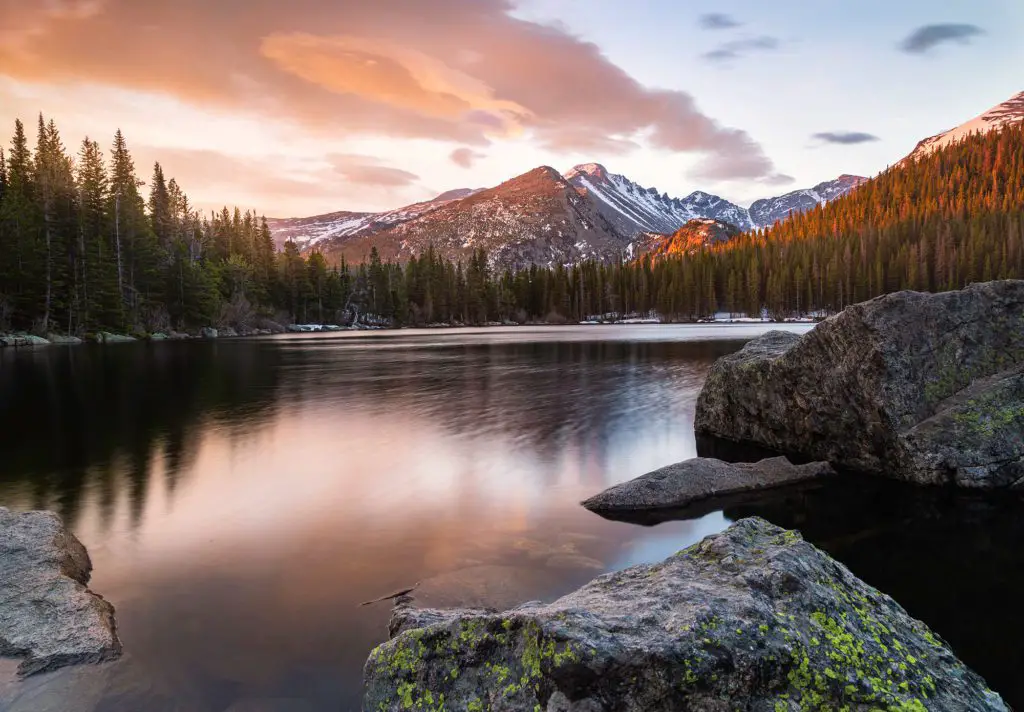 Nymph Lake
Nymph Lake is a 1.8 mile loop that will take you around a gorgeous lake laden with lily pads with views to Hallett Peak and 14,000 foot Long Peak. It is small, but serene and a gorgeous place to come rest.
Dream Lake
Dream Lake is the perfect description of this lake. It is like you have walked into a dream when you reach this alpine beauty. If you were to turn around at Dream Lake and hike back to Bear Lake, you will have traveled 2.2 miles. The surrounding steep cliffs of Hallett Peak give this lake the stunning scenery that is nothing short of magical.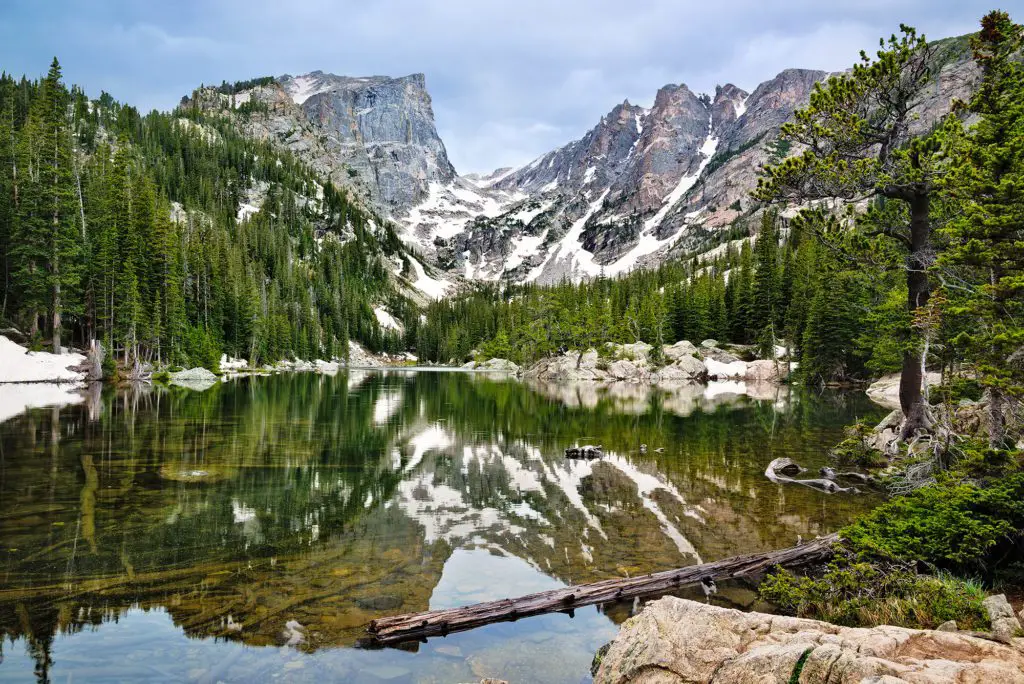 Lake Haiyaha
You will have to work a bit to see this lake, but it will totally worth it. At the trail split near Dream Lake, take the switchback, zig-zagging trail up an incline that will have you huffing, but the scenery will hopefully distract you. Notice the ancient Bristlecone Pines on your way that have been growing for centuries and can get as old as 5,000 years. When you reach the lake you will be at 10,240 feet in elevation. The view to Chaos Canyon between Hallett and Otis Peak with the dazzling blue water in the foreground must be captured not only in your memory, but with your nice camera!
Emerald Lake
At this point, you will back track down the mountain, taking in the bird's eye view of the lakes below, to the trail junction at Dream Lake. Here you will take a left towards Emerald Lake and hike the additional 1.4 miles where Flattop Mountain and Hallett Peak greet you behind the dazzling greenish blue of Emerald Lake. You've earned that picnic lunch among the fresh scent of the fir and spruce that dot the shoreline. Listen for the rush of Tyndall Glacier melting down the cliffside. Rocky Mountain hiking doesn't get better than this.
Hiking all five of these lakes will be an experience like no other and will take you around five hours to complete and 6.2 miles of walking. Take your time, pace yourself and drink in the sweet Rocky Mountain air.
Tour the Stanley Hotel
You are tired and need to relax a little before continuing on, but when you are ready go take a tour of the famous Stanley Hotel in Estes Park. The book and the movie "The Shining" by Steven King made this site famous and the tour will make it come to life with its history, folklore and tales of ghosts.
Tickets are $25 per adult and the tour is an hour long. Your docent will take you through this hotel that has been withstanding the Rocky Mountain elements since 1909. That's over 110 years of stories, events and history.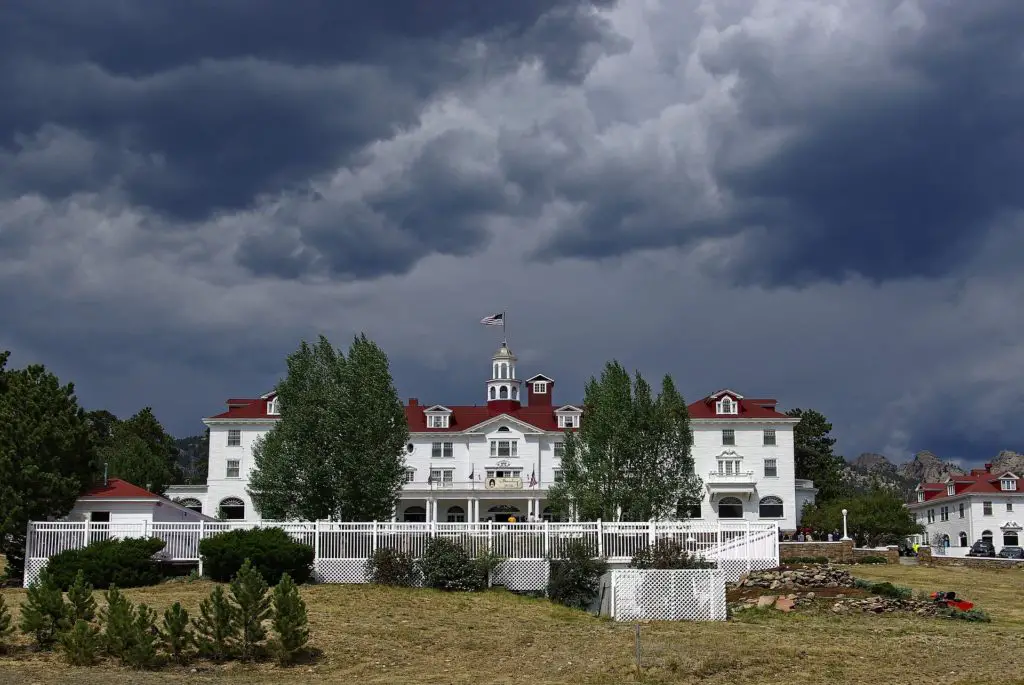 Take in the sights of downtown Estes Park and treat yourself to dinner at Bird and Jim's for some mountain rustic affair. Try the Mountain Jim Burger or some Rocky Mountain Elk tenderloin to rejuvenate you after your long hike. If you want something quick and easy try Antonio's Real New York Pizza and carb back up. Your body will be craving it!
Dinner in Downtown Estes Park
Day Three
You may be a little tired from your adventure yesterday, so sight seeing might be just what you are looking for.
Old Fall River Road
You've driven up Trail Ridge Road, now it's time to do some off-roading. Don't worry though, as any car can make it up this 11-mile long, gravel road that is punctuated by narrow, curvy passages with epic views. Expect a one way road in which you should not exceed 15 miles per hour.
Nature lovers will love this trail as it meanders through the sub-alpine wilderness, really giving you a feel of what the REAL Rockies are all about. Keep your eyes open for elk at Willow Park before you eventually meet up with Trail Ridge Road and the Alpine Visitor Center. From here you can really delve into the Western side of the park.
Gore Range Overlook
The Gore Range Overlook comes into view after passing the Alpine Visitor Center and Fall River Pass. Stand at 12,048 feet and breathe in the fresh mountain air as you take in the Never Summer Mountains and the Gore Range. This is also a western facing pull-out, therefore stopping as the sun goes into slumber on your way back gives you the most outstanding Rocky Mountain sunset imaginable.
Milner Pass
Standing at the Continental Divide and getting your picture at Milner Pass should definitely be on your list on day three. Here, a drop of water on the Western side of the mountain will eventually go into the Pacific Ocean and a drop of water on the Eastern side will reach the Atlantic Ocean. The divide runs north and south from Alaska and almost to Cape Horn in South America.
Fairview Curve
This is a great place to stop to see the Kawuneeche Valley below and the Never Summer Mountains, which are the only volcanic mountains in the park. Formed almost 30 million years ago, these mountains got there name from the Arapaho Native Americans, who called them "Ni-chebe-chii", which means "Never No Summer"for the snow that never seems to melt.
Never Summer Ranch
Stop by this historical landmark that has existed since the inception of the national park itself. When German immigrant, John Holzwarth Sr. began a homestead at the foot of the Never Summer Mountains in 1917, he would never have imagined it would become the first dude ranch in Colorado. Over the years, it attracted more and more people as they explored one of the newest national parks. Come hear tall tales and tour some of this 160- acre piece of Rocky Mountain history.
Kawuneeche Valley
The light is changing and the day is nearing its end. This is when you want to come to Kawuneeche Valley. See big horn sheep, herds of elk and moose in the marshy wetlands. This is a mecca when it comes to large wildlife in the park. After the heat of the day is gone, it's time to eat and the masses will be out for your viewing pleasure.
Sunset at Forest Canyon Overlook
You've turned around and you are headed towards Estes Park as the day starts to fade. But, you have one more place to stop. Located on the fragile tundra between the Alpine Visitor Center and Many Parks Curve is Forest Canyon Overlook. Here, the canyon is hidden safely between Terra Tomah Mountain and Stones Peak. The spectacular view is astounding even without the sunset. However, if you have been looking for that magical moment in Rocky Mountain National Park, this is it!
You are road weary and tired but still exhilarated by all your adventures. Do you stop in Estes Park for a bite or do you get take out. Take out and a hot tub sound great! Soak away and contemplate your adventures on one of the best vacations you've ever had.