Best Things To See In Rocky Mountain National Park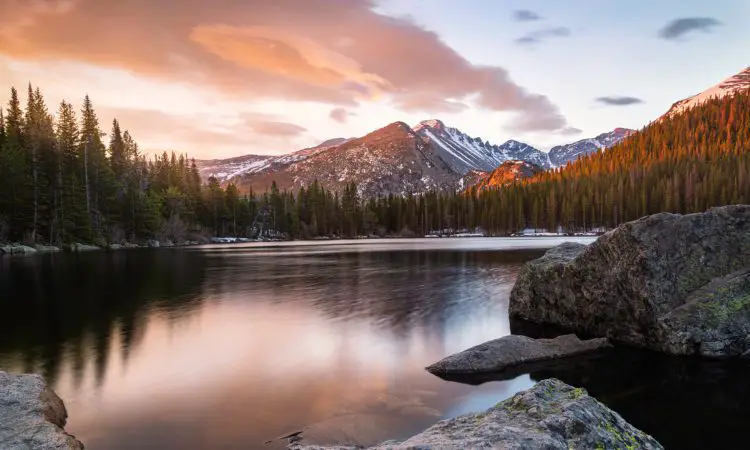 Colorful Bear Lake Sunrise at Rocky Mountain National Park outside of Estes Park Colorado
Grounded Life Travel is supported by its audience. When you purchase through links on our site, we may earn an affiliate commission.As an Amazon Associate I earn from qualifying purchases. List of everything we use in our travels.
Rocky Mountain National Park was always the pinnacle of parks for me. The one to get to. The one that once I had seen it, I could die happily.
The mountains, the valleys and the beasts that roam it, all have been this magical and mystical place deep inside my mind and I couldn't wait to see it in the flesh, for real, immersing myself in what I thought was the top experience of life.
Let me tell you. It did not disappoint. We visited on July 4th one year and it was a jaw dropping feast for all senses that I can't wait to get back to. I didn't have nearly enough time to conquer all that I wanted to, but I know that there are definitely places that you must get to if you are lucky enough to spend any amount of time here. For this park, God definitely took his time on.
Beaver Meadows Visitor Center
There are four entrances to Rocky Mountain National Park. The Beaver Meadows Visitor Center is the most visited due to its close proximity to Estes Park, the city right outside the parks gates. The building itself is historical as it was built by Frank Lloyd Wright's architectural firm. Visit this visitor center before you enter the park for maps and information about the park. On busy summer days, you can also attend ranger led talks that will inform you about various aspects of the park.
Trail Ridge Road
There aren't many more inspiring drives in America than that of Trail Ridge Road. Starting inside the the park gates at Estes Park, the road meanders west 48 miles to Grand Lake. Through this expanse this road winds past aspen groves, spruce trees, glacially battered boulders, vast meadows of arctic wildflowers and finally a tundra that is only thawed a month or two out of the year.
Travelers will begin their accent 4,000 feet below and climb to the epic heights of 12,183 feet where the air is thin and your heart gasps for oxygen. One might think the altitude would leave the landscape devoid of life and barren. On the contrary, you will see big horned sheep, marmots, ptarmigans and pika thriving in this otherwise inhospitable environment.
You will begin your journey in a world where the temperatures may be pleasant and warm. When you get to the heights over 12,000 feet, the temperature may drop up to 40 degrees. On July 4th, when my family and I visited, we drove through light rain, then sleet, then snow. When we got to our destination we needed a heavy coat to explore outside our car. The wind was howling and I thought my nose might get frostbitten. It was a lesson in extremes and I felt so alive. This is definitely a drive that you have to take if you come near this part of Colorado, for it is one you will never forget.
One caveat is that if you are visiting any other time than summer, the road may be closed due to snow and ice. Therefore, a visit when it is warm is a must do.
Bear Lake
Bear Lake is for the vacationer that wants to see alpine lakes and the wilderness of the rockies without having to work for it. Start this .8 mile long Loop at the Bear Lake Ranger Station and enjoy views of the Hallett and Longs Peaks reflecting off the still water. It is a flat walk with little elevation gain, so it is appropriate for all ages and physical fitness levels.
Because of this, Bear Lake is a VERY popular destination. In peak visitation, it will get very crowded early. Therefore go as early as possible in the morning to avoid heavy traffic. Off of this trail you will find a path that leads to Emerald Lake, another very popular trail to a gorgeous alpine lake. On this trail you will see three other lakes, all with dazzling scenery.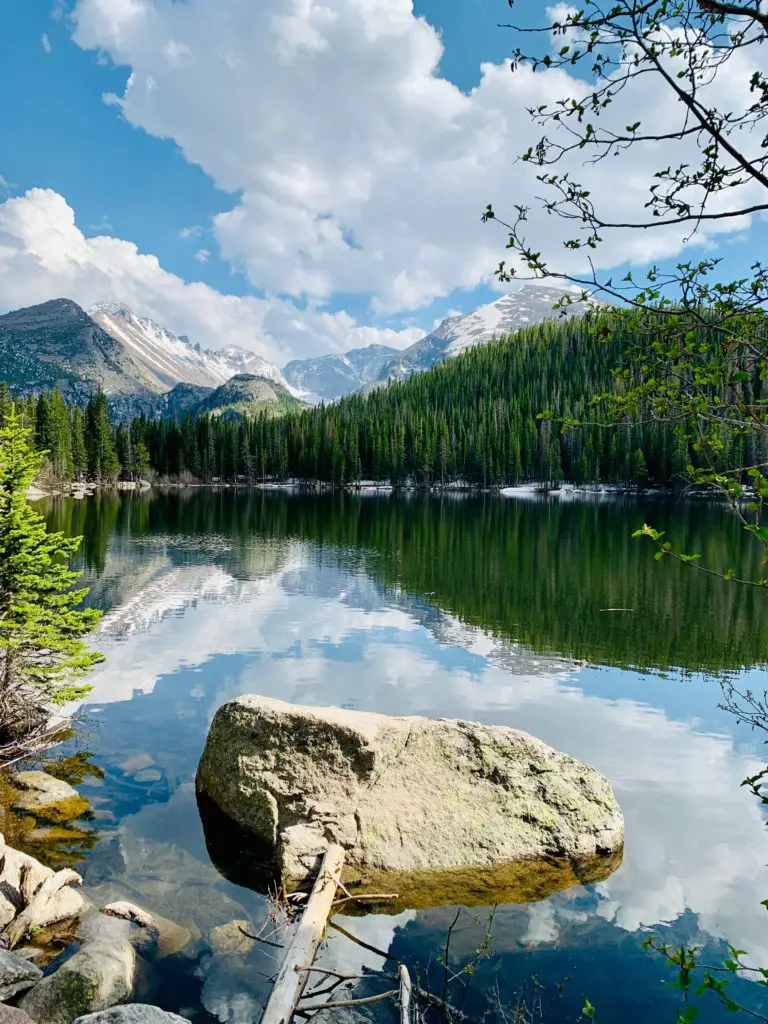 Alberta Falls
Alberta Falls is considered to be one of the best waterfall hikes in the park. Therefore, it is very popular. From the Bear Lake Trailhead you can head towards Alberta Falls which is only another 0.8 of a mile. Gaze at the falls as Glacier Creek rushes down to fall 30 feet into the pool below. You can combine this walk with a hike to Bear Lake for a relaxing day in the wilderness.
Old Fall River Road and Chasm Falls
Once a path used by indigenous people of the area, Old Fall River Road was built for automobile travel in 1920 so that travelers could gain access to the park's highest elevations and therefore, the best scenery. The nine mile, one-way road leads to the 12,000 foot Alpine Visitor Center where you can then trek down the mountain via Trail Ridge Road.
This comes with some danger, though. The road is narrow and has steep drop-offs with no guardrails. Pay close attention around corners and don't exceed the 15 mile per hour speed limit. However, if you choose this route, it will be a thrill and you will feel like a pioneer scoping out the first glimpse of this high alpine territory.
Additionally, don't miss the opportunity to take the short hike to Chasm Falls. A waterfall that drops 25 feet before the water continues down the Fall River.
Alpine Visitor Center
The Alpine Visitor Center is the highest visitor center in America. At 11,796 feet you can feel your brain starve for oxygen as the air thins around you. The wind will howl and you will undoubtedly need more clothing, due to the temperature drop, so come prepared. The center is a self sustained building and doesn't rely on services from a nearby town. It also has it's own clinic with full time EMT's should you need assistance with altitude sickness or any other ailment.
Get some hot cocoa, peruse the highest gift shop in the U.S and gaze out the window to the view before you. It doesn't get much better than this.
Alpine Ridge Trail
Just outside the Alpine Visitor Center, there is a paved path that leads to the summit that gives an awesome 360 degree view of the Never Summer Mountains and as far away as Wyoming. The trail is only 0.6 miles long and has an elevation gain of 209 feet. However, this can be very difficult for someone that is not acclimated to the altitude. Climb slowly and if you feel light headed, have a rest. When you are ready, some of the best views in the world await you at the top of Rocky Mountain National Park.
Moraine Park
If you enjoy wildlife watching, then Moraine Park should be on your radar. Carved out by glaciers in the last Ice Age, this valley is teeming with the full colors of the rainbow in the form of a stunning display of wildflowers every spring.
Along with the beautiful color, you will see all sorts of wildlife wandering about in the meadow. The backdrop of the snowcapped mountains gives you a glimpse of what heaven might look like.
Keep your eyes set to see elk, bighorn sheep, coyote and deer. Stop at the Moraine Park Museum to further learn about who inhabits this valley and how it was formed through hands on exhibits and demonstrations. There is a nearby campground that is open year round and is first come first serve, so you can sleep under the alpine stars.
Holtzwarth Historic Site
Imagine how it felt to come to the shores of America with a dream of prosperity, security and happiness. When John Holtzwarth arrived from Germany to America in 1879, he had the dream that so many others had and he worked hard to make it come true. Over the years, he met a wife, had children and took advantage of the Homestead Act and began cultivating and improving 160 acres in what would eventually become part of Rocky Mountain National Park.
Stop by the Holtzwarth Historic Site on your travels and see what it was like to live and work in the beauty, danger and plenty of the Rocky Mountains. Tour the buildings built by the Holtzwarth's that housed guests and entertained them, eventually being used as a ranch.
The success of one man and his family now informs and entertains thousands as they move through this area on their trek through Rocky Mountain National Park.
On your vacation in Rocky Mountain National Park, you can choose to do so many things. From the town of Estes Park to the alpine lakes that dot the mountains, plan a day and see as many of these fascinating sites as you can on your epic vacation. If you have less time, we've written a guide on how to spend one day at Rocky Mountain National Park.