Best Month To Visit Rocky Mountain National Park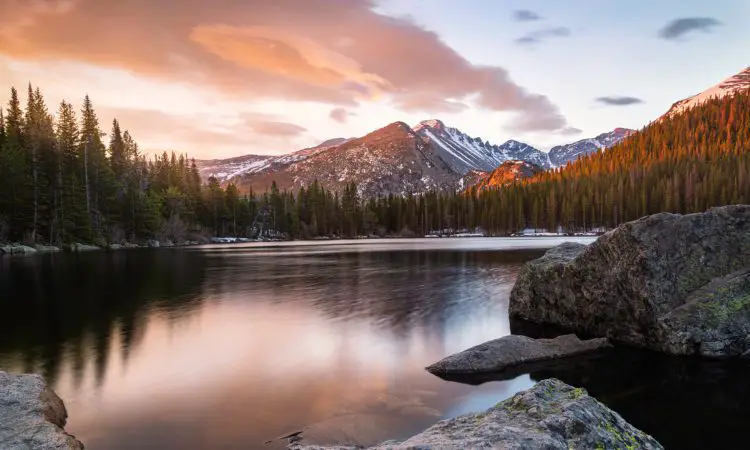 Colorful Bear Lake Sunrise at Rocky Mountain National Park outside of Estes Park Colorado
Grounded Life Travel is supported by its audience. When you purchase through links on our site, we may earn an affiliate commission.As an Amazon Associate I earn from qualifying purchases. List of everything we use in our travels.
Rocky Mountain National Park is the pinnacle of parks for many people. The 12,000 foot peaks, the dazzling wildflowers and the wildlife that makes this park home are something every travel goer wants to see.
There is something special to see in this park in each season. There's the blanket of deep snow that covers the park, but allows for some top-notch winter sports like snow shoeing and cross country skiing. There's the spring thaw when waterfalls take center stage as temperatures warm. Summer brings trails clear of snow and ice and dazzling wildflowers. But, fall is the best of all worlds, particularly in September.
September is the best month to visit Rocky Mountain National Park.
What is the weather like in September in the park?
September is a fabulous month when it comes to weather in Rocky Mountain National Park. Warm days and cool nights are perfect for camping and spending all day and into the night outdoors. You rarely will see the temperature get above a perfect 70 degrees during the day. Likewise, the nights are just nippy enough in the 40's to need a light jacket and a blanket by the fire.
The snow hasn't started yet and aside from the afternoon pop-up thundershower, you won't see a lot of rain with only an average of five days of precipitation. The days are still long enough to get a lot of sight seeing done before the sun sets and sunrises are bright and early at 6:30 a.m., giving you 13 hours of daylight to delight your senses.
Hiking in the higher elevations isn't as dangerous as it can be in summer with the number of electrical storms that can pop-up. These storms calm in September and walking about the tundra and at high elevations can be done safely in the afternoon. Take care though and make sure you always check the weather to ensure storms aren't in the forecast.
Are there fall colors in the park in September?
September is the perfect time to go to Rocky Mountain National Park. Starting in early September, the tundra will start to change from its gorgeous green color to brights oranges, fiery reds and lovely browns. By mid September you will see the aspens in the higher elevations begin to show their brilliant yellows, oranges and sometimes even red.
The bushes and grasses of the meadows and forest can be just as brilliant as the aspens groves, with colors of every kind. On a clear blue bird day, the snow capped mountains and the vibrant colors are breathtaking and will make you feel especially lucky to be alive.
What are the best hikes to take to see fall colors in the park?
If you are visiting in September, here are some great fall hikes to expose you to as much color the park has to offer this time of year.
Sprague Lake Loop
Not only is this a great fall hike, but you can enjoy the sunrise on this lake all year long. This easy loop is only 0.8 miles long for those of you who are hiking adverse. Enjoy the amazing views among the lovely quaking aspen and don't forget a glimpse of  Longs Peak, Estes Cone and Bierstadt Moraine.
Wild Basin Trail
If you want to get out where you'll feel like you are in the middle of the wilderness, then Wild Basin Trail is a great hike to try. This 3.1 mile walk will take you passed Calypso Cascades, a 200 foot cascade down the mountain and Ouzel Falls, another cascading waterfall of 40 feet that is a great place to rest among the changing aspen and listen to the trickle of the water around you.
Loch Vale Trail
This hike is a challenging one, but the payoff will be sweet. At only 4.1 miles, this hike packs in a lot of scenery in a short amount of time. Steep grades will have you working for it at times, but reaching the loch will have you gazing at some of the most spectacular views in the park. Think granite peaks, towering cliffs dotted with aspens reflecting in a breathtaking lake.
Bear Lake to Fern Lake Trailhead
This hike starts at the ever popular Bear Lake and will take you past four sub-alpine lakes and a 60 foot waterfall. Never mind the 8.5 mile trek you will need to take, because the scenery will keep your legs moving. Once you get to Arch Rocks, you will know Fern Trailhead is near. The shuttle system in the park is great, because you won't have to walk back to your car. Just grab the shuttle here back to Bear Lake Trailhead and rest and relax.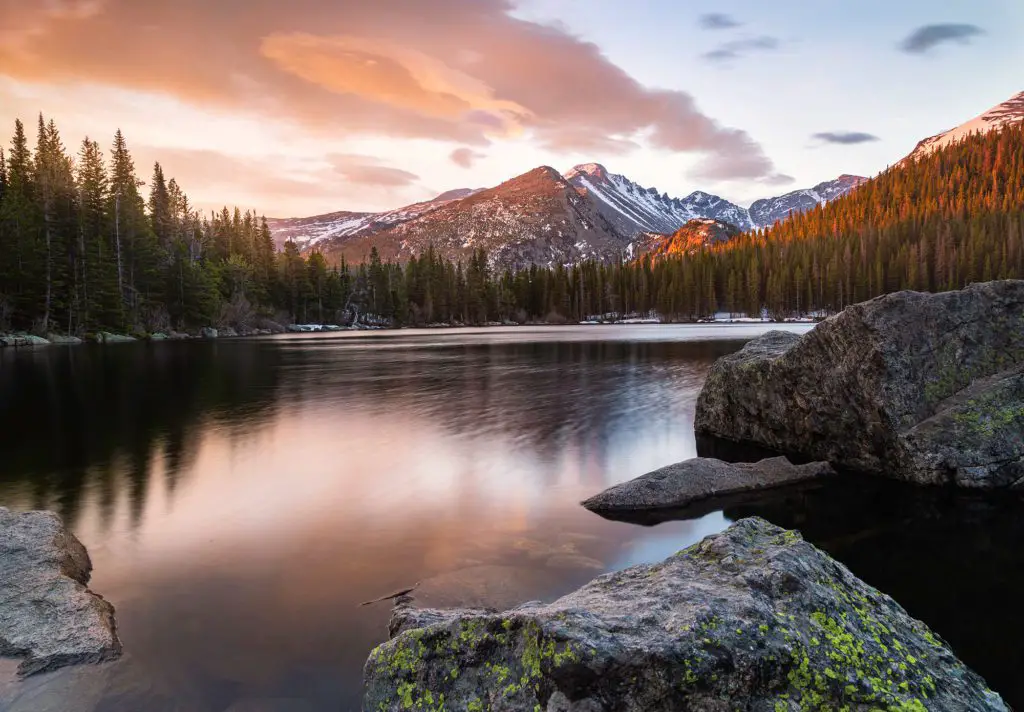 Alberta Falls
One of the best waterfall trails awaits you with this 1.7 mile hike through dense aspen groves, mountain peaks and a roaring creek. Alberta Falls is a 30 foot waterfall that plunges into Glacier Creek giving you that rush that you are looking for on any fall hike. Take a thermos full of your favorite beverage and stay a while, because this is what you've been looking for.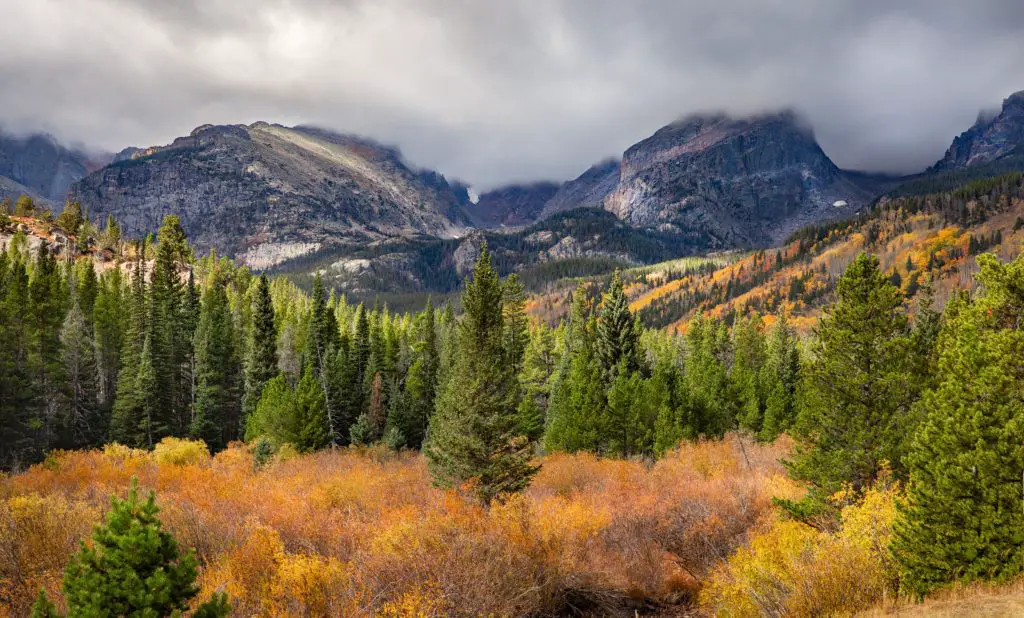 What scenic drives are good in fall?
Sometimes it's fun to just get in the car, relax and drive! These scenic roads are great to enjoy some beautiful fall color.
Trail Ridge Road
Trail Ridge road is the main park road and takes you through three ecosystems that are only matched by the ecosystems of Alaska.
You will start in the Montaine or hilly slopes and grasslands of the park. As you move up you will pass through the Sub-Alpine and then Alpine Tundra above 11,000 feet. The biodiversity in plants and animals you can see on this drive is fantastic. The grasslands will turn a mixture of reds and gold before you ascend into the subalpine region where aspen are spotted between spruce and fir groves. The Tundra turns a golden brown with flecks of reds all for your viewing pleasure.
Old Fall River Road
For more "off-road" experience, try Old Fall River Road. Opened in 1920 this route was the first in Rocky Mountain National Park. The scenery is astounding on this one way road that will take you 10.7 miles through the wild terrain of the park. The road is navigable by all vehicles, but be careful as there are no guardrails and the drop offs are steep. The road leads to Trail Ridge Road where you can continue to Grand Lake or turn back towards Estes Park. Either way, this is a once in a lifetime experience that is the definition of the word "adventure"!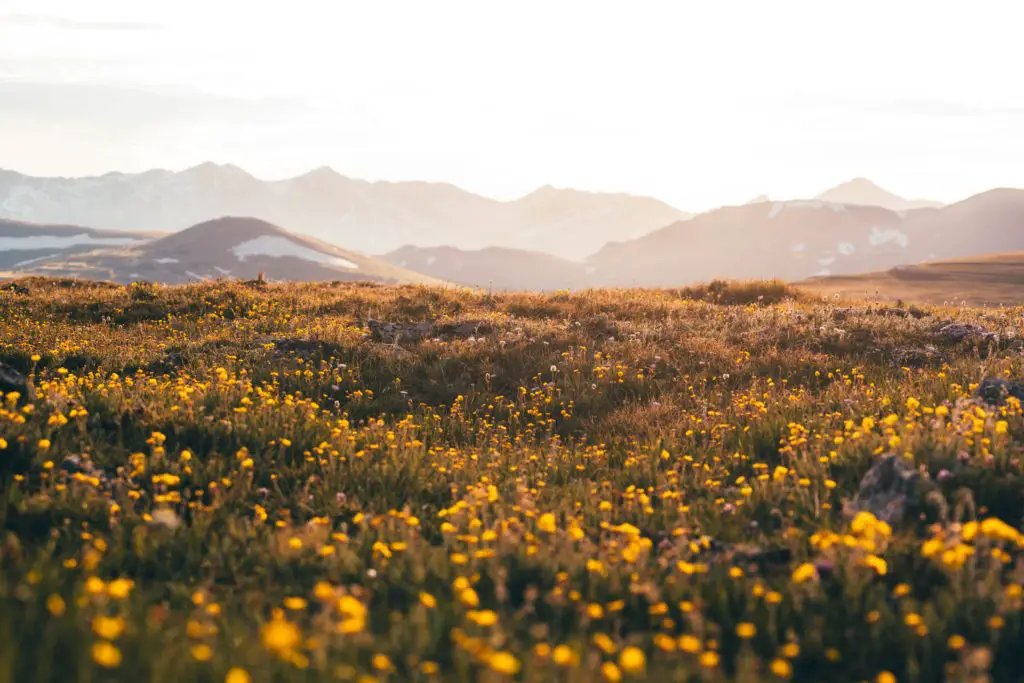 Where can I see wildlife in the park?
Your chances of seeing wildlife in the park are great during fall, especially for the animals who call fall their mating season. On your drive in search of scenery, you are bound to see many animals in their natural habitat.
Bears
Bears start fattening up in late summer with berries and shrubs. You are likely to see them feverishly collecting among thick bushes along trails deep in the forest or outside camping areas. Although they aren't spotted as easily and frequently as other animals in the park, they are there, and they may be watching you. Black bears are the only type of bear that are present in the park, so you don't have to worry about the sometimes aggressive, grizzlies that live farther in the Northwest in other parks like Grand Teton and Glacier National Park.
Moose
Moose are spotted in the low lying areas of the park, where there are marshes and creeks. They love to forage aquatic vegetation, twigs and berries. Watch for them on your travels by car on Highway 34 in the Kawuneeche Valley. If you are camping, you have a good chance of seeing them around Timber Creek Campground on the west side of the park. Moose can be very dangerous if you get too close. The rule of thumb is to stay at least 25 yards from moose. They can be very aggressive, especially during mating season, which is also in September. Watch for sparring between male elk in order to win the prized mate.
Elk
Fall is a fantastic time to not only see hoards of elk, but to also hear them. Beginning in mid-September the bull elk will begin building their harem in order to find mates. This is called the "rut". In the evening, listen for the bugle of the bull in attempt to find a mate. It is a hauntingly beautiful sound that only adds to the mystique of this fabulous season.
Bobcats and Mountain Lions
Mountain Lions and bobcats are not commonly sighted, but lurk in the forest and mountains of the park. They are most active at dawn and dusk. Therefore, if you out on a sunrise or sunset hike, be aware.
Big Horn Sheep
If you are lucky, you might see big horned sheep butting heads during the rut in fall. This is also a time of mating for this animal, and you might find groups of them in the granite slopes and grassy valleys of the park. To see two rams go at it over a mate is an exciting and nerve racking thing to witness.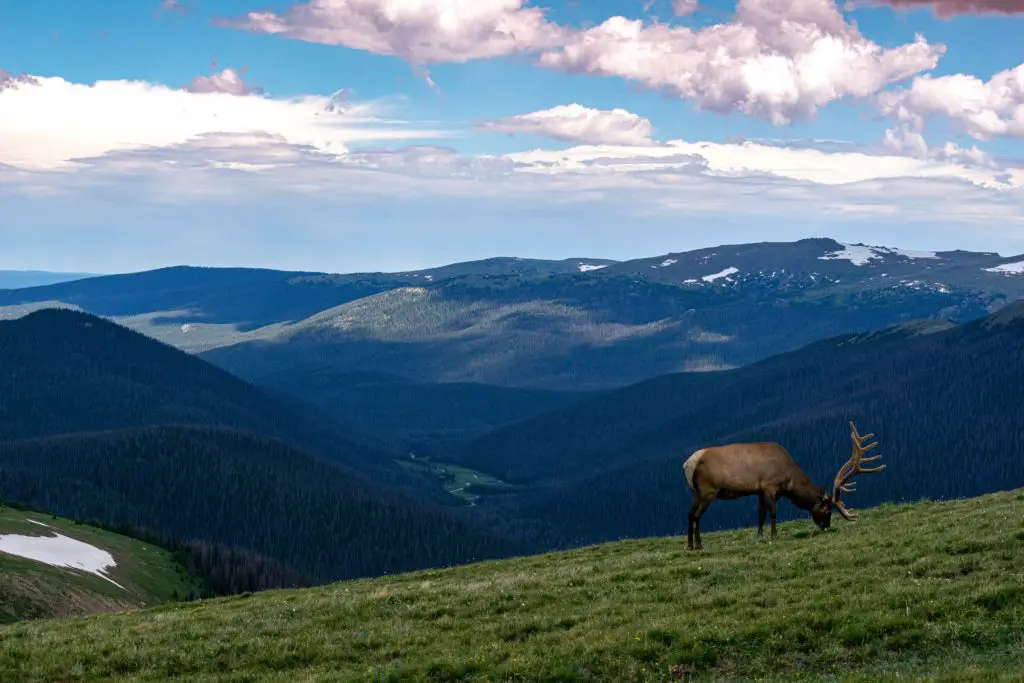 Coming to Rocky Mountain National Park in fall is a feast for the senses. With so much to do and see in weather that is near perfect, you are bound to have a holiday that makes memories you will always cherish.