How To Spend One Day At Rocky Mountain National Park
Grounded Life Travel is supported by its audience. When you purchase through links on our site, we may earn an affiliate commission.As an Amazon Associate I earn from qualifying purchases. List of everything we use in our travels.
Time is something we never seem to get enough of. We remark, "If only there were more hours in the day" or "Time just gets away".
Time is something that is a high value commodity when it comes to a vacation. You have to get time off of work, the kids have to be out of school and the dog must be watched.
If time is not on your side and you only have a weekend to spare, you have to make the most of it. Sometimes, you only have a Saturday to spare. So what are you to do if you have only one day in one of the most celebrated national parks in America? Follow this plan on how to spend one day in Rocky Mountain National Park and you will feel like you have accomplished your goal for some good down time with the ones you love.
Morning
Morning is going to start early for you as you want to see the sunrise in one of the most scenic places in the world. Get up really early and you should have just enough time to make it over to Sprague Lake. If you make it there before 5:30m a.m., you won't have to worry about the newly instituted Timed Entry Permit. Entering the park after this time will require a reservation through Reservation.gov in order to enter the park between May 27th and October 10th. Therefore, it is worth it to get there EARLY!
Park at the Park and Ride Lot, just north of the Sprague Lake and walk the 1/4 mile to the trailhead. Bring a thermos full of your favorite beverage and cop a squat on the eastern facing shore as the show starts around 6:30 a.m. This is hands down the best place to see the sunrise in the park. The still water that reflects the mountains and beautiful evergreens is something to capture on your good camera.
After the big event, you can walk the 0.9 miles around the lake and get the full scene of what one of the best alpine lakes in the Rockies has to offer. When you have had your fill of the lake and its beauty, walk back to the park and ride spot and catch the shuttle for your next adventure.
From the Park and Ride Lot, take the Bear Lake Shuttle to the Bear Lake Trailhead. Here, you can choose the hike you would like to do. But, if you want one of the easiest and best hikes that contain absolutely stunning scenery, then do the 3.6 miles and see four dazzling alpine lakes plus a waterfall for a hike that has a payoff that is hard to beat.
Bear Lake
Bear Lake is the most visited lake in all of Rocky Mountain National Park (RMNP). It is easily accessible, has terrain that is not difficult to navigate and the views are spectacular. If you are short on time, this hike will give you a taste of what alpine lake scenery is all about in this park. The view to Hallett Peak and the Continental Divide is breathtaking and this short walk alone will satisfy your need for the great outdoors. However, if you have time, keep going!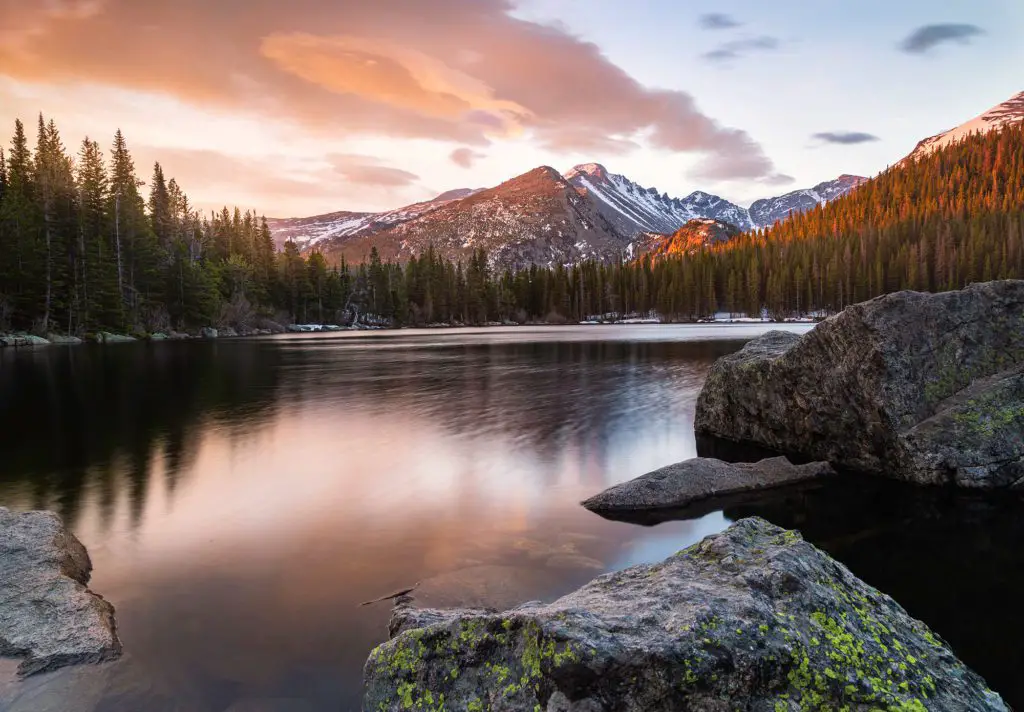 Nymph Lake
Nymph Lake is just a short, up hill half-mile walk from Bear Lake and is a great stopping point for a drink of water before setting off to your next view. The lily pads and the tranquil water invite you to be still and listen to the sounds of nature.
Dream Lake
After leaving Nymph Lake, you will encounter a steep trek up to Dream Lake. Pay attention to glimpses of Longs Peak as you walk. The views are gorgeous in this area on the trail. Upon arrival, the view to Dream Lake reveals a peak at Tyndall Gorge and Glacier from this venture. Take your time and take in the view that has been in the making for millions of years.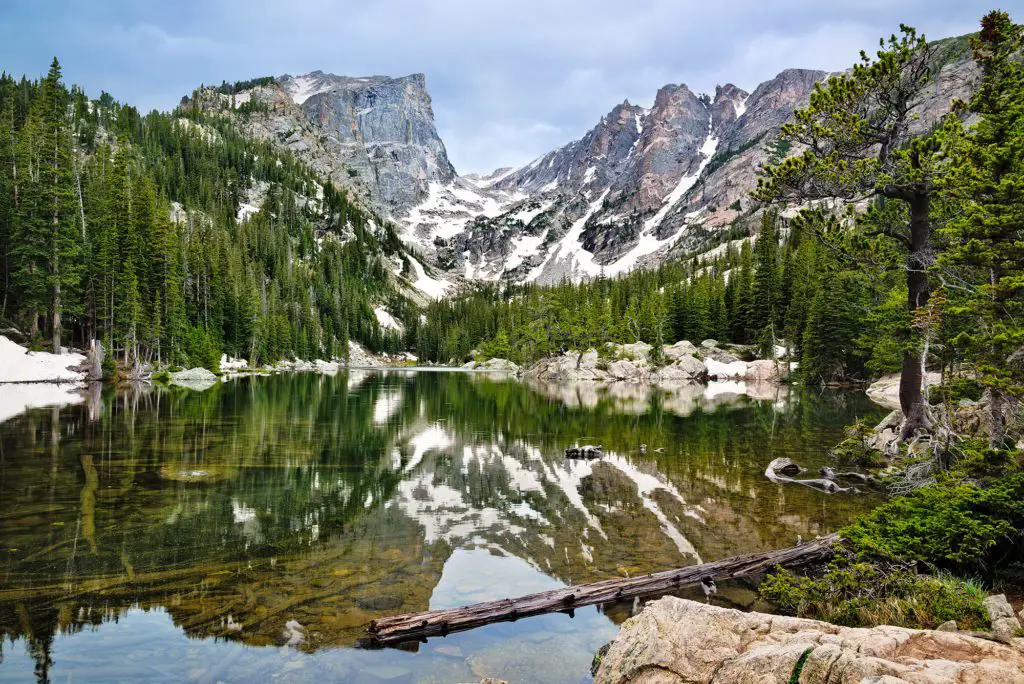 Emerald Lake
Walk around the north shore from Dream Lake until you come to a compilation of stone steps leading a short distance to the breathtaking scenery of Emerald Lake. At roughly 10,000 feet you are almost two miles above sea level. If you listen carefully, Tyndall Glacier can be herd melting and rushing down the side of the cliff face between the mountain spires.
This hike is a marvelous way to complete your morning and while you hike the 1.8 miles back to the car, you can formulate the rest of your day. In case you're not sure of what to do, here's another tip to add to your itinerary.
Afternoon
At this point in the day, you might be ready to chill a bit. Some sight seeing by car might just be the perfect thing to rejuvenate you for the rest of the day. Get in your car and drive the Trail Ridge Road, one of America's National Designated All- American Roads.
This 48 mile road was built on 1931 and was a a feat of epic proportion for the time. With eleven miles being above the tree line, the road introduced the tundra environment to the general population for the first time and taught the masses that there is life above 11,000 feet.
The road winds through aspen forests, evergreen wilderness and meadows chocked full of a rainbow of wildflowers that you will narrowly ever see again. The air is thin and cold even in the dead of summer. Make sure you're prepared for the nip in the air with a jacket and even mittens.
While you make your way up above the tree line, watch for wild animals such as big horned sheep, ptarmigans, marmots and pikas. Traffic may stop for a herd of elk at any moment, so be prepared to wait it out.
You will reach the Alpine Visitor Center at almost 12,000 feet. Get out and stretch your legs, grab your favorite hot beverage at the gift shop and walk the 1.1 mile Alpine Ridge Trail to a height of 12,005 feet. They don't call it "Huffers Hill" for nothing and no matter if you're a marathon runner or a couch potato, you will be out of breath. Take your time and when you get to the top, enjoy one of the most fantastic views on the planet.
When you are ready to get back in the car, continue on your way to Milner's Pass and the Continental Divide. There are several points on your way down the mountain in which to stop and take in the view. When you get to Grand Lake, you can have a picnic lunch and take in the awesome view to which you have arrived.
Evening
While in Grand Lake, you can take advantage of all that there is to do or choose to drive back to Estes Park on the Trail Ridge Road.
If you decide to stay in Grand Lake for while you can enjoy walking down the boardwalk of town and perusing some of the 60 shops and restaurants that offer all kinds of various and sundry things to amuse you. You also may choose to go horseback riding or rent an ATV to check out some of the nearby trails that further your exploration of the nearby mountains.
If you are ready to head back, then drive the Trail Ridge Road back towards the Eastern entrance of the park. By this time, the day should be waning and nightfall is imminent.
Take advantage of this time and go stargazing in the Rocky Mountains. Drive to the Moraine Park Visitor Center and attend "The Story Behind the Moon and Stars", which features talks about the galaxy, constellations and other information about heavenly bodies.
By this time, you are probably tired and ready for a great dinner. Estes Park has you covered here. Find everything from Pizza, to steak to barbecue. You won't be wanting for anything here in this tourist loving town. Night time activities include going on the Historic Stanley Hotel Night tour, which was featured in the movie, "The Shining". If you want to go low key, take in a movie at the Historic Park Theater. There really isn't a dull moment, even when the sun goes down in Estes Park.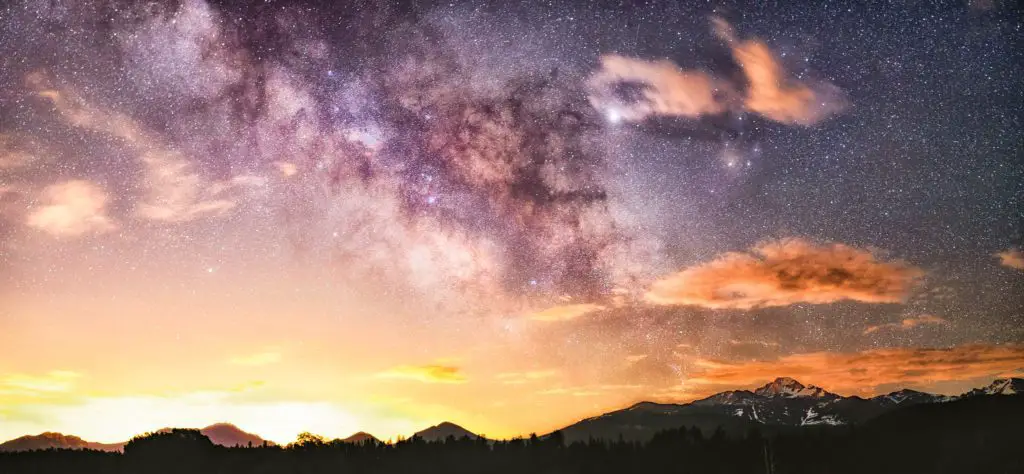 Your day is now complete and yet there is so much still to do on your next visit to Rocky Mountain National Park. So, get out your calendar and find that week and enjoy a full blown vacation the next time you visit this amazing American icon.