Best Amtrak Trips From St. Louis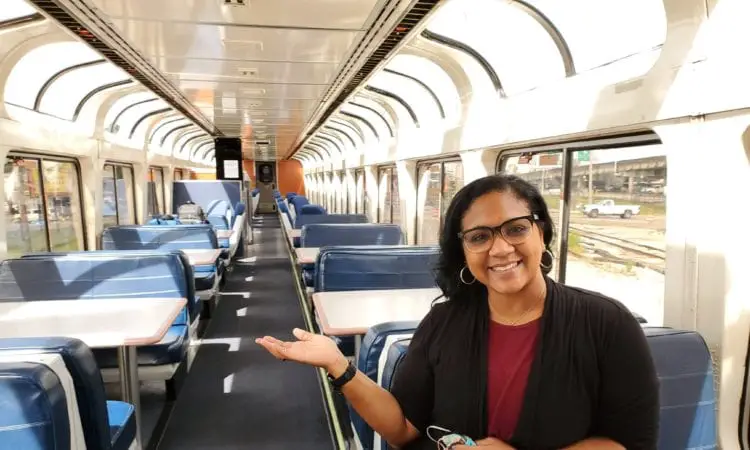 Grounded Life Travel is supported by its audience. When you purchase through links on our site, we may earn an affiliate commission.As an Amazon Associate I earn from qualifying purchases. List of everything we use in our travels.
St. Louis is the city of the great arch, the "Gateway to the West". It promises adventure and beauty if you keep traveling through the plains and to the Rockies. It's the halfway point through America and it has so much to offer.
Many flock here when traveling to other places as it is a hub for transportation around the country. At the Gateway Station in St. Louis, you can arrange to travel by public light rail or bus or you can take a long distance train or bus. From here, Amtrak can take you to many destinations in the United States.
You can get to many long distance destinations such as Los Angeles and Denver from St. Louis. However, some of the best and scenic Amtrak trips are not so far away. Take a vacation or try Amtrak for your next out of town meeting. I will bet you will be made a believer in this exciting and comfortable way to travel.
Kansas City
How to get to Kansas City on Amtrak
Getting to Kansas City is easy. There are two trains that run twice a day each way from Gateway Station to Kansas City Union Station. You can leave St. Louis in the morning or afternoon, depending on what your itinerary calls for.
The Missouri River Runner is a train that runs on a 283-mile stretch of track that meanders through some of the most populated cities in America. Your trek from St. Louis to Kansas City will take around five and a half hours from point to point, which is only a couple of hours slower than driving. If you factor time for getting gas, a stop for lunch and traffic, you may not be losing much time.
You can choose from coach or business class seating, but the Missouri River Runner does not offer sleeper cars. You can grab a snack at the cafe while you ride watching America pass your window.
There are eight stops that will take you through some of the cutest little towns in the Midwest. There is so much history in the heartland and you may just want to get off and see sights such as The Truman Home in Independence Missouri or beautiful downtown Lee's Summit.
What To Do In Kansas City
Once you reach Kansas City, the excitement begins at Kansas City Union Station. At this over 100 year old station, you can will find theaters, museums, restaurants and you can even catch a ballet.

When you are ready to explore more, take the KC Streetcar and experience the multitude of things to see and do in this great city. See some of the 200 fountains in this "City of Fountains". Next explore the historic River Market area where you can buy fresh produce and treats and eat them at nearby Berkley Park on the River. Finally, take a tour of J. Rieger &Company as see where they make all sorts of libations for the perfect cocktail and have been doing so for 150 years.
Chicago
How to get to Chicago on Amtrak
Amtrak runs a train from St. Louis to Chicago six times daily. Therefore, you will have great options when traveling from St. Louis, whether it be day or night. The trip from St. Louis takes 5 hours and 25 minutes. This is just one hour more than driving. In the near future there are plans to to add service on a high speed route that will travel 110 mph, which will reduce travel times.
The Amtrak Lincoln Service train features single level cars that include business class and cafe services. There are 9 stops between St. Louis and Chicago. All of these stops are in Illinois, except for the destination stop of St. Louis.
Enjoy stopping in towns like Springfield and visit the Lincoln Home National Historic Site. You can also stop in charming Joliet, Illinois and tour the 40-room Jacob Henry Mansion, one of the most beautiful homes in the state.
You may also choose to travel on the Texas Eagle, a train that will also take you from St. Louis to Chicago with comfortable accommodations. The Texas Eagle is a double decker train that features roomettes, bedrooms, an observation car and a dining car. The Texas Eagle is fit to take passengers not only from St. Louis to Chicago, but all the way to San Antonio, Austin and Los Angeles.
What To Do In Chicago
Chicago is one of the most beautiful and exciting cities in the United States. When you step off the train in to Chicago's Union Station, you will be in the third largest city in the United States. Union Station is a sight to behold as it is apparent that great planning and care went into the construction of this $75 million building built in the 1920s where over 140,000 passengers pass through each day.
Continue on and you can explore the Chicago River walk and Michigan Avenue, or Millinnium Park and Cloud Gate. Stand 103 stories high and gaze down at the city at the Skydeck at Willis Tower. Don't leave Chicago without taking a river cruise and learn all about the architecture and history of this amazing city.
Little Rock
How to get to Little Rock on Amtrak
Amtrak has service from St. Louis Gateway Station to Little Rock once a day later in the evening. The trip from point to point will take you around seven hours which is just under 1.5 hours more than driving. Take the train and relax with a meal, skipping the need to stop for gas and find a restaurant on the road.
Taking the Texas Eagle will get you to Little Rock quickly and if you are a night owl, this might be your new favorite way to travel. The train leaves in the evening and will get you to Little Rock in the wee hours of the morning. However, you can snooze and arrive without any traffic as you make it to your hotel.
The Texas Eagle is equipped with everything a train traveler would need. It is a double decker Superliner train that features everything from coach seating, to roomettes to family bedrooms complete with a toilet and shower.
When you want to go for a stroll, enjoy the Texas Eagle's observation car, and dining car to get away from it all. The Texas Eagle can take you to California or the Pacific Northwest by way of St. Louis making for a real modern day western adventure.
What To Do In Little Rock
Little Rock is filled with great things to do and explore. Take a walk down the River Market District and sample Little Rock's nightlife or stop at a comfortable coffee shop. The next day you can visit the Little Rock Zoo and see some of the 200 animals that call the zoo their home. Visit the Arkansas State Capitol and peer into the Governor's Office to see what it's like to dedicate your life to public service.
Dallas
How to get to Dallas on Amtrak
Getting to Dallas from St. Louis by train is a great way to go to sleep in one town and wake up in another. Board the train at St. Louis's Gateway Station in the evening and settle in for the night. You will wake up in the great state of Texas, ready for the next part of your adventure.
The Texas Eagle is the Amtrak train that will take you on your journey from the midwest to the south. Ride the Superliner in comfort when you book a bedroom ticket. This will allow you to sleep all night, as you travel. Before heading for a good slumber, take advantage of the dining car that is included with your ticket and pick something from the menu that Amtrak Superliner trains offer.
The journey from St. Louis to Dallas is a long 15 hour travel time. However, this gives you just enough time to enjoy the experience. If you were to drive from St. Louis to Dallas, your travel time would be close to 10 hours. This does not include stops for gas and food, as well as rest breaks or an overnight stay. Taking the train from St. Louis to Dallas is really a must do!
What To Do In Dallas
Dallas is a true metropolitan city that has a lot going for it. The Perot Museum of Nature and Science is a state of the art museum that is definitely something to see. Dallas is also know for its robust art scene. Visit one of the four major art museums to fill your craving for architecture and creativity. There are also a multitude of locations for shopping and dining that are easily reached by taxi, bus or ride share.
Traveling from St. Louis by train can really open up a new world of travel for you and your crew. Whether traveling for business or pleasure, Amtrak can get you there and give you an experience you didn't even know was available. Try this alternative way of traveling and you'll be sure to come back again and again.