A Complete Guide To Washington Union Station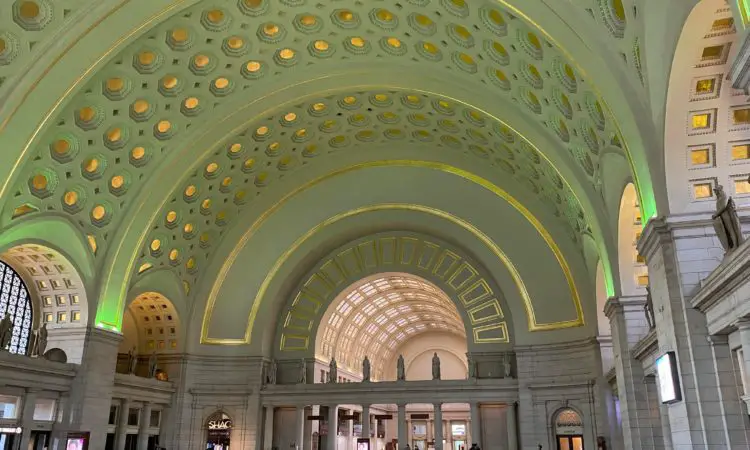 Grounded Life Travel is supported by its audience. When you purchase through links on our site, we may earn an affiliate commission.As an Amazon Associate I earn from qualifying purchases. List of everything we use in our travels.
We ride through Washington DC often so a stop at beautiful Washington Union Station is always on tap. In this complete guide to Washington Union Station, we'll not only tell you all about it, but also the surrounding area. You'll learn a little about it's history, what you can do at the station as well as many other things like dining options as well as Club Acela (metropolitan lounge).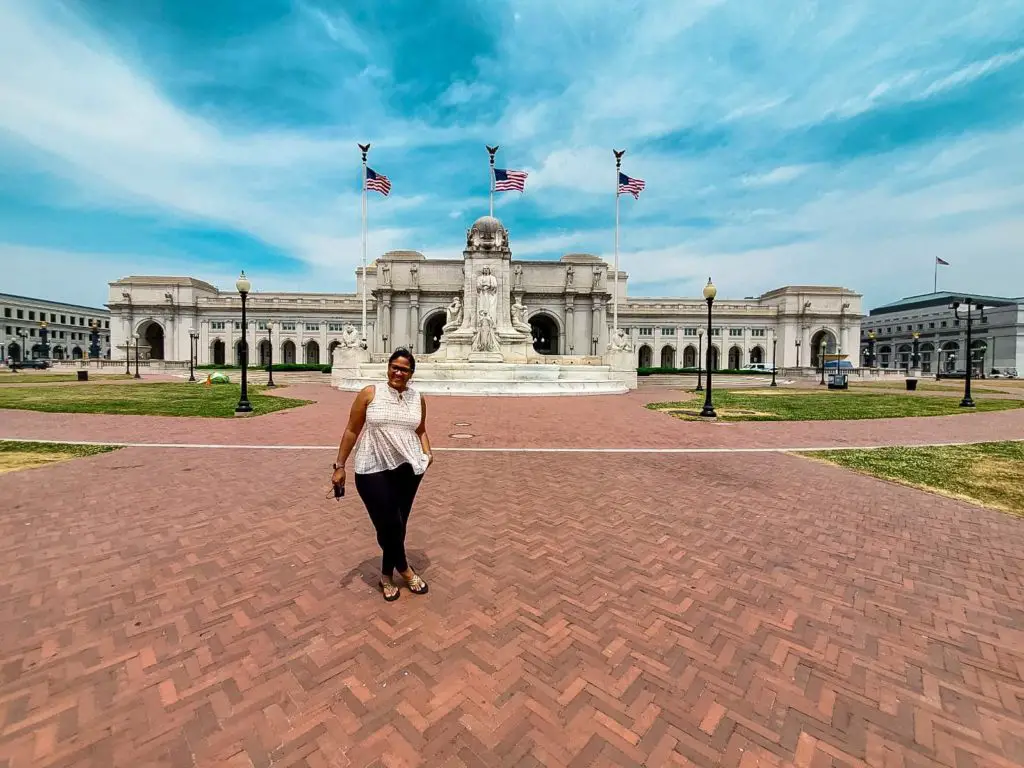 Washington Union Station Overview
Washington Union Station is a beautifully restored, mixed use, intermodal transportation center. It also houses a small shopping center as well as a large food court. It is one of the top ten busiest train stations in the United States with nearly 30,000 passengers transiting through each weekday.
There are numerous train options at this station. You can simply catch a metro train from the attached red line metro station. Amtrak and MARC trains are the most common used trains from this station as well as the Virginia Railway Express. Washington Union Station is the hub for transportation in the nations capital.
The station was originally completed in 1908. This station quickly became a hub for all transportation in this area with 200,000 passengers traveling through in the 1940's. After the war the station had some difficulties that lead to it's closing in 1981. The Redevelopment Act was enacted and restoration began. In 1988 it reopened with new life and a new purpose. It struggled due to some damage from an earthquake in 2011 but by 2016 it was back on it's feet and open, again.
We can't end this station overview without discussing the Club Acela Metropolitan Lounge. This lounge is small but it serves it's purpose. Let's talk a bit more about Club Acela.
What is Club Acela
Club Acela serves as the metropolitan lounge for Washington Union Station. There are two types of ticket holders who may enter Club Acela without a fee, sleeper car ticket holders and First Class ticket holders. If you don't have tickets in these seats there are other options to gain access to Club Acela.
If you have a Single Day Pass or you are Select Plus or Select Executive you can also access Club Acela. With one of these options you can also bring one family member or non family member with you into the club. Club Acela offers a respite from the hustle and bustle of the main terminal area.
You must ring the bell at the door to be buzzed in, the attendant will verify your access to the club. Once you are in, you can store you bags in the storage closet or keep them with you. The lounge is not very large but there is plenty of seating available. There is a snack area with prepackaged snacks like chips, cookies and fruit. You will also have access to the soda, water and juice available at the drink bar area.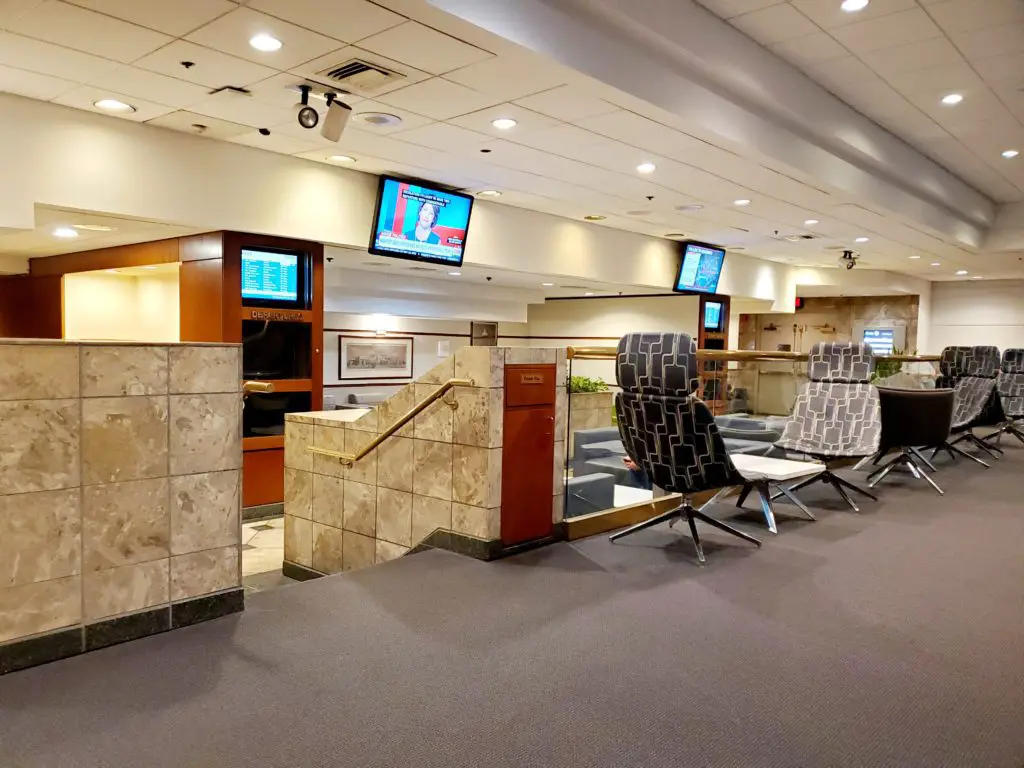 Dining Options
There are many options available in the station as well as the surrounding area. You will find a large food court downstairs. There are mainly fast food options and a couple sit down restaurants upstairs.
If you are looking for souvenirs to buy or any last minute purchases you need to make, you can always pop into the pharmacy downstairs in the food court. They have all the regular pharmacy items as well as refrigerated food items if you are looking to grab something quick.
There is a small shopping area with clothing shops as well as gift shops. It is certainly not a place where you can get bored easily. As mentioned above, you can always grab a quick free snack at Club Acela, if you qualify for entrance.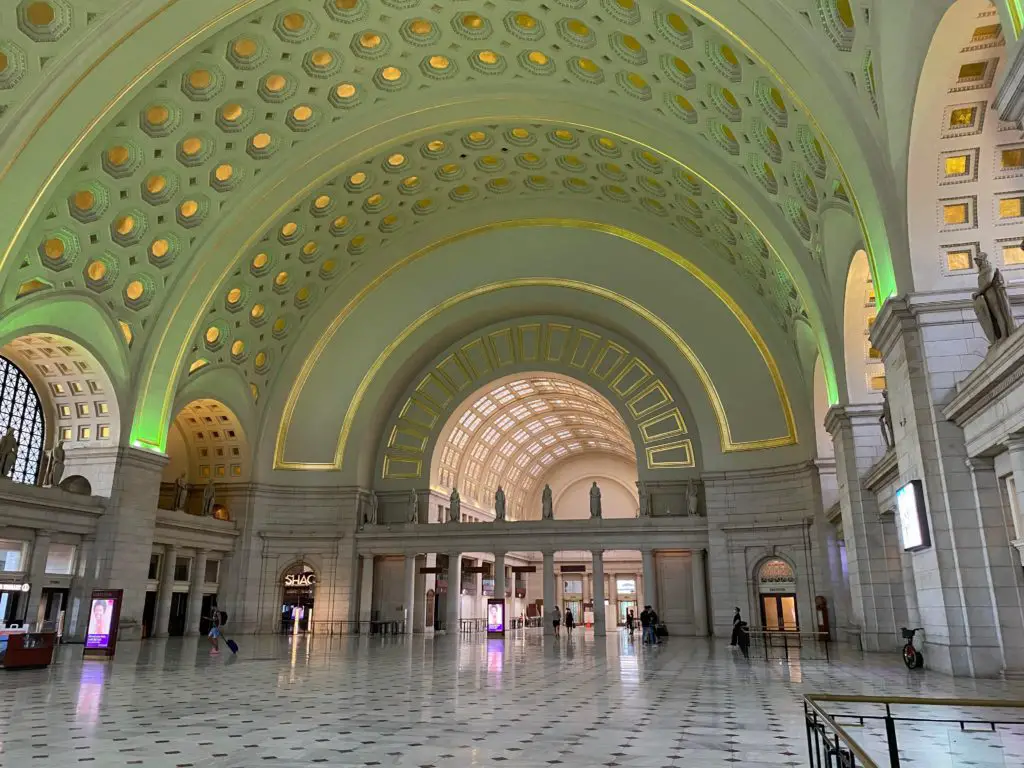 Hotels Near Washington Union Station
There are lots of options for hotels near this station. The two closest hotels are the Klimpton George Hotel and the Phoenix Park Hotel. Our preference is the Phoenix Park Hotel as it's a very short walk from the station. It is also nice to walk back to the station for lots of food options if you don't plan to eat in a restaurant.
What Amtrak Trains Leave From Washington Union Station
There are many great train routes that leave from Washington Union Station or pass through the DC area. Here is the list, you can click each one to learn more about that route:
You can also check out our list of best Amtrak train trips from Washington D.C.
How Do You Get To Washington Union Station
Washington Union Station is not difficult to get to. It is conveniently near a metro station as well as close the Capitol on the mall. You can also take a taxi or drive your own car. There is paid parking available near the station but it will be fairly pricey, we suggest taking one of the other methods to arrive. You can also rent a car at Washington Union Station.
Here is the physical address for the station: Washsington Union Station, 50 Massachusetts Ave NE, Washington, DC 20002