15 Bucket List Experiences You Must Visit In Arizona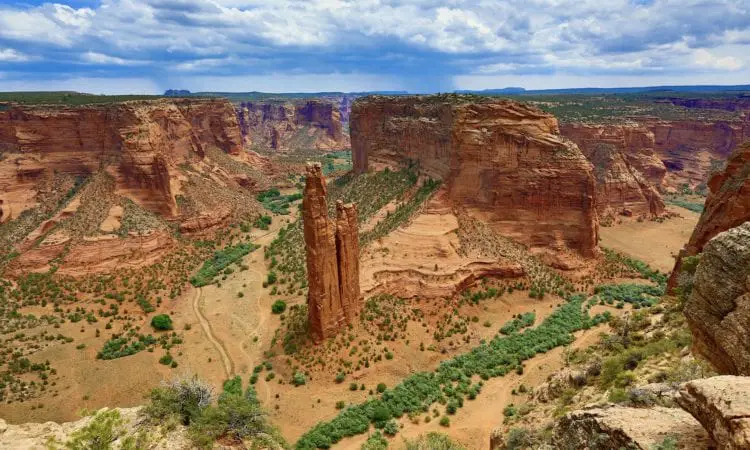 Grounded Life Travel is supported by its audience. When you purchase through links on our site, we may earn an affiliate commission.As an Amazon Associate I earn from qualifying purchases. List of everything we use in our travels.
We don't usually think of Arizona as a state riddled with incredible experiences. The main attraction in Arizona is Grand Canyon National Park. We spent a month in the beautiful state and we want to share some of our experiences with you. From the famed Route 66 to the iconic national park. We take you along for the ride. This beautiful desert state will draw you in and make you fall in love with it's vast landscape.
1. Glen Canyon Dam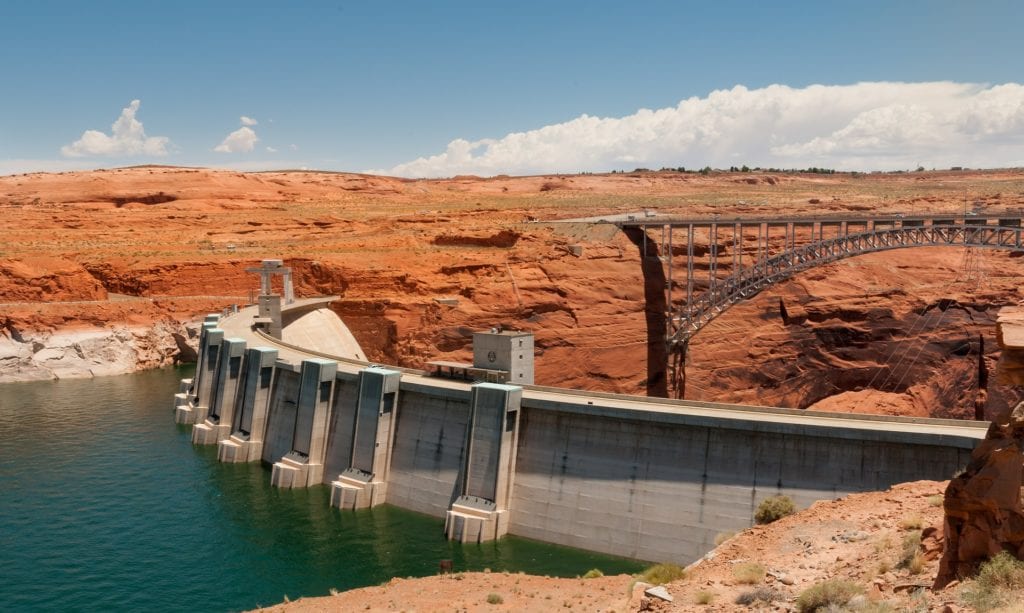 If you are driving into Page, Arizona from Utah, you will likely drove over this dam. There is a parking area on each end to avoid people stopping in their cars as they drive across. It's a bit unexpected as you drive in from the desert to suddenly see the bridge and the water below. Be sure to take a walk across the bridge if you want some gorgeous pics of this area.
2. Horseshoe Bend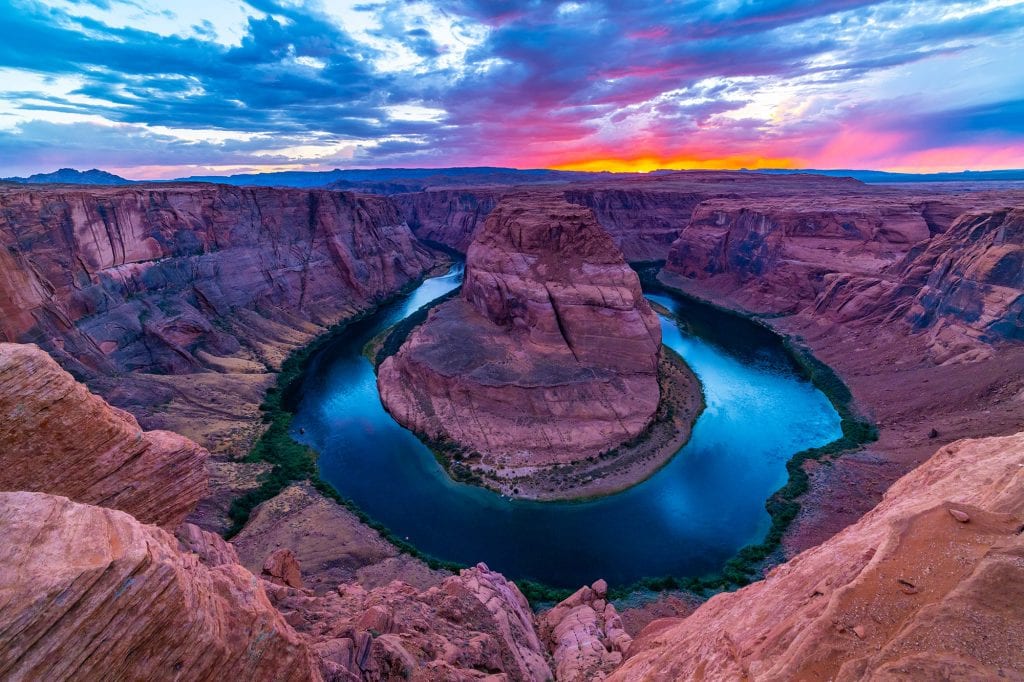 While in Page you will most definitely want to stop at Horseshoe Bend. This incredible viewpoint has been improved upon in recent years, making it even more accessible than it was before. There is a bigger parking area and a paved path to the viewpoint with a new railing installed for a bit of protection for little ones and four legged friends. Visit at sunrise or sunset for the real show.
3. Antelope Canyon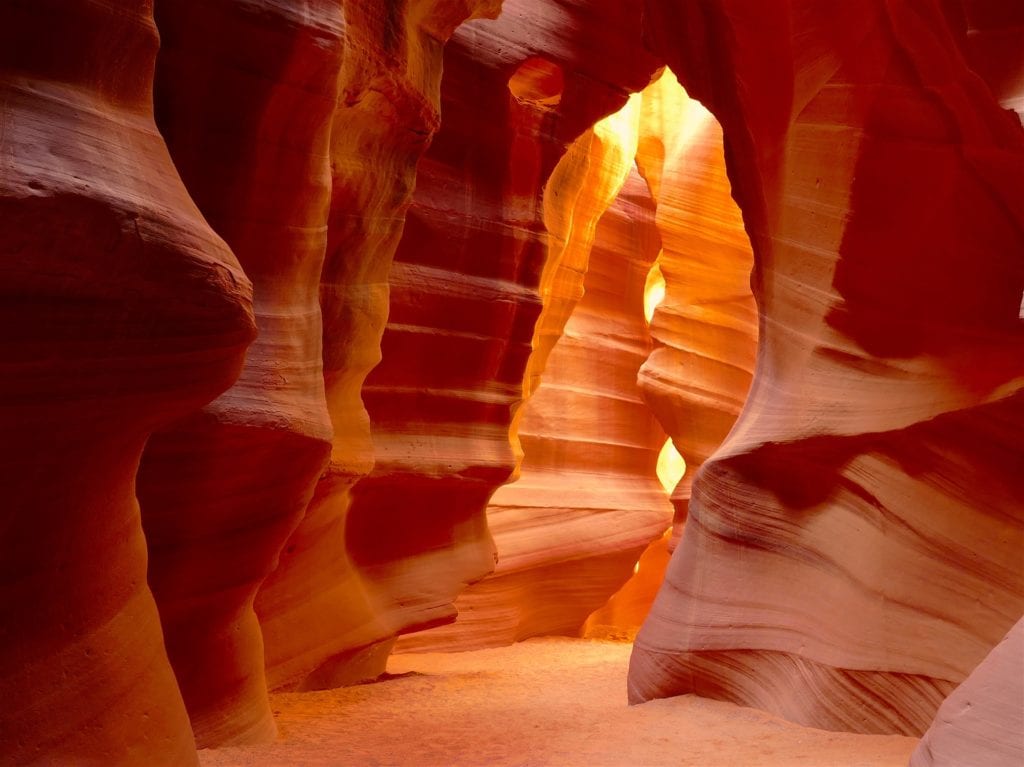 Before leaving the Page area, you will want to visit Antelope Canyon. This area is under Navajo Nation. You will need to book a tour with one of their companies to visit this area but it will most certainly be worth the visit. The guides will take you to these slot canyons. There are two sections, Upper Antelope Canyon and Lower Antelope Canyon.
4. Canyon de Chelly National Monument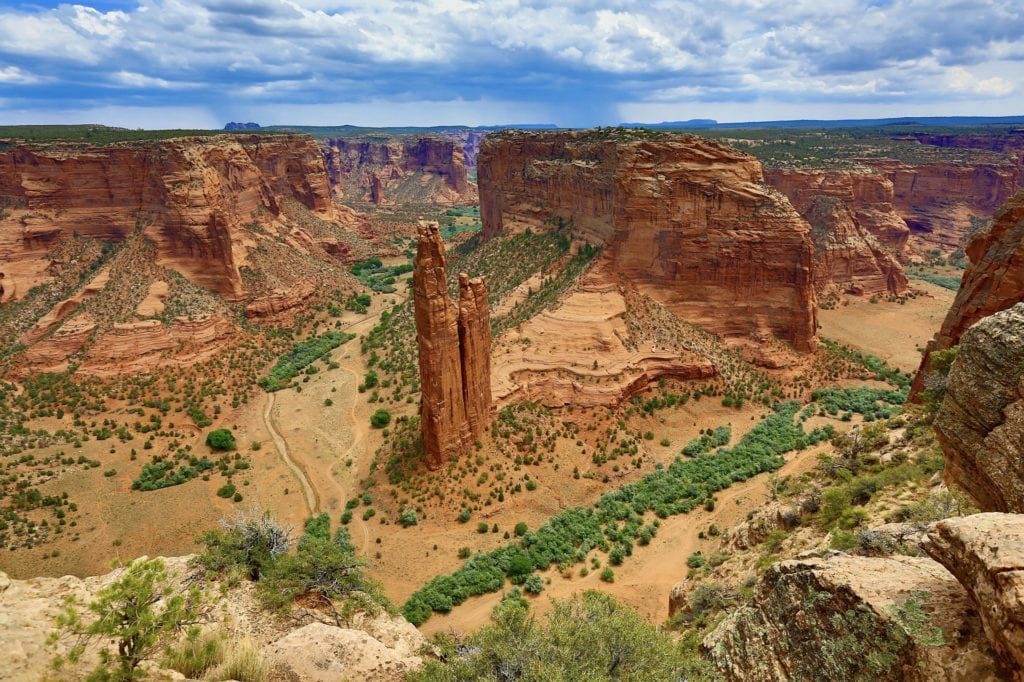 In the northeastern part of Arizona you will find a worthwhile adventure to Canyon de Chelly National Monument. This area is not as well known so you will not find big crowds here. You will find sandstone walls that rise over 1,000 ft. as well as insight into the life of the Navajo people that still inhabit this area. You will also spot the Anasazi Ancestral Puebloan ruins.
5. Havasu Falls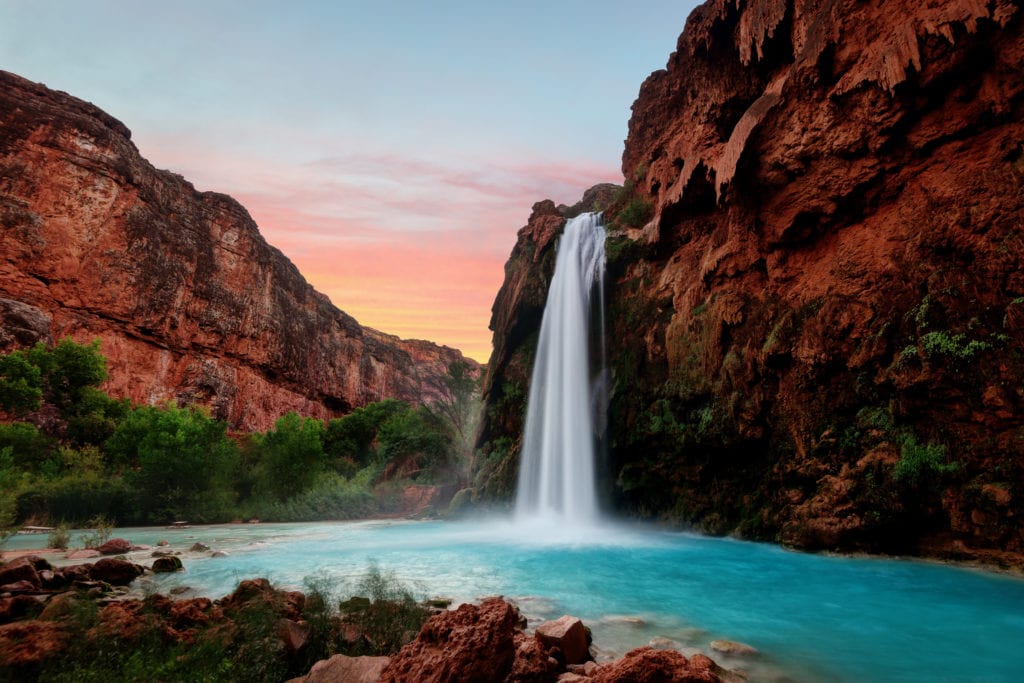 This one takes a bit more effort to visit. It is located near Supai on Havasupai land in Havasu Canyon. This area is also part of the Grand Canyon but is owned by the Havasupai tribe. You need to aquire a permit to do the hike to see the falls. It is on private land and they are very strict with the process. It can be difficult to aquire the permit but certainly worth the effort. You will find fall that plunge more than 100 ft into a beautiful turquiose blue pool at the bottom.
6. Tombstone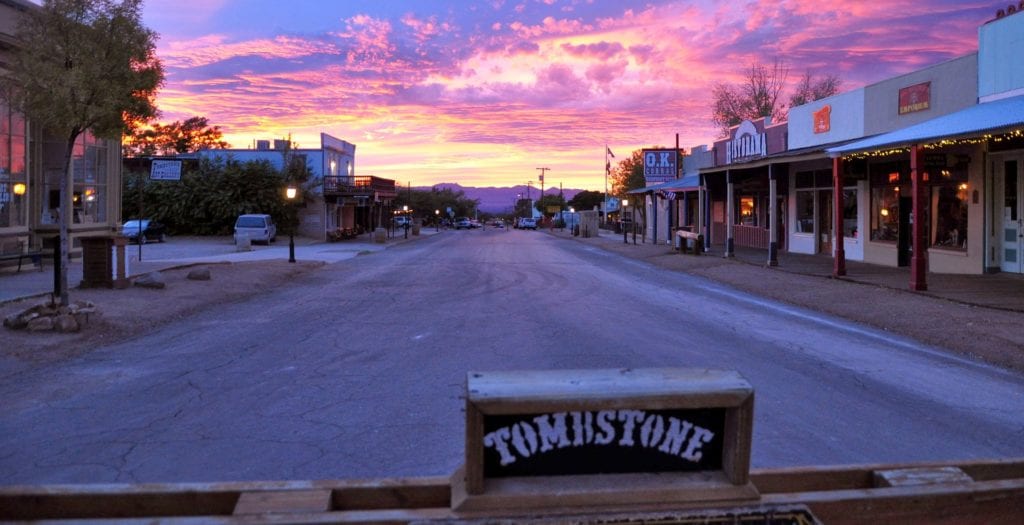 Tombstone is known for the "gunsfight at OKCorral" in 1881 between the Earp brother as well as it's mining history. It was popular with gamblers, gunslingers, prospectors and others of questionable character. Today it's a fun place to visit in Arizona. If you are feeling "brave" you can even take part in a good ole fashioned "gunfight".
7. Petrified Forest National Park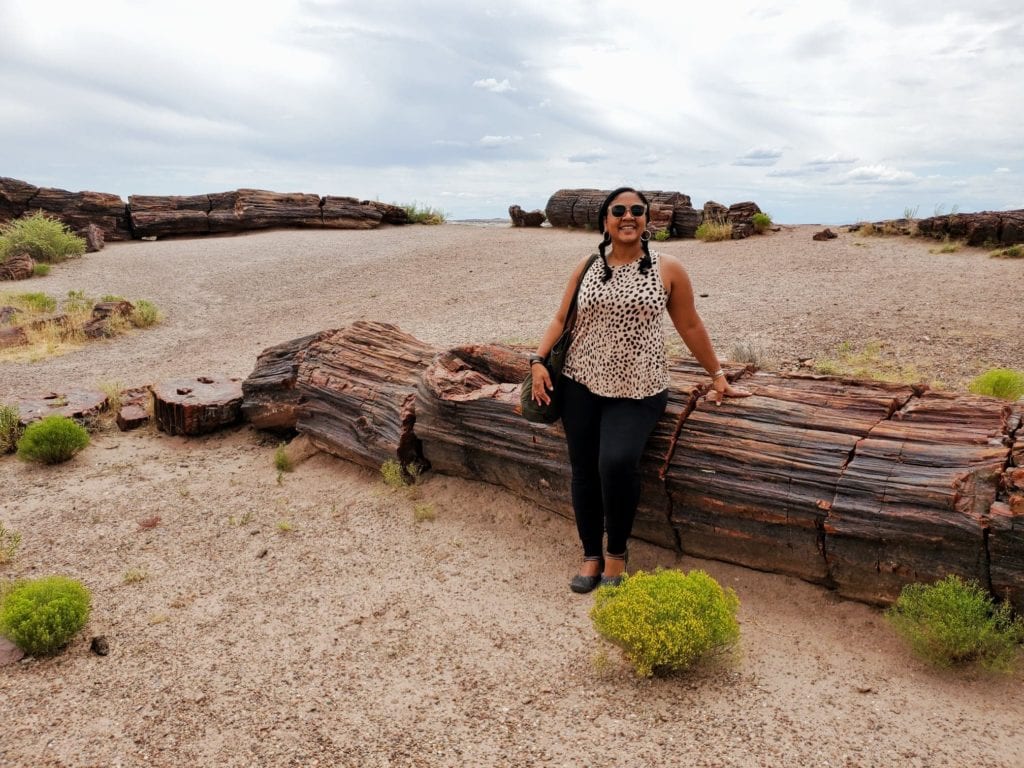 We stopped in this park while on our Route 66 trip through the state. It is located about an hour and a half east of Flagstaff. We stayed in Holbrook at the Wigwam Motel the night before our visit. This park is famous for the petrified trees that have turned to stone. You will also find the landscapes and colorful views of the Painted Desert enamoring.
8. Saguaro National Park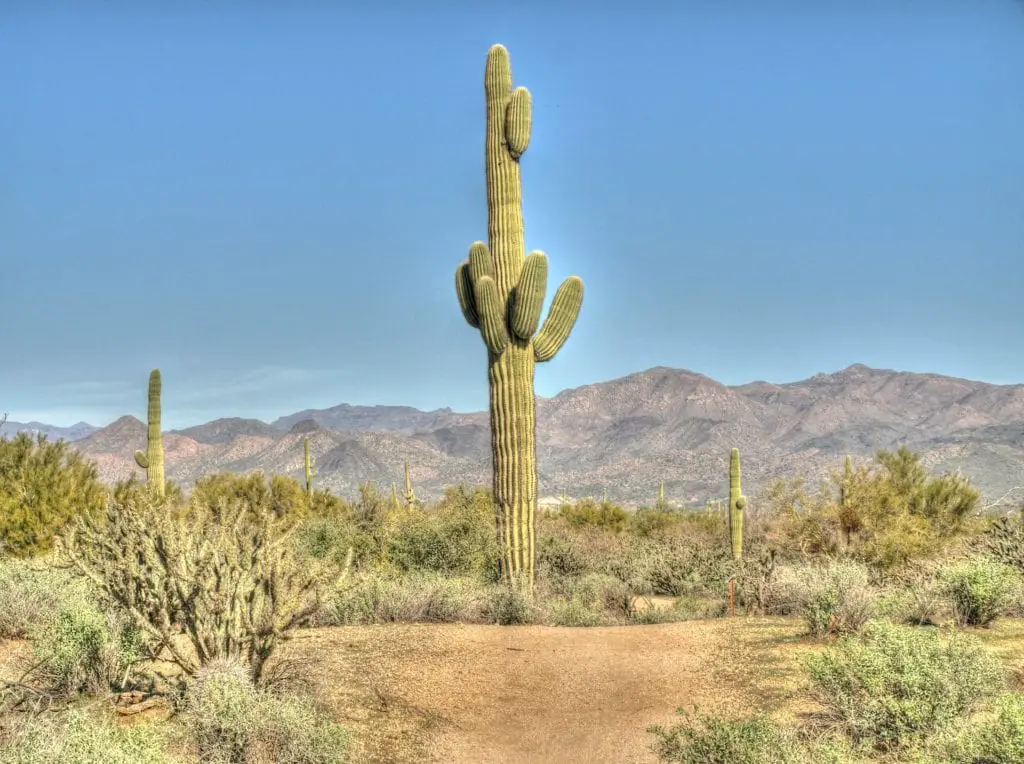 Speaking of national parks, you can't miss out on Saguaro National Park. This park is located in Tucson. It is home to some of the largest cacti in North America. The Saguaro can live up to 200 years while growing and can weigh up to 7 tons! The park is also home to several magestic plants and some unique animals found in this small section of the US. If you love hiking, you will find some amazing hikes here.
9. Vermillion Cliffs National Monument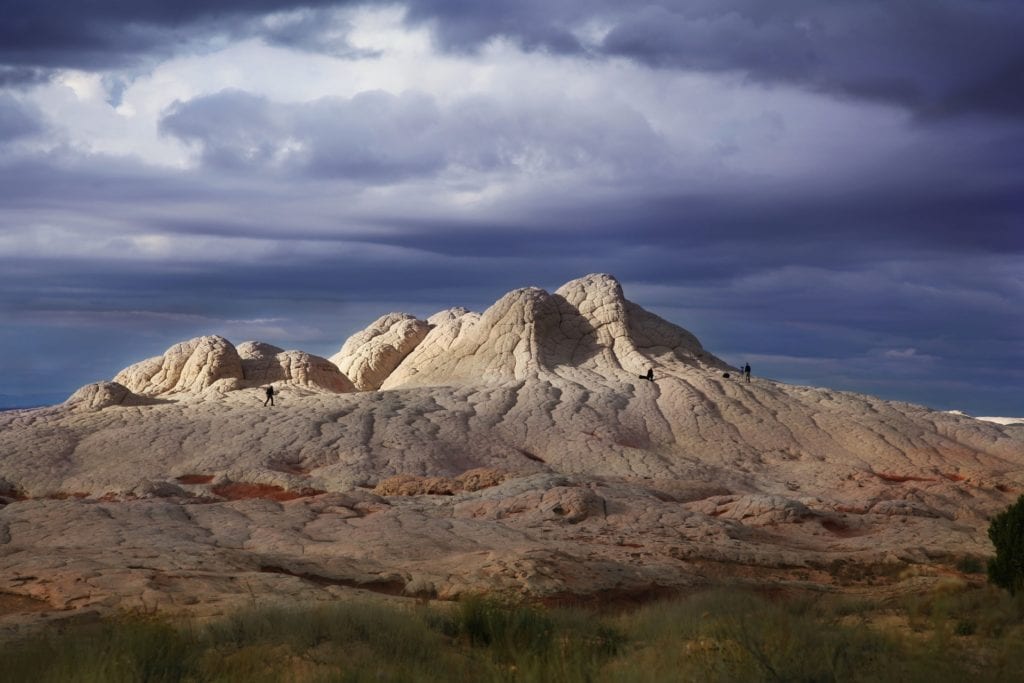 This area was established in 2000 because of it's natura beauty and to protect the Paria Plateau consisting of Vermillion Cliffs, Coyote Buttes and Paria Canyon. It's sprawled out over 293,000 acres with it's biggest attraction being, The Wave. People flock to this area for the diverse wildlife just as much for the ancient human settlements scattered througout the land. You will need a permit to hike to The Wave but it is well worth the effort to aquire one.
10. Winslow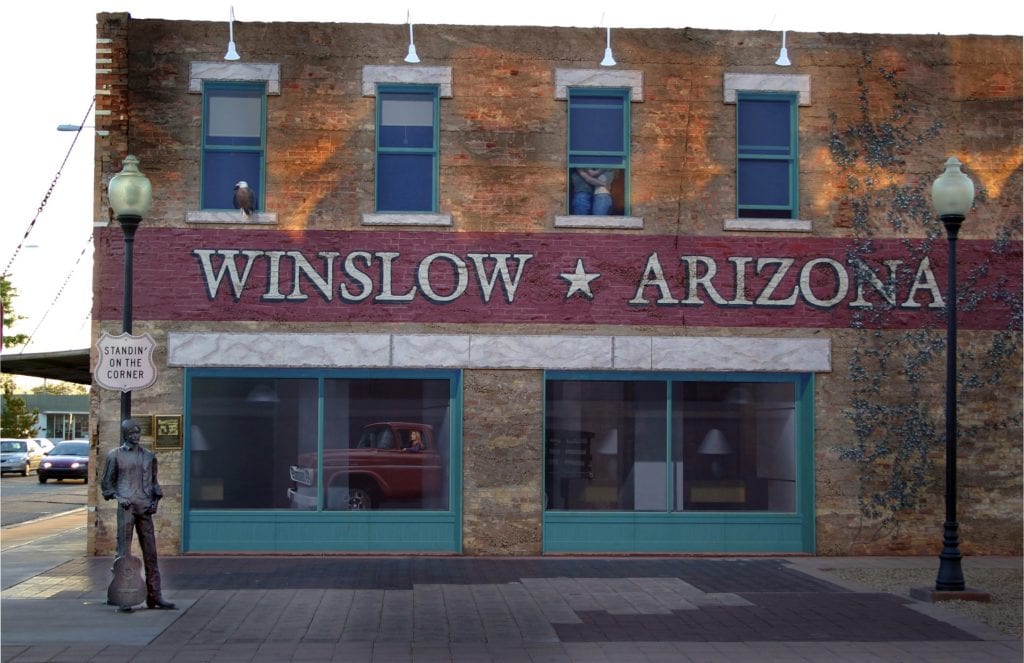 Whether you are an Eagles fan or not, you are likely familiar with the song "Take It Easy". This is where this city gained nearly all of it's notariety. It's a small town of less than 10,000 residents. The original Route 66 ran though this nearly forgetten town until Jackson Browne and The Eagles put it back on the map. You will hear the song playing as you walk into the center of town. You can even "stand on the corner" in Winslow with the Route 66 marker.
11. Grand Canyon National Park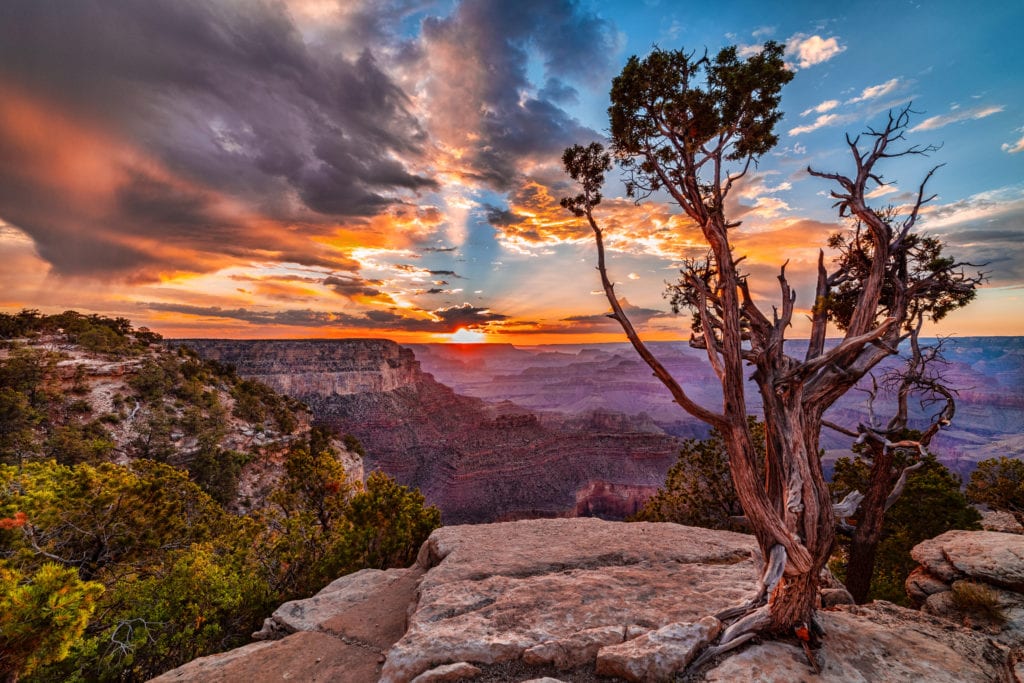 You can't visit Arizona without visiting one of the most iconic parks in the National Park Service. There are several ways to visit the park, you can easily drive into the park. You can also take the train from nearby Williams into the park too. There are also many ways to see the park, from hiking and biking to many drive up viewpoints. You don't have to be an avid outdoorsman to enjoy this beauty.
12. Two Guns and Twin Arrows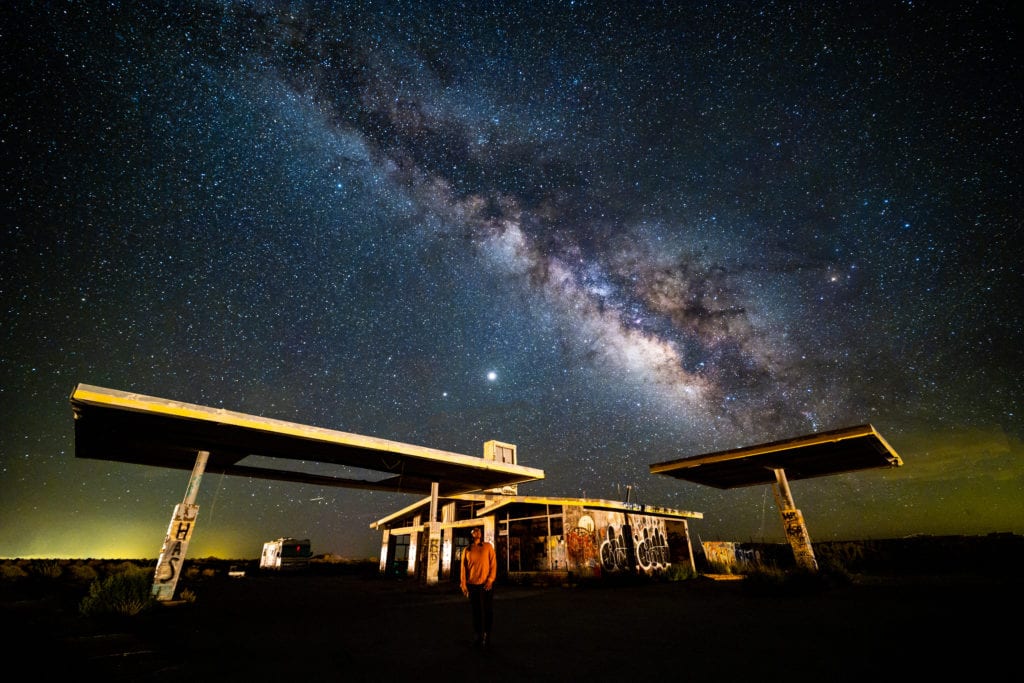 These two abandoned Route 66 depots have a storied past. One of them has been bought several times to restore but has never panned out. It seems these two are destined for obscurity except for when the sun comes down. If you love viewing the night sky as much as we do, these two places are your best best for getting epic views and shots of the night sky. We were able to capture the Milky Way in all it's glory on our visit.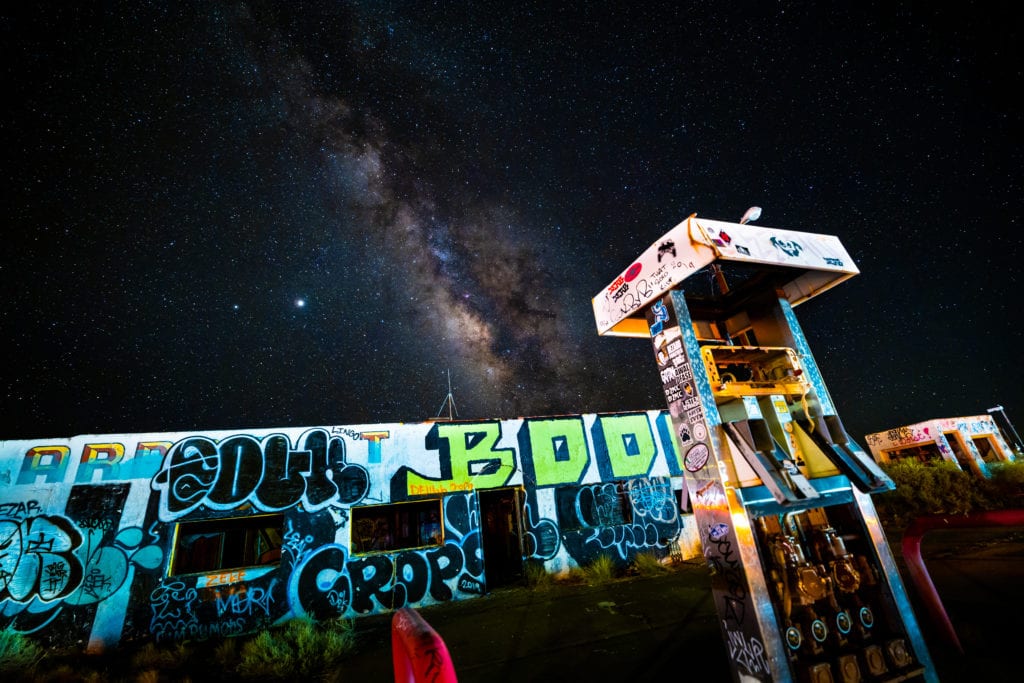 13. Kingman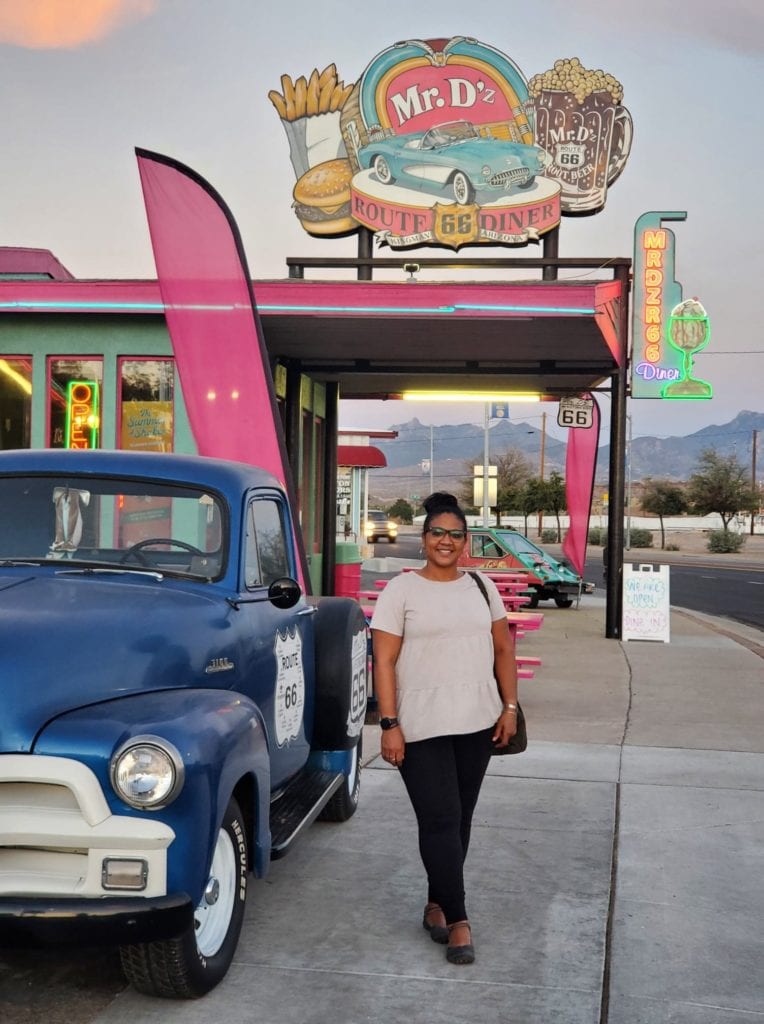 While we're on the topic of Route 66, you simply can not miss out on Kingman. This city has been able to thrive yet still keep the nostalgia of it's Route 66 days. It's one of the best preserved Route 66 cities. You wil find old diners, motels and a great Route 66 museum that is only a few dollars to enter. Don't miss a meal at Mr. D'z or Rutherfords 66 Family Diner. If you can, try to plan an overnight here so you can stay at one of the iconic Route 66 Motels.
14. Hackberry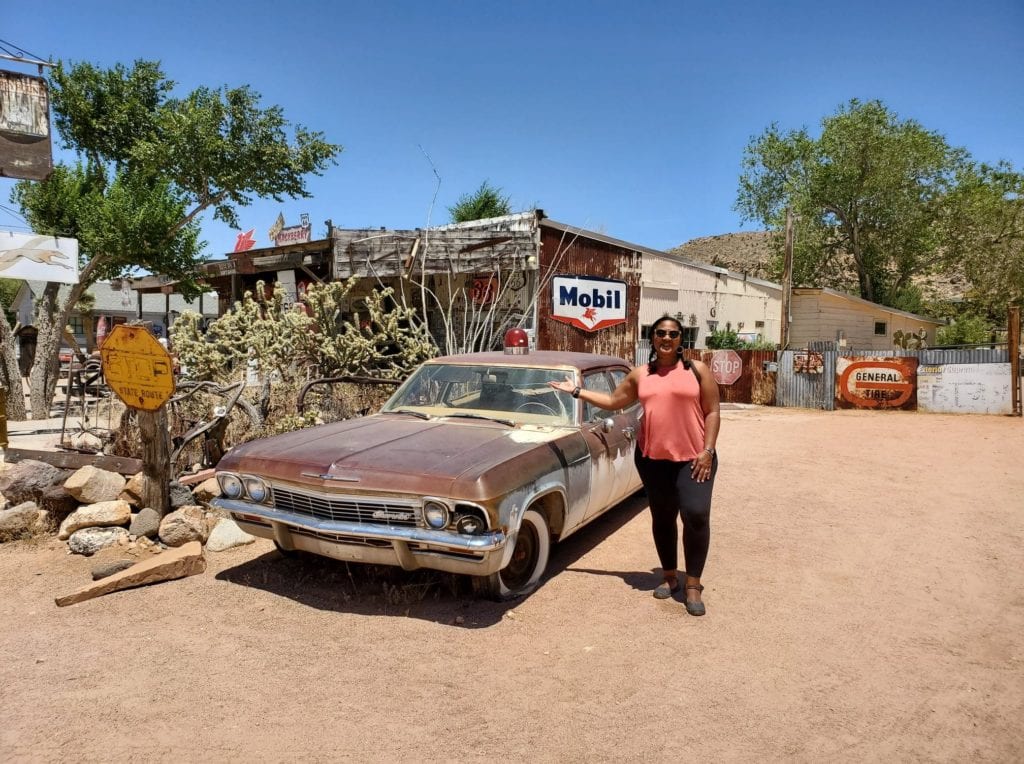 From Kingman you will want to hop on the longest continuous section of the old Route 66 route. This small unincorporated community survives solely on the Route 66 tours and road trips. You will find much of the inspiration for the Disney Pixar Movie, Cars on this route. Hackberry General Store you will find seems familiar because it was the model for the Marie's Curio Shop in Cars. You will also find "Mater" and friends in the parking lot.
15. Seligman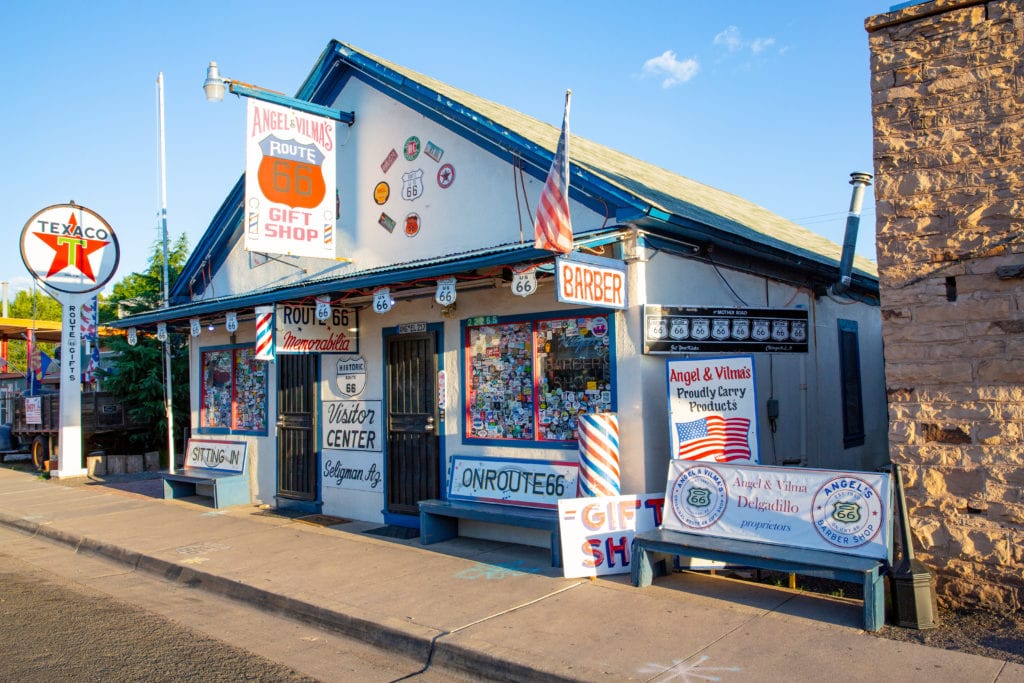 You would never think to stop and visit a town of less than 500 residents but this little town packs a punch. It's known as "the birthplace of Route 66". It's home to Angel Delgadillo who nearly singehandedly saved the town and several others like it on Route 66. While you are there, don't forget to stop in at Delgadillo's family restaurant for a treat and some laughs.
Tags :
arizona
grand canyon
petrified forest
saguaro