Where To Stay When Visiting Zion National Park
Grounded Life Travel is supported by its audience. When you purchase through links on our site, we may earn an affiliate commission.As an Amazon Associate I earn from qualifying purchases. List of everything we use in our travels.
Planning a trip to Zion National Park will have you making so many decisions. Where to stay when visiting Zion is one of the big ones. After you book your plane tickets or rent your RV, you need to know where you'll lay your head at night. There are so many options near and in Zion. Unpack these options and book a place to rest and relax when the day is done.
Springdale
Springdale is the closest city to Zion as it is literally, right outside the gates. You can even walk or bike to Zion from Springdale, making it a great choice when choosing a place to stay. From luxury, five star hotels to camping in the wilds, Springdale has you covered. It is also the most beautiful place to stay when visiting Zion as the red cliff faces and Zion Canyon are right at your door beckoning you to visit.
Luxury Accommodations
Lafave Luxury Rentals at Zion is the place to stay if you have a large group or just want to have a home to yourself. Choose from a home, villa or suite on the property, all with impeccable taste and decor. Homes and villas can house anywhere from two to sixteen people. The recent addition of the pool is a nice touch that you and your group can enjoy at the end of a hot day on the trails.
Desert Pearl Inn is a fabulous five star hotel on the banks of the beautiful Virgin River that winds through Zion. The views are astounding from every room and suite in this luxury accommodation that has the highest ratings of anyplace in Springdale. Choose from 73 wonderfully appointed rooms or suites that are either riverside or have one of those famous Zion views. There is even a shuttle stop in front of the inn so you never have to worry about transportation into the park.
Economy
If you are looking for a more affordable option when in Springdale there are many hotels that have your wallet in mind, but are still great places to stay.
Zion Ponderosa Ranch Resort is a quaint 4,000 acre ranch resort on the border of Zion National Park. Stay in anything from a vacation home, to a glamping style tent, to a Conestoga Wagon like used in the pioneer days. You can stay here for as little as $59 a night and you don't have to sacrifice comfort or adventure!
The Zion Park Motel takes you back to the days when road tripping was at its finest. Modest yet comfortable rooms can accommodate up to six people, so they are great for larger groups or families on a budget. The best part is that their rooms have fantastic views of the park and the location can't be beat at only one mile from the park gates.
Campgrounds
If you plan on roughing it a bit in a tent or RV, the best campgrounds are in Springdale and they are actually operated by the national park. You can't beat the price or the views and you'll save time everyday by being right inside the park.
Watchman Campground is the largest campground in the park and has breathtaking views of the cliffs of Watchman and the Virgin River. You really can't go wrong with any of the 176 sites at the campground that will accommodate a tent or RV. If you have a large group there are also seven group camping sites. All sites have access to a fire ring and a picnic table for dining in the grandeur of the beautiful cliffs of Zion. Potable water and a dump station make this a convenient feature for RV's in particular.
South Campground is the other option when staying in Springdale. Like Watchman Campground, the views from almost any site are amazing. There are 117 sites to choose from, but unlike Watchman, there are no electric sites at this campground, which makes the price cheaper at only $20 a night.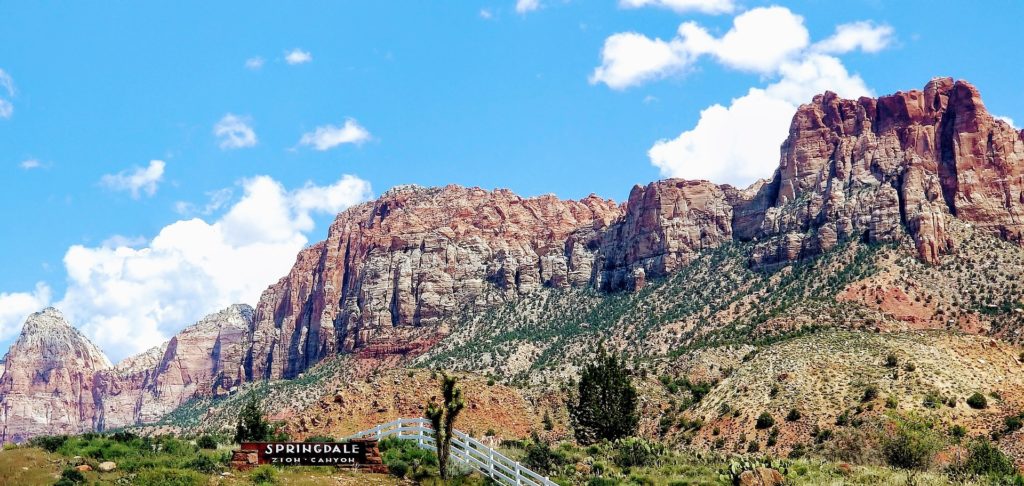 Hurricane
When mormon traveler Erastus Snow's carriage lost its covering due to high winds, he declared the place it happened Hurricane Hill. It was shorten to Hurricane and the rest is history. At only 16 miles from Zion National Park, Hurricane can also be a great option for accommodations when visiting Zion.
Luxury
The Coral Springs Resort specializes in one to three bedroom suites that are 1,000 square feet each and have a balcony for those amazing desert sunset views. There is an indoor and an outdoor pool, as well as indoor and outdoor jacuzzi. So, it doesn't matter if it's snowing, you can still take a dip. For the sports fanatic you can play tennis, basketball or work out in their fitness center.
The Sand Hollow Resort is perfect for the Zion visitor that also has brought his or her golf clubs on their vacation. Golf among the red rock desert and stay in one of their suites that include one bedroom suites to six bedroom penthouses. Luxury is at its finest here at this resort where you can also enjoy heated pools and hot tubs anytime of year. The resort also specializes in individual experiences. Whether it be jet skiing on the Sand Hollow Reservoir or an ATV tour of the Sand Mountain Dunes, adventure awaits you after you've finished your round of golf.
Economy
There are many economical places to stay in Hurricane for the budget conscious travelers. Try My Place Hotel in Hurricane. Featuring kitchenettes in every room, you can cook homemade meals on your vacation. This is important if you are trying to save money by cooking instead of eating out.
The Holiday Inn Express is also a nice economy option as it has clean spacious rooms and a free breakfast to take advantage of before your journey into a day of fun in the national park. There is also a pool to take a dip in after those long hot hikes.
Campgrounds
Quail Creek Campground is a wonderful place to stay with a gorgeous lake and stunning views. There are 24 partial hookup and full hookup campsites for your RV enjoyment. Bring your kayaks or boat and try your hand out at catching one of their well stocked, largemouth bass. Paddle boarding is also an option as you can rent one right at the state park.
Hurricane is a great place to try dry camping in the wilds! There is so much land open to the public in which you can stay for free. The Bureau of Land Manegement (BLM) is operated by the federal government and offers millions of acres across America for camping and enjoyment.
Little Creek Mesa is hidden in the desert among the red cliffs and is a favorite for mountain biking enthusiasts. If you see a campfire ring, you'll know it's a site. Pull up and enjoy. Dalton Wash Road is also a great place to set up camp if you want peace and solitude and a chance at seeing that amazing southern Utah Milky Way. With the darkest skies in the U.S. you can enjoy stargazing or maybe even a meter shower if you are lucky.
There are a multitude of places to stay near Zion National Park. Staying in Springdale or Hurricane will give you the best options for great accommodations that are also convenient to the park. Staying in close proximity will cut down your travel time as well as enhance your enjoyment for the vacation of a lifetime.