What It's Like In A Caledonian Sleeper Club Room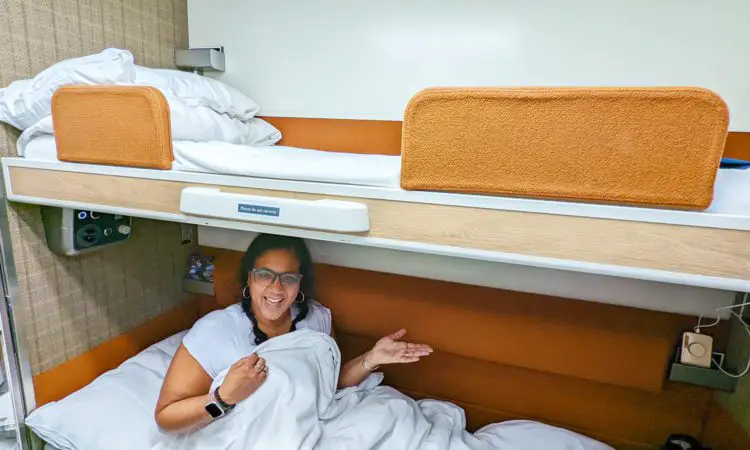 Grounded Life Travel is supported by its audience. When you purchase through links on our site, we may earn an affiliate commission.As an Amazon Associate I earn from qualifying purchases. List of everything we use in our travels.
We rode the Caledonian Sleeper from Edinburgh to London Euston station in a Caledonian Sleeper Club Room. This was just a few days after riding north in the Caledonian Double, so how did it compare? What were the advantages and disadvantages of the room.
Bunk Beds
The biggest thing you'll notice in the room is bunk beds instead of a big double bed. If you are a couple and both of you must sleep on the bottom level, the Caledonian Club Room just won't work. If however one of you doesn't mind climbing to the top bunk, we found this to be a great room.
Most sleeper trains in the world feature bunk beds, so this is not out of the ordinary. We were actually a little more comfortable and found it easier to move around with the bunk bed setup. We use the top bunk quite a bit to store backpacks and bags while we are not sleeping, so getting back to a room that had that upper bunk was a nice thing.
The beds had plenty of clearance and were very comfortable. The beds are perpendicular to the direction of travel, which we find nice. This does mean if you roll at all during the night it'll be side to side, and Rob was initially concerned on the top bunk that these orange walls might not be enough to catch him, but they proved to work just fine.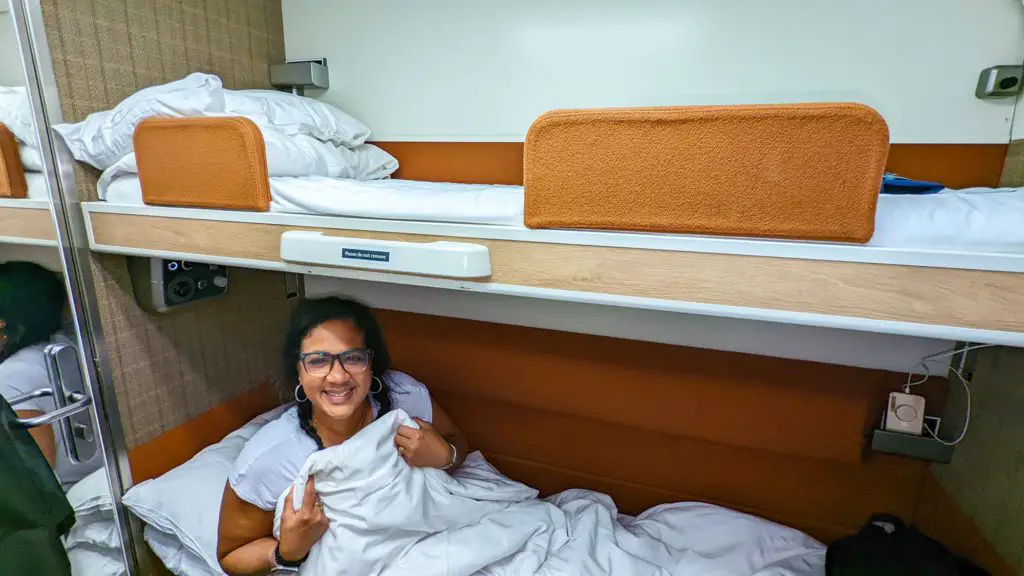 Sink, Bathroom and Shower
What makes the Caledonian Sleeper Club Room better than a Classic room is the included private bathroom with shower. The room also comes with a standard sink in the room. As far as sleeper trains go, it is a pretty big sink too! Most of the time you'll just get a tiny sink or a foldable sink on a sleeper train, but this felt very modern and luxurious.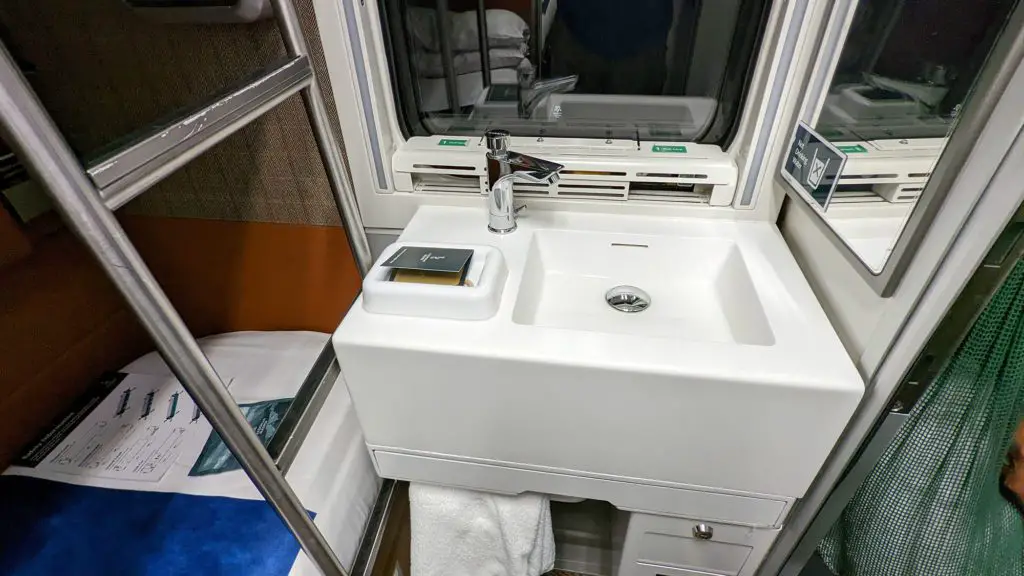 The combination toilet and shower bathroom design is the best we've ever seen on a train. There is a lid that covers the entire toilet area, and when it is down it forms a large bench to sit on in the shower. It keeps everything below it completely dry. When the lid is lifted, you've got access to the toilet.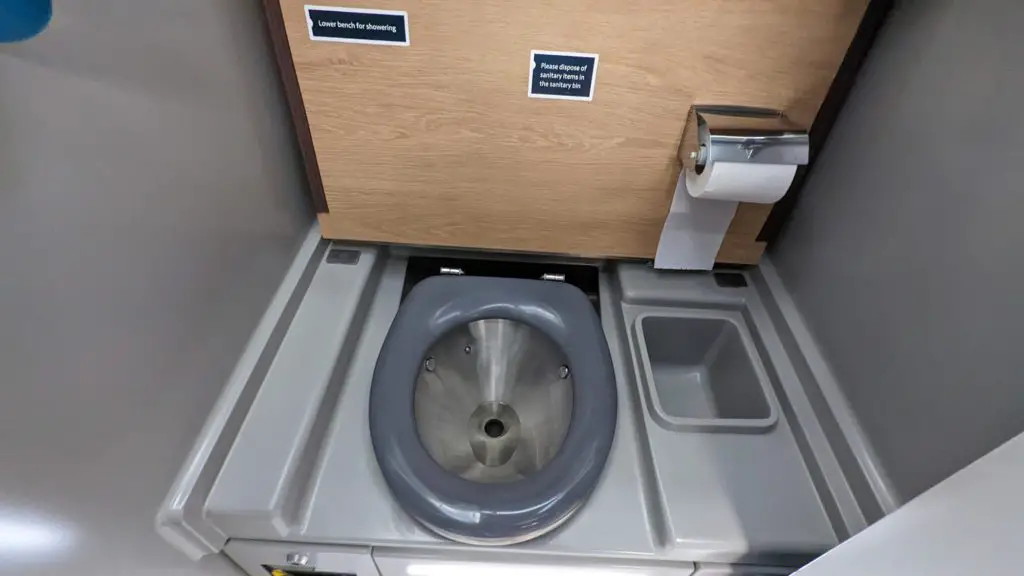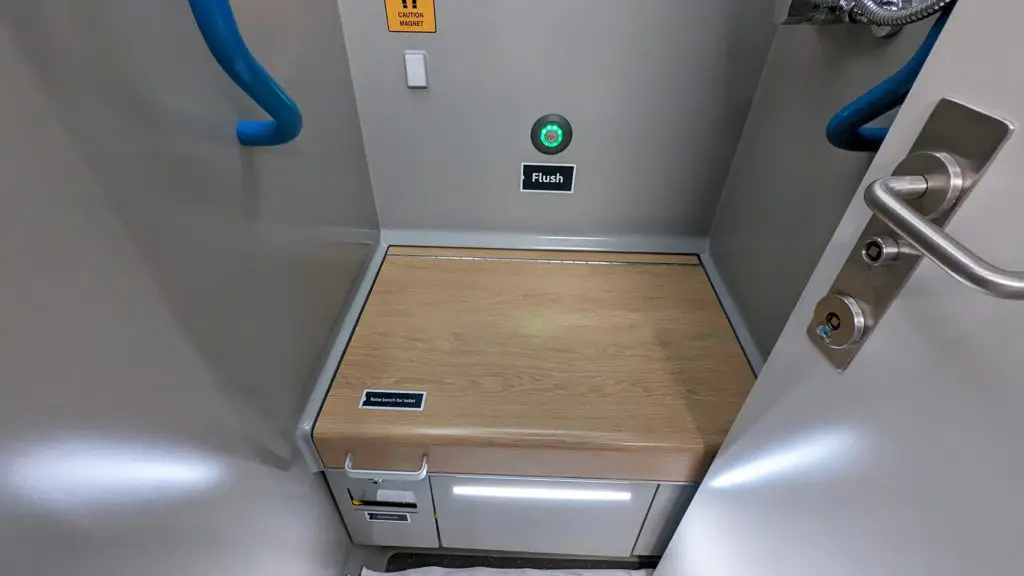 We were also impress that this area was bigger than we expected, overall just a great setup for a bathroom on a train.
Storage
Most people won't be bringing as much as we did on the train, as we were in the middle of a 36 night trip, but still we found the storage to be good. We would have liked to have bag storage in the hallway, but since there wasn't any, we put our bags under the lower bed. If you have smaller suitcases they will fit without a problem. The largest size suitcase will be a problem.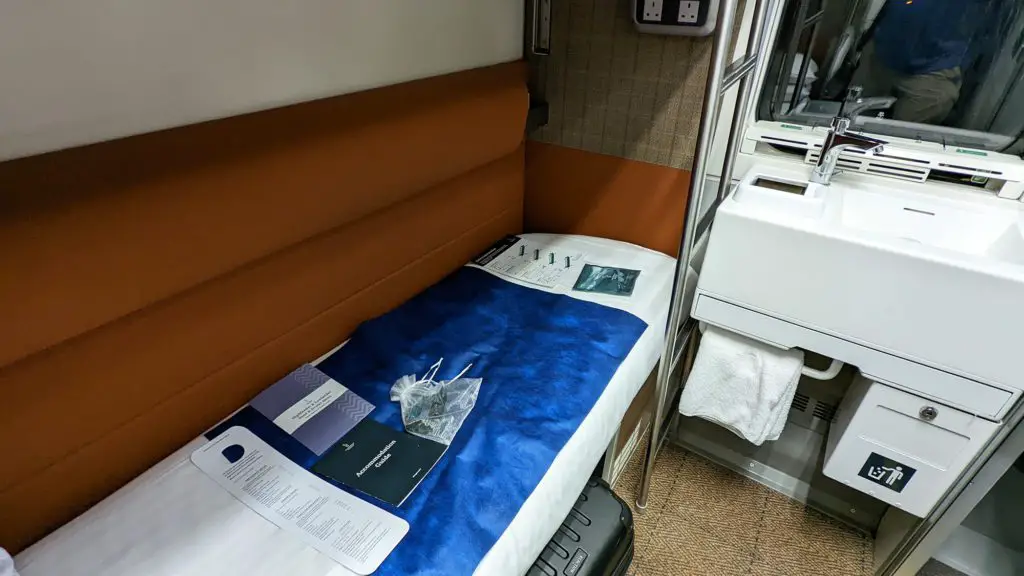 Using The Ladder
One of the downsides of this room is the ladder to get to the top bunk. It always seems in the way, and we prefer a built in step system at the end of the bed. In order for the person on top to get up and down you'll need to leave the ladder in the middle of the room. The ladder also isn't designed well, and the skinny metal rungs are painful on bare feet coming down. If you are using this ladder in the middle of the night when you are sleepy, it isn't a great experience. I'd say it is one of the harder beds to get into, just because the ladder is so bad.
Ports and More Ports
We've never seen so many ports and controls on a sleeper train. The Caledonian Sleeper Club Room is loaded with places to charge your phones and electronics. It is the newest train we've ever been on, so it does make sense that it is upgraded as well.
Up top you've got a tray to hold your glasses or a water bottle, and then a USB port, a light and a call button.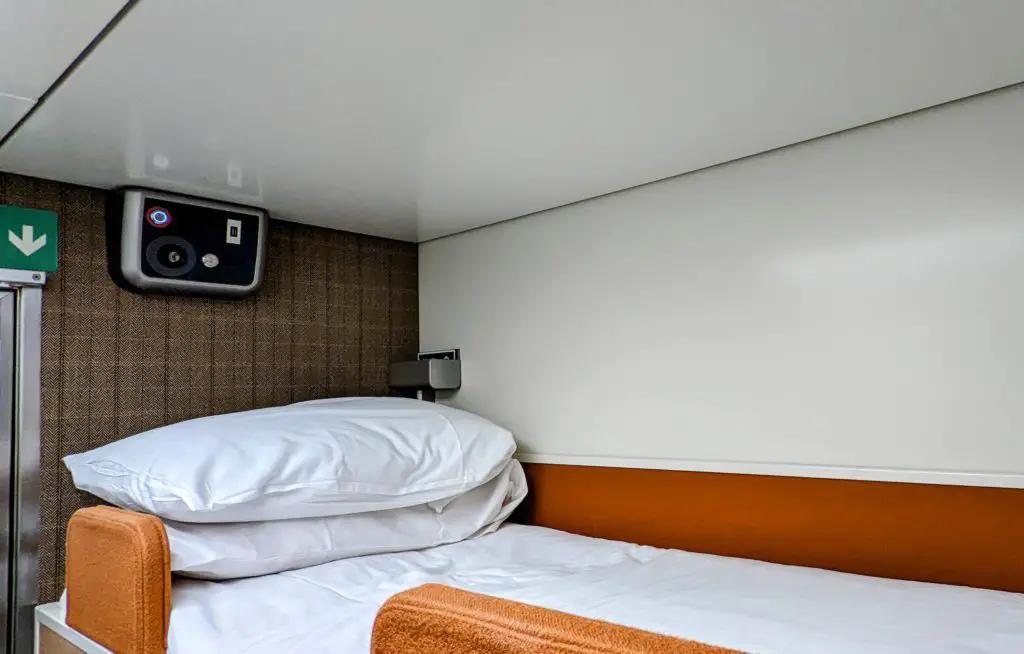 On the bottom level, you get two places to store glasses and water bottles, which is nice. I really wished there was an extra storage space above as well. You also have two full sized panels that can control just about anything in the room. You can dim lights, set the temperature, call the host, or charge via USB.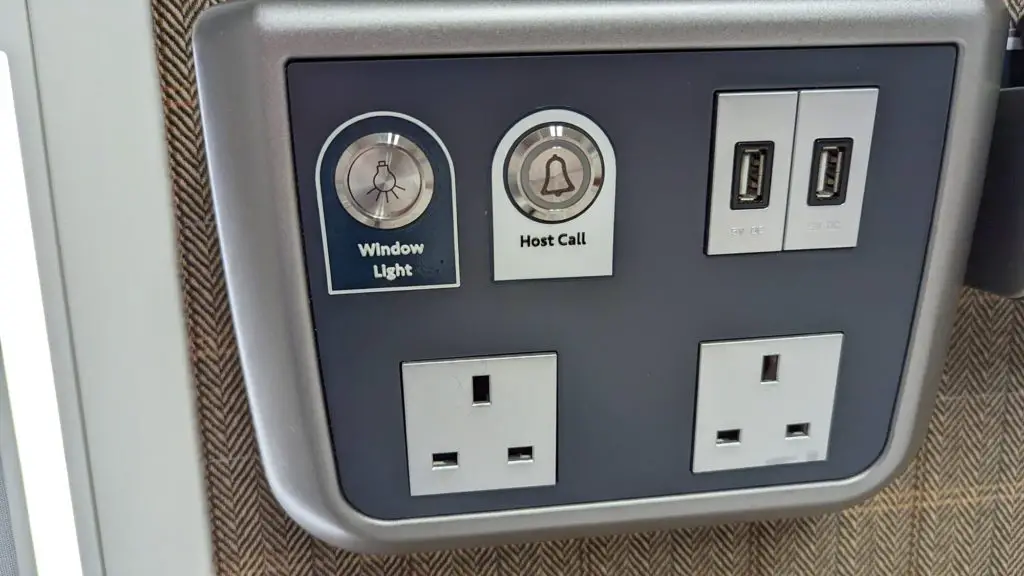 Impressive to say the least! Just remember to bring a converter if your electronics won't go into these outlets.
What Else Is Included
When you book the Caledonian Sleeper Club Room you get a few extra perks as well. Breakfast is included, and will be brought to you in your room or you can eat it in the Club Car depending on time constraints.
You also have access to the first class lounge in the station before boarding. In London, this was a nice perk, but in Edinburgh, the lounge was not staffed, and we'd be told it hadn't been for quite some time. Due to that we were denied access.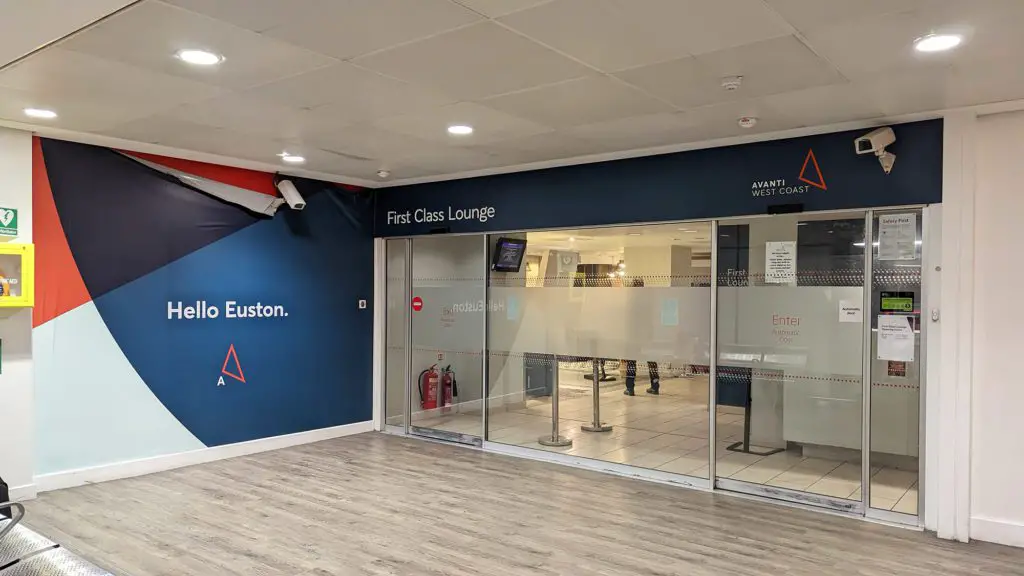 The Caledonian Sleeper doesn't have it's own lounge, but you get access to the Avanti Lounge at London Euston. They served free drinks and snacks, so we took advantage and got tea and a lemon shortbread biscuit.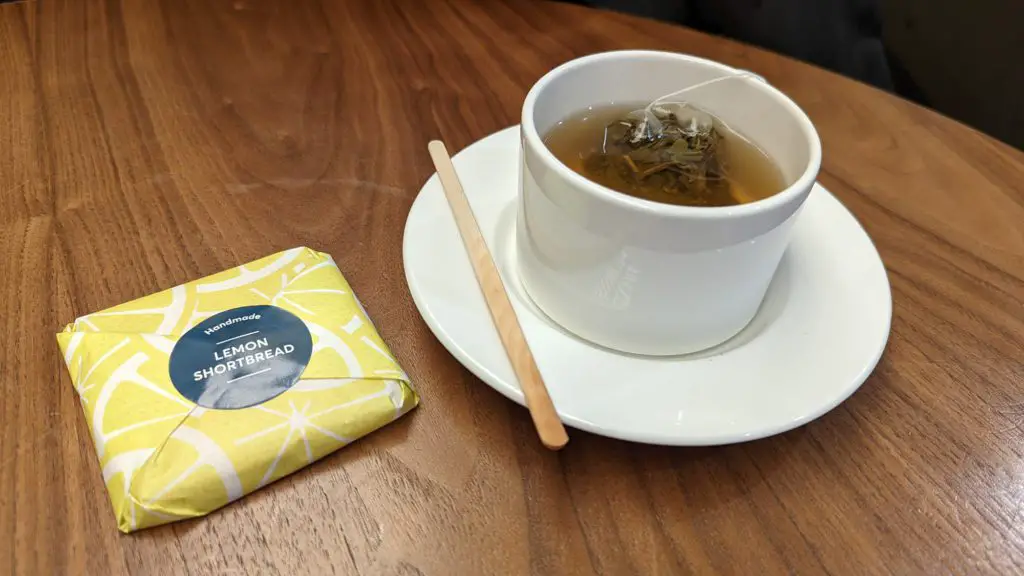 You'll get a complimentary sleep kit with Scottish toiletries in your room. They'll be waiting for you on your bed. It was one of the better sleep kits we've gotten and we are still using some of the items as we travel!
You also have priority Club Car access with this room type. It means you'll be able to go eat when you want after getting on the train, but in our experience, the Club Car was never totally full while we were in there, so I'm not sure how often this perk is actually helpful. You totally should go take advantage of the Club Car though, as it is one of the prettiest cars we've ever seen on a train.
As we mentioned in our things to know before riding article, dinner is not included but can be purchased.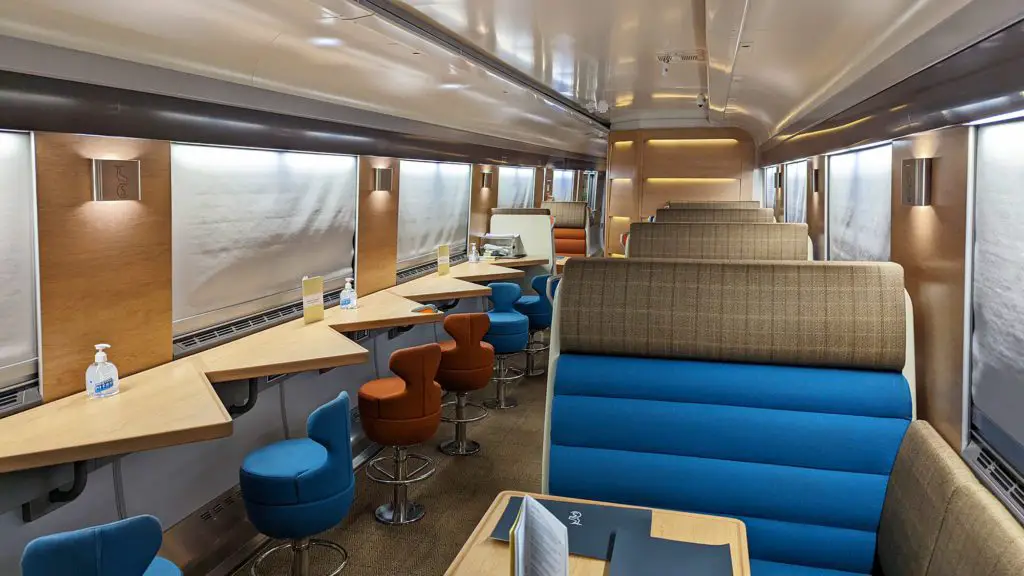 Is It Worth Upgrading To The Caledonian Sleeper Club Room
The Caledonian Sleeper Club Room gives a few really important perks that make upgrading to a club room totally worth the money. Having the private shower and toilet in your room is really something you'll be happy about when on the train. In addition, you'll get breakfast included and have access to the first class station lounge before your trip.
We were really happy we upgraded on the Caledonian Sleeper to a Club Room and is was worth every cent!