Edinburgh Waverley Station: A Complete Guide
Grounded Life Travel is supported by its audience. When you purchase through links on our site, we may earn an affiliate commission.As an Amazon Associate I earn from qualifying purchases. List of everything we use in our travels.
Scotland brings visions of rolling boggy hills, craggy sea-swept cliffs and scenes of border collies herding their flock across the landscape as they have done for half a millennium. It is beautiful, romantic and jammed packed with intriguing and exciting history. One visit and you will have yourself planning another trip instantly.
Edinburgh is a great place to start your European travels, as it is the farthest northern country in Great Britain. Tour around Scotland and then head south hitting stops like Ireland, Wales and England. The best mode of travel you'll find will be by train. There's nothing better than seeing the countryside from cushy and comfortable seating, enjoying a cup of tea or coffee as the stunning views appear before you. With the Caledonian Sleeper you can ride in comfort in an overnight sleeper train. Check out Edinburgh Waverley Station as your first stop or as part of your tour of the fabulous tour of Great Britain.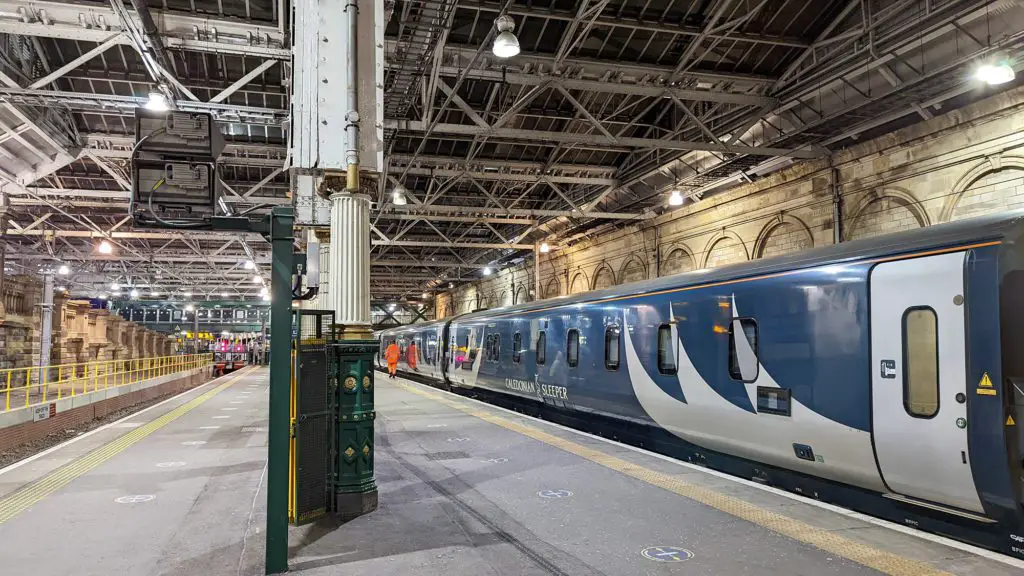 Edinburgh Waverley Station Overview
The Edinburgh Waverley Station was built in 1868. Not long after, it was realized that the current rail station lines that were available were inadequate for the hoards of people that were clamoring to travel by rail. The station would, subsequently, be expanded two more times encompassing over 23 acres. Edinburgh Waverley Station is an impressive example of the famous Victorian style that you will see in many parts of Scotland and throughout Europe. It is so iconic, that Harry Potter eludes to its grandeur and scenes from Marvel movies have been filmed here. It is Great Britain's second largest railway station, capable of handling over 30,000 passengers per day.
In 1897 a fabulous stained glass dome was added and still remains to this day, further adding to the beauty of the station. The glass roof over the station platform adds an airy feel that enhances your experience in the station. In fact, in 2008 , the 28,000 panels that existed were were replaced with glass, modernizing the station and giving it that grand feel. The New Balmoral Hotel is adjacent to the station and retains the Victorian architecture of the station that gives Scotland such charm.
When you enter the main concourse or "Booking Hall", your eye is immediately drawn up to the stained glass and ornately carved wood dome that was set in place in the late 19th century. It is more reminiscent of a European cathedral than a train station hall. Surrounding the hall you will find restaurants, shops and cafés to peruse or grab a quick bite to eat. In the middle of the Booking Hall is the main Ticketing Office as well as the First Class Lounge. Restrooms and even pay showers are available here if you are only in a layover situation.
Beyond this point, you can take the escalators down and you will find 20 platforms awaiting you. From here, you can take one of many trips to places all around Great Britain. As always, pay close attention to signage and times posted as they are subject to change.
How to Buy Tickets at Edinburgh Waverly Station
There are many ways to buy tickets at the station. In the Booking Hall, there is a main ticket office where you can speak with a representative and get answers to your travel questions. There are also ticketing machines posted throughout the station that sell tickets to all of the rail lines that run from the station. You can also buy tickets in advance online at www.scotrail.co.uk. In addition there is a ticketing kiosk run by Scotrail if you are buying at the station.
Where to Eat at Edinburgh Waverly Station
There are a good number of restaurants, cafés and pubs within the confines of the station. You can choose from the Scottish pub in the heart of the station and have a pint at the Beer House while you await your train. For a quick in and out, there is Burger King and The Bagel Factory. For coffee, good choices are Costa Coffee and Pret Organic Coffee.
However, there are many places just outside the station that are worth your time if you have it. The Booking Office is right outside the station and in the entrance to Waverley Mall, which has a fabulous array for places to fill your tummy. The Booking Office has traditional British food such as Fish and Chips as well as vegan options.
There is also an amazing burger and barbecue restaurant, The Butcher Boy, where you have to try the Braveheart burger named after its fearless character William Wallace. Sushi and Chinese are also not far if you want something with a far east taste.
Where to Stay Near Edinburgh Waverley Station
You can't really go wrong for convenience and comfort when staying at The Balmoral. The pool and spa add to the already impressive rooms that boast upgraded marble bathrooms along with the room's beautiful chic french style. Top off the evening with a table at the Brasserie Prince and try their classically wonderful french onion soup and steak tartare.
Try a place of your own by staying at the Parliament Square Royal Mile. You will have a 1,300 square foot home to yourself complete with a city view. If you are planning to stay in Edinburgh for a while, this is a great choice and is only 0.2 miles from Waverley Station.
Do you have a large crew traveling together? Ramsay Gardens is a four bedroom apartment that is 0.3 miles from the station and right next o Edinburgh Castle. You won't want for anything in this spacious accommodation that has a kitchen and everything you need for a comfortable stay for your week in Edinburgh.
How early do you need to arrive at Edinburgh Waverley Station
This Scottish station is relatively easy to navigate so confusion i kept to a minimum. If you don't want to shop at Waverley Market on their three floors of anything you need or want, then you just need to get to the station in time to admire the Booking Hall and find your platform. This shouldn't take more than 20-30 minutes.
Best Trips from Edinburgh Waverley Station
Stirling
Are you a Braveheart fan? Does the thought of William Wallace defeating the English army have you chanting, "Freedom"! Then you will definitely want to take the beautiful 50 minute train trek to Stirling. Here, you can walk around the National Wallace Monument and learn more about this famous figure of history. Then, take a tour of the grand and magnificent Stirling Castle where Mary Queen of Scots lived out her days as well as many other kings and queens of history. Stirling is also, the gateway to the stunning Scottish Highlands, so you must plan time to walk around the countryside and experience its grandeur.
Aberdour
If you are in Scotland, then you must experience the Scottish coast in all its glory. Enjoy the two town beaches that are regarded as the finest in Scotland. Next, take a walk on a section of the Fife Coastal Path, a dazzling trail on the Scottish coast that boasts cliffside castles, puffins enjoying the rocky coastline, waterfalls and harbor side historic towns. This 116 mile path would take you a couple of weeks to complete, however, pick a section and enjoy it in smaller trips. Get the flavor and feel of Scotland through its nature.
Glasglow
Scotland's largest city awaits just 50 minutes from Edinburgh. Tour the medieval Glasglow Cathedral and then have lunch in the West End where there are a plethora of cafés and restaurants to sample. Next, enter the Kelvingrove Art Gallery and Museum. Not only are this building's contents interesting and historical, but the building itself is a sight to see. Free of admission, this is one of Scotland's best tourist attractions and must be seen while you are in Glasglow.
Edinburgh Waverley Station is a beautiful place to be and a great place to land when traveling around Scotland and Great Britain. Whether you are beginning your travels here or this station is a stopover, take the time to enjoy its interesting history and immerse yourself in Scottish culture before heading out on another adventure.