Caledonian Sleeper Train: Caledonian Double Review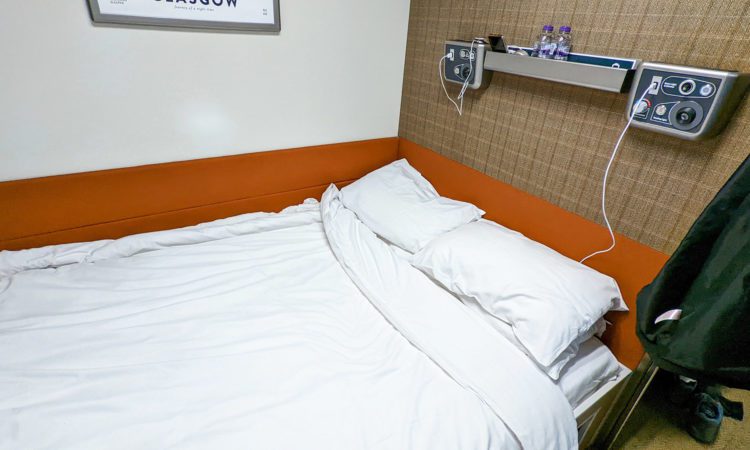 Grounded Life Travel is supported by its audience. When you purchase through links on our site, we may earn an affiliate commission.As an Amazon Associate I earn from qualifying purchases. List of everything we use in our travels.
We had the pleasure of riding in a Caledonian Double Room on the Caledonian Sleeper train from London to Glasgow. We were really excited about this trip, as it was our first time in a double bed on a sleeper train.
Is the Caledonian Double worth the upgrade
The Caledonian Double is the most luxurious way to travel on an affordable sleeper train in Europe and is worth the money to upgrade from a Club or Classic room. Nowhere else can you get a bed big enough for 2 people to sleep without the need for bunkbeds. This is a classic luxury experience and is worth spending a little extra money on.
The double bed
We found the bed to be big enough for us, and very comfortable. The person on the inside will have a harder time getting out of the bed in the night, as they have to crawl over or around the person by the aisle. It was a small inconvenience though to be able to be in the same bed and not have to climb a ladder to get to the bunk bed, like in a Caledonian Club room.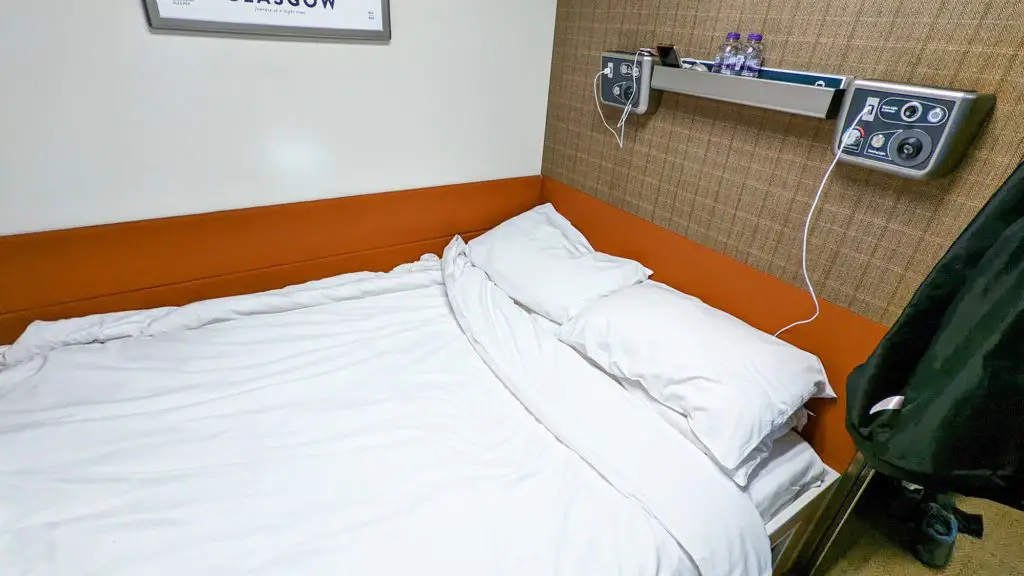 Unlike many sleeper trains, the bed is always down, and doesn't fold up into seats during your trip. This means the bed does dominate the room and take up almost all of the floor space. In exchange, you have ample head room and can sit up in bed whenever you like.
Both sides of the bed have controls for things such as lights, USB ports and call buttons. There is a large storage shelf that runs between the two sets of ports, and enables you to store glasses, water, or snacks for later in the night.
Private Shower and Toilet
Much like the Caledonian Sleeper Club Room, the Caledonian Double features a private shower and toilet combination.
The combination toilet and shower bathroom design is the best we've ever seen on a train. There is a lid that covers the entire toilet area, and when it is down it forms a large bench to sit on in the shower. It keeps everything below it completely dry. When the lid is lifted, you've got access to the toilet.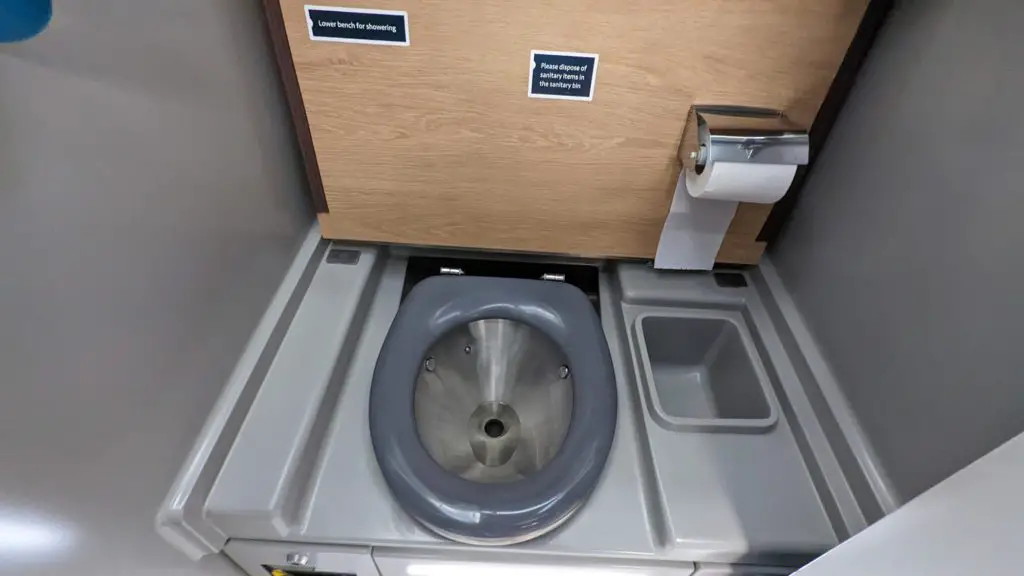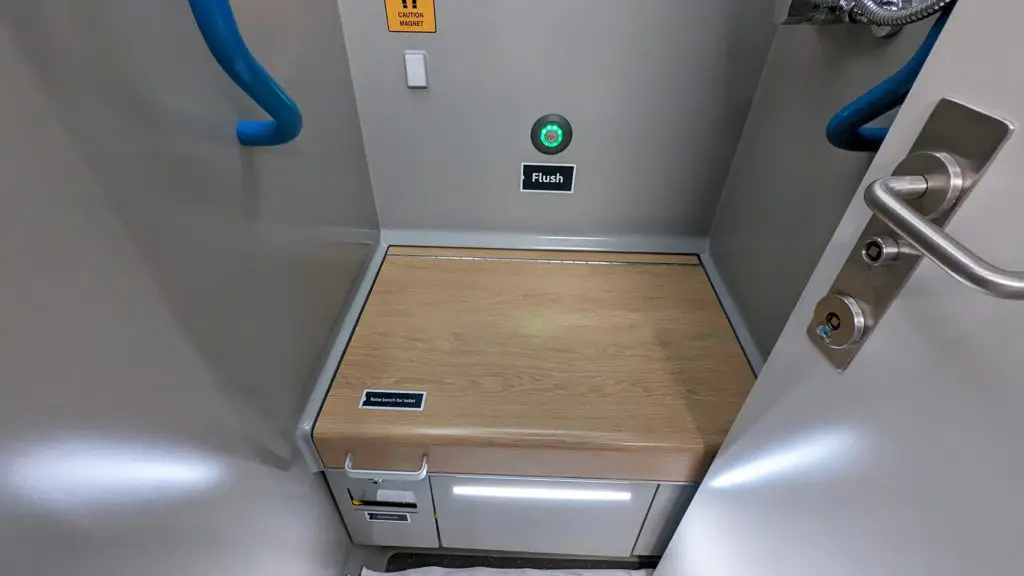 In room sink
The Caledonian Double has a sink in the room under the window. It is a full size sink and is very nice for a sleeper train. The placement is somewhat odd, as it blocks any chance of viewing much from the window. Your journey will be mostly at night though, so the scenery isn't really why you are boarding this train in the first place. Next to the sink is a cut out to hold the soap that is provided to you.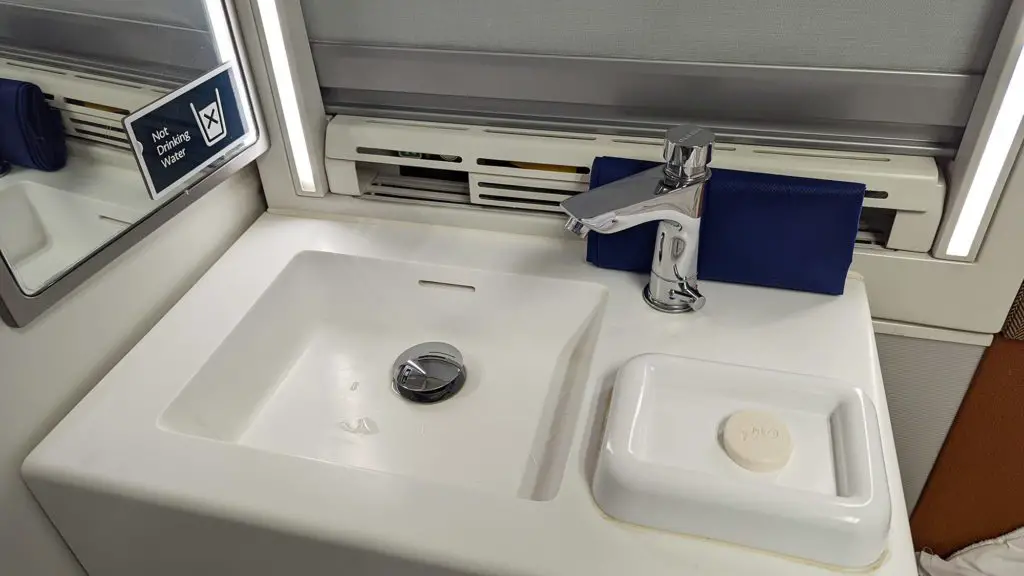 Under the sink is a table that folds out and allows you to eat your breakfast in your room. Due to the placement, it is hard for 2 people to use it at the same time as you'll be sitting on the bed when you do. During breakfast, we just used it to place our drinks on, and ate with our food spread out on the bed.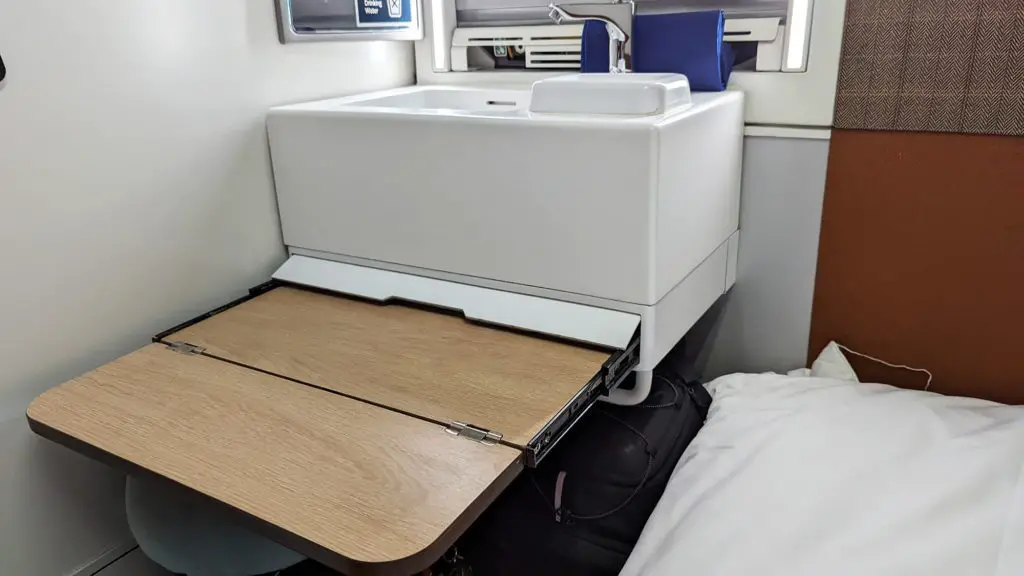 As you can see, we also stored our backpacks under the sink and table, as we didn't really have anywhere else to put them.
Storage
We put our suitcases under the bed, which you should have no problem doing unless you have the largest size of suitcase. Ours fit fine, and we just put our backpacks under the sink. While we are awake we usually put our rather large backpacks on the upper bunk, but since this room didn't have bunks, we had to choose a new location.
Controls and Ports
The Caledonian Double has the most advanced and accessible set of controls and ports we've ever seen on a train. It is truly amazing the control they give you, all just above your head.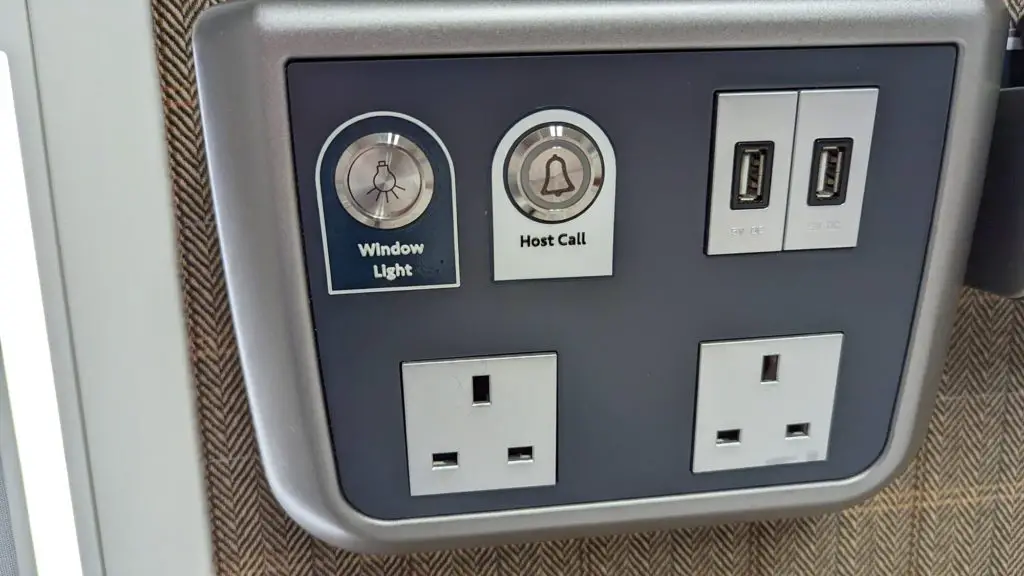 Don't forget to bring an adapter if you are coming from the US, as your plugs will not work in these outlets. At the other end of the bed you have yet another shelf and more controls and ports. It is the first time we haven't had to use every available outlet on a train.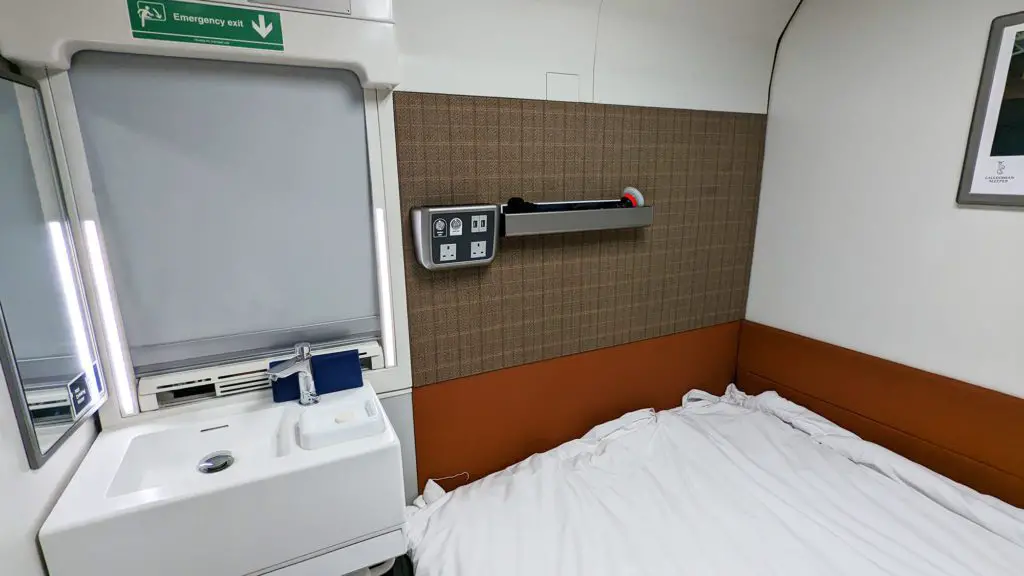 What else is included
When you book the Caledonian Double you get a few extra perks as well. Breakfast is included, and will be brought to you in your room or you can eat it in the Club Car depending on time constraints.
You also have access to the first class lounge in the station before boarding. In London, this was a nice perk, but in Edinburgh, the lounge was not staffed, and we'd be told it hadn't been for quite some time. Due to that we were denied access.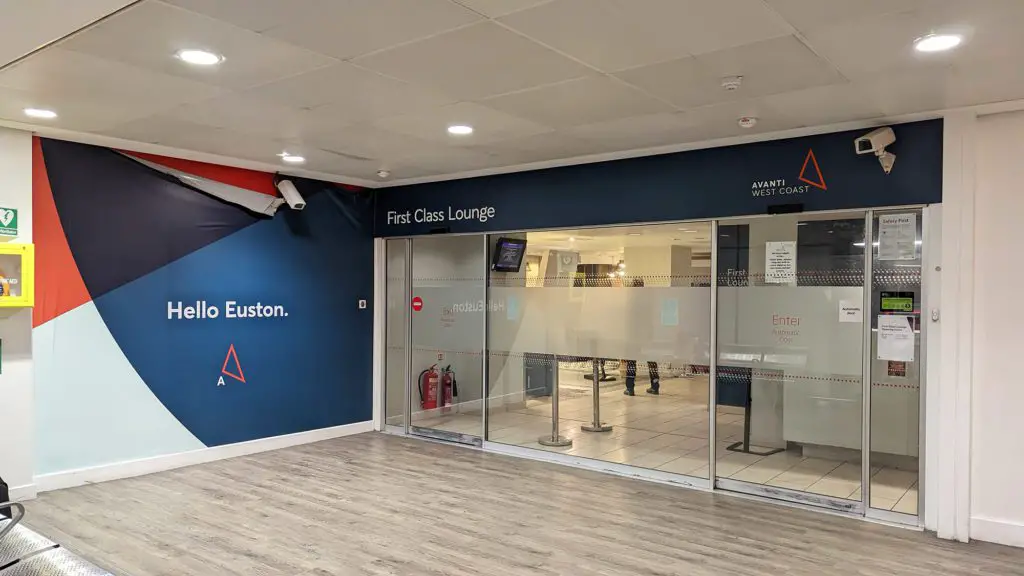 The Caledonian Sleeper doesn't have it's own lounge, but you get access to the Avanti Lounge at London Euston. They served free drinks and snacks, so we took advantage and got tea and a lemon shortbread biscuit.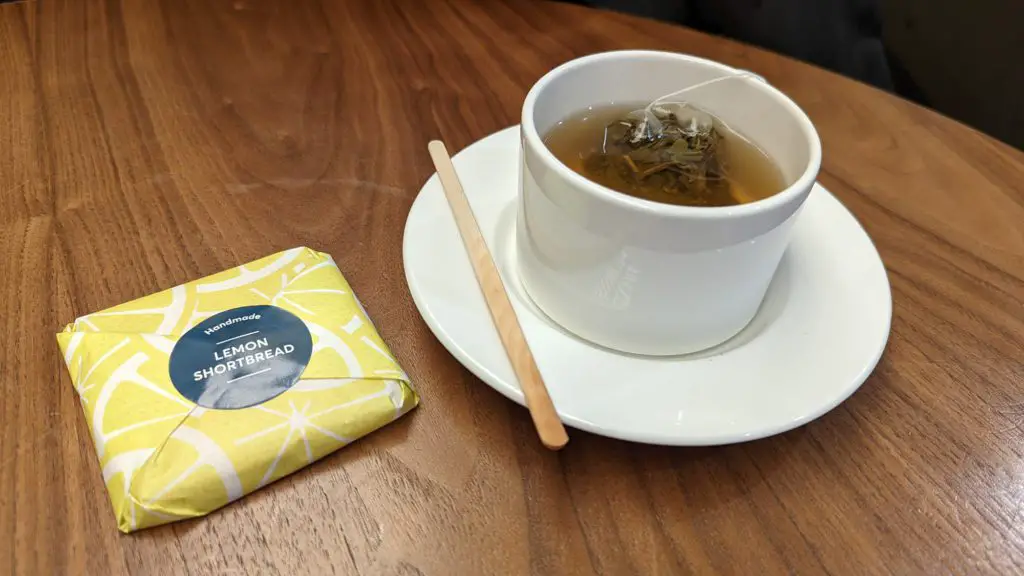 You'll get a complimentary sleep kit with Scottish toiletries in your room. They'll be waiting for you on your bed. It was one of the better sleep kits we've gotten and we are still using some of the items as we travel!
You also have priority Club Car access with this room type. It means you'll be able to go eat when you want after getting on the train, but in our experience, the Club Car was never totally full while we were in there, so I'm not sure how often this perk is actually helpful. You totally should go take advantage of the Club Car though, as it is one of the prettiest cars we've ever seen on a train.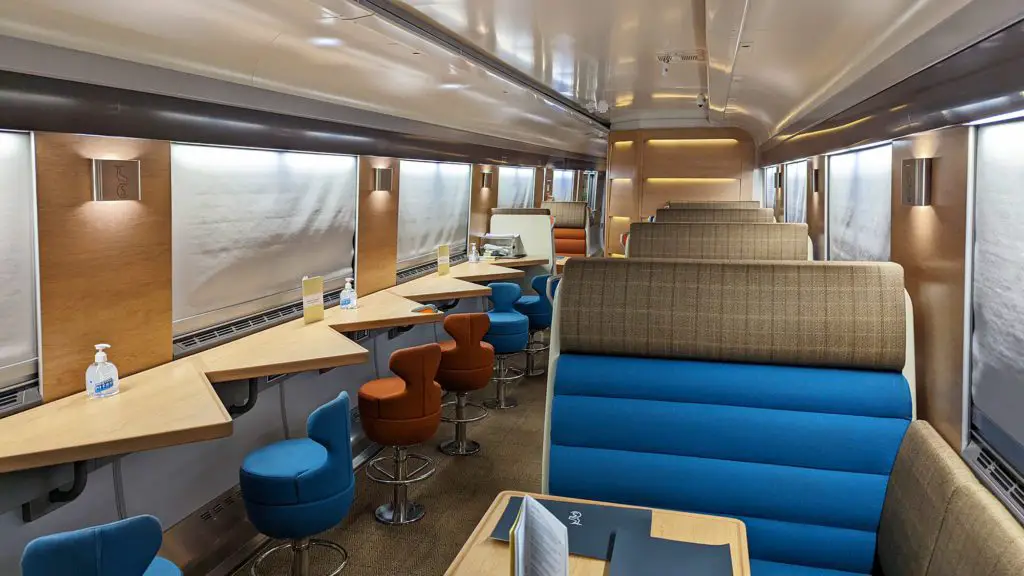 Would we get the Caledonian Double again
From a cost standpoint, the next time we ride the Caledonian Sleeper we will probably get the Caledonian Club room over the Double as we don't mind the bunk bed system, and we'd be saving some money. They both feature the same awesome shower and bathroom combination, which is the most important thing to us. If you are only doing this ride once though, it is worth the cost of upgrading to a Caledonian Double to experience this type of room.