Grounded Life Travel is supported by its audience. When you purchase through links on our site, we may earn an affiliate commission.As an Amazon Associate I earn from qualifying purchases. List of everything we use in our travels.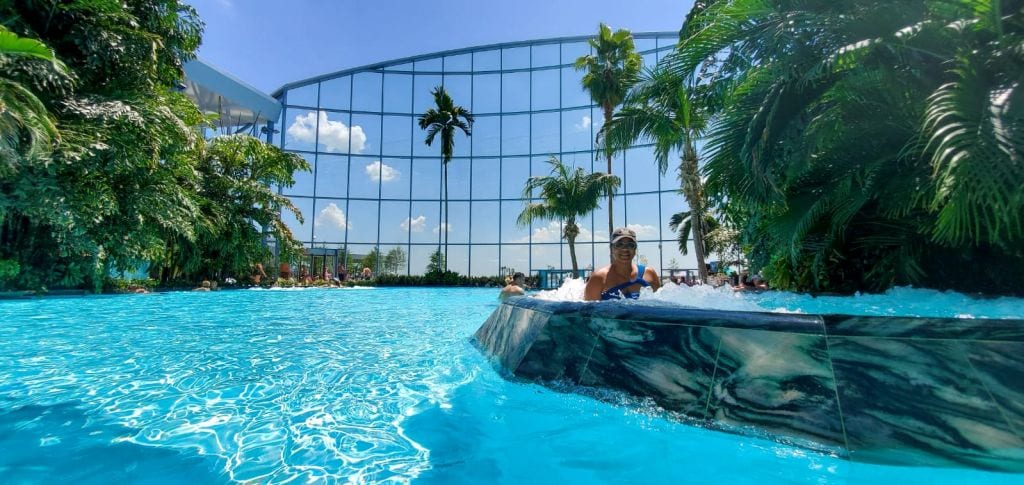 We had the pleasure of visiting Therme Spa Romania on our trip to Bucharest. To say this place is incredible is an understatement. Our visit was even better because it was not overcrowded. This was our first time visiting a thermal spa. It was even better than expected.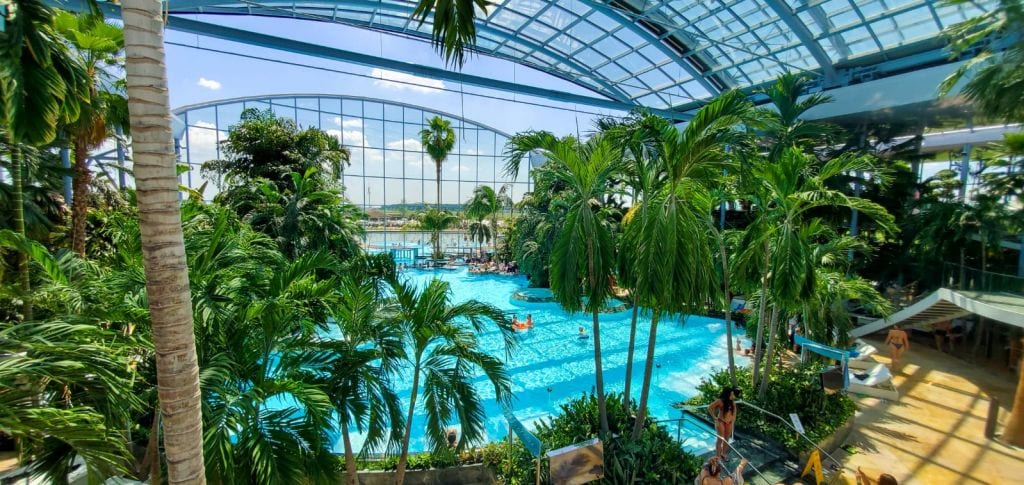 Choosing A Package
You can see the beautiful structure as you turn down the street towards it. Therme Spa Romania is a lovely sight. When you walk in you get in one of two lines, Galaxy and Palm/Elysium. Most families purchase Galaxy tickets due to age restrictions in Palm and Elysium. Palms gets you into Galaxy and in the Palms areas, which include the mineral pools and the outdoor areas. Elysium permits you access to Galaxy, Palms and the age restricted saunas, red light therapy and adult only restaurant upstairs.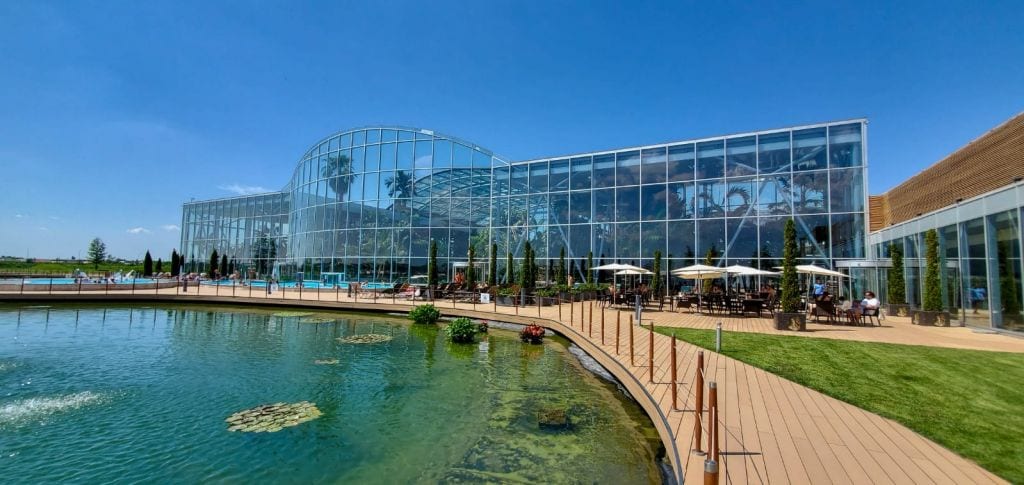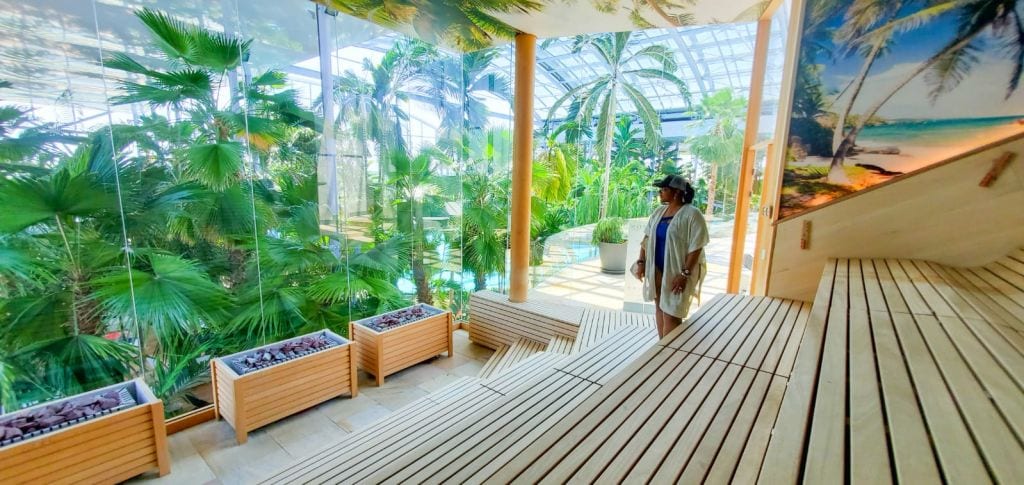 Upon Arrival
On our visit to Therme Spa Romania, we chose the Elysium package, cost was approx. $21 USD/pp. This package gave us unlimited access to all areas of the spa. We received a color coded watch like band with our locker number on it. The locker rooms are unisex. They provide changing rooms, which every one uses. The wrist band opens and securely locks the locker. You can also use this band to make drink and food purchases and pay your tab at the exit. This system is great, you don't have to worry about your valuables.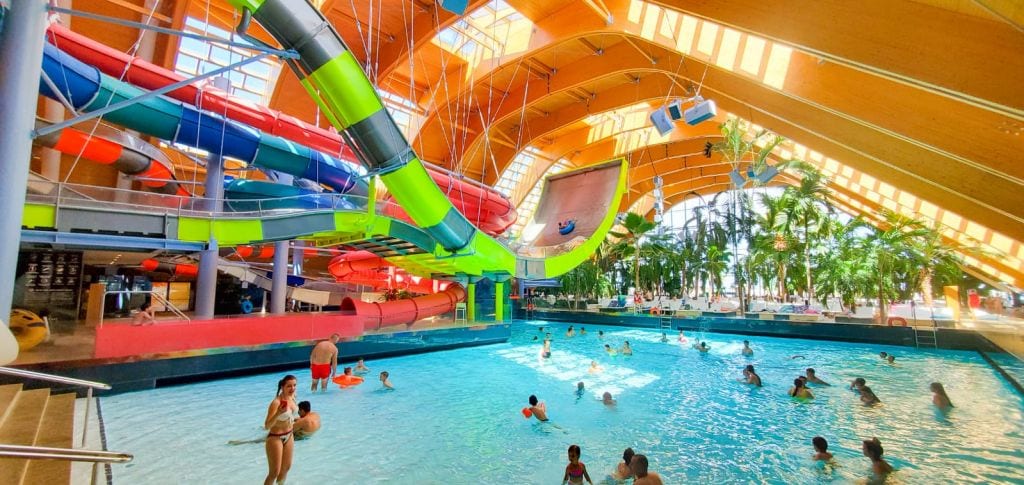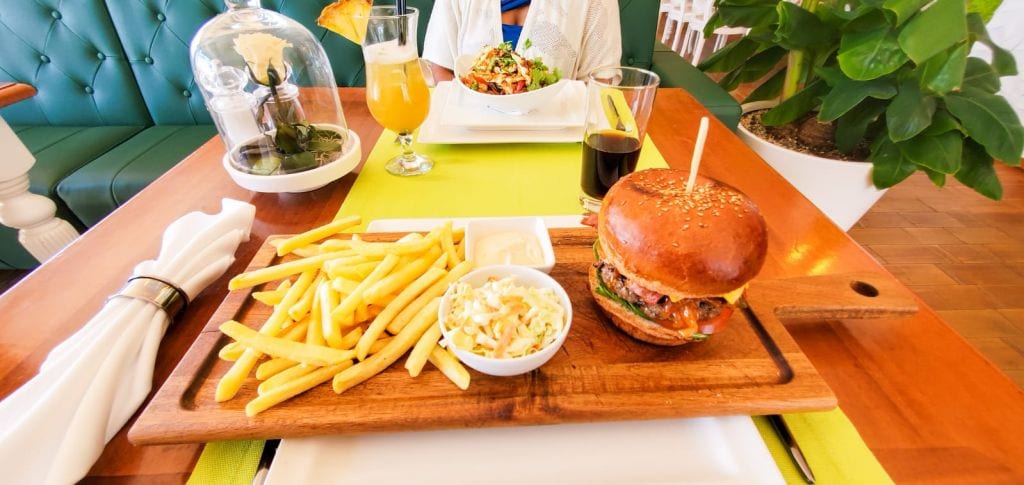 Elysium: All Access
All access provides you the opportunity to visit one of 10 saunas, 6 dry and 4 wet as well as the mineral pools and red light therapy. The saunas are themed and give you a variety of heat in each one. The temps run from 113 to 194 degrees Fahrenheit. My favorite was the Himalayan sauna. This sauna was made almost entirely of pink Himalayan salt. The bricks on the walls were also made of Himalayan salt as well as the ceiling.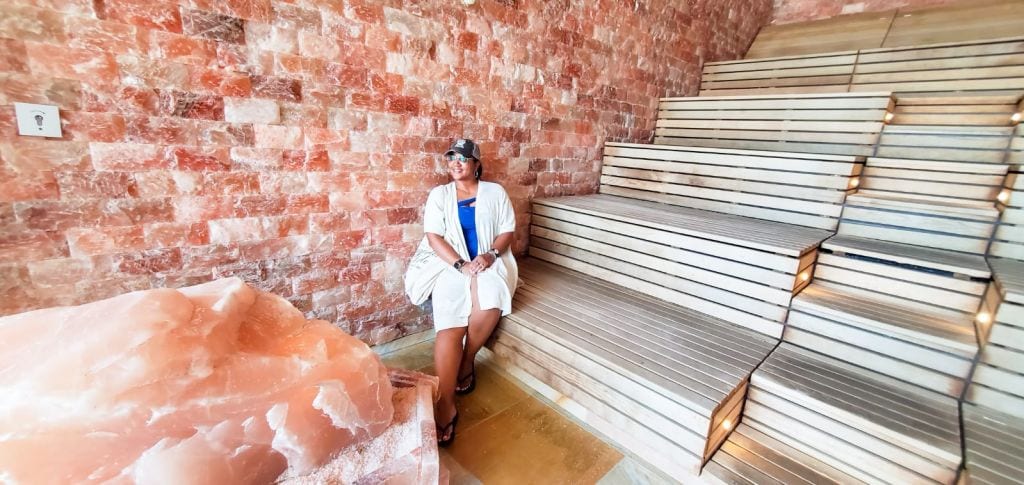 Our Experience
So, what was our visit like? We had a blast. The large indoor thermal pool is where we started our time in Therme Spa Romania. From there we tried all of the mineral pools, lithium, calcium and dead sea salt. Be warned, be sure you don't have any scrapes or cuts before entering the dead sea pool. I didn't realize I had a cut on my leg until I entered the pool, OUCH!! It was painful, I'll count this as preparation for my visit to The Dead Sea later this year. The saunas were fantastic, the red light therapy was relaxing and the massage beds were soothing. Overall we would have to agree with the advertisement to Therme Spa Romania, it is the best thermal spa in Europe!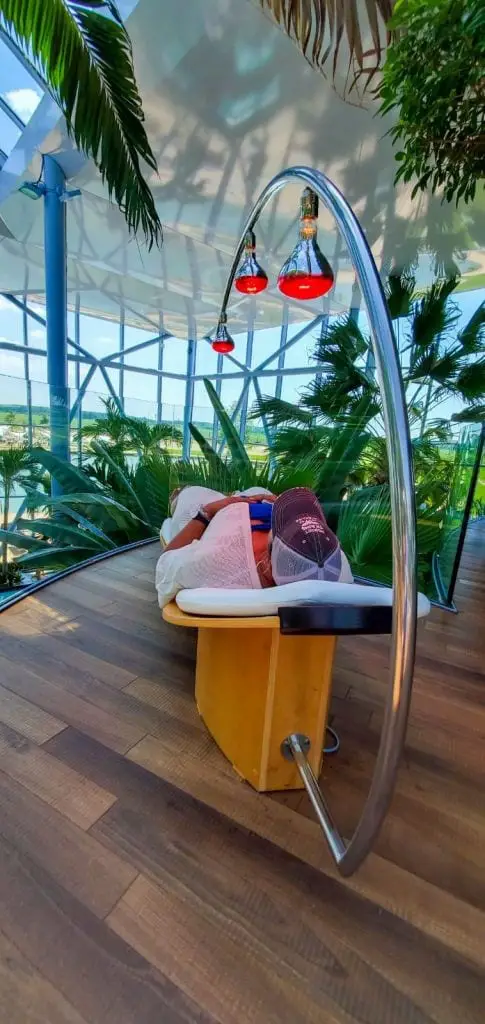 What You Need To Know
Here are a few tips you will want to know before you get to Therme Spa Romania. Do not walk in wearing only a swimsuit. Although this place is a spa, you should be dressed in regular clothing when you arrive. You will need to bring flip flops, walking barefoot is not allowed. If you forget flip flops, you can rent them from the spa as well as a robe and/or towel. Cell phones are not allowed in the pools, so take your pics before you get in the water. The only money you will spend, once you are inside is for food, drinks and the water massage tables. You can conveniently use your wristband to complete your purchases.
Therme Spa Romania Location
The spa is only 10 miles from the center of Bucharest but with traffic, the trip took about 45 minutes. We used Uber to get a car to take us there as opposed to haggling with a local taxi driver. This spa is a must see when in Bucharest. It is worth it to take a day to treat yourself. This experience rates second only to the Bali 2 hour massage and outdoor salt bath. I plan to visit this spa every time I am in Romania.
Tags :
bucharest
bucharesti
luxury spa
mineral water
romania
thermal spa
therme spa