Palace on Wheels-12 Things you need to know about this Luxury Train Of India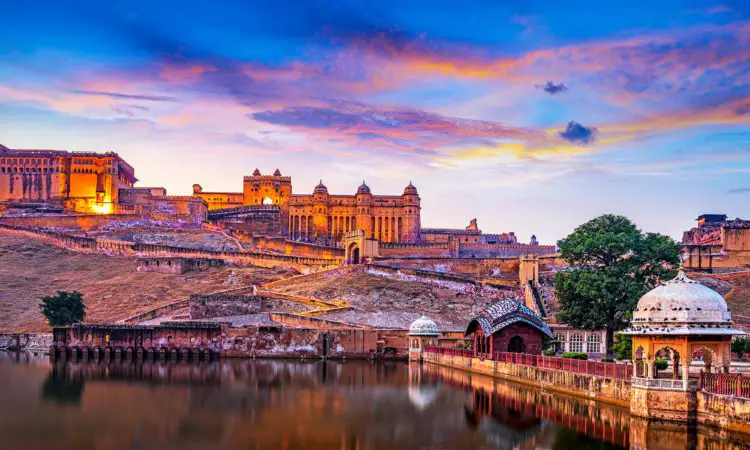 Grounded Life Travel is supported by its audience. When you purchase through links on our site, we may earn an affiliate commission.As an Amazon Associate I earn from qualifying purchases. List of everything we use in our travels.
India is a land that is very foreign to many. The culture is steeped in history that dates back almost 5,000 years. India's art, monuments, palaces, sculptures and temples are a place of wonder just waiting to be discovered by the eager traveler.
Once you land in Delhi and step off the plane, you will be mesmerized by all that there is to see and do. Explore Old Delhi and enjoy touring the Mughal architecture and the mosques and tombs of thousands of years. In contrast, you can then walk around New Delhi and check out the gardens and temples that dot the landscape.
When you have had a glimpse of such an amazing city and are ready to tour more of this mesmerizing country, consider riding the rails.
There is no better way to see the country than by train and the Palace on Wheels is luxury at its finest. Start in Delhi and see the country as you experience exquisite cuisine, top-notch pampering and excursions that will leave you astonished.
What is the Palace on Wheels?
The Palace on Wheels is a luxury train that will travel through Rajasthan, the heart of India, exposing you to the history, culture and scenery that is so exclusively special to this part of the world. The Palace on Wheels consists of 14 passengers coaches that each include four cabins in each coach. In addition, there are two restaurants and a bar. You will get lost in the height of opulence as you travel on one of the best luxury trains in India.
Where does the Palace on Wheels go?
The Palace on Wheels includes nine stops in a seven-day, eight-night journey that will not disappoint. Each destination has been carefully picked to expose the traveler to the utmost in Indian culture and cuisine.
Delhi
In this fabulous city, you can explore until your heart's content as long as you are on the platform in time! Delhi is the kick-off point of this amazing journey where you will climb aboard at Safdarjung Railway Station and enjoy your dinner as the sun sets.
Jaipur
Wake up in Jaipur and have fun sightseeing as you visit Hawa Mahal, Jantar Mantar, City Palace and enjoy elephant rides and having lunch at Amber Fort.
Sawai Madhopur 
Arrive in Sawai Madhopur after a restful night in your cabin. Here, you will leave the train early in the morning for a tour of Ranthambhore National Park. Arrive back at the train for breakfast and depart for Chittorgarh.
Chittorgarh
After arriving in Chittorgarh, you will depart the train for sight seeing the town, evening tea and a tour of the fort and a program using light and sound that is magnificent. Have a splendid dinner on board the train before turning in for the night.
Udaipur
You will depart Chittorgarh and arrive in Udaipur where you will have breakfast on board. Next, you will depart for sight seeing by coach in Sahalio Ki Bari, shopping and the City Palace and Crystal Gallery. Lunch at the Palace Hotel, a boat ride and evening tea round out this busy day in Udaipur.
Jaisalmer 
Once arriving at Jaisalmer and having breakfast you will visit Gadsisar Lake and Havelies. After lunch on the train, you will get a thrill with a camel ride and tea. After a five-star dinner at Hotel Gorband Palace, arrive back at the train for departure to Jodhpur.
Jodhpur
After breakfast on the train you will visit Meharangarh Fort, Jaswant Thada, Umaid Bhawan Museum and enjoy shopping until you drop! Lunch at Hanumant Palace with a five-star meal before returning to the train, resting and enjoying another amazing meal onboard.
Bharatpur
After arriving in Bharatpur, you will depart for Keola Deo National Park and their Ghana Bird Sanctuary. Have a grand breakfast onboard before departing for Agra.
Agra
Here, you will see the long awaited Fort Agra and the Taj Mahal. Enjoy lunch at the five-star hotel Mughal Shereton, then some shopping before returning onboard for dinner and retiring.
Spend one more night onboard and wake up in Delhi, where you started.
What are accommodations like on the Palace on Wheels?
You will think that you have become royalty once onboard the Palace on Wheels. There are two cabin levels to choose from aboard this train that make up 41 cabins. Thirty-nine are Deluxe Cabins and two are Super Deluxe Cabins. Delicate artwork, rich woods and fine fabrics that harken back to the era of the royal Maharaja is what you will experience while riding one of the most fabulous trains in India.
Every cabin includes a double bed, attached bathroom, premium toiletries, WiFi and your very own Khidmatgar to wait on your every need.
What is the cost of a trip on the Palace on wheels?
The cost for a ticket to experience the Palace on wheels and its 8-night journey will vary with seasons and occupancy. If you are a lone traveler in the low season occupying a Deluxe Cabin you will pay a little over $4,000 per person. In the high season with a Super Deluxe Cabin you will pay $14,550 per person.
Are there any restaurants on the Palace on Wheels?
There are two restaurants to serve you on the Palace on Wheels. The Maharaja and Maharani restaurants will serve world class Indian Cuisine as well as other international dishes that will tantalize your tastebuds.
Can you drink alcoholic beverages on the Palace on Wheels?
There is a bar for after dinner drinks or a "pick me up" after an excursion. Choose from a variety of liquers, wines and concoctions from all of the world.
Is there WiFi on the Palace on Wheels?
There is WiFi in your private room as well as on board other parts of the train. Keep in mind that as the train moves through remote parts of the country, you may have connectivity issues at times.
Is there a spa on the Palace on Wheels?
There is a spa for you to relax and rewind before or after the day's activities. Choose from a host of Ayurveda treatments, massages and therapies that can be adjusted perfectly to your liking.
What is the dress code on the Palace on Wheels?
The dress code while riding the Palace on Wheels is issued as smart casual for during the day and suits and dresses for the evening affair. While sight seeing, you will want to make sure you have cool clothing and comfortable shoes that allow for walking on uneven surfaces.
Is there a cell phone policy while traveling on the Palace on Wheels?
While traveling on the Palace on Wheels you are welcome to use your cell phone in the privacy of your cabin. However, when you are in shared spaces, please put your ringer on silent and refrain from conversations.
Does the crew accept tips on board the Palace on Wheels?
The crew appreciates tips if you so desire but is not mandatory. When you are on an excursion, the gratuity has been taken care of as part of your itinerary, therefore you should not feel the need to tip.
Is the Palace on Wheels worth it?
Taking a trip on the Palace on Wheels is an excellent way to see all the highlights of the beautiful country of India. If you factor in all the meals, the excursions and the accommodations you will be enjoying, the cost is a small price to pay for a trip that will go down as your most favorite holiday.