Osaka Station: A Complete Guide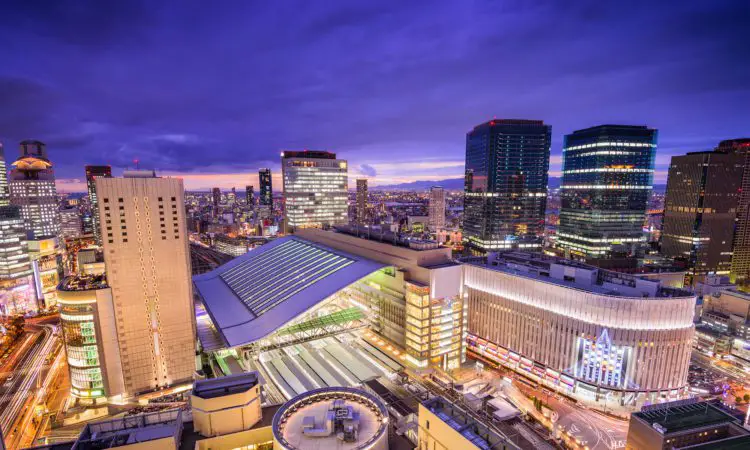 Grounded Life Travel is supported by its audience. When you purchase through links on our site, we may earn an affiliate commission.As an Amazon Associate I earn from qualifying purchases. List of everything we use in our travels.
There are many reasons you may want to visit Japan, its beautiful and diverse scenery, cultural experiences like none other in the world and the FOOD!! Japanese food is different, its fun and it is oh, so good. If you are planning a trip to Japan, then you have to go to Osaka to fill that need for fantastic Japanese food in a high energy and vibrant setting.
Osaka is actually know as Japan's street food capital. So, you know if this great city was able to gain this highly valued moniker, it must be good. Many will come to Japan just to make a culinary pilgrimage to Osaka to taste the diversity in flavors and presentations. Start your walk down the Dotonbori district and try everything in sight as you peruse the stalls and street side restaurants that aim to make you beg for mercy. After all, Osaka is known for coining the word "kuidaore", which means "to eat until one falls over". Now that's a place I want to visit!
Getting to Osaka is an easy endeavor due to the fact that train travel is so prevalent in this part of the world. When you land at Kansai International Airport you can navigate easily to the train service that will take you to Osaka Station. Once there, you will be ready to have a gastronomical experience like no other. But first, take the time to get to know the station so that you will be poised for a stress-free departure "when", or should I say "if", the time comes!
Osaka Station Overview
Located in the Umeda section of Kita-Ku, Osaka Japan, you will find yourself in a major metropolitan and bustling commercial, shopping and entertainment district. To support the third largest city in Japan, an efficient train station was built in 1910. It is now one of the busiest train stations in Japan. The Japanese found great success in pairing department stores, marketing good products at great prices with the train station. This model was copied throughout the country and is seen at many train stations in Japan. You always knew you could get to a city and go shopping right off the train for the newest and best goods made in Japan and imported from other countries.
However, through competition, war and changing needs the station was rebuilt five times before it became the South Gate and North Gate Buildings and would be rebranded as Osaka City Station in 2011. The beautiful glass domed roof that bridges the two buildings also includes shops, restaurants, roof-top gardens and cinemas. This fact has made Osaka Station a tourist attraction in itself awaiting your exploration.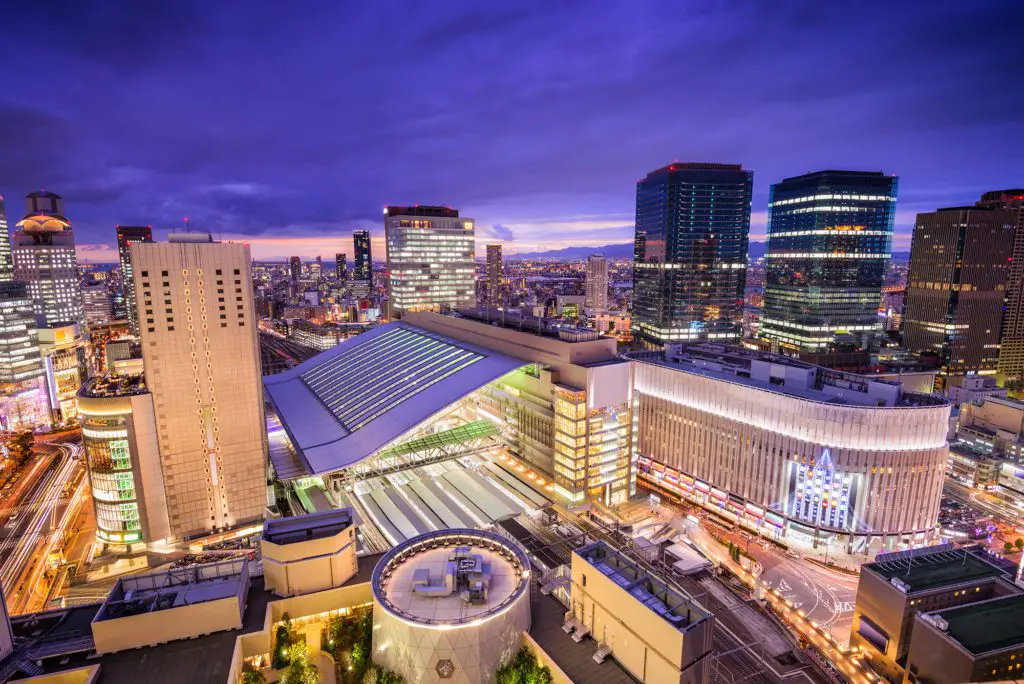 Osaka Station is relatively easy to navigate once you learn that the ticketing, platforms and train lines all lie between the two Gate Buildings. On the first floor, you will find the  Central Concourse and the Midosuji Concourse.
The Central Concourse runs between the North and South Gate buildings and allows you to access the Central Ticket Office for JR Rail passes. The Midosuji runs along the eastern side of the station and you can get to your platform here, using the Midosuji Gate. There are also four other gates throughout the station where you can buy tickets for various train lines that will take you to different places in Japan.
There are 11 platforms in Osaka Station located on the second floor. Here, you will find different train line services ready to take you to your destination. There is even a sleeper train that can take you to Tokyo.
If you have the need to shop, go to the South Gate Building and you will find anything you need at the Daimaru Department store. On the 14th floor there is a vast array of gourmet restaurant choices if you are hungry before your departure.
How to Buy Tickets at Osaka Station
The ticketing machines are easy to use at this station and will keep you from the long lines that can form at the ticketing counters. They are located throughout the station. Find your destination and the fare will be highlighted. If you need English, you can press the English button and all communication will be in English on the ticketing machine. Enter your fare and a ticket will be issued. Pass your ticket through each gate entry and collect it on the other side until you get to your platform.
This is a fast and easy way to obtain a ticket. However, if you need more information about your trip, the ticketing counters manned with English speaking agents are a great way to learn about other destinations or things to do in Osaka.
Where to Eat at Osaka Station
Osaka is a city that is known for its diverse, interesting and mouth-watering food. Walk down any street and you will get bombarded with sushi, ramen and udon establishments, just to name a few. You could eat your way through Osaka and still have weeks worth of street side stands and restaurants to try.
However, you don't have to leave the station if you don't have time to explore the city. For some surprisingly fresh sushi try the Uosa Osaka Station City South Gate Building and get some nigiri that is to die for. If you are feeling adventurous, try Osaka Chikuyotei and go for their famous unagi or eel. When you find yourself needing something with Western flare, try Nakanoshima for some Italian food. There's also always the trusty hamburger joint called McDonald's if you need some good ole Americana.
Having stated the above, it is essential to take time and experience the streets of Osaka and what the world is raving about when it comes to its food. Do yourself a favor and schedule your itinerary around an afternoon of sampling the food of the streets of Osaka!
Where to Stay Near Osaka Station
There are a multitude of places to stay near the station if you see the need arise. From luxury hotels, to small efficiencies, Osaka has you covered no matter what your budget.
If the Ritz-Carlton is calling you, you are in luck. Osaka is the home of a Ritz Carlton near Osaka Station. You can stay at this European inspired luxury hotel and find yourself on your platform in under 10 minutes. Make sure you enjoy the amenities of this lovely hotel in the form of swimming pools, spas and stunning views.
Hotel Intergate Osaka is an affordable yet still comfortable hotel just 0.3 miles from the station. Enjoy a private room with a bidet and your own tea pot. Now that's not something you usually see in a hotel.
If you are in Osaka and are alone or with a buddy, try a capsule hotel and save money and gain a fun experience. You won't have your own large space, but what you will have is a comfortable place to sleep in a modern technology based hotel that has that retro feel. Try The Capsule Inn Osaka for a capsule experience that you'll be excited to talk about. Enjoy your own capsule with options like sauna use and breakfast in the morning. It's budget friendly and an adventure!
How Early do you need to Arrive at Osaka Station
When traveling abroad and navigating a station in a foreign country, there can be countless "unknowns" that have the potential to rear their ugly head. Keep stress to a minimum and plan for these events. Arrive at the station 45 minutes before your departure so that you can get to your platform with plenty of time to spare. In addition, there is so much to see near the station, you will want to have a little time to shop around or grab a bite to eat.
Best Trips from Osaka Station
Kyoto
If you are in Osaka, it is a must that you take the 30 minute train ride to Kyoto, the cultural center of Japan. Shrines, temples, tea houses and museums dot the landscape of this beautiful and historical town.
Visit the Fushimi Inari-taisha shrine and immerse yourself in the beauty of this captivating and cultural icon. After your visit, walk the 2.5 mile trek up the mountain for some fantastic views and additional shrine visits. Make sure you take your camera, because this will be a highlight of your trip.
If you want to keep the shopping streak you started in Osaka, make sure you walk over to the Nishiki Market where you can find everything from fresh fruits and vegetables to knives and cookware. Since its official beginnings in 1615, this market has been a staple in Kyoto culture, keeping its population fed and happy.
Hiroshima
Seventy-five years ago WW II came to an end after the atomic bomb was dropped on the peaceful and wonderful city of Hiroshima. It is estimated that 140,000 people died that day or soon after, from exposure to the blast. Today, a pilgrimage to the site of the attack will both be a reminder of what the human mind is capable of and a place to honor those who were lost. Visit the Peace Memorial Museum and learn about the past so we can better avoid a repeat in the future.
There are also other things to experience in Hiroshima such as the 4,000 bars and restaurants around the city, great hiking on Miyajima Island or tasting a world famous okonomiyaki or japanese pancake. Whatever you do, your visit to Hiroshima will be an enlightening and worthwhile endeavor.
Visiting Osaka and the surrounding areas will be an amazing experience that will go down in your travel annals as one of your favorites. Starting at Osaka Station will set the stage for an enjoyable way to explore the stunningly beautiful and forever intriguing country of Japan.