London St. Pancras Station: A Complete Guide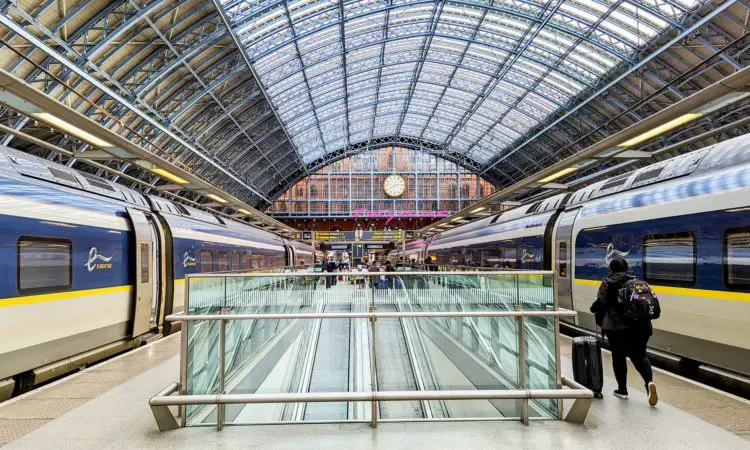 Grounded Life Travel is supported by its audience. When you purchase through links on our site, we may earn an affiliate commission.As an Amazon Associate I earn from qualifying purchases. List of everything we use in our travels.
Float down the Thames River and you will pass an enchanted place. A place that has tall tales and real stories alike. London is full of history, architecture and some of the most interesting spectacles on the planet. For almost 2,000 years London has been the epicenter of the world. Monarchs made plans to conquer lands and many have died for her cause. It is a place that will captivate you and make you want to stay for more.
It is also a a great place to start your European travels. If you are an English speaker, beginning in London will ease you into being in a foreign land without the extra effort of communicating with others, like other European countries. Tour around and orient yourself. Enjoy the city. Then, plan your next move. There is so much to see and do in this part of the world.
London's St. Pancras Station is a likely place to start as train travel is overwhelmingly the fastest and most cost effective way to travel around Europe. Getting to anywhere on this continent is easy from this station. This guide should help with getting to know the station and how to navigate and enjoy everything it has to offer for both the seasoned and novice explorer.
London St. Pancras Station Overview
Is it a museum, a shopping mall or a train station? Turns out, St. Pancras Station is all of that and more. Not only is it one of the most beautiful structures in the world, it is the hub for transferring millions of people a year to almost anywhere in Europe. In 1868, St. Pancras opened its doors to passengers eager to move throughout London and beyond. The glass and iron roof along with the pale, intricate, 60 million bricks laid to form such a perfect structure was something not seen in its time. Later a hotel would be constructed which would be a perfect coupling for the weary traveler.
Today, not only can St.Pancras Station get you to your destination but it is a destination in itself. With dining, shopping, art and music being just a few things you can experience here, taking a day to explore the station is highly recommended. To think that the powers that be almost demolished this celebrated landmark in the 1960's is mind blowing. Having sat empty and dilapidated for another fifity years, this beautiful structure was finally brought back to its former glory in 2007 and has been the pride of London ever since.
Located in King's Cross area of London, getting to the station is easy. An easy connection can be made by the National rail and bus stations. When you arrive, you will be entering on the lower level into the shopping arcade. Halfway down the arcade you will find ticket offices and again at the end of the arcade. The restroom area is on the left. The luggage office is at the back of the arcade.
The tracks, platform and various bars and restaurants are on the quieter upper level, which can be reached by stairs or escalator. The Midland Mainline located at platforms 1-4, that have trains that travel more locally are on the left hand side. The Eurostar platforms 5-10 are international trains that can take you to destinations such as Brussels or Amsterdam. The South Eastern platforms 11-13 are high speed local trains. There is also an underground Platforms A and B, that are also more local and can be accessed by the escalators.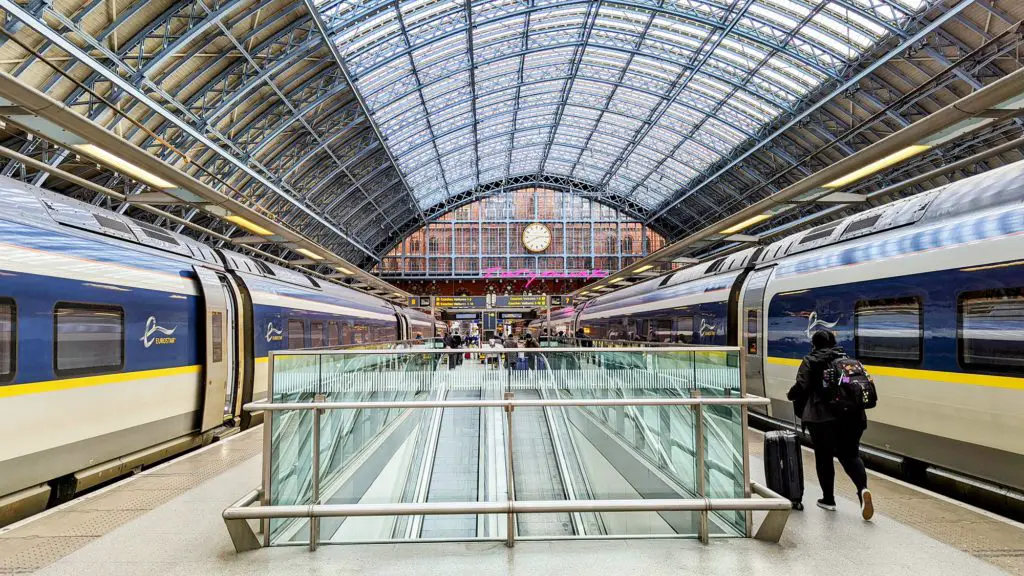 How to Buy Tickets at St. Pancras Station
If at all possible it is always best to try to buy train tickets online before you get to the station. If this is not an option, there is a ticket office that is open from 5:45 a.m. to 10:00 p.m. Monday-Friday, with weekend hours being slightly different. There are also ticket machines outside the office and near the entry to the Southeastern and East Midland Trains platforms.
We book our train tickets in Europe using either Trainline or Rail Europe. These services offer an easier customer experience as we've found our credit cards work better when booking through these sites. Eurostar Tickets can be booked on either platform. In addition Rail Europe offers rail passes if you are planning a longer trip.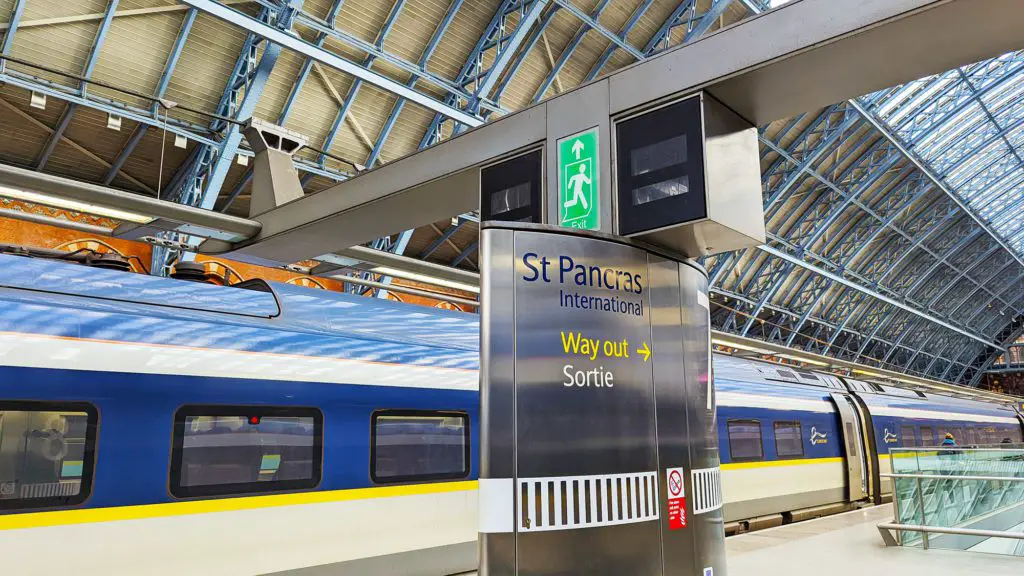 Where to eat at St. Pancras Station
St. Pancras Station is not just a place to catch your train, but a feast for your creative and mouthwatering palate. There are 22 establishments for dining, relaxing at a pub, wine tasting and enjoying that first cup of coffee or tea in the morning. If you have time, try the Booking Office 1869 for some warm ambiance and luscious dinner. More casual affair can be found at Kineya Mugimaru, where you can enjoy a quick and affordable noodle bowl along with some fresh tempura. Pastries of every kind await you if you are in a hurry to grab something quick and catch your train at Greggs. One thing is for sure, you won't be lacking in choices at this train station.
Where to Stay near St. Pancras Station
You don't have to look far to find a beautiful and comfortable hotel for an overnight stay or your entire vacation. The St. Pancras Renaissance Hotel adjoins the St. Pancras Station. It doesn't get more convenient than this. Not only is there this fact, but the accommodations are as posh and grand as you might expect. If Harry Potter stayed here, it must be something to check out!
Overlooking the dramatic facade of the St. Pancras Station, The Standard is another luxurious yet affordable choice for your stay. Italian sheets and fluffy down pillows will help you relax in The Standard's contemporary rooms. Enjoy one of the five establishment for eating, drinking or reading a book. With only a two minute walk, you have so much at your fingertips along with the comfort of knowing you can get to where you are going quickly.
How early do you need to arrive at St. Pancras Station?
If you stay at the many choices for accommodations in the area, you will be a stones throw to the station. However, if you are coming in from a different location, make sure you have enough time to not only orient yourself and buy tickets, but also enjoy the beauty that this station exudes. Furthermore, I recommend 30 to 45 minutes before you must report to your platform. This way you can walk around and see the magnificence of one of the most stunning stations in the world as well as grab a cup and pastry.
If you are riding on Eurostar, there is a lounge available for Business Premier passengers. Free snacks and food are available and there are places to sit. By lounge standards it isn't something you need to show up early to check out, but if you have extra time and access it is worth visiting.
Best trips from St. Pancras Station
St. Pancras Station can connect you to the rest of the world by transporting you not ony across the country but to different countries in Europe and beyond.
Amsterdam
It will be a longer trip but so worth it! After arriving you will be biking the streets of the quaint and beautiful canals of Amsterdam. The museums in Amsterdam are some of the best in the world. See the Van Gogh Museum and the Rijksmuseum, celebrating Rembrandt and his works. Visit the Jordan neighborhood and enjoy walking its streets. Take in the 17th century architecture and peruse the galleries, shops and eateries of this interesting and historical neighborhood.
Paris
Getting from St. Pancras Station to Paris will be a thrill. Traveling at top speeds of 200 mph and spanning 344 miles, you can get from London to Paris in just over two hours on the Eurostar. Speed through the Channel Tunnel and enjoy the scenery on this race through the countryside. When you arrive, Paris is yours for the taking. Do what most tourists do and visit the Eiffel Tower and Notre Dame . However, there is much more to Paris. One of the most famous museums in the world is the Louvre and it must not be missed. The Palace of Versailles, the former residence of King Louis XIV, should be on everyone's radar. Before you leave, walk along the Champs-Elysees and see landmarks such as Place de la Concorde and the Arc de Triomphe and so many interesting things in between.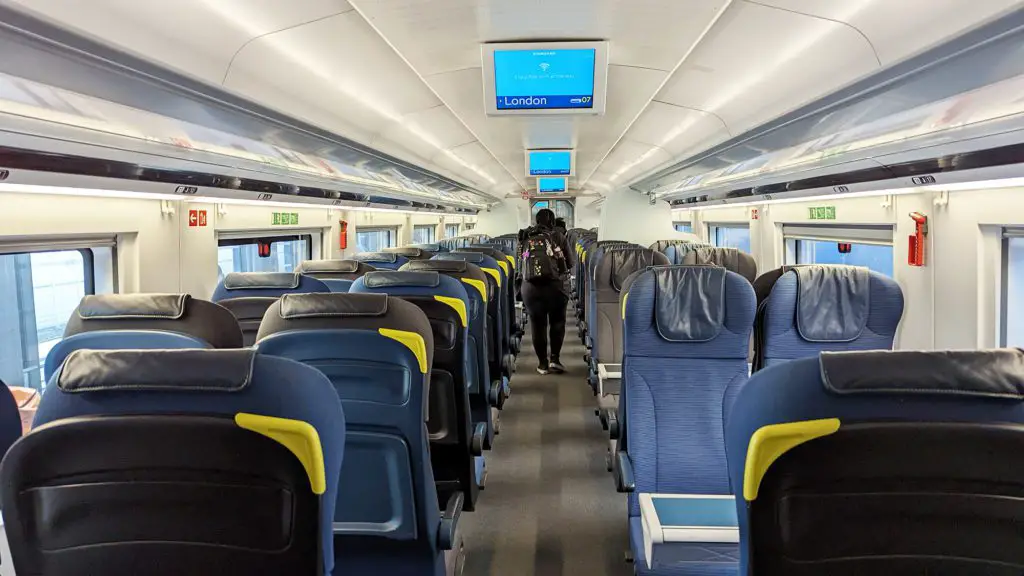 Frankfurt
High speed train makes it possible to get to Frankfurt in no time. Moreover, when you arrive, you will realize how walkable the city is and you'll want to explore on foot. Take a stroll and cross the Eiserner Steg, a bridge built in 1911 that connects the Sachsenhausen district to the downtown area. Next, explore Frankfurt's Old town at Romerberg. Here you can explore the shops and history of this historic, yet walkable place. If you come at Christmas time, the Christmas market is not to be missed.
Exploring Europe via the St. Pancras Station is the best way to get around this part of the world. With high speed rail at your fingertips, getting to know major cities and small towns alike will be easy and enjoyable.