12 Things You Need To Know Before Riding Eurostar Between Paris and London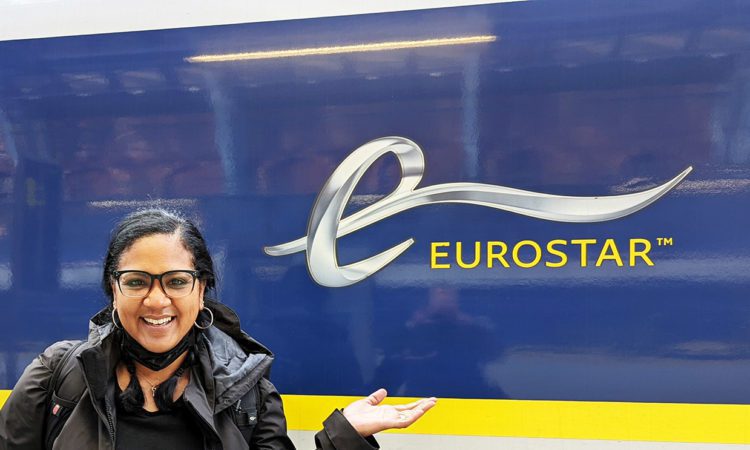 Grounded Life Travel is supported by its audience. When you purchase through links on our site, we may earn an affiliate commission.As an Amazon Associate I earn from qualifying purchases. List of everything we use in our travels.
Riding Eurostar between Paris and London is an amazing travel experience. Not only is it a smooth and fun ride, but it can save you time and stress when compared to flying. If you've never ridden Eurostar before, here are some tips to help you have a better trip.
How Early Should I Arrive For The Eurostar Train
You should arrive at least 1 hour before your scheduled departure on Eurostar. On our recent ride it took 30 minutes to get through customs and immigration on our way to London. On top of getting through these security checks, you'll want to arrive early enough to enter the train when boarding opens, which is 20-30 minutes before the train leaves.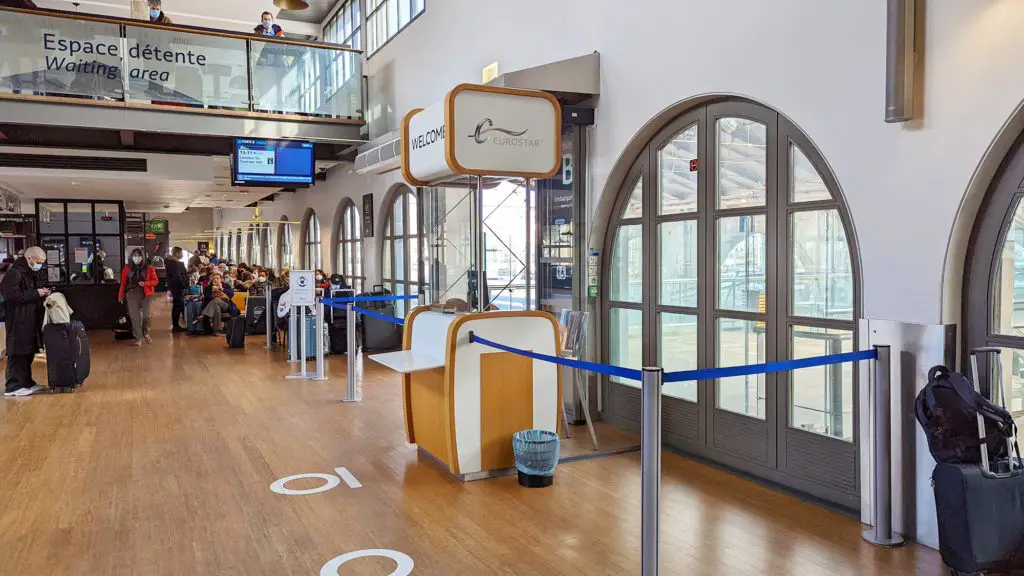 Are Passports Checked on the Eurostar Train
Passports are checked when riding on the Eurostar train. You passport will be checked at the Gare du Nord station in Paris before boarding the Eurostar train from Paris to London. There are separate lines for EU passport holders and all other passport holders. The check is made after you go upstairs to the London Hall.
How Long Are You Underwater on the Eurostar
The speed limit in the Channel Tunnel for trains is 160kph / 100mph. The Channel Tunnel is under the English Channel for 37.9 km or 23.5 miles, which is the worlds longest undersea tunnel. When riding the Eurostar you'll be underwater for about 13 minutes.
Is Eurostar Quicker Than Flying
It takes 2 hours and 30 minutes to go from Paris to London on Eurostar. With security and customs checks taking an additional 30 minutes, your total travel time from the city center can be 3 hours. Eurostar is quicker than flying due to airport security taking longer than train security and the location of the airports.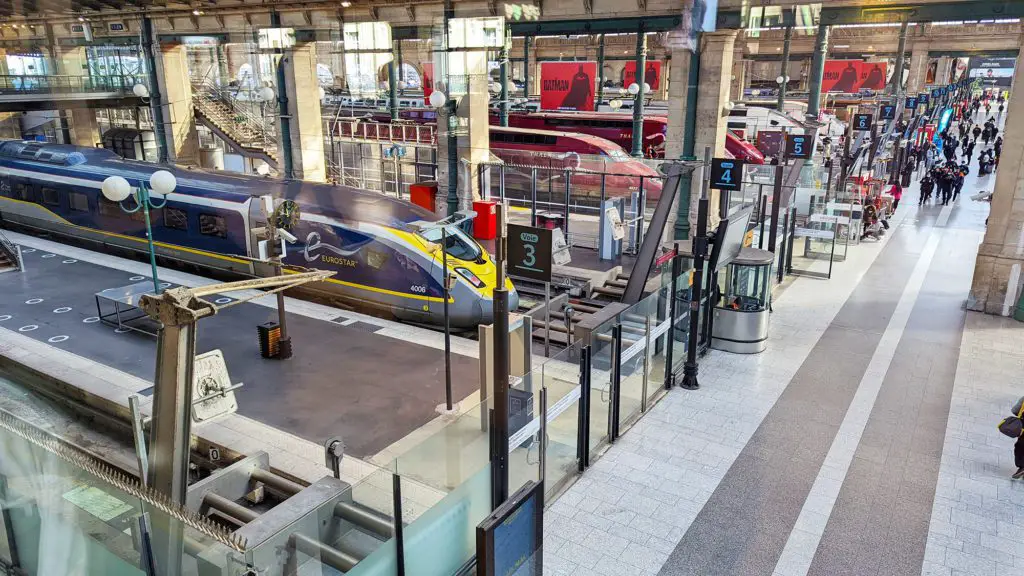 Does the Eurostar Feel Fast
The Eurostar does not feel fast while you are riding on it. It is a very quiet and smooth train and you'll have trouble figuring out how fast you are going without looking at a speedometer. Even though you'll be travelling at around 100mph through the tunnel and 160mph outside of the tunnel, it won't feel that fast.
Is It Better To Fly or Take Eurostar to Paris and London
It is better to take Eurostar to Paris and London versus flying. When riding on Eurostar the stations are in the city center, which will save you time and money once you reach your destination. If you fly, you'll be landing at a remote airport and need to take a train into the city. It is also a big time saver to ride Eurostar versus flying.
Is Eurostar Scary
Eurostar is not scary and will not feel different than riding any other train. Most trains go through several tunnels at some point, and the Channel Tunnel will feel just like any other tunnel, just a little longer. If you didn't know you were underwater you wouldn't be able to tell. Riding Eurostar should not be a frightening experience as it is a very smooth and quiet train ride.
Is Eurostar a Double Decker Train
The Eurostar is not a double decker train, it is a single level train. Seats can be purchased in 3 separate classes, but all classes are on the same level. There are no stairs to negotiate when riding on Eurostar. You'll have a choice of sitting in the direction of travel or away from it, but there are no levels to choose from.
Can You See Underwater on Eurostar
Eurostar trains have nice picture windows at the seats that let you see outside. When you are in the underwater section of the ride you will only see the inside of the Channel Tunnel. You cannot see underwater while riding on Eurostar, so no you will also not see any fish.
Does Eurostar Check Your Bags
There is a bag check before boarding Eurostar. Since you are changing countries while on the train, your bags must pass through customs, where they will be scanned and checked. It is a much quicker check than at an airport. You'll load all of your luggage onto the belt and it'll be scanned in a matter of seconds.
Do You Keep Your Luggage With You On Eurostar
When riding Eurostar you'll keep your bags with you on the train. Your bags will either go in the luggage racks at the end of the car, or in the overhead space above your seat. There is plenty of space for your bags. You'll need to label all of your bags with your name before riding. Simply put your bags on the racks, find your seat and enjoy the ride, then grab your bags on the way off the train.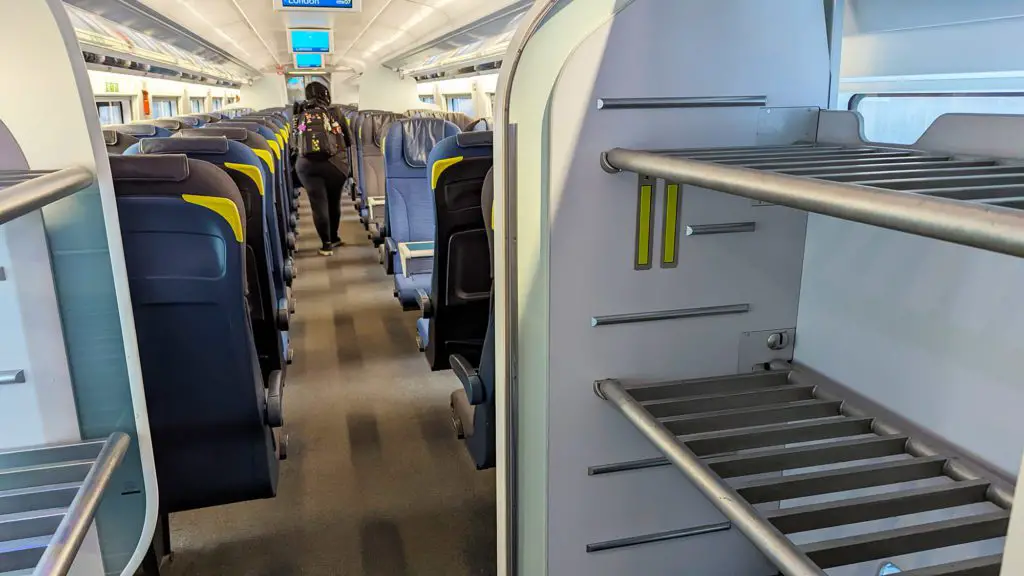 Are There Tables on Eurostar
Each train car on Eurostar will have tables. Not every seat will have a formal table though, as most just have a fold down tray from the back of the seat in front of them. If you want to sit at a table, reserve seats that face each other, as those seats have tables between them.
Booking Train Tickets In Europe
We book our train tickets in Europe using either Trainline or Rail Europe. These services offer an easier customer experience as we've found our credit cards work better when booking through these sites. Eurostar Tickets can be booked on either platform. In addition Rail Europe offers rail passes if you are planning a longer trip.
Eurostar is a marvel of the train world. What many once thought was impossible is now possible by travelling under the English Channel. It is certainly one of the most unique and memorable short rides on a train you can take.
No matter if you are travelling from Paris to London on Eurostar or the other way around, we hope you have an enjoyable and memorable trip!