How Long Do Amtrak Trains Stop At Stations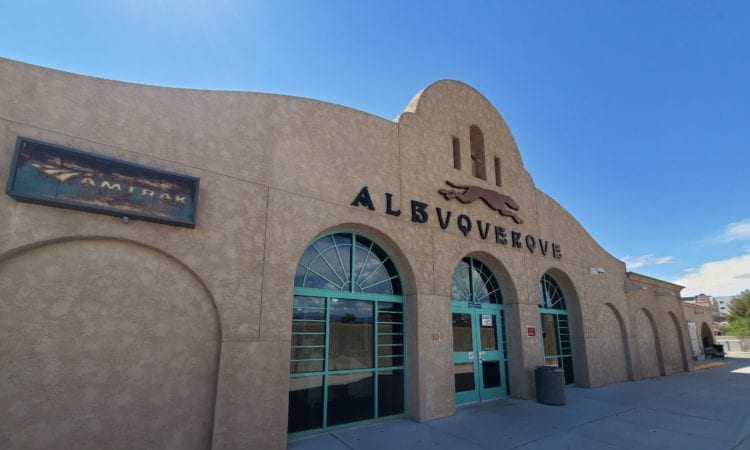 Grounded Life Travel is supported by its audience. When you purchase through links on our site, we may earn an affiliate commission.As an Amazon Associate I earn from qualifying purchases. List of everything we use in our travels.
There are many things passengers may want to do at an Amtrak stop, but how do you know how much time you'll have at a particular station. There are 3 different types of Amtrak station stops, and knowing which one you are about to have will help you plan what you can do at each stop.
How Long Does an Amtrak Train Stop
Amtrak trains usually stop at stations for 3 minutes. Most Amtrak station stops are only for boarding passengers, and riders who are already on the train are not allowed to get off. There are 2 other types of stops that do permit passengers to leave the train for a short time. These longer Amtrak stops are the fresh air breaks and the crew change stops.
Types of Amtrak Station Stops
The 3 minute stops are by far the most common on Amtrak, followed by the fresh air break and then the least common is the crew change stop.
3 Minute Stops
At almost all smaller stops and most rural stops, the train will only be at the station for 3 minutes. This is just enough time to let any passengers who need to get on or off do so. Since these stops have very few passengers getting off, they don't take long and these stops happen very quickly.
This is the reason why you cannot check bags to some stations, they are too small and the train isn't there long enough for your bags to be offloaded after arrival.
Passengers on the train are not allowed to get off the train at these stops. The doors are opened but only for loading and unloading of passengers who have the station as a final destination.
At some larger stops of this nature, the stop can be stretched out to 6 minutes to allow for more time for passengers to get on and off.
Fresh Air Breaks
Fresh air breaks on Amtrak are slightly longer stops and can last anywhere from 10-15 minutes. The time is usually dictated by how late the train is. If the train gets to a fresh air break stop late, they may try to make up some of that late time by chopping a few minutes off the fresh air break.
These stops happen every 3-4 hours on average. All passengers are allowed to get off the train and walk around, but you are not supposed to leave the platform.
If you have left the platform area and the all aboard is sounded, the train will not wait for you. Many people have gotten left behind at fresh air breaks because they tried to go buy something at a local store and didn't make it back. Unfortunately, when this happens, the next train they can get on is usually the next day.
Since smoking is not allowed anywhere on Amtrak trains, the fresh air breaks serve as smoking stops for most people who want to do so.
Crew Change Stops
When a crew change is needed, the stop will be longer. Crew change stops on Amtrak usually last about 30 minutes. The same things apply to this stop as they do to a fresh air break stop. All passengers can get off the train, but you should not leave the platform, unless you've been told by staff you'll have a very lengthy stop. This type of stop will only happen a few times on your trip.
There are times when this type of stop is extended and the crew will inform you that you can walk into town to buy snacks or food. Heed their warnings about what time to be back, and get back early.
How To Know What Stop Is Coming Up
There are 2 ways to know which type of stop is coming up. You could ask the staff, and they will know, as the stop types don't change and they'll know exactly when the next fresh air break or crew change stop is.
Outside of that, if you look on the Amtrak app, you'll be able to figure out what is coming up. The way to do it is to click the Status Icon at the bottom of the app. Then you should click by train number. Enter the date, your train number and a station coming up that you want to know about.
In this example we are on the California Zephyr and want to know how long the stop in Martinez, CA will be.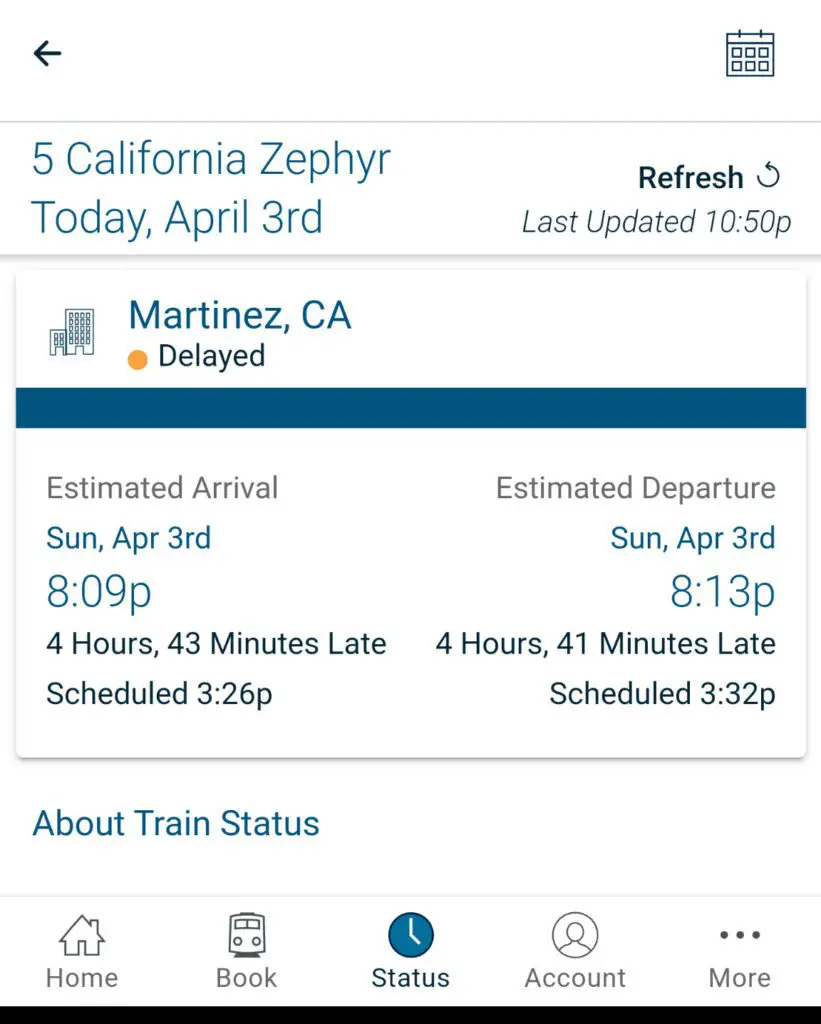 As you can see, the train is delayed by over 4 hours. In this instance, the train is likely to try to make up time and cut stops a little shorter than normal. The stop was scheduled to be a 6 minute stop originally, but they are estimating that it will now be a 4 minute stop.
You can look up all of the stops on your route this way and find out what they are supposed to be and what they will be as you get closer to them.
Can You Leave the Amtrak Platform
You are not advised to leave the platform for any reason at any stop. The only circumstance where you could leave is if there is a really long scheduled break of over an hour. The staff will tell you if you can leave at this type of stop. Even so, you are on your own to get back on time and the train will not wait for you.
Is Food Available at Amtrak Stops
Most Amtrak stops do not have food available at them. There are some stations with food carts on the platform. Orlando, FL is a station like this, that has food available. You could get off and buy a hot dog from the vendor there. The staff will likely know if there are any stops coming up that have food at them.
We have seen pizza ordered to a crew change stop and it was delivered to people on the platform. Although this could be risky, it was impressive to see!
Final Thoughts On Amtrak Stops
If in doubt about an Amtrak stop, ask the crew. They will have the most up to date information on what will happen at each stop and how long you'll have there. Knowing the specifics of each stop can really help you plan out your day and have a more enjoyable trip.