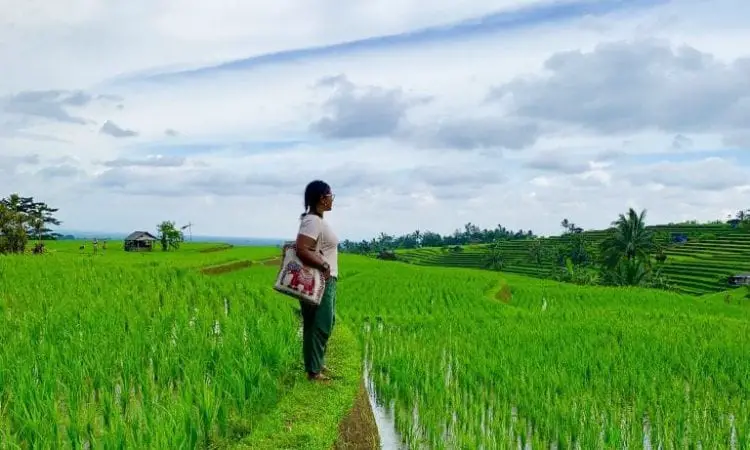 Grounded Life Travel is supported by its audience. When you purchase through links on our site, we may earn an affiliate commission.As an Amazon Associate I earn from qualifying purchases. List of everything we use in our travels.
Eat Pray Love inspired many in 2010. Bali is a dream destination. It has been on my bucket list for years and years!! I am so happy I was able to visit this year. You can check out my Bali review on this blog. I enjoyed the movie Eat, Pray, Love and I wanted to visit some of the iconic locations in the movie on my visit. Our driver, Budi, helped us put together a great day trip to this beautiful town.
Rice Paddy's (Terrace)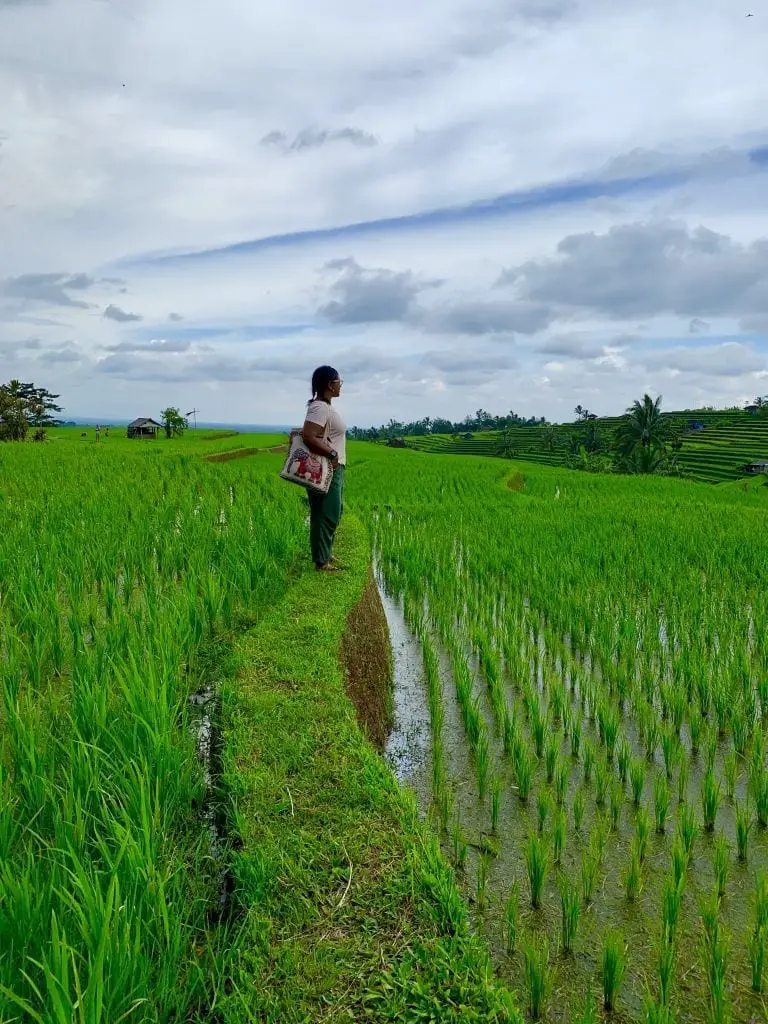 In the opening scene to Eat, Pray, Love you see Julia Roberts riding her bike along the picturesque scenery. The rice terraces surround her as she cycles down the road. Indonesia is the third largest producer of rice in the world. It makes sense that Bali would be lined with rice paddy's. They are everywhere. As you ride along the road you will see small, family rice paddy's as well as enormous ones. A paddy is a small, level, flooded field used to cultivate rice. This is the most prevalent method of farming in the Far East. I wanted to go to a rice paddy (terrace) on our visit to Ubud, Bali. There is a very popular rice terrace in Ubud but it is overcrowded with tourists. We decided to stop at a larger terrace on our way to Ubud in Jatiluwih.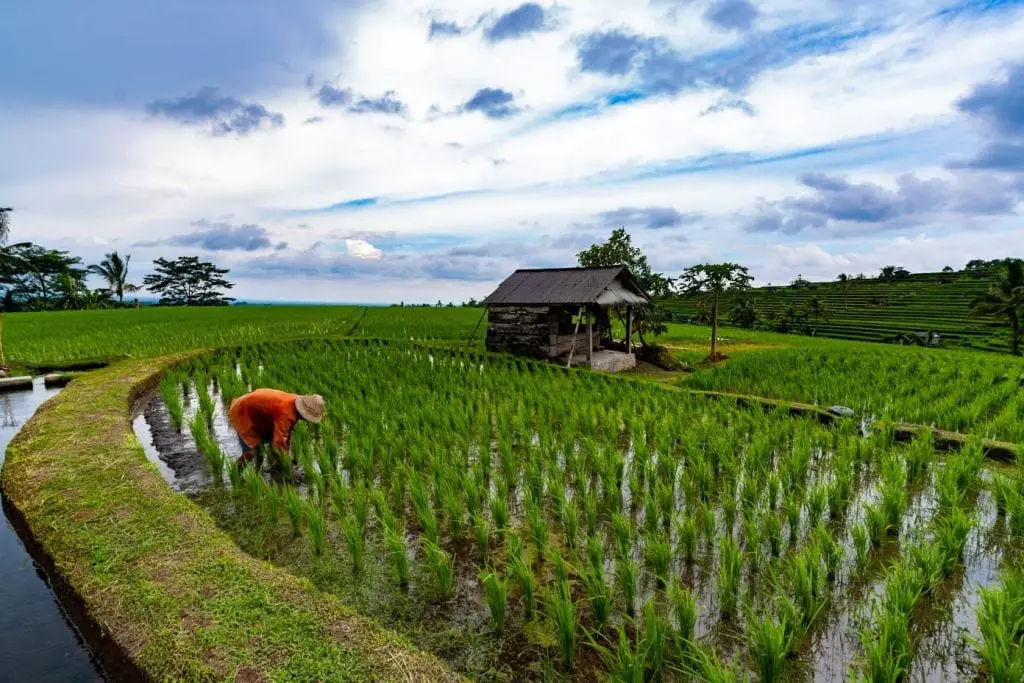 Ubud Palace and Legong Dance
The Ubud Palace is where the Ubud royal family resides. The grounds are open to the public. The palace is right in the heart of the city, built in 1917. The architecture is splendid. You will find intricate carvings, statues and ornaments throughout the compound. Every night there is a Balinese Legong dance, this is a traditional Balinese dance. The dancers wear colorful costumes and intricate makeup to show you some of their history and culture through this dance. Although entrance to the palace is free there is a small fee to watch the dance, 80,000 IDR ($6).
Ubud Market and Cafe's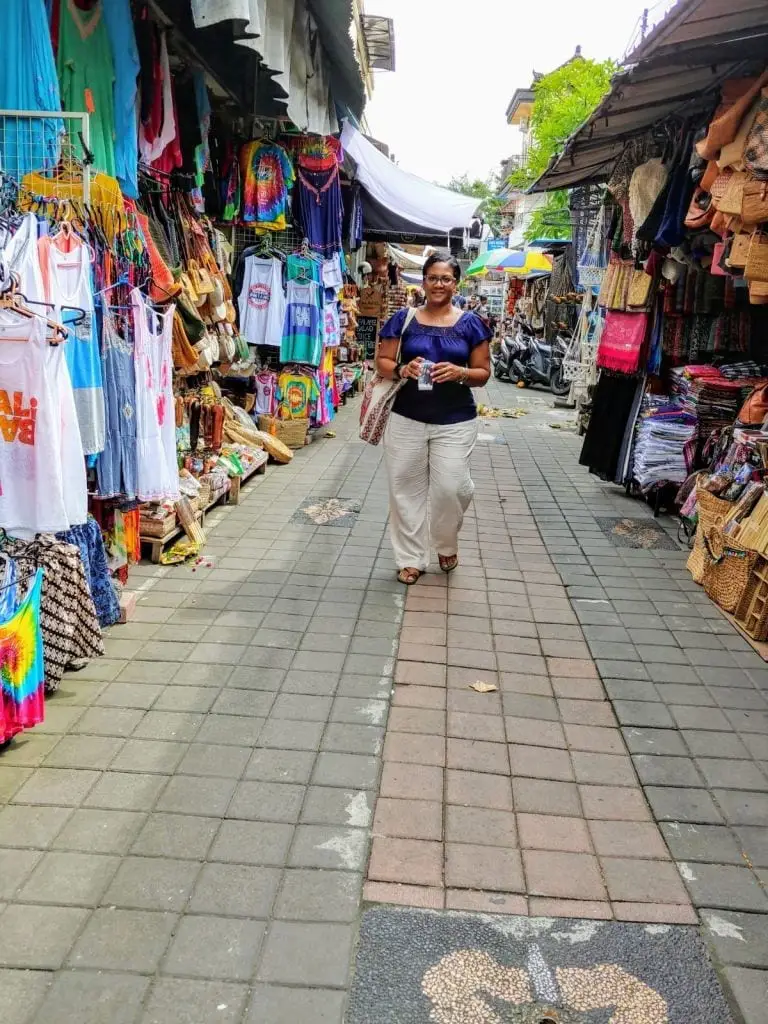 In the movie Eat, Pray, Love, there is a scene with Elizabeth and Felipe strolling through a market. This bustling market is right across the street from the palace. Can't imagine what is was like when it was shut down for a few days as they filmed their scenes. Rob and I strolled through the market and saw some great souvenirs, handcrafts and clothes to purchase. We found lots of great art pieces. It's a fun place to bargain and buy some fun things to bring home. I ended up buying a traditional, hand woven round purse. The market is filled with café's and gelato shops. These are great little breaks from the intense heat.
Ketut Liyer Spirit House
No Eat, Pray, Love tour would be complete without a visit to the iconic Liyer House. I did not know what to expect on our visit. His son has put a spa in the front of the property, it no longer looks like it did in the movie. A guest house has been added for those wanting to stay at the house. A sign in front lets you know are in the right place. I asked a man entering if we were going the right way. He nodded.
We proceeded to enter the property, I could hear the pet birds inside the courtyard. It felt, oddly familiar. I came around the corner and saw the platform from the movie. There is some movie memorabilia on display there. We were free to take photographs and take it all in. It's a surreal experience. I am glad we got this opportunity to visit Ketut's House. You are probably wondering about Wayan's house. We decided to skip a visit and ended up driving past it on the way to Ketut's House.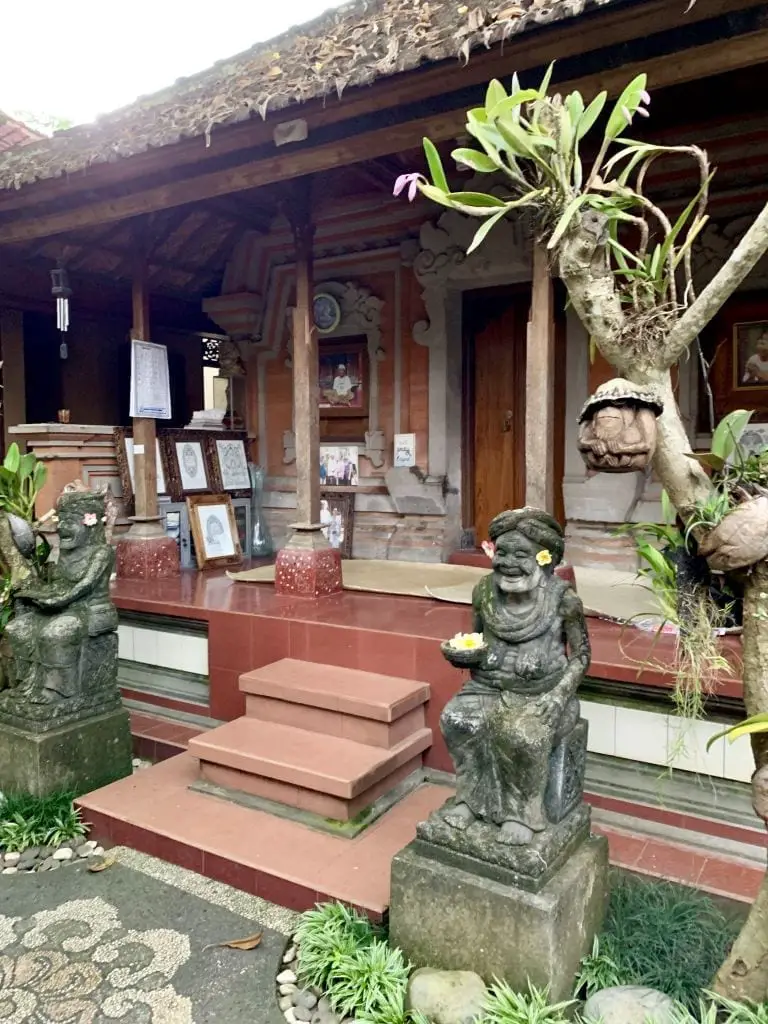 Eat, Pray, Love, We Did It All
Ubud is a must-visit if you go to Bali. It is the cultural hub of Bali. Athough it has become very busy with tourists you can still escape the crowds on a serene walk through a side street or a rice paddy field. Ubud is very health conscience. They focus on your physical and spiritual health with many spas, yoga studios and healthy, organic food. Ubud is one of those places where you can easily get sucked into the way of life and just like Elizabeth Gilbert you can take your time here to heal and become a better version of yourself. We enjoyed our day trip to Ubud and can see the appeal of this bustling area.
Tags :
bali
eat pray love
indonesia
jatiluwih
ketut liyer
rice paddy
ubud
ubud palace