Grounded Life Travel is supported by its audience. When you purchase through links on our site, we may earn an affiliate commission.As an Amazon Associate I earn from qualifying purchases. List of everything we use in our travels.
Disneyland Hong Kong is a must see when you are in Asia. I grew up in Florida. I've been to Walt Disney World more times than I could possibly count. I was very excited at the prospect of going to Disneyland Hong Kong on our recent visit. We had read reviews online and they were varied, not that it mattered too much to me. I loved all of the photo opportunities at this park! We were able to get a small discount on the tickets using Klook.
Transportation
We used public transportation to get to the park. You know you are getting close when you get on the train with the famed mouse ears. Disney modified the trains for the 3.5 km route to the park. You forget you are on a public transport train. It was beautiful and clean as you would expect from any Disney park.
Main Street, USA
One of the things I always look forward to rounding the corner on Main Street USA and seeing the beautiful castle. I was a bit disappointed that Sleeping Beauty's castle was under construction. However the new castle will be a sight to behold. It will be a conglomeration of the several Disney princess castles. The rendering looks amazing! The park opened in 2005 and has been making improvements and adding rides ever since.
Disney made sure to avoid cultural backlash by making sure to adhere to the rules of feng shui. You can see this from the beginning in the entrance to the park. The cast members speak Cantonese, Mandarin and English. The park is divided into seven themed areas, Main street USA, Fanstasyland, Adventureland, Tomorrowland, Grizzly Gulch, Mystic Point and Toy Story Land. It has the lowest visitor capacity of all the Disney Parks at 34, 000.
I don't know if I'm the only one but I love the It's A Small World ride. This ride is the same but it has clearly been updated. I have included photos for you to see the differences. One of the newest rides in Iron Man. This is a 3-D experience ride. It's a part of the new Marvel Land being built.
It's a Small World After All
Toy Story
My favorite place was Toy Story Land. It used to be an Asia exclusive. There is one in France, Hollywood Studios in Orlando and Shanghai Disneyland. It not only brings out the kid in you but it makes you feel like you are in the movie. It is an Instagram lovers dream. There are so many photo opportunities in Toy Story Land from entrance the giant Woody entrance to the Rex exit. The rides are built for kids and adults to enjoy! I could have spent hours walking around in this little area.
Star Wars
Star Wars fans will absolutely love Hyperspace Mountain (similar to Space Mountain at WDW). This thrilling ride takes you through Tie fighter battle. It proves to be just as, if not more, thrilling than it's counterpart Space Mountain. You can take pics with Star Wars characters next door as you leave Hyperspace Mountain.
Moana
I thoroughly enjoyed the new attraction, Moana: A Homecoming Celebration. This is a live performance of a condensed version of Moana's story. It's a cute interactive presentation. Get there early, the seats go fast!! We arrived 30 min before the show and ended up standing in the back but still had a great view. The show is in Cantonese and English. It's a seamless presentation with song and action with live music too.
Fairy Tale Forest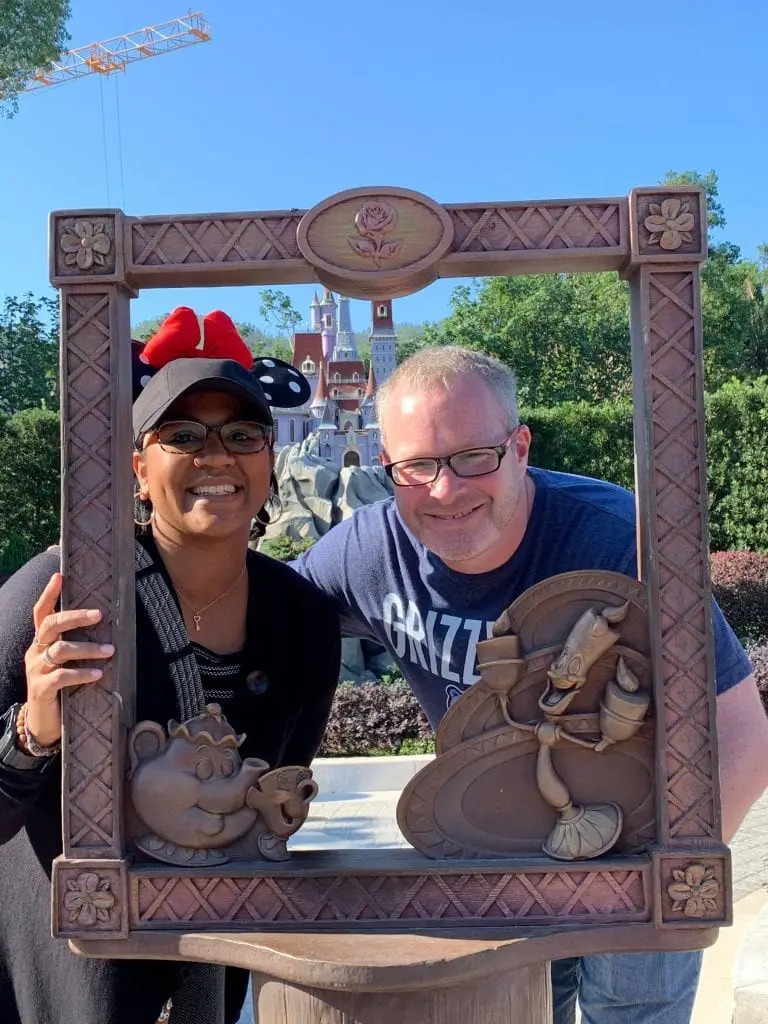 Fairytale Forest is a sweet garden area with princess themed areas. It is an instagrammers dream. Walk through the living storybook of Snow White, Cinderella, The Little Mermaid, Beauty and the Beast and Tangled. You can also meet Tinkerbell in this forest.
Disneyland hong kong is a must see
We thoroughly enjoyed our visit to Disneyland Hong Kong, it is a must see. We arrived early when it was not as busy. The wait times at most rides was under 20 min., by late afternoon the lines began to pick up. The longest wait times were 45 min or less during these times. The food was different. You could get a some "American" fare but most of the food in the park was native food. It was delicious.
When evening falls and it's time to head to the castle for the closing show. Since the castle was under construction they did the show at the Christmas tree. It was beautiful and sweet, they did not miss a beat, with "snow" falling on the streets of Main Street USA. I highly recommend a visit to Disneyland Hong Kong if you will be visiting the country. It was certainly a magical day. We think this is one of the top attractions in Hong Kong and one you won't want to miss.
Tags :
disney hong kong
hong kong
hong kong disneyland