Cologne Central Station: A Complete Guide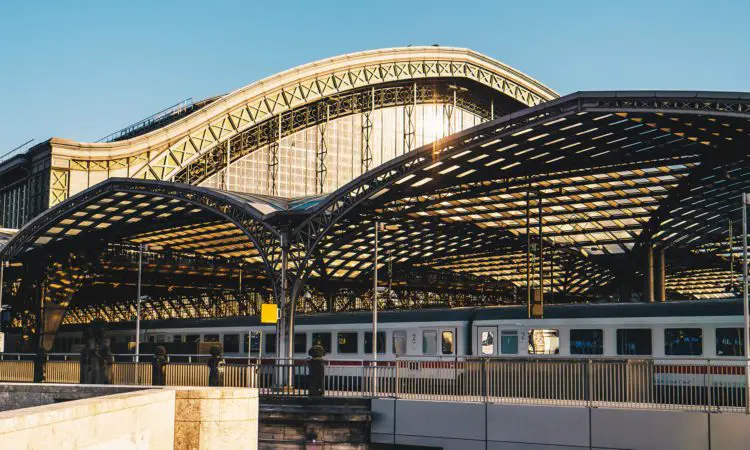 Grounded Life Travel is supported by its audience. When you purchase through links on our site, we may earn an affiliate commission.As an Amazon Associate I earn from qualifying purchases. List of everything we use in our travels.
Cologne, is not only a dazzling city in Germany, but the reason we call the fragrant perfume that sells over $50 billion in products every year by the same name. Since 1709, Cologne has been making their scents of citrus and flowers among other concoctions that quickly spread around the world. Because who doesn't want to smell like  "an Italian spring morning, of mountain daffodils and orange blossoms after the rain."
However, there is much more to Cologne than the birthplace of perfume. Over a period of 2,000 years this town has been destroyed by war and rebuilt again, ensuring that it still exudes a fantastical medieval feel featuring Gothic architecture throughout that is a feast for all eyes.
From Cologne, you can also explore nearby towns on the Rhine River or venture out to other European cities like Berlin or Munich. Taking a train is always a great way to travel in Europe. Start at the Cologne Central Station and plan an itinerary that is fun-filled and exciting.
Cologne Central Station Overview
Cologne has a long history which is evident in the beautiful architecture that silhouettes the skyline. After Allied air raids during WWII destroyed much of Cologne's landscape and displaced its people, much had to be rebuilt. The Cologne Central Station was among the casualties and was rebuilt in 1957. Although an impressive building, its modernity greatly contrast with the Gothic spires towering from the Cologne Cathedral, lying 197 meters from its doors.
There are many sights to enjoy near the station, therefore you can plan activities before you set off for a train travel adventure. Don't miss a stroll along the Rhine River, a tour of the Cologne Cathedral or one of the many museums accessible to the station.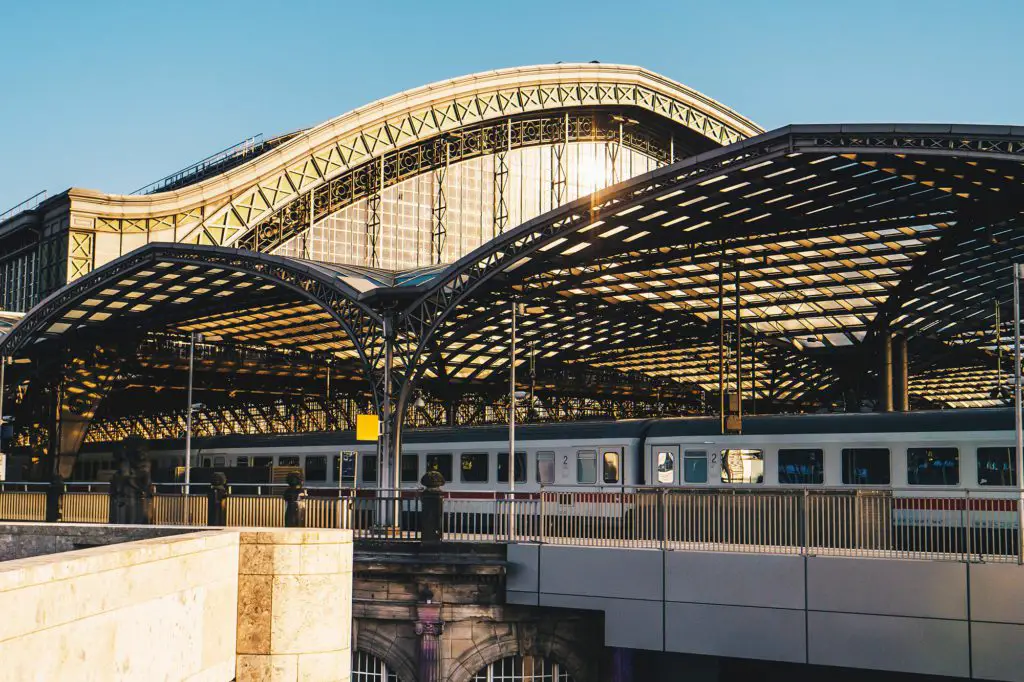 Having been designed and built in the more modern age has lent to a better layout and more thoughtful plan in the newest version on the Cologne Central Station. Walking into the station you are greeted by the main departure boards as well as an Information Desk. Beyond this point you will find a passageway that features shops, restaurants and ticketing kiosks.
From this area, escalators and stairs dedicated to each platform can take you to one of the eleven platforms available. High speed and long distance trains run from platforms 1-9. Local and regional trains leave from platform 10 and 11.
Left luggage is also in this area if you would like to explore and need somewhere to leave your things. Like many stations in Europe the WiFi is free for the first 30 minutes.
If you have a first class ticket, you can use the classy DB Lounge. Here, you will find a comfortable place to wait for your train, refreshments and free WiFi, which is convenient if you've exhausted the station's WiFi time.
How to buy tickets at Cologne Central Station
To the left of the main hall you will see ticket service kiosks as well as a DB Travel Center. Here, you can speak with a travel agent or buy a ticket through one of the kiosks. Kiosks spread throughout the station are convenient if you find a need to buy elsewhere.
However, buying online is usually easier and quicker than buying at the station. We book our train tickets in Europe using either Trainline or Rail Europe. These services offer an easier customer experience as we've found our credit cards work better when booking through these sites. Eurostar Tickets can be booked on either platform. In addition Rail Europe offers rail passes if you are planning a longer trip.
Where to eat at Cologne Central Station
If you are on the go, the Cologne Central Station has plenty of quick options. REWE To Go Minimart has a great selection of tasty treats and meals for your journey, so be sure to stop by and stock up. However, if you have time and are wanting a more relaxing meal, there are many places to dine that are very close to the station.
Bistro Sion am Bahnhof is a sure bet for classic schnitzel and a great German Beer. You can dine on the patio with a view of the cathedral or snuggle into a two-top and enjoy the ambiance of a fun German bistro.
After touring the Cologne Cathedral and before your train, you can get some delicious poké at Poké Makai. Try their "Bowl of the Week" or their mouthwatering Spicy Tuna bowl for that taste of the orient you've been craving.
If you find yourself with a half day or so, take a ten minute walk down by the Rhine River and visit the row of beer houses hugging its banks. There's nothing better than a water view and a frosty German beer to top off your visit!
Where to stay near Cologne Central Station
The best place to stay is the hotel right next to the station. The Ibis Hotel Köln Am Dom will be steps away from your platform and is the most popular place to stay for the "on the go" tourist. Catch the commuter train to the airport or for your cross country train excursion after you enjoy the breakfast buffet served every morning at this clean comfortable and convenient hotel in the middle of everything.
If you are wanting a hotel that has a more luxurious feel, then the Excelsior Hotel Ernst am Dom five start hotel is probably more your style. Marble bathrooms, a state of the art gym and two saunas will relax you after hanging out at the piano bar with a couple of drinks. Only a two-minute walk to the station, you can sleep in and be on your platform within minutes.
For those adventurers on a tight budget, the Station Backpacker's Hostel is a nice place to lay your head with clean rooms and a shared kitchen. Enjoy those late night talks with people from all over the globe over a pint at the bar or a coffee at the cafe. Just a five minute walk will have you at your platform when it is time to set off again for more European exploration.
How early do you need to arrive at Cologne Central Station
Since the Cologne Central Station is a smaller very navigable train station, you can get there with little time to spare and still be safe from the possibility of missing your train. You can walk from Platform 1 to Platform 11 in two to three minutes so you don't have to worry about large distances to get to where you need to be. However, if you plan on shopping, eating or buying a ticket, allow time for this in your schedule.
Best trips from Cologne Central Station
Frankfurt
You can arrive in Frankfurt from Cologne by train in one of two ways, by high speed train or by the Rhine Valley Line. The high speed train can get you to Frankfurt in a little over an hour. However, the Rhine Valley Line is the slower of the two and takes almost 2.5 hours, but isn't a time waster due to the breathtaking scenery. Whichever way you choose, you can galavant around Frankfurt when you arrive trying the numerous beer houses and touring the famous financial district.
Zurich
Another very scenic train itinerary is the Cologne to Zurich, Switzerland train trip. This is no ordinary train ride, as you will be traveling in a panorama car where there isn't a bad view. See charming medieval cities, beautiful forest covered mountains, rivers and castles on this five hour journey to Zurich. Once there, you can choose to stay in the city or take a mountainous excursion into the Alps. Zurich is a place that it would take months to explore as there is such a variety of activities and things to see in this captivating Swiss city.
Visiting Cologne, Germany should definitely be on your radar if planning a European itinerary. By taking a train from the highly navigable and convenient Cologne Central station, you will set yourself up for a success European holiday.