Frankfurt Main Hauptbahnhof: A Complete Guide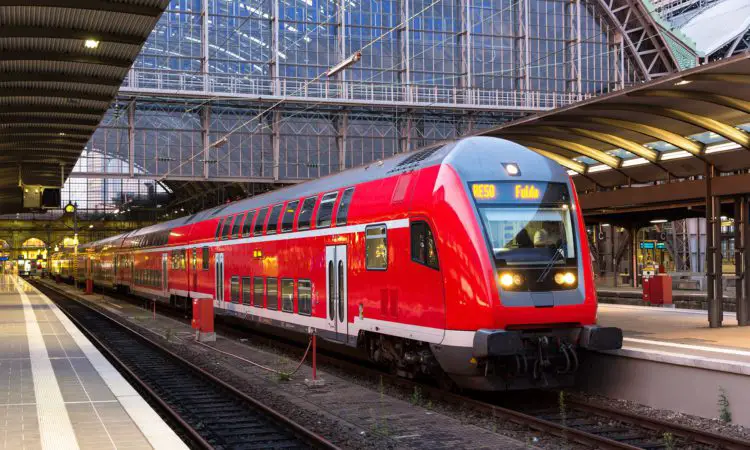 Grounded Life Travel is supported by its audience. When you purchase through links on our site, we may earn an affiliate commission.As an Amazon Associate I earn from qualifying purchases. List of everything we use in our travels.
Frankfurt is a world class city that is considered the heart of Europe for travel and exploration. Established is the early 5th century, it has prospered, been leveled to ashes and then prospered again, making it a resilient city with all the history and lore you may expect.
Touring around Frankfurt, you can see the pages of its book unfold as you walk past the Römer, which has been standing since Medieval times and is recognized as a World Heritage Site by UNESCO. The Städel Museum houses Germany's most prized collection of art and is a feast for the eyes. Grüneburg Park is a must for outdoor recreation with its 140 astonishingly beautiful acres. Enjoy an adventure playground, petting zoo, children's train and a swimming pool. Two lakes add a picturesque view as you walk around this lovely place in Frankfurt.
The old also embraces the new as Frankfurt is an important world financial center. In the The Bankenviertel, or the Financial District, you will see many modern buildings that make up the landscape. After the destruction of many Medieval buildings during the World War II, the Financial District took hold featuring the Frankfurt Stock Exchange, various insurance institutions and over 200 banks. Frankfurt has become the leading European hub for finance and banking.
Not only is Frankfurt important historically and globally, but it is also at the center for European travel. If you are on a European holiday, chances are you will connect through Frankfurt at some point. Because train travel is the most convenient way to travel in Europe, you will undoubtedly pass through Frankfurt Main Hauptbahnhof Station.
Frankfurt Main Hauptbahnhof Station Overview
Frankfurt Main Hauptbahnhof Station is a gorgeous station that dates back its origins to 1888. In 1924 two additional halls were added on either side of the main hall to increase its capacity to the 24 platforms it has today. The station uses its historical past along with elements of modernism in a unique way that is beautiful and inviting. Visiting Frankfurt Main Hauptbahnhof Station can be a destination for changing trains or a visit in itself for its historical significance and appreciation of architecture.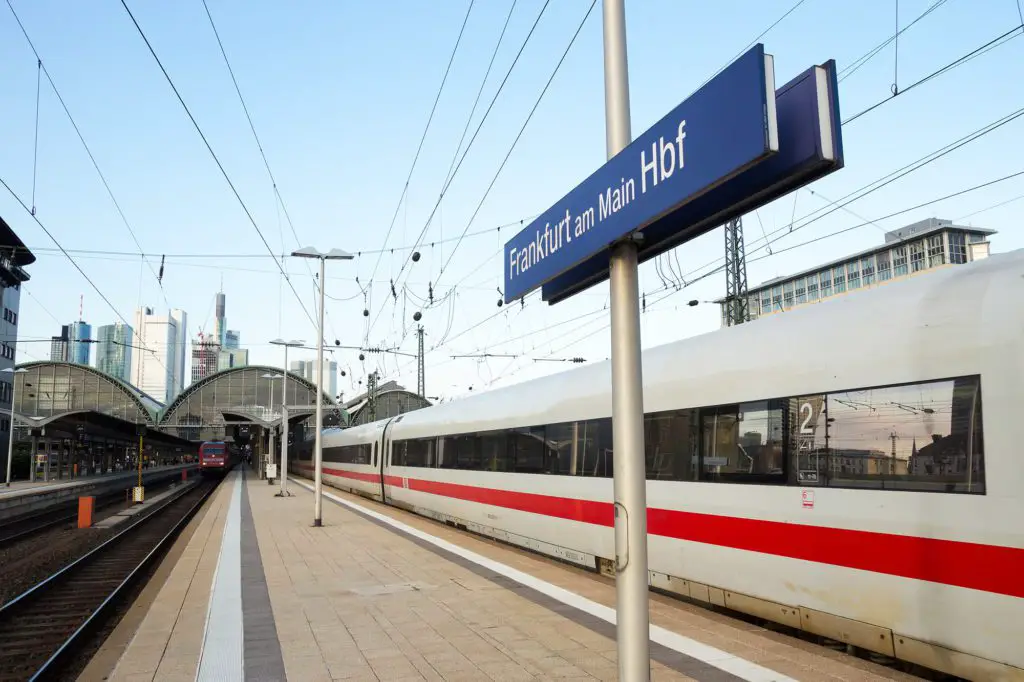 Frankfurt Main Hauptbahnhof Station, or Frankfurt Main Hbf as it is often called, is surprisingly easy to navigate. Due to the station being all on one level, you can arrive to the station on one train, step off, and then step right onto another train, all without having to meander through escalators, elevators and stairs. It is exceedingly a top-notch station for people who have physical limitations and is very mindful of your time, taking only a few minutes to go from platform to platform.
As you enter the station, you will be greeted by a grand hall that features places to welcome you such as Starbuck and Uddin's Bar. You will also see the luggage and lockers to your right and the ticket office to your left. Beyond this point you will see platforms 1-24 lined up in a row with the information desk located across from Platform 12 and 13. It really couldn't be any simpler and navigating the largest one-level station in the world should be a pleasure.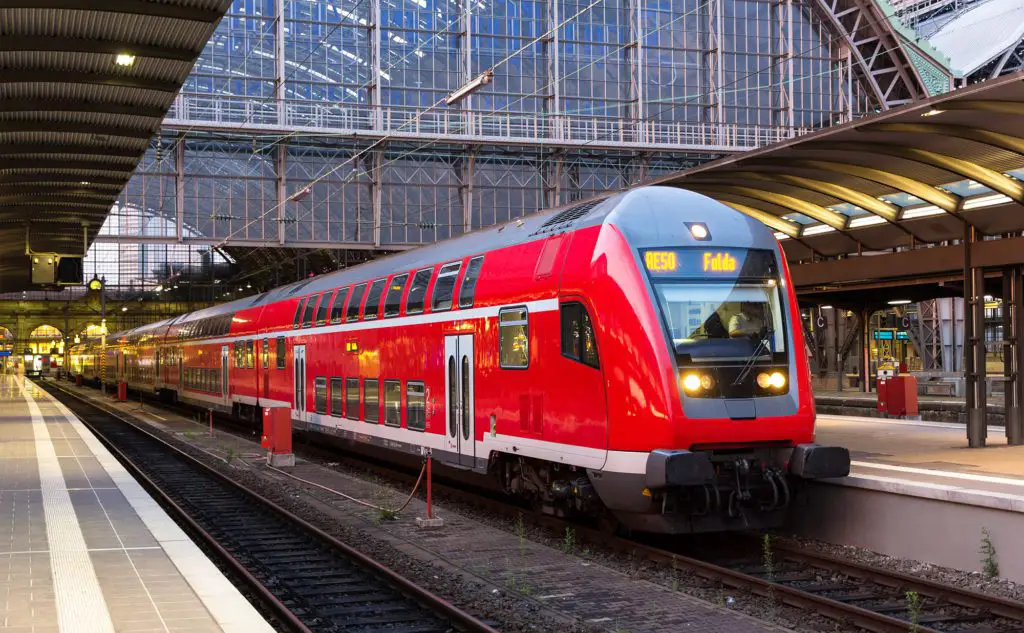 How to buy tickets at Frankfurt Main Hauptbahnhof Station
The easiest and fastest way to by train tickets is online at a website such as raileurope.com or getyourguide.com. However, if you are at the station, you can also buy tickets at various outlets throughout the station or at the ticket booth located at the entry way of the main hall of the station. It is always a good idea to be proactive and get your tickets early, especially if there is a big event in the city or it is a holiday.
We book our train tickets in Europe using either Trainline or Rail Europe. These services offer an easier customer experience as we've found our credit cards work better when booking through these sites. Eurostar Tickets can be booked on either platform. In addition Rail Europe offers rail passes if you are planning a longer trip.
Where to eat at Frankfurt Main Hauptbahnhof Station
There are the trusty fast food joints such as Mcdonald's and Burger King located within the station. However, if you want something with more substance and taste, you can try these other suggestions.
Try Gosch-Fisch-Bistro for a great fish sandwich. You can also patronize Tatie if you like Moroccan food and their tasty Harira soup. If you have a craving for pad-thai or a noodle bowl, Asia Gourmet, may be just what you are looking for. For a stout pint try M-Bar or O'Reilly's Irish Pub.
Where to stay near Frankfurt Main Hauptbahnhof Station
For a budget friendly choice that will save you money and have you to the station in 3 minutes, stay at the Tokyo Inn Frankfurt Central Station. For less than $80, you can have a free breakfast, free WiFi and be within a 15 minute walk to Städel Museum.
If you are splurging on your trip, seek out the Steigenberger Frankfurter Hof where you can stay in luxurious accommodations with stylish furnishings. Boasting a gym, spa and even a barber shop, this 18th century hotel will give you every creature comfort you have been looking for with only a 2 minute taxi ride to the Frankfurt Main Hauptbahnhof Station.
If you need something in between that is not outlandishly expensive, then try the Hotel Hamburger Hof. A family hotel with amenities in all the right places, Hotel Hamburger Hof is a great place to stay if you have an early morning train and need to walk the .1 miles to the station. You can also enjoy breakfast or just a drink at the bar. It's everything you need!
How early do you need to arrive at Frankfurt Main Hauptbahnhof Station
It's a general rule of thumb to arrive at the station for your train at least 30 minutes before your departure. At Frankfurt Main Hauptbahnhof Station you will be able to navigate the station easier, therefore, you might be able to get to the station with only 15-20 minutes to spare. Yet, you may want to walk around the station and browse the shops or grab a coffee, so keep that in mind as you plan.
Best trips from Frankfurt Main Hauptbahnhof Station
There are so many places to explore in Europe from Frankfurt. The only problem will be choosing where you want to go. You can stay close and visit some of Germany's most beautiful places from Frankfurt or you can venture out to another country in Europe. Here are some popular places in Germany that many travelers add to their itinerary.
Heidelberg
Heidelberg is one of Germany's most beautiful and interesting places. In only an hour you can see this quaint little Renaissance town in all its glory. Walk the riverside streets of beautiful historic Old Town and see a village that has remained almost unchanged since the 1700's. Due to the fact that the city was spared from bombing during WWII, the architecture and beauty is left in tact. . Visit the numerous baroque and gothic churches, the gorgeous Heidelberg University and the crown jewel of the city, Heidelberg Castle. You can spend a day or a lovely weekend in this "must see" town. After all, it really is just a stones throw away from Frankfurt.
Rothenburg
Just a short train ride can have you stepping into a fairy tale when you arrive in Rothenburg. It is as picturesque as anything you have seen in Germany. Once the capital of Bavaria, there are still many wonderful medieval buildings to see that date back as far as the 13th century! Don't miss the tower trail off of the charming town square. Here, a path meanders among the 42 towers of the city that will transport you back in time.
Neuschwanstein Castle
This trip is not a city but a complete destination in itself and is a lifetime goal for many. Neuschwanstein Castle may look familiar because it is modeled after Cinderella's Castle at Disney World. It takes some traveling to get there, but the 5.5 hours from Frankfurt to Füssen will have you close enough to the castle to take a 2 hour bus to this well worth it destination. King Ludwig II, who ruled Bavaria in the mid 1800's, was an eccentrically brilliant king who had a passion for one thing, building the best castle in all the land. So, come see the gold laden, ornate interior and the waterfalls that surround this unbelievable sight.
Other major train stations in Germany such as the Berlin Hauptbahnhof will open up even more possibilities.
Touring around Frankfurt and all the fabulous towns and cities beyond will give you a trip that you may have thought you could only dream of. Traveling by train from Frankfurt Main Hauptbahnhof will only be the beginning of a wonderful tour of the amazing country of Germany.