Berlin Hauptbahnhof: A Complete Guide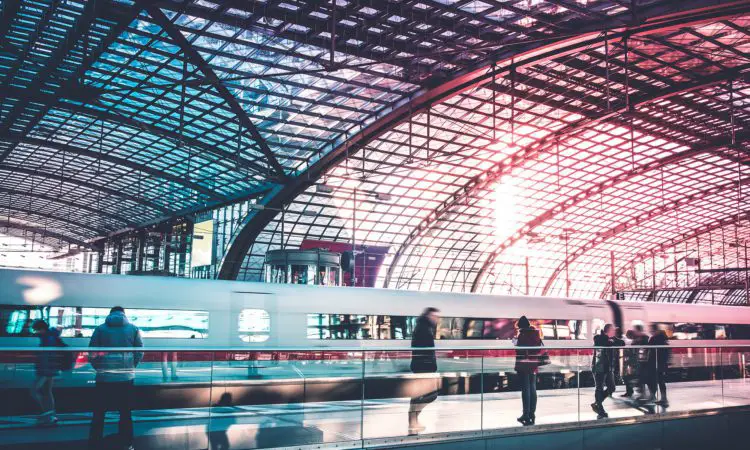 Grounded Life Travel is supported by its audience. When you purchase through links on our site, we may earn an affiliate commission.As an Amazon Associate I earn from qualifying purchases. List of everything we use in our travels.
Berlin is the perfect conglomeration of old and new, historical places and newly constructed modern feats of brilliance. Berlin does not attempt to hide its past, but recognizes and educates the masses through museums and architectural points of interests.
It is a beautiful city, which is evident in the lush trees and green spaces that have been carefully built around over the past eighty years. Since the reconstruction of much of Berlin after it was left in ruins during World War II, the city has become a place that not only recognizes the past, but features its past transgressions as a part of its becoming. Berlin has revolutionized from a fractured city with a dual personality and iron fist laws, to a gorgeous place that has river views, quaint parks and all the modern conveniences that a world class city boasts to its travelers from near and far.
Being such an important fixture in a dynamic and important European country such as Germany, has brought the need to have a reliable and convenient way to travel. Berlin Hauptbahnhof Station is a place where inter-city and regional trains join Berlin's rail system, underground travel, tram and the bus network. A traveler will find this station to be not only fabulously grand, but also easy to navigate.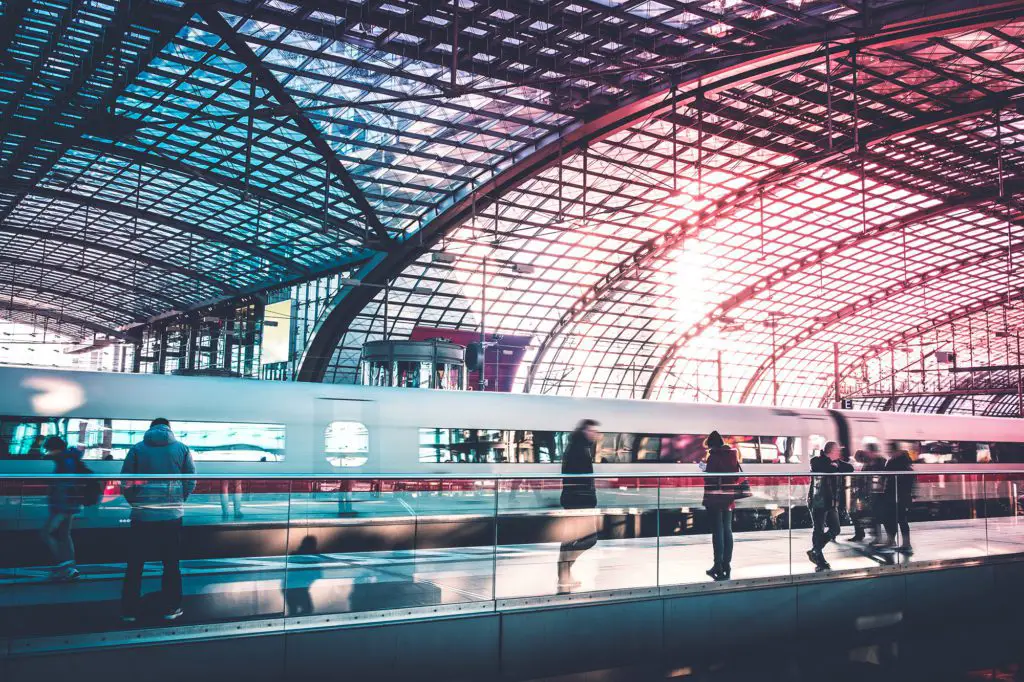 Berlin Hauptbahnhof Station Overview
The Berlin Hauptbahnhof Station is of glorious glass and steel construction that is not only pleasing to the eye, but very functional and organized so that getting around is easy to understand. After the reunification of Berlin, plans to bring East and West Germany together commenced in a project that would take eleven years from start to finish. The result is a modern day masterpiece that is as functional as it is beautiful and can help travelers from all over the world travel by train to their destinations, either within the city or to other parts of Europe.
Entering a 470,000 square foot glass building can be intimidating when attempting to navigate, but the Berlin Hauptbahnhof Station has been laid out with easy navigability in mind. When you walk into the main entryway which is at ground level or "Level 0", you will be in awe of the grand atrium before you. Glass, steel and the the air around you invite you to a labyrinth of escalators, bridges and train track that put your senses in overload.
You can choose to go up a floor to where there are shops, the ticket office and luggage claim. One more floor up will take you to Platforms 11-16. These trains can take you to places like Amsterdam, Warsaw or Krakow, just to name a few. Taking an escalator down from the main level will take you to more shops. If you choose to go down one more level you will find platforms 1-8 where you can catch trains running to places such as Budapest or Prague. Pay attention to the Wagenstandsanzeiger or train signage that is posted at every platform so you will know where to go in order to board your train.
How to buy tickets at Berlin Hauptbahnhof Station
There is a large ticket center on Level 1 called the DB Travel Center where you can buy national and international tickets. The provided Travel Center crew can help you obtain information on departures, ticket fares and tariffs if need be. There are also many tickets machines in this vicinity so you do not have to wait in line, should it be busy. You can also buy tickets online before you arrive taking the hassle out of any of the above.
We book our train tickets in Europe using either Trainline or Rail Europe. These services offer an easier customer experience as we've found our credit cards work better when booking through these sites. Eurostar Tickets can be booked on either platform. In addition Rail Europe offers rail passes if you are planning a longer trip.
Where to eat at Berlin Hauptbahnhof Station
There are over 30,000 places to eat in Berlin and you will find a multitude of them inside Berlin Hauptbahnhof Station. There are the usual fast, salty and tummy pleasing venues such as Mcdonald's , Dunkin Donuts and Burger King. Yet, if you are in Berlin, you may want to take the time to seek something more interesting for your tastebuds.
Try Fatih Servet Döner for a fresh greek salad or meat kabab. There is also Station Food GMBH, which gives you a variety of things to choose from such as pizza, hamburgers and fried fish. For vegetarians there is Curry 36, where you'll find quick Vegan options with a friendly smile. Tokio Sushi, Soup and Sake is a place to get a taste of Japan along with some fresh tempura or a yummy roll.
Where to stay near Berlin Hauptbahnhof Station
The most convenient place to stay when needing to stay close to the station is the Steigenberger Hotel Am Kanzleramt. Modern furnishings and a wellness spa are two features that will stand out at this station that is a stones throw, literally, from the station. With a one minute walk planned to the station you will be to your platform in no time.
The Menninger Hotel has subway access and access to the station and is quite affordable. This is a great choice for the travelers that need twin bed accommodations, as this hotel features these rooms. You can also get a room that has four bunk beds. This is perfect for the young traveler on a strict budget.
If you don't mind a 15-minute walk to the station but have the need to be in the center of all the action, the Hotel Adlon Kempinski Berlin is where you need to stay. This hotel is next to the Brandenburg Gate, so you can visit a historical icon and visit other notable attractions. After you walk about the area try the two star Michelin restaurant on the property and savor the six course meal that will be laid before you. This meal alone is worth the short walk to the station.
How early do you need to arrive at Berlin Hauptbahnhof Station
While some train passengers may say that fifteen minutes is enough time to get to your platform, you should probably allow a little more time. This station is a feast for the eyes and there are a lot of shops and various boutiques to peruse. You may want to give yourself a little more time so that you can really enjoy yourself before your journey. However, this station is laid out fantastically and you will have no trouble finding your platform as long as you follow the signage.
Best trips from Berlin Hauptbahnhof Station
Prague
A four hour train journey will take you to the picturesque and infinitely interesting city of Prague. Get a glimpse and a selfie at the 600-year old Astronomical Clock Tower. It is a must to see the 12 Apostles march around the tower top every hour before you leave. Tour through the Old Town and window shop the cobblestone streets in this gorgeous area that boasts one of the most beautiful libraries in the world. If you want to get some fresh air with a view, hike up to Letná Park and witness this fabulous city from up above. Here, you will see many of Prague's artists and music enthusiasts hanging out amongst the gigantic metronome. The vibe is amazing and the good feelings are contagious.
Copenhagen
Taking the train from Berlin to Copenhagen is a fun six hour trip that will give you plenty of time to enjoy the train, the scenery and the destination when you get there. Once there, enjoy an afternoon at Tivoli Gardens, or walk around one of Copenhagen's many castles such as Christiansnborg Palace or Rosenborg Castle. The National Museum of Denmark is also a great place to explore to acquire some history and culture related to this Scandinavian treasure.
Frankfurt
If you are wanting to stay closer to Berlin, Frankfurt is a place you must go. In one hour, you can get to Frankfurt and enjoy the Palmengarten and its 22 hectares of beautiful flora and landscapes. It's a wonder to see such lush greenery in an otherwise bustling city. Do you have the need to shop for flowers, produce, wine and pasta? Do you want to buy some spices, olive oil or other German delectables as a souvenir from your trip? Then Kleinmarkthalle is where you need to explore to fill your coffers. Built in the 19th century, this shopping mecca has all sorts of goodies that you must try before you head for home.
Berlin is a city that mixes both old and new. It is a city to surely be explored and enjoyed before your next venture out into the great wide world. Starting the next phase of your travel at the Berlin Hauptbahnhof Station will set the stage for an enjoyable trip to wherever you want to go.