München Hauptbahnhof: A Complete Guide
Grounded Life Travel is supported by its audience. When you purchase through links on our site, we may earn an affiliate commission.As an Amazon Associate I earn from qualifying purchases. List of everything we use in our travels.
Munich is a place to celebrate life in its beer halls, on its beautiful town squares and its lively marketplaces that teem with goods and luxuries. Step out into her city streets and revel in Munich's gorgeous medieval architecture that dots the landscape along with feats of modern marvels that coincide, harmoniously. As the capital of Bavaria, it represents the region well, featuring wonderful museums, astonishingly fabulous churches and major universities.
However, if you've come to Munich, chances are you are venturing here for one reason, the beer! There are over 100 beer houses and beer gardens in this city that loves its fermented hops and barley. Some beer houses date back to the 14th century. If you come during the time honored celebration of this fizzy concoction during Oktoberfest, you will see just how much Munich loves its beer and the culture behind it.
After you have drank a pint or three, you may be wanting to venture to other parts of Germany, like Berlin or Frankfurt, to try their take on the ale. Start your exploration by train at München Hauptbahnhof. This station has trains that will take you to other German and European cities that will delight and excite.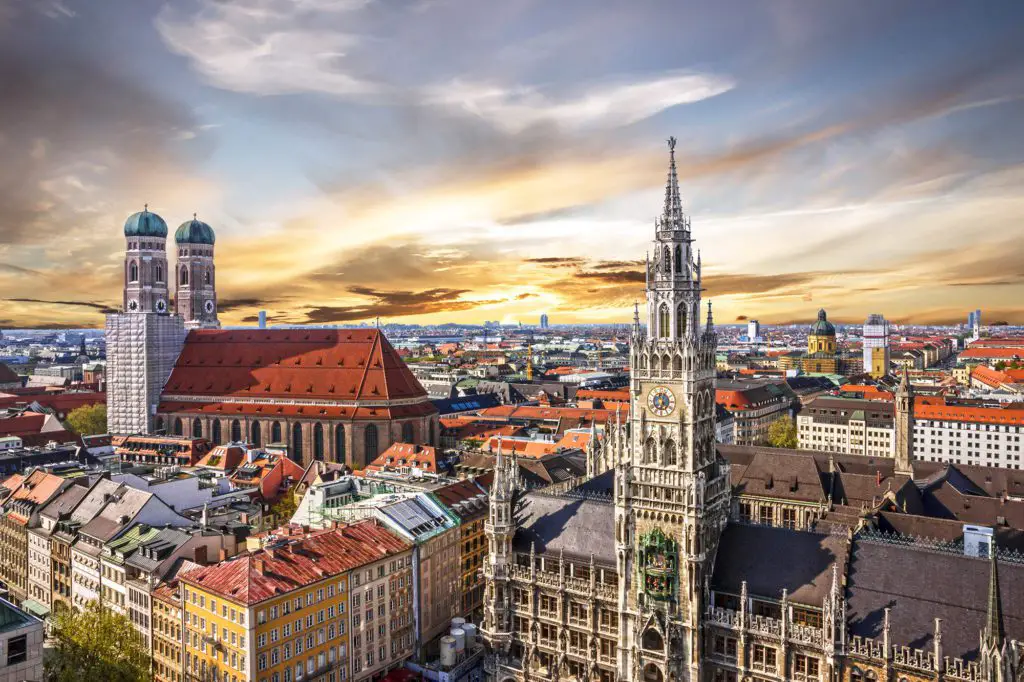 München Hauptbahnhof Station Overview
München Hauptbahnhof, has been realized, reworked, rebuilt and relocated numerous times over the almost 200 years it has existed. The station you see today was built after World War II in the 1950's. It is a large station with beautiful natural light pouring through it skylights above. Many come to take the train to a nearby city or to travel to other countries. However, the shops and restaurants at the station are another reason to just pay a visit.
Because of the sheer size of this gargantuan station, it can be difficult to navigate and a bit confusing for the first timer. Pay special attention to the above departure boards and you will be able to get to your platform with ease. This station has step-less boarding for trains at street level with the exception of the suburban train that are below ground. An escalator or stairway can take you here if you plan to travel locally. However, the 32 platforms that the station has can take you to nearby towns, across the country or internationally.
If you have a ticket that allows lounge access, the DB Lounge is exceptional at this station offering free WiFi access and many refreshments and a comfortable place to rest or work. Otherwise, WiFi is only free for 30 minutes for passengers. There are storage lockers for your bags if you need to leave them for a time on this level as well as ticket kiosks spread throughout the station.
How to buy tickets at München Hauptbahnhof
Buying tickets for a train trip from München Hauptbahnhof is easy. Your hotel in which you are staying probably is a good resource for tickets, as well as accessing online ticket services.
We book our train tickets in Europe using either Trainline or Rail Europe. These services offer an easier customer experience as we've found our credit cards work better when booking through these sites. Eurostar Tickets can be booked on either platform. In addition Rail Europe offers rail passes if you are planning a longer trip.
You can also go to tickets services and speak with a clerk when you get to the station. At München Hauptbahnhof, the ticket counter is located at the Customer Service Centre. You can also get advice about travel and attraction suggestions here, as well. If you would like, you can also get tickets at ticketing machines located throughout the station.
Where to eat at München Hauptbahnhof
München Hauptbahnhof is a great place to eat if you are hungry. You don't have to leave the station to fill your belly with great food. In the main hall there are places to just grab something fast if you are in a hurry to catch that train. Grab a pastry or coffee from Rischart Bakery. There is also Condesa, a great Mexican restaurant here if you've had your fill of sausages for the month. Go downstairs to the underground level and try one of the many places to score kebabs, sushi or even McDonald's.
If you do feel like venturing out a bit, just a five minute walk will have you at one of the best beer gardens around. Augustiner-Keller has an indoor beer hall as well as a quaint beer garden set amidst a beautiful flora laden patio. Try their famous creamed pork schnitzel and potato soup along with a tall pint.
Where to stay near München Hauptbahnhof
Finding a place to stay near the station is a simple endeavor. There are many places that offer comfortable accommodations that will leave you without the stress of getting to the station in time.
Hotel Metropol by Maier Privathotels is a great choice for comfort, affordability and location. Beautiful rooms equipped with everything down to a smart tablet will enjoyed at this property. With subway access, you can be to your platform in no time, waiting to board.
For those on a special trip like a honeymoon, splurging on the Rocco Forte The Charles Hotel will be a welcomed treat. Featuring luxurious finishes like limestone bathrooms and spacious rooms, staying at this property will have you feeling like a movie star. Try out the pool, sauna or gym while you are there to have the full experience. Taking the short subway ride to the station in the morning will be a convenient feature to your stay.
If you and your compadres are looking for a cheaper way to stay, try a hostel. At CVJM Jugendhotel München, you will be as comfortable here as in a hotel room, with private quarters along with a bathroom. The price is very affordable and will save you money with a free breakfast in the morning before you set off on your next adventure. Head out the nearby subway and get to the station in time to board your train.
How early do you need to arrive at München Hauptbahnhof
If you are used to European train travel, have your tickets in hand and know your way around the station, then arriving 10-15 minutes before departure should be sufficient. However, if any of these pieces of the travel puzzle are missing, you probably should get to the station 30-45 minutes prior to departure. Planning ahead and having enough time to get to your platform will really cut down on the stress that can sometimes be created with travel.
Best trips from München Hauptbahnhof
Some of the best trips that you can take from Munich are by train. Start at the München Hauptbahnhof and you can go almost anywhere in Germany and beyond.
Saltzburg
Saltzburg, Austria is an amazingly beautiful neighbor to Germany that must be visited on your European tour. In 90 minutes you can step off the train where the "hills are alive"! Saltzburg is the home of Mozart, the real Sound of Music and Europe's largest medieval fortress. You will get a lot done on this day tour of a fabulous city near Munich.
Rothenburg ob der Tauber 
One of the most idyllic places on Germany's Romantic Road can be found here in Rothenburg ob der Tauber. Walk among its cobblestone streets and transport yourself to a medieval world that is only made from fairy tales. The architecture and the history that go with it are a historians dream, but will also captivate the ordinary person's imagination. This 3.5 hour journey by train will be a long day of travel, but will be worth every moment.
Choosing a route to travel by train from Munich may be tough because there are so many choices of beautiful and interesting places. The good news is, there is no wrong choice wherever you decide to travel. Your itinerary from Munich can be a route that will create memories that last forever.