Zürich Hauptbahnhof: A Complete Guide
Grounded Life Travel is supported by its audience. When you purchase through links on our site, we may earn an affiliate commission.As an Amazon Associate I earn from qualifying purchases. List of everything we use in our travels.
Switzerland is one of the most gorgeous countries in the world. Rivers, mountains and grand, old architecture make this country well worth traveling. However, there is one place in Switzerland that you must put on your itinerary over all others.
Zürich is a lakeside city that has everything you would want in a vacation destination. Shopping, world class museums and CHOCOLATE! Does it get any better than that? Zürich is also known worldwide for its financial district, art scene and some of the best places to delight your tastebuds on the planet. Combine this with over fifty museums, some of the best nightlife in Europe and a grand lake that features free lakeside bathing and you have one of the world's most livable cities.
There is so much to see and do in this great Swiss city. So, make sure you take a few days and walk the church-lined, cobblestone streets, tour one of the many famous art galleries and bask on the banks of Lake Zürich. After, you can plan a trip from this engrossing and intriguing city to another wonderful destination in Europe by train. The Zürich Hauptbahnhof can get you to anywhere in Switzerland as well as four neighboring countries. Not only is it a beautiful station, but a station that you can visit for a day of fun, even if your aren't going anywhere.
Zürich Hauptbahnhof Overview
Zürich Hauptbahnhof was originally built in 1847. But, after the Golden Age of train traveled erupted in the mid 19th century, it was evident that the station had to be rebuilt to accommodate all of the travelers that were clamoring to explore, visit and discover other parts of Europe.
In 1871, it was rebuilt in a neorenaissance style. Today, the station welcomes almost 500,000 passengers a day and is one of the busiest railway stations in the world. With 62 restaurants and 92 shops, it isn't just the home of a popular mode of transportation, but a great place to shop and browse for gifts for loved ones or even yourself.
Getting around Zürich Hauptbahnhof is easy once you understand the layout. When you walk in the main hall at street level, you will see the ticket office, the tourist office and a mini market. Their is also a First Class Lounge here as well as well a a few places to grab a quick bite. The train departure board is also high overhead so that you can find your platform. Escalators to the shops below, luggage lockers and ticket machines are also on this level. To the far end you will see the platforms number 3 through 18 that will give you stepless boarding to your train.
If you want to peruse Shopville or the huge shopping mall, you can take the escalators or stairs to the lower level where you will also find additional platforms that have trains running to other destinations in Switzerland as well as trains that run locally.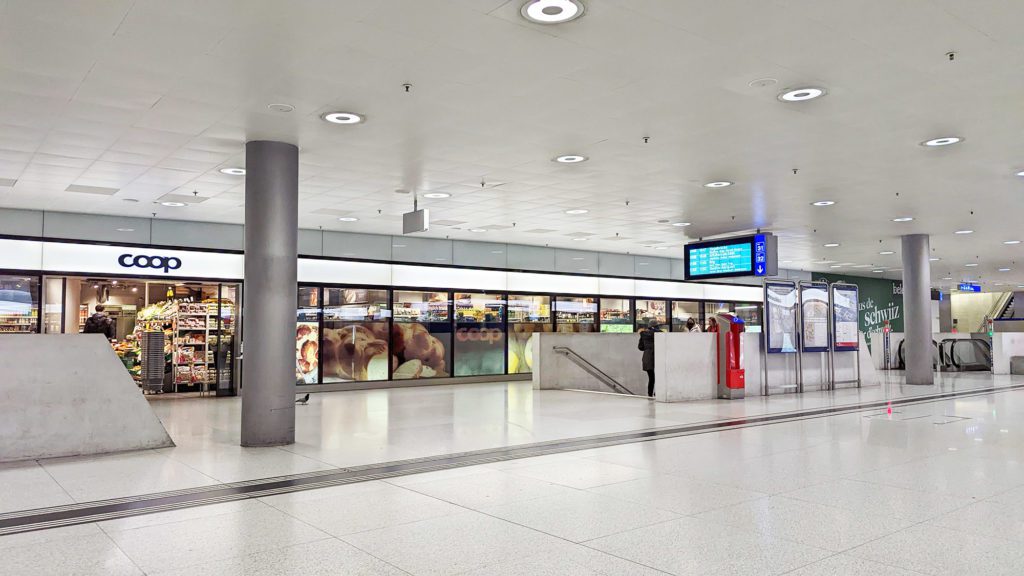 How to buy tickets at Zürich Hauptbahnhof
There are ticketing machines located within the station. If you need help, you can visit the tickets counters that are served by English speaking clerks that can help with anything from ticketing, to questions about attractions. Online ticket services are also available if you would like to purchase your tickets before getting to the station.
We book our train tickets in Europe using either Trainline or Rail Europe. These services offer an easier customer experience as we've found our credit cards work better when booking through these sites. Eurostar Tickets can be booked on either platform. In addition Rail Europe offers rail passes if you are planning a longer trip.
Where to eat at Zürich Hauptbahnhof
With around 2,000 restaurants, bars and take out venues, you are bound to find a great place to eat in Zürich. However, if you need to fill your tummy before getting on the train, there are many great places within the train station. On the street level you will find a few places to eat, but the bulk of the restaurants at the station are down below the tracks. Go down the escalator to Shopville and you will have your choice of over 60 restaurants to choose from.
You can try La Piadina for some savory or sweet crepes on the go. Yooji's Hauptbahnhof has some great deli sushi that you can eat right there, or take away to eat on the train. Spitz is the place to go to impress. Get some real Swiss food like Swiss alpine salmon topped off with chocolate mousse after dinner. There are also the standards like Burger King and Subway.
Where to stay near Zürich Hauptbahnhof
There are countless hotels within a mile of the station that make staying near your chosen mode of transportation easy. Situated right next to Old Town Zürich, the station is central to many attractions.
The most obvious choice due to it location is the Hotel Schweizerhof Zürich. Here, you will be across the street from the station. This highly rated hotel not only features adjustable beds for your comfort, but also free WiFi. You can also visit The Cafe Gourmet and their caviar bar where you can enjoy pastries, antipasti and much more.
If you want more of an experience you can stay at The Henry. Each room is the theme of a famous film such as "The Great Gatsby" or "Avatar". Comfortable accommodations feature a kitchenette so that you can go to the market and eat in if you choose. Less than .5 miles from the station, you can walk to your platform and be on your train fairly quickly.
For the single traveler ready for an adventure and to meet new people, the Oldtown Hostel Otter is in the middle of it all and just steps to Lake Zürich. This hostel features private rooms with a shared common space so you can still have your alone time. Having the train station 1,000 feet away is also a major convenience for the world traveler.
How early do you need to arrive at Zürich Hauptbahnhof
If you already have purchased tickets online and have been to the station before, then 15 minutes should suffice for arrival to the station. However, if you need tickets and aren't familiar with the station, then you may need to talk to a clerk at visitor services, therefore arrival 30-45 minutes prior to your departure would be helpful.
Best trips from Zürich Hauptbahnhof
There are many great cities both national and international to travel to by train from Zürich. There is so much to experience in this scenic part of the world that choosing will be a difficult task.
Lucerne
Lucerne is as picturesque as they come. This city sits atop snow-capped mountains and overlooks Lake Lucerne, so the scenery is stunning. This medieval town boast 13th century walls and even older bridges that span gorgeous rivers and stunning lakesides. Getting there is easy with a 45 minute train ride from Zürich to Lucerne. While you are there don't miss the chance to take a cruise on Lake Lucerne and enjoy your lunch as much as the scenery. You can also take the cable car up to Mt. Pilatus where you can see all the beauty below you. You can't leave without trying some of the best skiing available in the world with a tour to the Jungfrau Region and a guided tour of the Bernese Oberland.
Interlaken-Grindelwald
In under two hours you can travel from Zürich to Interlaken, the most fabulous alpine wonderland on Earth. If you want to experience a true Swiss scene made for fairy tales, then this is your trip. Once there you will witness the crystal clear, emerald colored waters of Lake Thun and Lake Brienz among the snow-capped reaches of the Eiger, Mönch and Jungfrau peaks. Below is, Lauterbrunnen, a magnificent town that is a joy to just loaf around. But if you want some adventure, hike the trails of this great city in the forest, visit Trummelbach Falls or trek across Rhone Glacier. Outdoor excursions and mountaintop fun abound in this lovely Swiss town.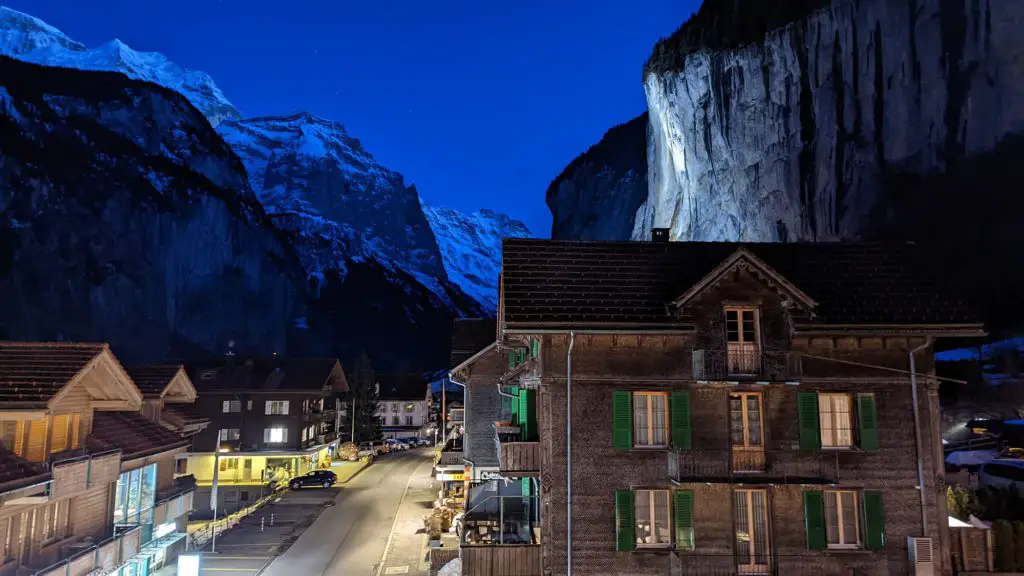 Zürich is one of the most beautiful cities in the world and is the base for the heart of European travel. If you come to this city, be ready for fun in the city as well as amusing times outdoors. However, whatever you do, don't skip this dynamic Swiss town that is sure to capture your heart.