15 Best Motels To Stay In On Route 66
Grounded Life Travel is supported by its audience. When you purchase through links on our site, we may earn an affiliate commission.As an Amazon Associate I earn from qualifying purchases. List of everything we use in our travels.
It's the iconic road trip every American should take. It takes you back to a time when everything was so different. A different way of life and a different pace of life. You will get to see a piece of Americana that will delight you. You can do the whole trip from Chicago to Santa Monica or jump in anywhere along the way. There are many unique things to see along the route but one of the best things to do is to stay in one of the iconic motels from the era. Here are our top 15 choices from our Route 66 road trip.
1. The Roadrunner Lodge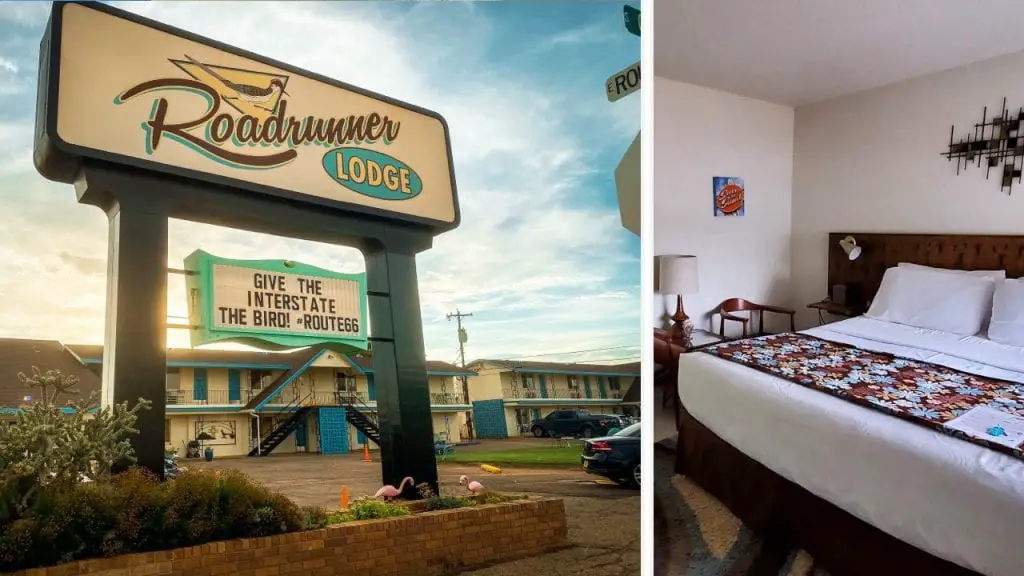 At the Roadrunner Lodge you will find the nostalgic look and feel of the 50's and 60's but with modern comfort. Our favorite was the "magic fingers' massage bed. You will find this sweet motel in Tucumcari, New Mexico, it sits directly on the old Route 66. There are many iconic motel choices in Tucumcari, but this is one of the top choices.
2. Motel Safari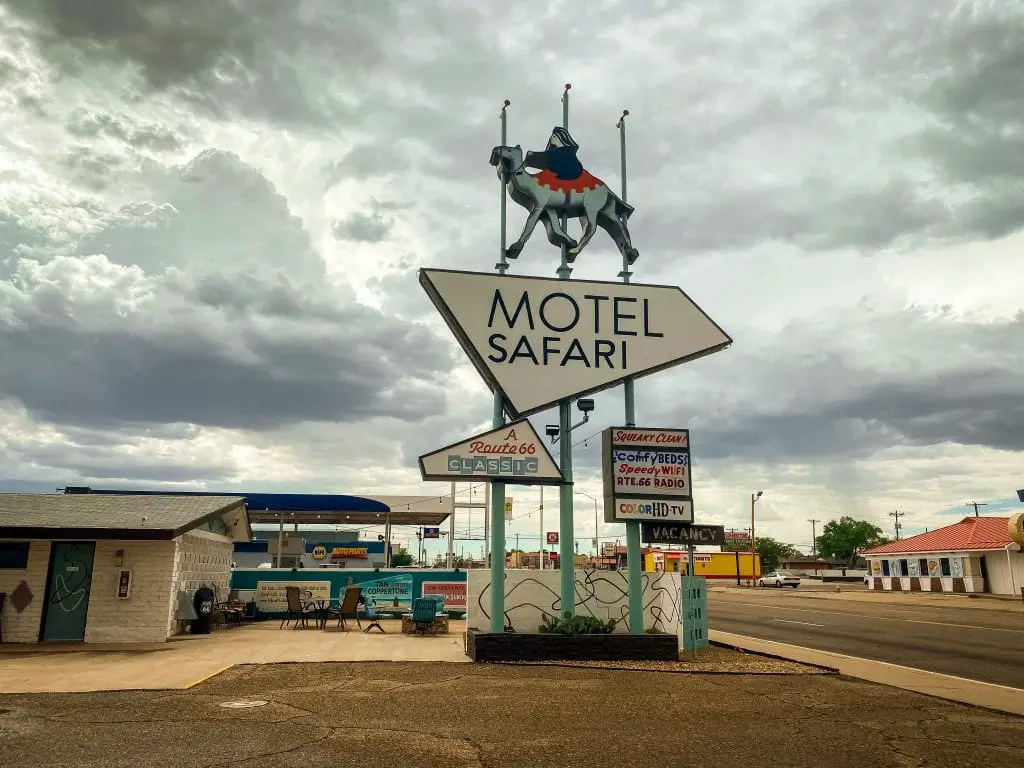 You will see the Clyde the Camel atop the sign to this iconic Tucumcari, New Mexico motel. The Motel Safari was bought a few years ago and remodeled. It still has the look and feel of the era but now has the modern feel we are hoping for. They kept one car port with the old signs from the hotel origins. You will also find some interesting old billboards painted on the wall in the fire pit area.
3. Blue Swallow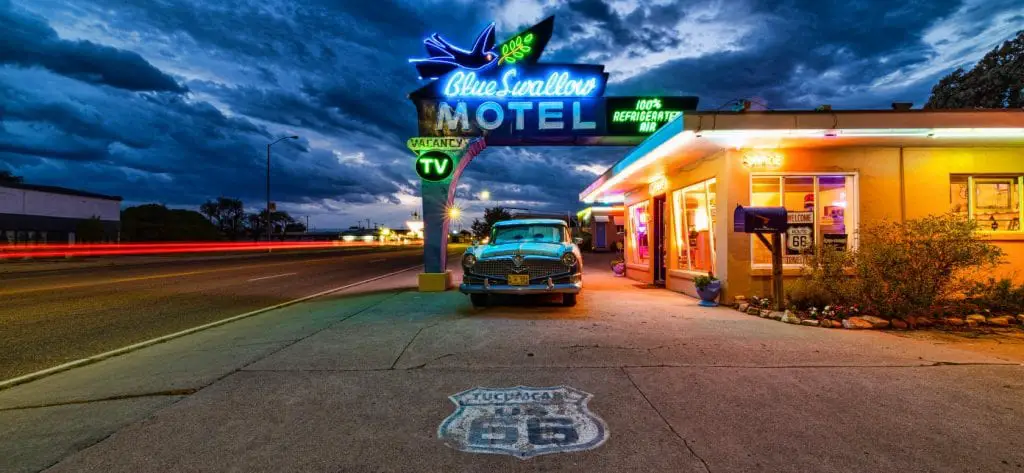 The Blue Swallow is by far the most popular motel in all of Tucumcari, New Mexico. The iconic neon sign with the vintage car underneath draws a crowd each night. This motel has maintained much of it's original feel, including the old car ports with vintage cars parked inside. You really can't go wrong in Tucumcari, New Mexico with your motel choice, there are many to choose from.
4. Wigwam Motel
Have you slept in a Wigwam? That's the question you'll see on billboards near Holbrook, Arizona. They are actually teepees but they were mistakenly named and they decided to keep the name. Staying in one of these teepees was a blast. It felt like sleeping in a fun fort in the living room of your house. Each "wigwam"is equipped with it's own tiny bathroom and a small desk. It was fun to walk around the parking lot admiring the old cars and trucks.
5. Roy's Motel
Although we could not spend the night due to COVID restrictions the day of our visit. Roy's Motel was fun to walk around in. You will find the old abandoned rooms in the front, you can even walk around inside them. You will find some interesting things. The "new" rooms are in the back. Don't forget to cross the street and take some pics at the tiny post office.
6. Boots Court Motel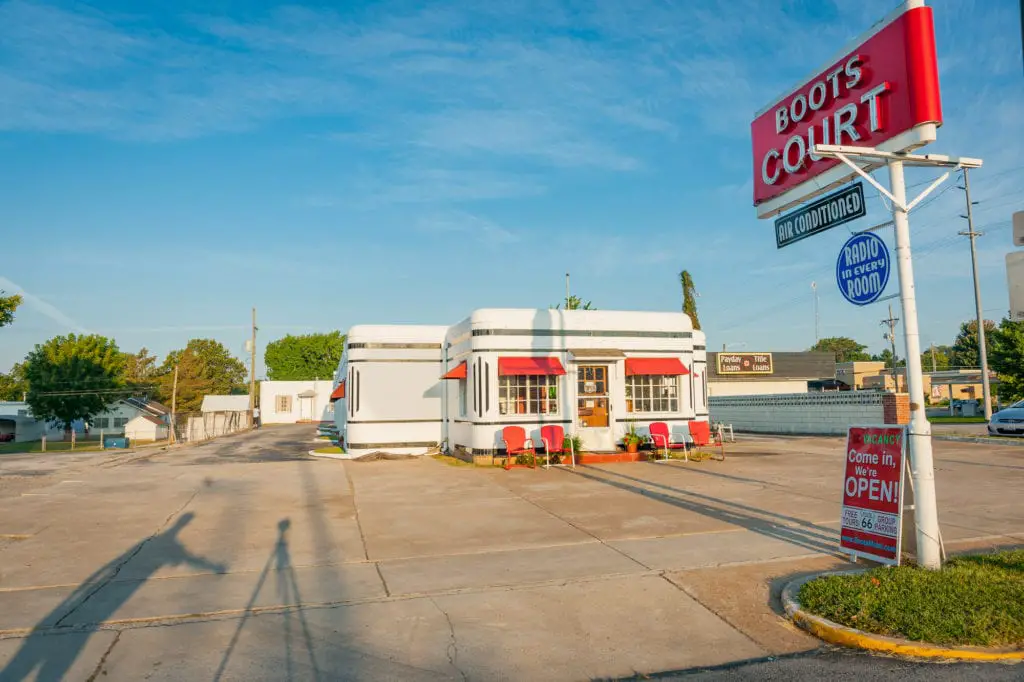 You will find this iconic Route 66 motel in Carthage, Missouri, the "crossroads of America". It was built in 1939 by Arthur Boots, thus the name. It was on the chopping block for demolition when two sisters stepped in to save it. don't miss this beautiful gem in the heartland of America.
7. Apache Motel
This is yet another gem in Tucumcari, New Mexico. It had been closed for a long time when it was rescued by it's current owner. We got to admire the Apache Motel as we stayed in Tucumcari multiple nights to really get the feel of this iconic Route 66 town. It was previously known as the Apache Inn. It is slated to open soon.
8. El Trovatore Motel
You will find El Trovatore Motel in the fun Route 66 town of Kingman, Arizona. There are so many choice of motels in this town. It has managed to preserve it's Route 66 heritage. You can choose from celebrity themed rooms such as James Dean and Marilyn Monroe, we stayed in the latter. The outside of the motel has the "worlds longest Route 66 map" painted on. Its fun to walk outside and follow the map from Chicago, all the way to California.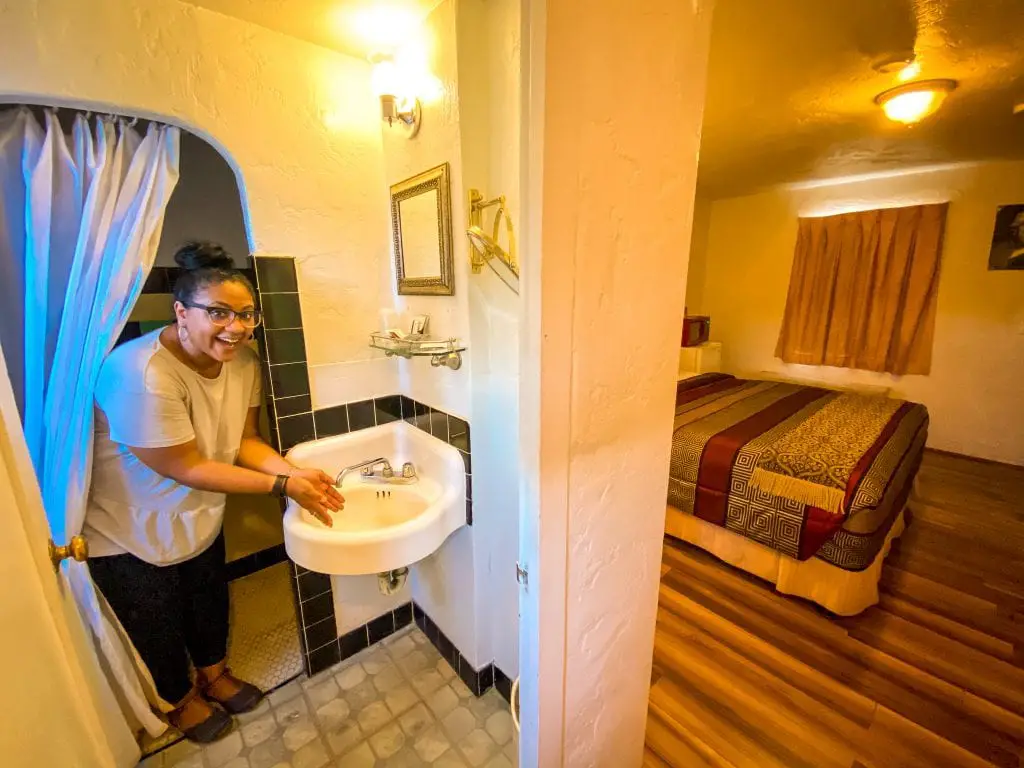 9. Historic Route 66 Motel
In the near ghost town of Seligman, Arizona you will find some incredible stalwarts of the Route 66 era. The Historic Route 66 Motel is one of them. This classic motel style place will have you thinking you have hopped into a time machine and darted back in time. Don't forget to head over to Delgadillo's for some great food and some laughs and also pop into the Roadkill Cafe for some great food. Don't worry, they don't actually serve roadkill.
10. Wagon Wheel Motel
You will find this fun, little motel in Cuba, Missouri. This is the oldest continuously operated motel on Route 66. It is over 80 years old but you wouldn't know it from the restoration it has been through. It has a lovely outdoor sitting area with fire pits, decks and a patio. It will take you back to a time where life was less busy and carefree.
11. Rail Haven Motel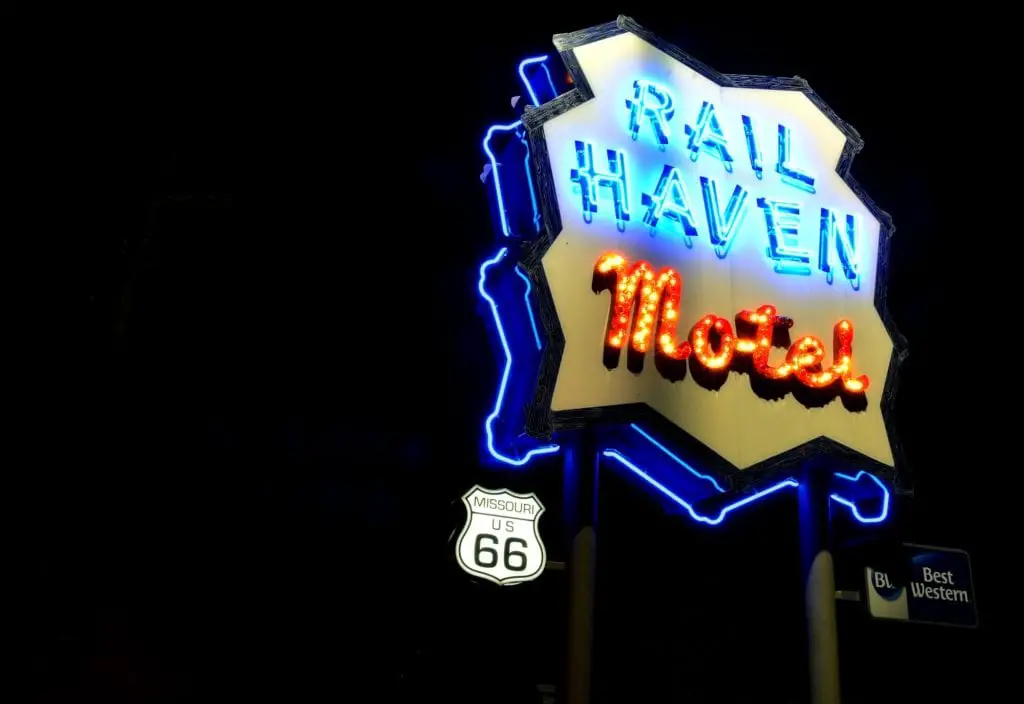 In Springfield, Missouri you will find the Rail Haven Motel has been taken over by the Best Western. It is a historic travelers dream. This former motor court was built in 1938 and was enlarged in 1957. It is an icon on Route 66 and is a must see if you are passing through on your Route 66 road trip.
12. Big Texan Ranch Motel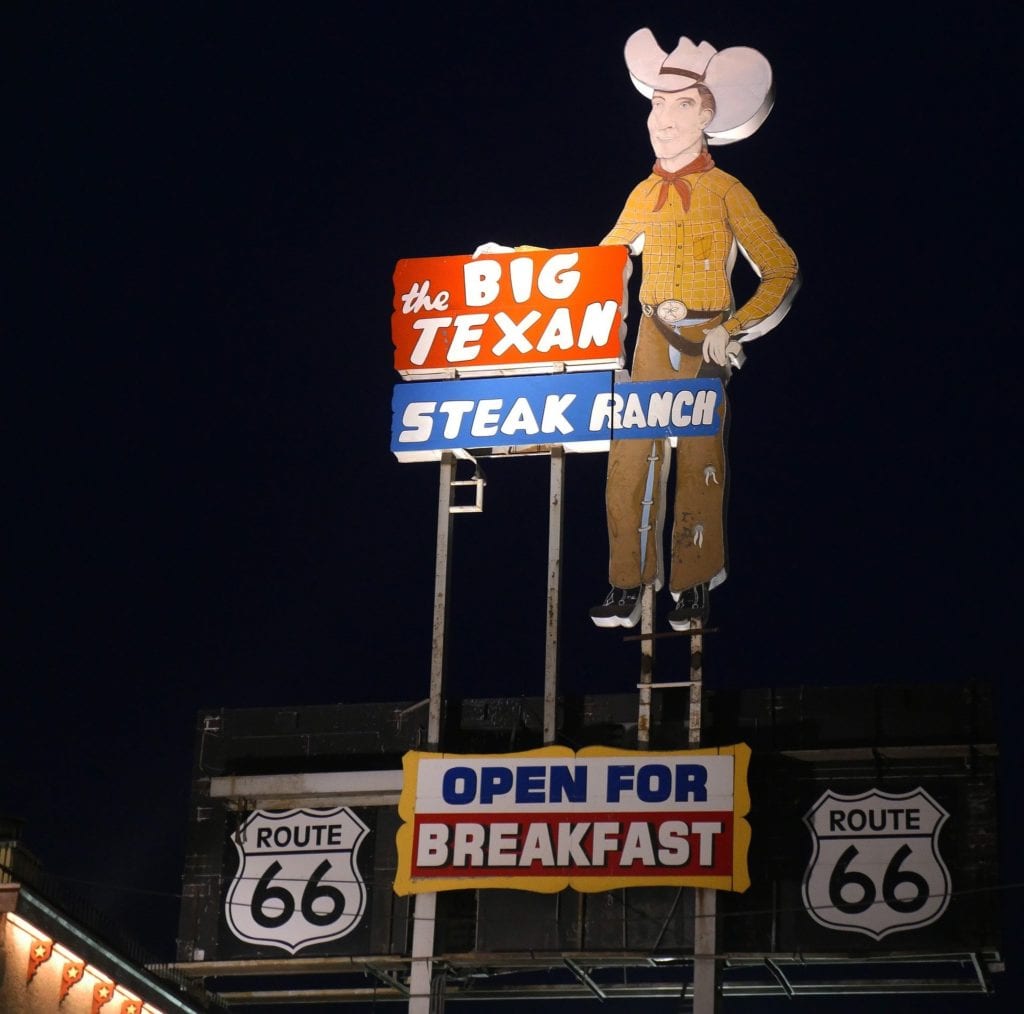 Amarillo, Texas is home to the Big Texan Steak Ranch Motel. It is famous for their 72oz steak challenge. It's one of the the most popular eating contests in America. Not far from this fun ranch style motel/restaurant you will also find Cadillac Ranch. Which inspired Cadillac Range in the Disney Pixar Cars movie. It is a must stop for any road warrior on I-40, don't forget to bring your spray paint can to leave your mark on the cars but also remember to take it with you when you're done.
13. Palomino Motel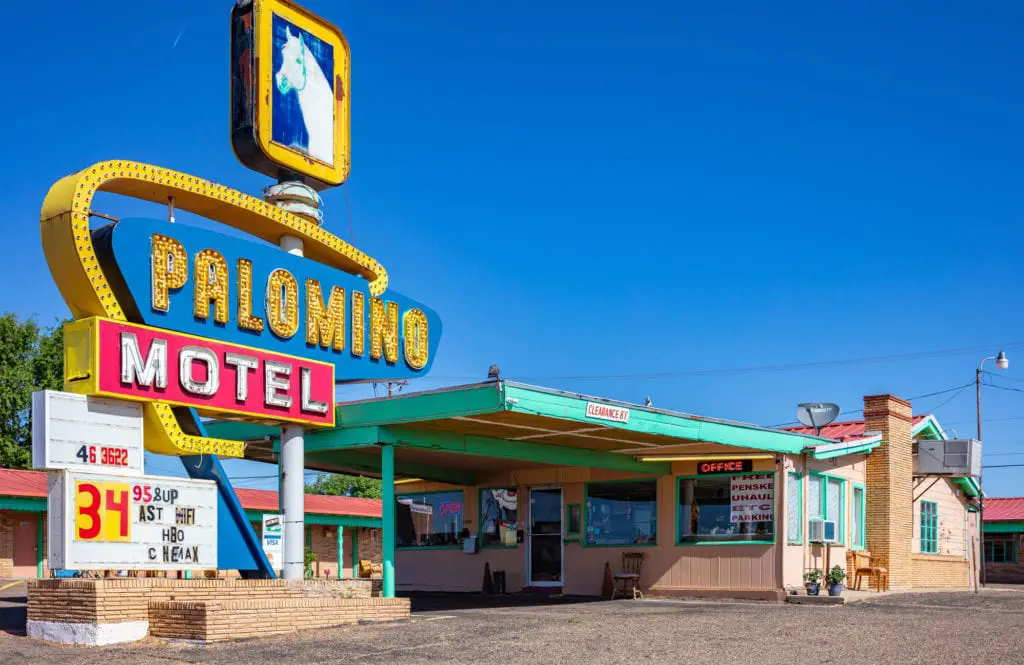 I know I have listed many motels in Tucumcari, New Mexico but I can't leave the Palomino off the list. This motel has has less restorations but has been tastefully decorated to suite the day. It is still a bit dated but certainly makes our cut for the fun feel and look of the motel, overall.
14. Hotel Monte Vista
Arizona has many great Route 66 motels but Hotel Monte Vista in Flagstaff is definitely one you must see. It was a first class accommodation in the mid 20's. It was the place to stay on Route 66. You can get a true glimpse into the spirited lifestyle of the Great American West. Hotel Monte Vista is not too far from the Grand Canyon, so why not add it to your list as well.
15. The Red Garter B&B Inn
If you ever wanted to sleep in a brothel, then the Red Garter B&B Inn is the place for you. The upstairs used to be a brothel while the downstairs housed a hidden bar during prohibition. By 1934 the liquor was legal but the brothel was not, lol. The vintage Victorian was built in 1897, has been restored. You'll find a bakery on the first floor along with a 4 room B&B inn on the second floor (in the old brothel). Don't worry, you won't have to use an out house, each room now has it's own bathroom.
Tags :
motel
route 66