Visiting Zion National Park In October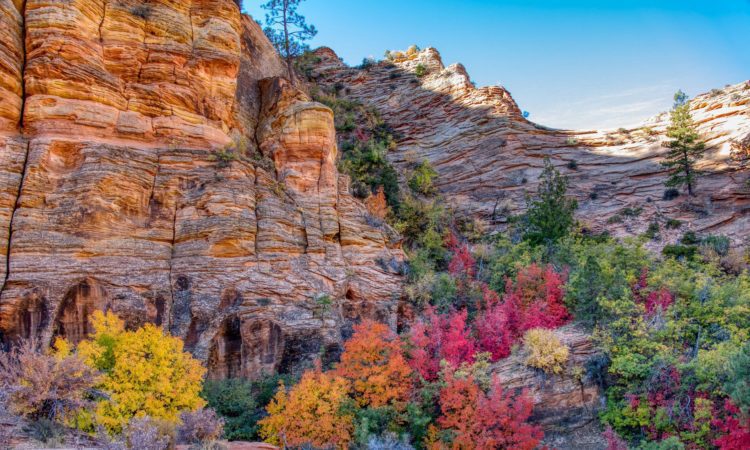 Grounded Life Travel is supported by its audience. When you purchase through links on our site, we may earn an affiliate commission.As an Amazon Associate I earn from qualifying purchases. List of everything we use in our travels.
Visiting Zion National Park in October can give you the best of everything the park has to offer. With the temperatures cooler and the crowds starting to wane, Zion can be more beautiful and more enjoyable than in other time of the year.
Springdale is one place in particular that shines in October. The flora is showing off its most dazzling display of color, but the park and the adventure activities that feed it are still at full swing. October is a fantastic time to come enjoy Zion National Park.
How will the weather be in Zion in October?
October is actually one of the best times to visit Zion in terms of weather. Temperatures have moderated to daytime highs in the upper seventies and night time lows are still pleasant and in the high forties. Stoke the fire and get your s'mores ready because the weather is perfect for some outdoor fun around the campfire.
The monsoons of of September have left by October and you are less likely to have the threat of thunderstorms that can hinder your plans. It also is not quite cold enough for snow but that nip in the air can be refreshing when on that tough hike through the canyon.
You may have to pack a few more clothes when visiting in October as the temperature extremes can be quite wide. Make sure you pack a winter coat for those chilly fall nights, but don't forget you layers complete with convertible pants that unzip at the leg for when the temperatures climb during the day. As always, sunscreen and a wide brimmed hat are a good idea when visiting Zion anytime of year, so don't let the cooler temperatures fool you.
How will the crowds be in October?
In general, the crowds in October are thin compared to other times in the park. The frenzy of summer has left and so have the throngs of people that can sometimes make lines long and hiking trails too congested.
Zion is the fourth most visited park in the National Park system, but only nine percent of the annual patronage is in October. This is one of the most lightly trafficked months in the year, so coming in October is a great idea if you enjoy more solitude and serenity.
One caveat to October is Columbus Day weekend. This weekend tends to be more crowded with out-of-town visitors as well as local visitors taking a break from the mundane in St. George, the largest, nearest city. Keep this in mind when booking all of your travel plans.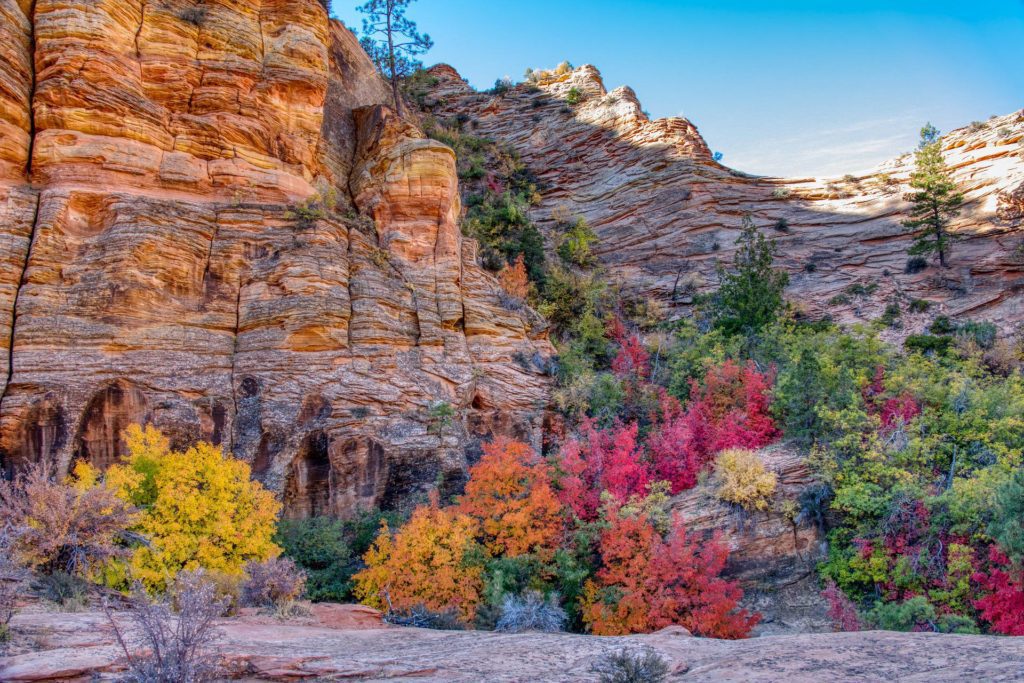 Is October a good time for hiking in Zion?
October is probably the best month for hiking in Zion. All the trails are less crowded, the winter snow hasn't made ice a factor on the paths and the scenery is especially dazzling!
Riverside Walk
This 2.2 mile round trip walk is the best hike for families with children and seasoned citizens. It is a wide, flat path that follows the Virgin River and will show you some of the best fall colors Zion has to offer.
Starting at Temple of Sinawava, the canyon has severe cliffs faces that accommodate weeping walls of ferns, small trees and moss that are spectacular is fall. As they drip with previous autumnal rainwater that seeps through the ground, they also turn brilliant shades of red and yellow as the leaves turn. The red cliffs against this brilliant display of color is not something to miss.
Taking the trail as the sun sets is a great idea as you may have the chance to see wildlife. Mule deer, foxes, turkey and maybe even the occasional mountain lion can be seen at dusk when it is quieter. Don't forget to wear your water shoes so you can play in the river before you turn around and head back. The water is refreshing and still warmer than in the winter.
Canyon Overlook Trail
You don't have to sacrifice amazing views if you are the conservative hiker. The Canyon Overlook Trail, a one mile round-trip trail, can give you the same magnificent views that you would get with Angel's Landing.
These views are especially grand in fall as you overlook to the canyon floor where there are golden aspens, fiery red maples, burnt orange oaks and bright yellow cottonwoods. A leisurely walk along the rim, this hike is great for anyone in your group. Canyon Overlook Trail only has a 100 foot elevation climb, but will give you views 1,000 feet below to the flora covered floor. Particularly appealing to the photog, this trail will not disappoint, so bring your best camera and click away!
Angel's Landing
If you are coming to Zion, and you have the stamina and courage for Angel's Landing, you must conquer it! It is considered to be one of the top, most dangerous hikes in the world. However, if you can manage it, you will undoubtedly have bragging rights.
Not only is this hike of 5.6 miles a gain of 1,500 feet of elevation, the last half mile is a narrow, dangerous path that is on the spine of the canyon. Your feet will barely be able to cling to the narrow strip before you, as you trek the chained section of the path just to pull yourself up to the summit. However, when you get there, you will be greeted with one of the most astounding views on earth, that will be that much sweeter because you worked so physically and mentally hard for it.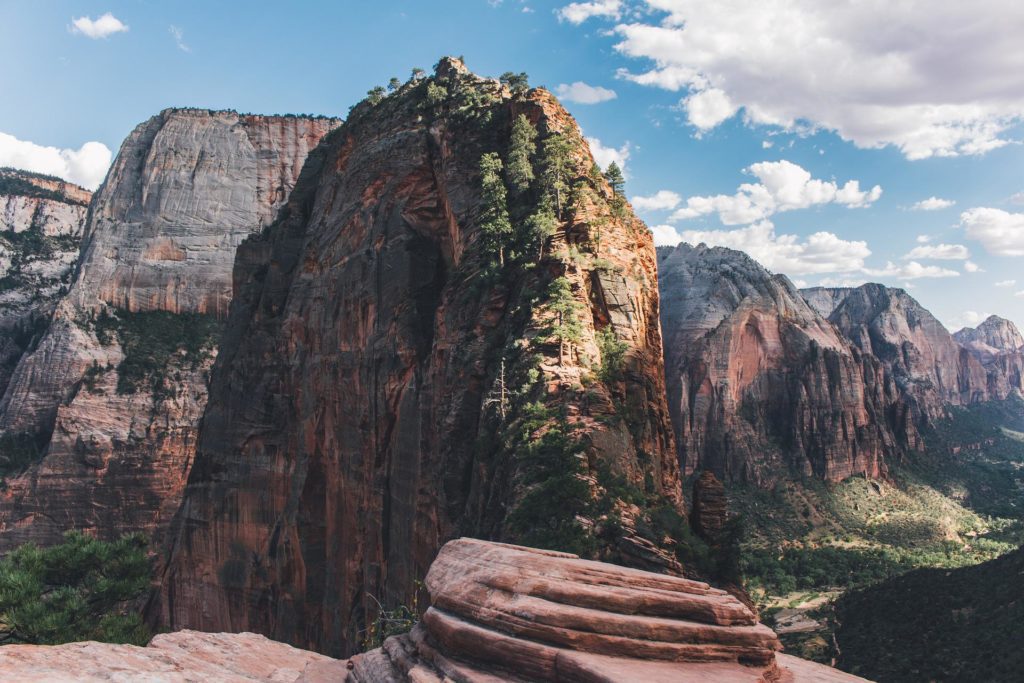 Is October a good time to camp in Zion?
Camping can be epic in Zion National Park, where there is never a bad view, particularly in October. The weather will be cool, dry and those crisp morning will have you getting up, ready for the day!
There are three campgrounds in Zion, with two of them being open in October. Pick from these two campgrounds in the park depending on what type of camping you want to do.
Watchman Campground
This campground has an amazing view from every site and is convenient to the town of Springdale for any need that may arise. There are 176 sites that are suitable for tent camping as well as RV camping. Ninety-five of these sites have electric hookups, but if you would like to really rough it, there are those sites, as well. Cell service is great at Watchman for those work campers in your crew. If you have a large group, you can enjoy one of the large group campsites available. Reservations are required for all Watchman sites so plan well in advance to reserve your site.
South Campground
South Campground is also convenient to Springdale, but has 117 non-electric campsites. Enjoy the great outdoors as nature intended and come prepared to become a rugged outdoorsman, because you will be camping without electric hookups. Like Watchman, cell service is also good here, so you can still stay connected. There won't be showers, but the flush toilets are a great feature with this campground. Enjoy the 360 degree view, as the towering cliffs surround you on all sides. Camping at its finest!
Visiting Zion National Park in October will be one of those things you do that you will never regret. The heat of summer has passed and you have the entire park to explore without the hinderance of weather. Get outside, enjoy the cool air and live life to its fullest!