Retire To This Colombian Beach Town For $2,500 A Month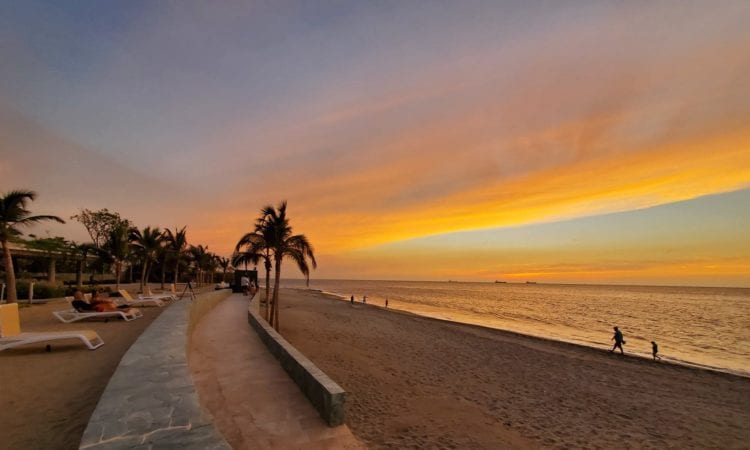 Grounded Life Travel is supported by its audience. When you purchase through links on our site, we may earn an affiliate commission.As an Amazon Associate I earn from qualifying purchases. List of everything we use in our travels.
As we finished up dinner at Zazué Plaza last night, I couldn't help think about how different everything in Colombia is from our normal lives. The people are incredibly nice, the prices are amazingly low, and the pace of life moves at a speed that doesn't overwhelm you.
We've been living in Santa Marta, Colombia for the last month and I've reached the conclusion this would be a great place to retire.
We were drawn to this part of Colombia by the beaches and views, but it is the people, food, and culture that has won us over.
Housing
We've stayed in two areas of the city, the downtown or heart of the city, and the southern beach resort area.
Grand Marina Suites
Our first condo was in the Grand Marina Suites in downtown Santa Marta. The Grand Marina Suites is part of the Marriott AC Hotel and you are treated as a hotel guest while staying there, even though you are in the apartments.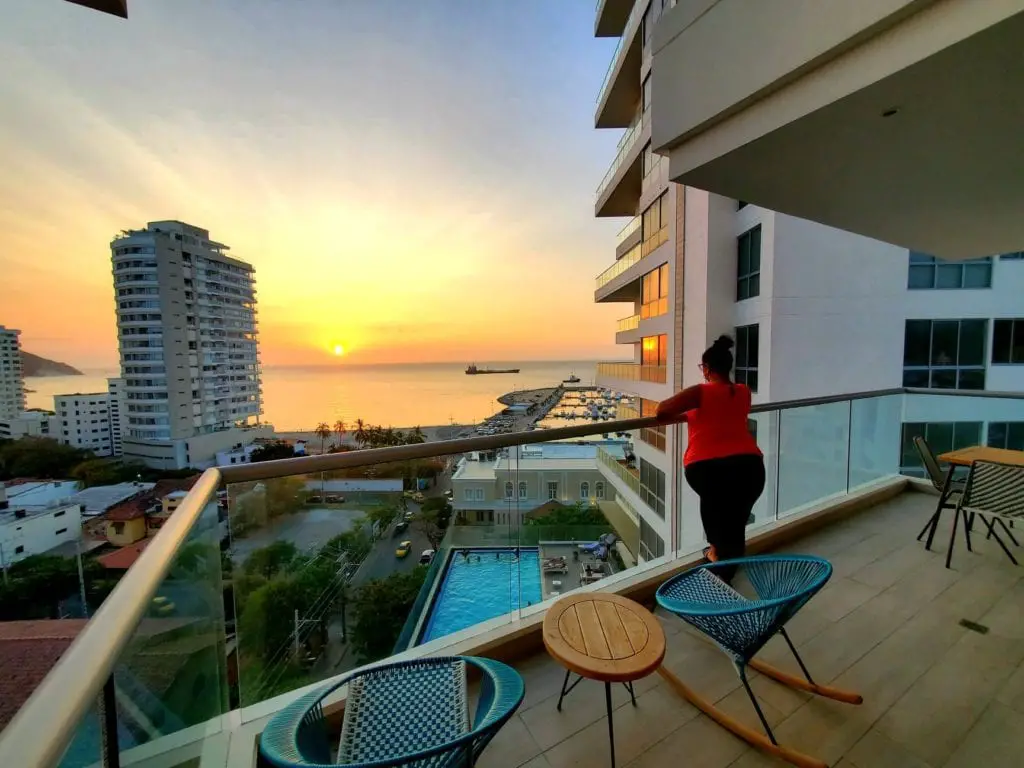 Our apartment was spacious, at 2BR and 1,162 sq. ft. plus a large balcony. These units can be rented monthly for around $1,700 USD, but if you decided to retire here we saw them available on a year lease for $1,100 USD per month. The monthly rate is not bad though, as it includes all utilities, internet, and trash just as if you were staying at a hotel.

A week into our stay they called from the front desk to come clean the apartment, change the sheets and refresh anything else we needed. The next day they called to offer us free massages at the hotel spa. There wasn't any sales pitch or catch, they just weren't busy. Things work differently in Colombia.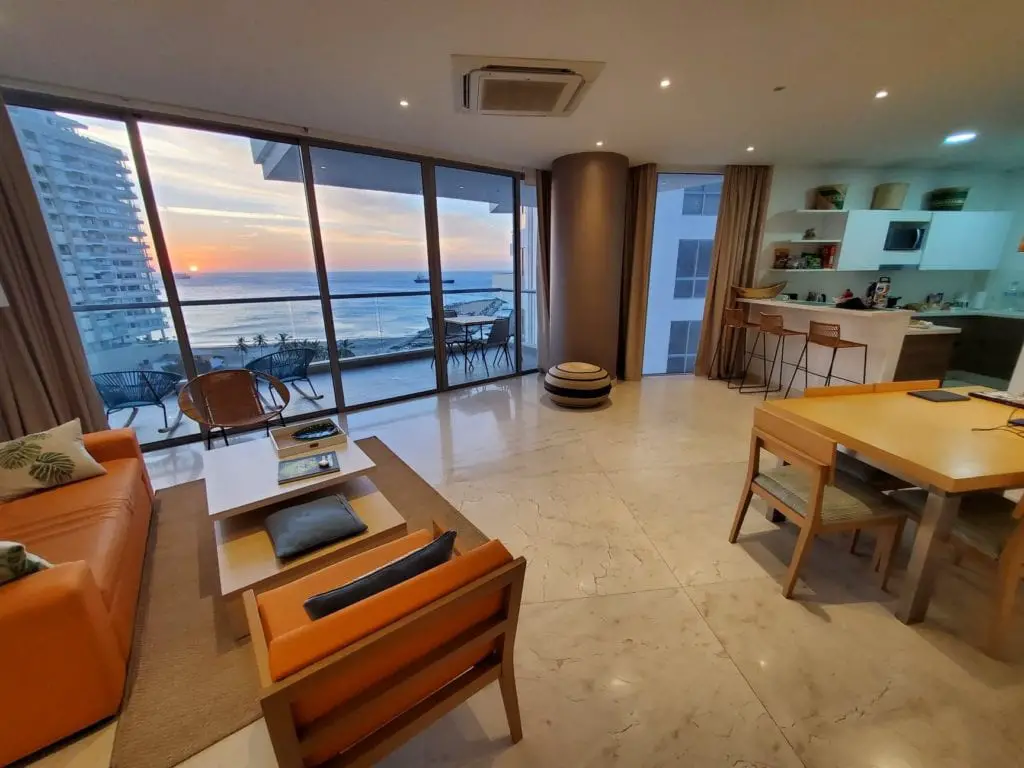 When staying in this part of town, we never even got in a cab. Everything you'll need is within walking distance, including shops, restaurants and the beach.
Makaira Beach Resort
After a month at the Grand Marina Suites we moved further south to the Makaira Beach Resort.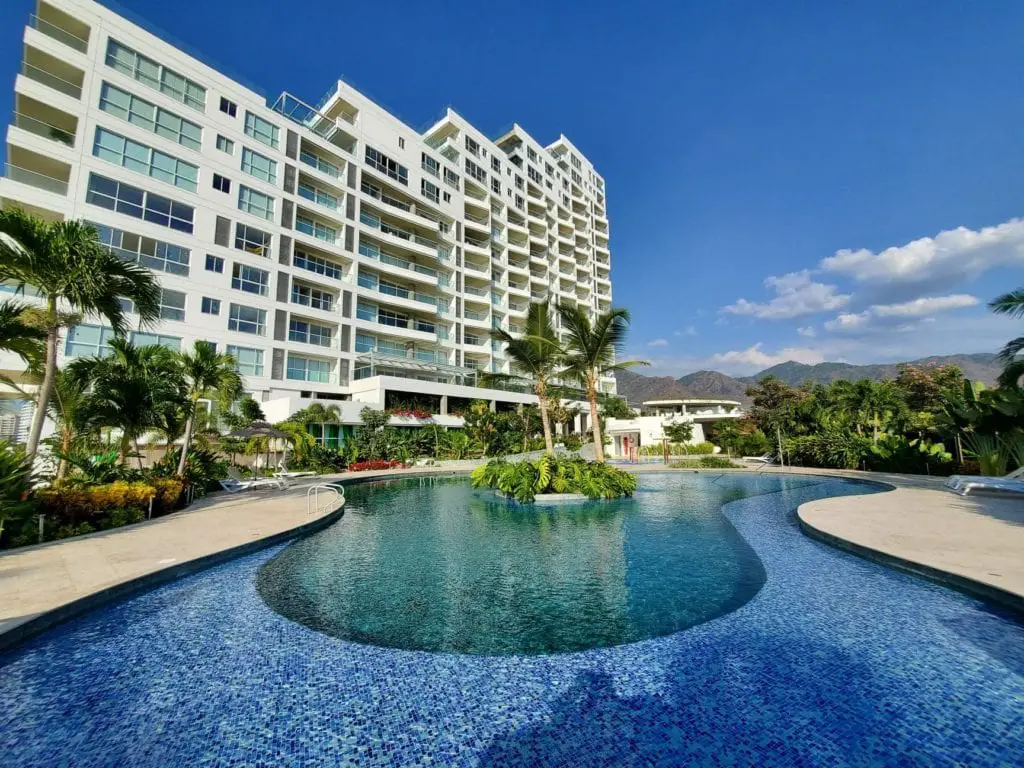 To our surprise, our condo was even cheaper here, coming in at $1,300 USD per month inclusive of all utilities and services. We've been told year long rentals are available for $1,100 USD a month. Our unit at this resort is a 1BR, but really it is the perfect size, the 2BR unit almost seemed too big.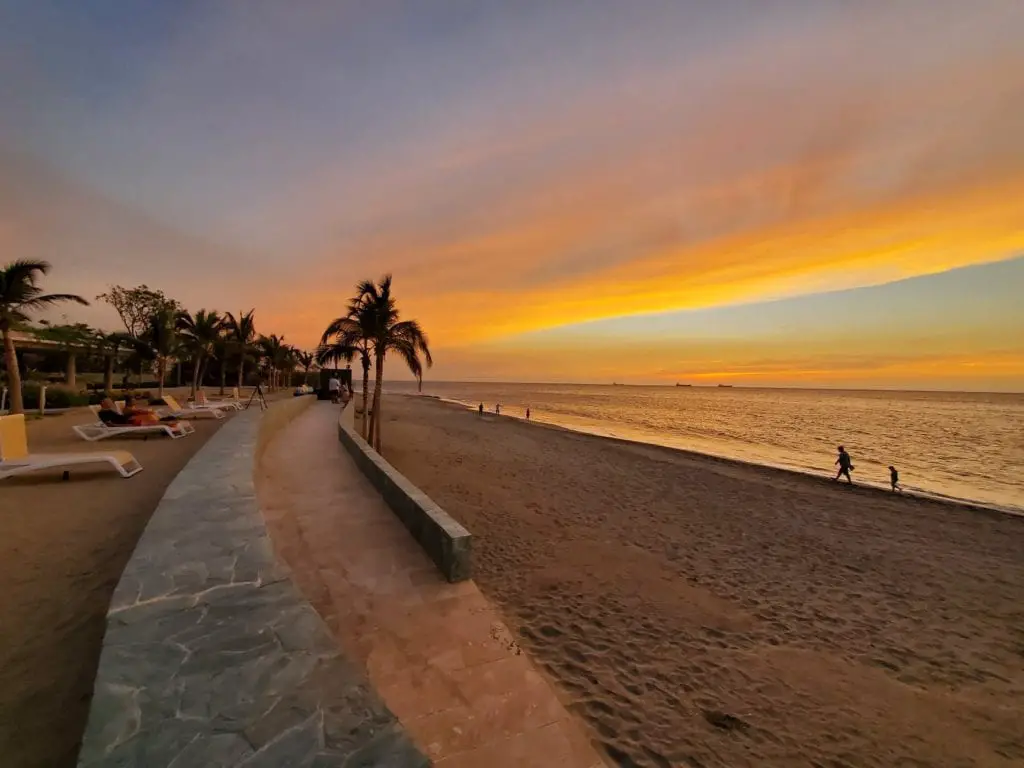 From this beach area you'll need to take a cab to get into the restaurants in town. Luckily, the cab ride is only $2 USD each way. There are plenty of other great condos you could rent in Santa Marta, these just happened to be the two we choose. Another great one we have our eye on for next time is Two Towers.
Services
In the resort area most condos can include daily or weekly maid service. It is up to you how much you want to utilize this service. Most Colombians here have someone come every day, where as foreigners seem to opt for once or twice a week.
This is not the typical cleaning service you'll find in the United States. The maids usually show up at 8am and stay until 5pm. They will clean the entire condo, do all the laundry, do the dishes, and cook your meals for the day. In American terms they are more of a maid, butler and chef rolled into one job. The day rate at our condo is $17 USD per day.
Massages are also popular and you can have one of the local massage therapists come to your condo for an in house massage. The cost is $9 USD per hour.
Food
We've found restaurants and groceries to be about half the price of food in the United States. Food is measured in grams here, not ounces, so on a few occasions we've ordered way more food than we thought. It is difficult to judge the amount of food by the price, since the prices are much lower than we are used to.
We recently went to a high end sushi restaurant in the mall. They had a small, medium and large combo. So, Allie ordered the medium, which was $15 USD. It turns out that was for 2-3 people!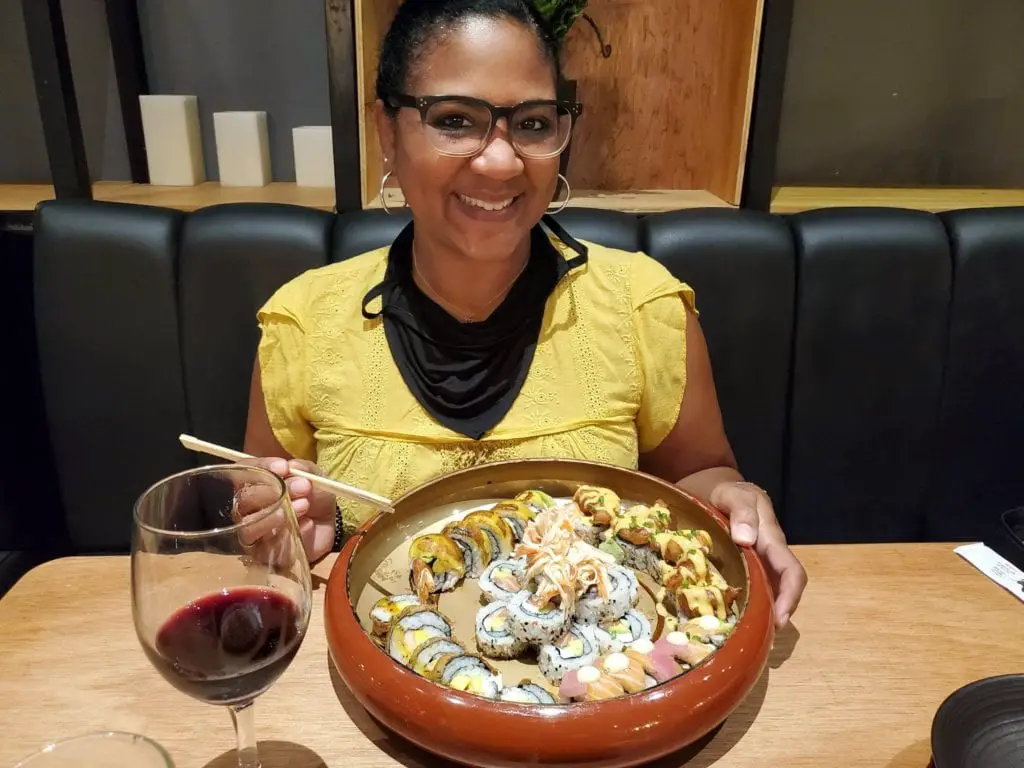 Takeout or delivery food is even harder to judge because it is cheaper. We ordered fried rice with shrimp and chicken, and the total was $7 USD delivered. They brought us food for 6 people!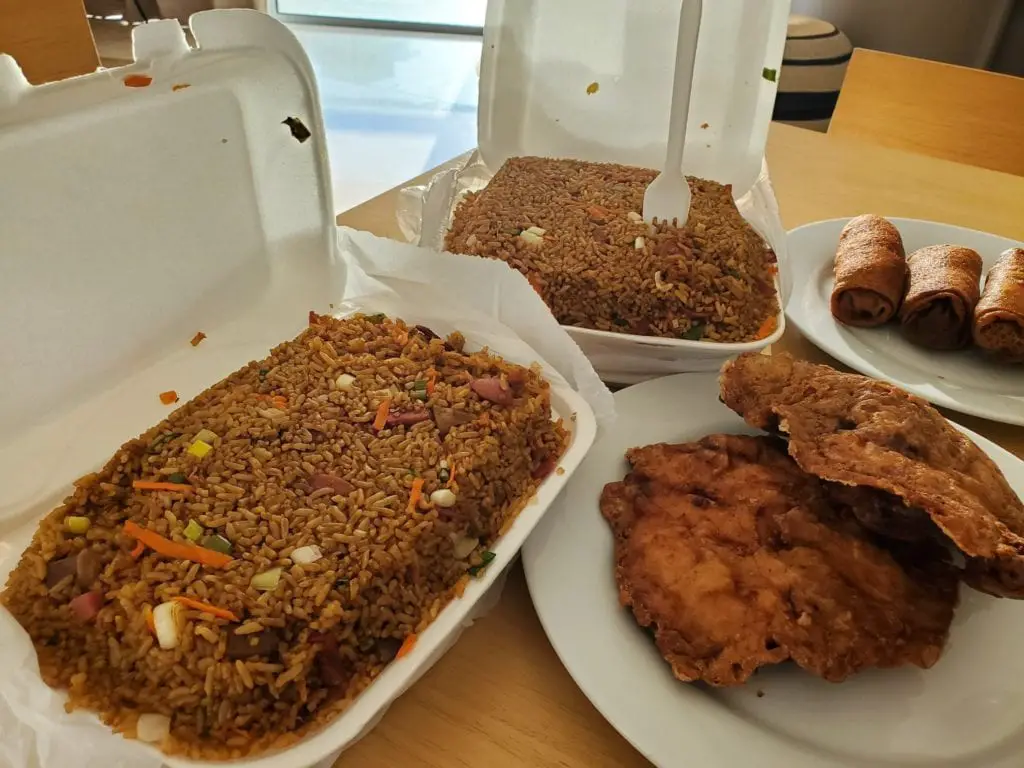 Even inside an international chain hotel like the Marriott, the food is cheap. I ordered the Colombian specialty of salchipapas, which is basically fries covered in several kinds of chorizo and sausage, which is then covered with cheese. In the Marriott this cost me $4 USD at dinner.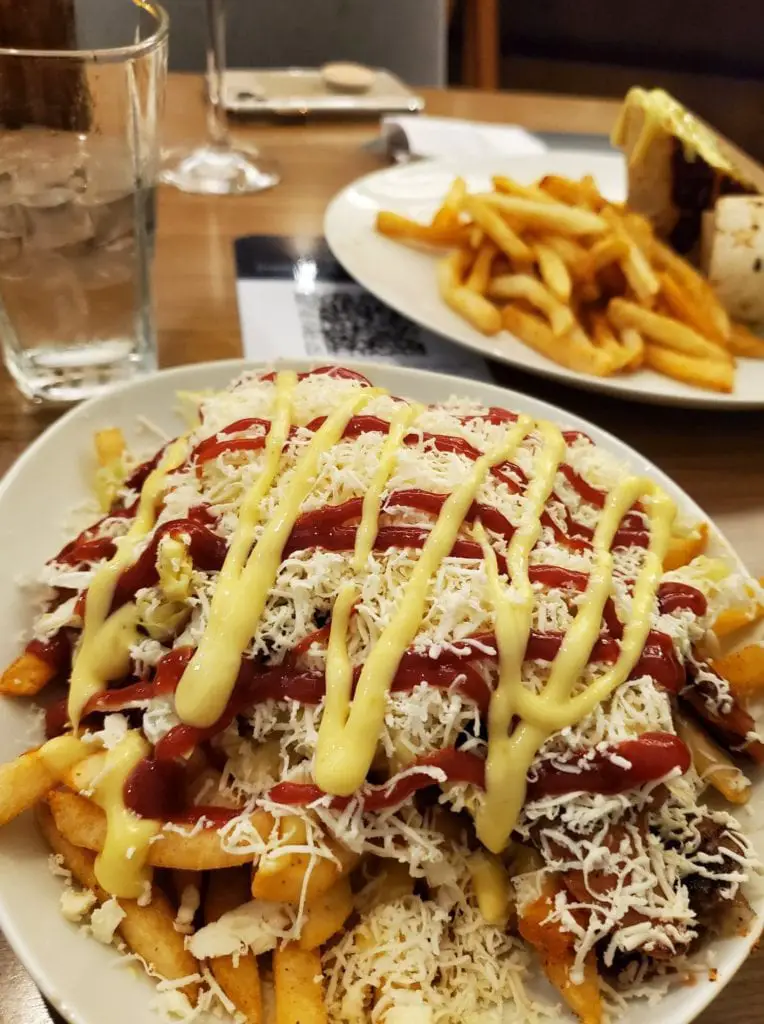 There are quite a few restaurants that seem to cater to Americans, even though we've seen very few Americans. We love this restaurant, Porthos, which has an Atlanta Braves flag on the wall, plays classic rock from the 80's and serves up Pulled Pork Burgers. On Tuesday, all burgers are 30% off, so this will set you back $3.50 USD.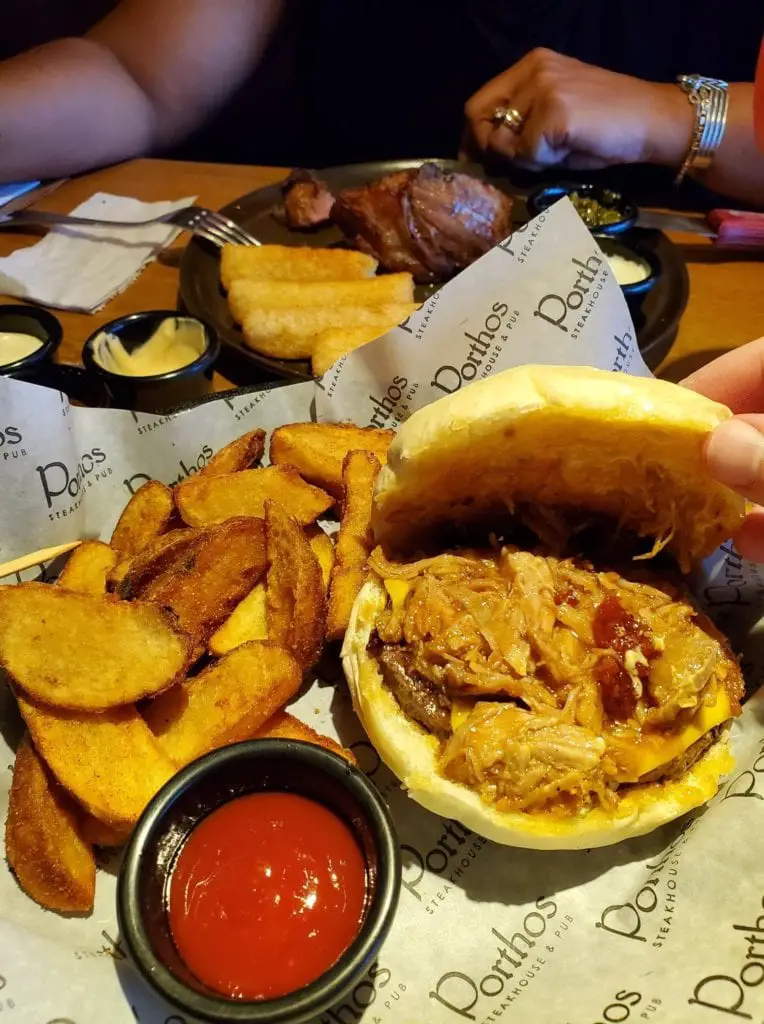 For sweet treats you can't beat Sweet Art inside the Hilton hotel in Santa Marta. Many people go there for just dessert, but we went for a meal and then split one of their famous skillet brownies. Almost everything on the menu was about $4-$5 USD.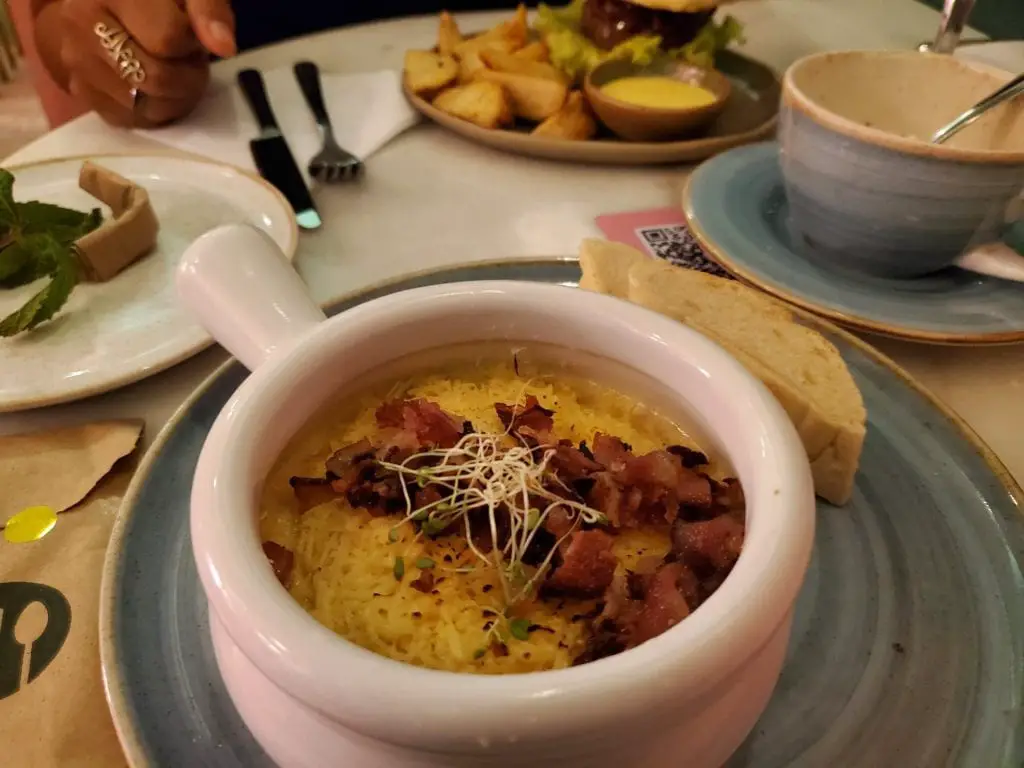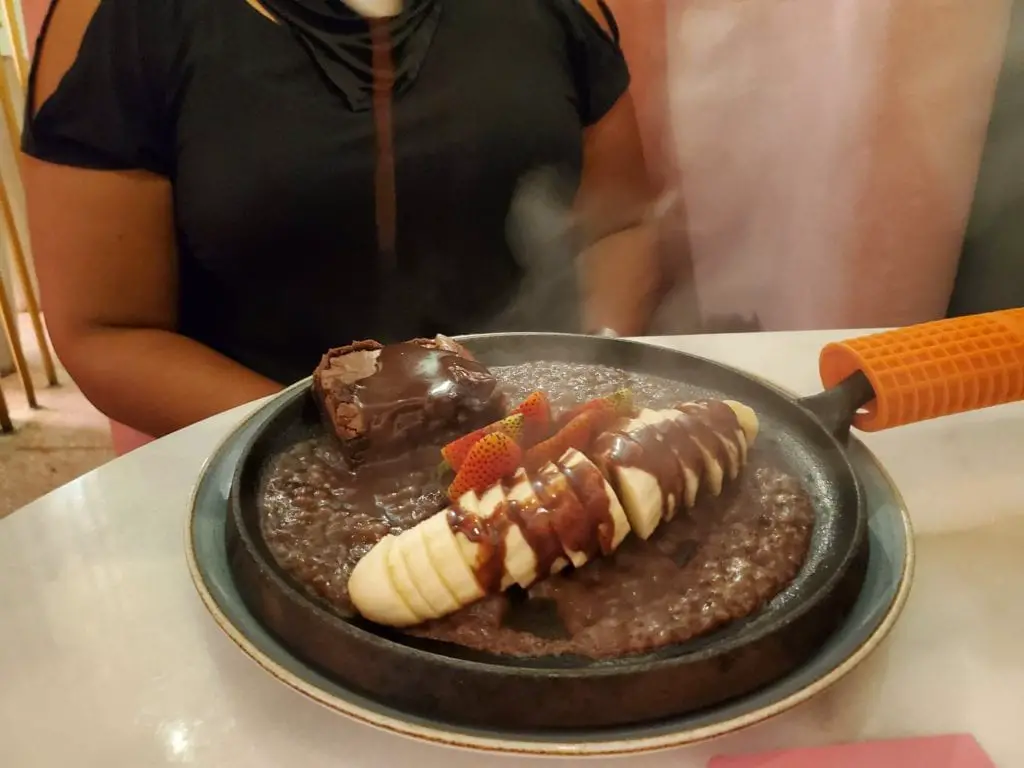 Tipping In Colombia
Tipping in Colombia is very different than in the United States. There is a recommended tip of 10% on all meals. They will print on the bill what that amount would be and then ask you if you'd like to do the tip or not. It is either 10% or nothing. There really isn't a way to tip more than that unless you also left some cash. It can seem odd, because if your meal is $4 each you are leaving a tip of less than $1.
Grocery Delivery
Latin America has perfected the grocery delivery game through an app called Rappi. You can shop for your weekly or daily groceries on the app, click submit, and someone will deliver everything to your condo in about an hour. It is one of the best services we've used anywhere and we rarely go to the store anymore. You can also order any medication you need from the pharmacy this way.
Communication
Internet services in the condos are fast and we are able to stream from just about any service we want. We have the NHL and MLB packages as well as Netflix, which is more than we could ever need.
Packages for your unlocked cell phone are cheap, with the most expensive being $10 USD per month, but they are not unlimited, so you need to be careful how much data you are using.
English is not widely spoken in this part of the country, and you won't find any menus or signs in it either. The lack of English here is because this place hasn't really been discovered yet like other places you've heard of. In turn this keeps the prices down and makes it easier to live. We've had no trouble communicating, and anyone with some level of Spanish would be fine armed with Google translate.
Colombians are some of the nicest and most patient people you'll meet in your travels. We are continually shocked at the level of care and concern given to us by just about everyone we meet.
Safety
This is not the Colombia you heard about in your childhood. Things have steadily improved over the past few decades and we've felt completely safe in our travels through Colombia. Just like any city, you'll want to be smart, but we've actually felt much safer than in most major U.S. cities. In our extended time here we haven't come across a single situation or person that even gave us pause.
Getting Here
There are cheap direct flights from Medellin to the Airport in Santa Marta on Viva Air. After that it is only a 10 minute cab ride to town. Our flight from Medellin was $50 per person. You could fly to Medellin from the United States and plan to stay a few nights there before heading to Santa Marta. Medellin is a beautiful city set in the mountains. We spent 3 days there and loved our time in the city.
Retiring To Colombia
Colombia has a generous visa program for US residents. You can get a 90 day visa on arrival which can be extended for another 90 days in country. You can stay here for 6 months without having to get a long term visa. This is plenty of time to determine if it is right for you. Adding up all of our expenses, you could live just about any way you want and stay under that $2,500 per month budget. We've moved Colombia up on our list of places to consider, and encourage others to do so too.
Tags :
colombia
retirement