Montreal Central Station: A Complete Guide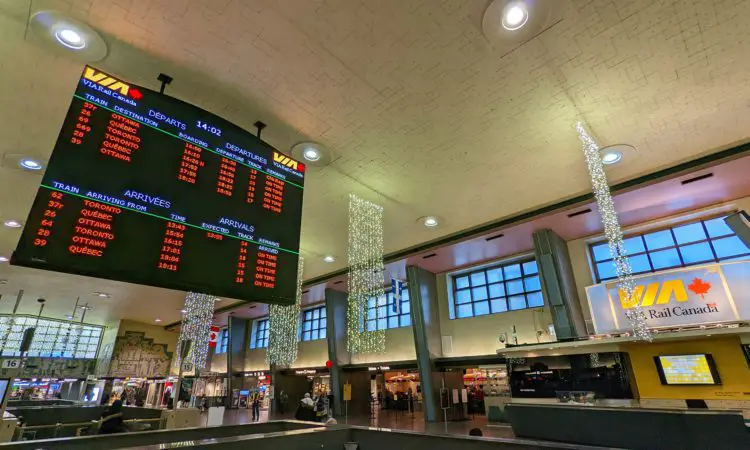 Grounded Life Travel is supported by its audience. When you purchase through links on our site, we may earn an affiliate commission.As an Amazon Associate I earn from qualifying purchases. List of everything we use in our travels.
The vibrant and intriguing city of Montreal is a little bit of France in an otherwise very English speaking country. Walk down her streets and hear French being spoken. All of her signage and directionals are in French. You will walk around and forget you are in a Canadian province and will feel you have been teleported into Paris at times. However, you do not need to know French to be able to take advantage of all this city has to offer. With more than half of the population speaking French, it will feel very European, but you will definitely be surrounded with English speakers as well.
The architecture and culture also feels very European, but with a twist of Canada. Make sure you walk around the city and visit some of the sights while you are there. Don't miss the Notre Dame Basilica of Montreal, with its famed archways of ornate perfection. If you want to get outside, take a cable car ride across Montmorency Falls. Winter is an amazing time to visit the city and celebrate all it has to offer with a trip to the Strom Nordic Thermal Spa. Bathe in thermal waters and let the culture of winter permeate your bones.
When you are ready to move on from this fun loving city, take a train to anywhere in Canada, the U.S., or stay local and explore the outskirts of Montreal. Montreal Central Station can be part of, or the beginning of a North American tour that will be incredible.
Montreal Central Station Overview
The Montreal Central Station or Gare Centrale as it is called locally,  was a vision that took seventeen years to come to fruition. Because of war and the  Great Depression, construction on the station halted for years at a time. Finally in 1943, the station opened and has been the second busiest train station in Canada ever since. The beautiful interior is decorated with art deco friezes that depict Canadians and their way of life. Seven platforms are operating to take passengers across town or across the country. This station is responsible for transporting over 11 million passengers to business meetings, leisurely outings and to vacation destinations.
Getting around Montreal Central Station is simple. As you enter you will see ticket counters on either side of the station as well as an information board that will detail all the departures and arrivals and the corresponding platform. There are also many restaurants and shops to peruse while you wait for your train. There is a baggage check area if you need to check your things and signage for the platforms are posted throughout the station. 
Montreal Central Station serves as a hub for commuter trains (EXO) and well as long distance trains. Take a train via ViaRail, Canada's National Train service, or Amtrak. If you wish to travel throughout Canada or abroad to The United States these are luxurious trains to travel to and from your destinations.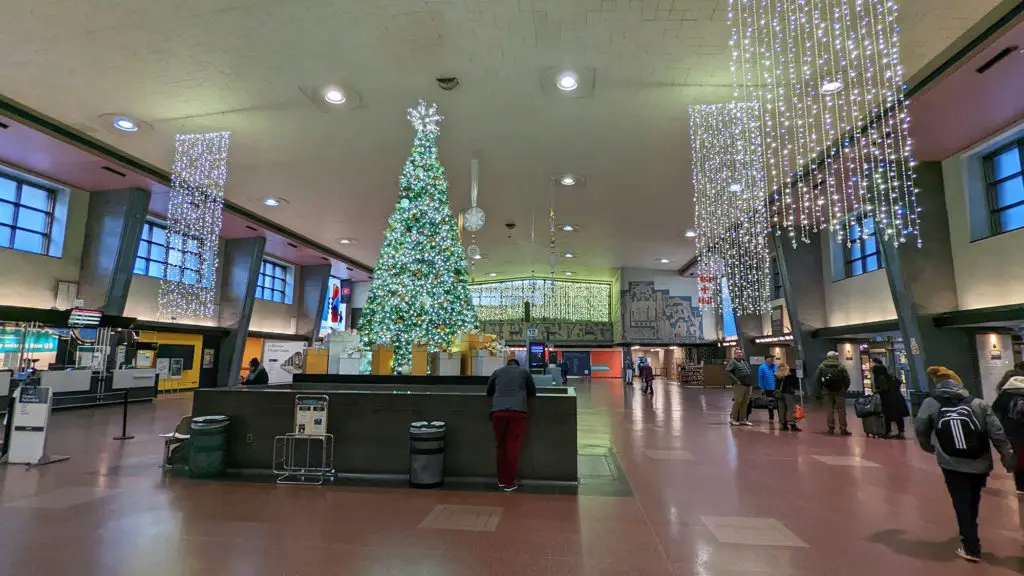 How to Buy Tickets at Montreal Central Station
When entering the building you will see ticket machines directly in front of you. If you plan ahead, which is advisable, you can purchase tickets online at either Amtrak.com or Viarail.ca or EXO.Quebec depending on where you are traveling. There are ticket agents available from 5:15 a.m. to 9:30 p.m. Monday thru Friday and 7:15 a.m. to 9:30 p.m. on Sunday. 
Where to eat at Montreal Central Station
There are over 16,000 establishments to fill your belly in Montreal. Take advantages of just a few in Montreal Central Station before you take off on your excursion.
There are many restaurants to choose from inside the station. If you want something quick, try Subway, Jugo Juice or Deli Planet. Get some good coffee at the Central Station Cafe.
If you have some time, try Mangione Trattoria for some pizza or pasta cuisine. If you are in the mood for some amazing Greek food, you must check out Souvlaki Bar. A fast food joint that always pleases can be had with the trusty McDonald's in the station. You can also grab your favorite chicken dish at Rôtisserie Fusée. There is something for everyone here at the Montreal Central Station.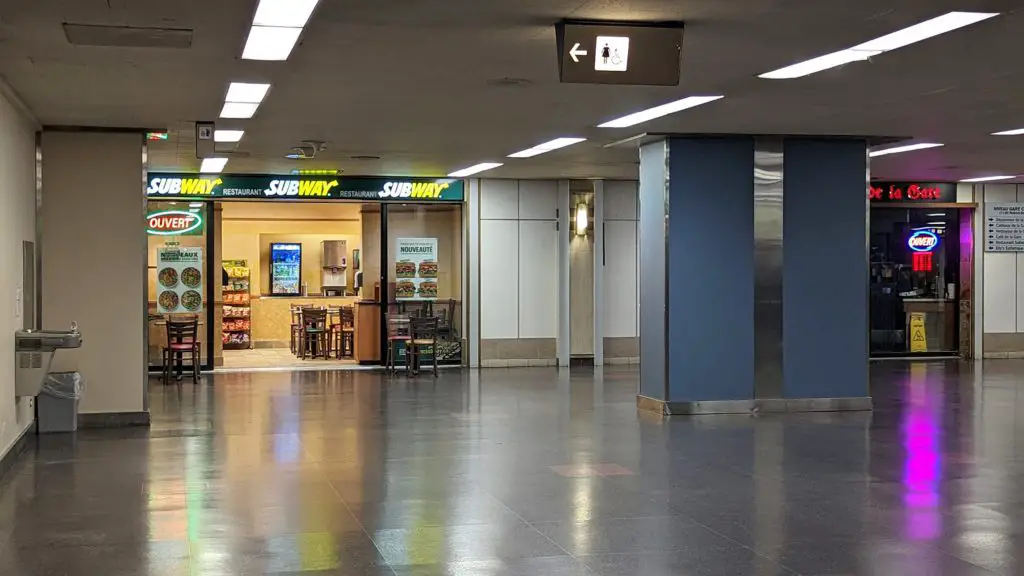 Where to Stay near Montreal Central Station
There are many places to choose from when picking a place to stay near the station. From luxury to economy, Montreal has you covered. 
If you are celebrating and want to spare no expense, splurge with a stay at the Ritz-Carlton Montreal. You will be pampered from the moment you arrive. With fireplaces, chocolates on your pillow and a rooftop pool. Your vacation will escalate to new heights with this luxurious stay. Your .5 mile walk to the station will be welcomed after you are refreshed and renewed for your journey.
You can't get much closer to the station than Montreal Marriott Chateau Champlain. This hotel is a mere .1 miles to the station, so you can be to your platform in no time. Enjoy a state of the art fitness center in this pet friendly, continental breakfast serving hotel that is comfortable and gets excellent ratings from its guests. 
For budget conscious travelers, try the Best Western Plus, Montreal Downtown. This hotel has all the conveniences you desire, two restaurants on the property and is only .3 miles from the station. This is a great value if you want location and a great price. 
How early do you need to arrive at Montreal Central Station?
If you stay at the many choices for accommodations in the area, you will be a stones throw to the station. However, if you are coming in from a different location, make sure you have enough time to not only orient yourself and buy tickets, but also enjoy the station and what it has to offer. Furthermore, I recommend 30 to 45 minutes before you must report to your platform. Grab a bite, shop at some retailers and then you will be on your way.
Best trips from Montreal Central Station
There are some spectacular trips you can take from Montreal that make the journey as much a part of the experience as the destination. Pick from one of the trips that will be one of your favorite vacations yet.
Fall Colors of the Northeast
This trip from Montreal during autumn on the Amtrak Adirondack will be the talk of your dinner at Thanksgiving. Hop the train in Montreal on Amtrak and visit cities that are famous for their fall foliage. Beautiful views are on the docket for one of the most exciting and picturesque trips available.
Montreal to Halifax
Take a tour of the rugged yet stunningly beautiful Eastern Canadian coastline on this route from Montreal to Halifax on ViaRail. Experience seafood at its finest, sleepy, quaint fishing villages, lighthouses and tremendous ocean views on this trek that will wow your senses. Grab  sleeper car accommodations and get the best of relaxation along with some of the best views in the world on this one day and one night trip. The Ocean is one of the great rail journeys in Canada.
Montreal to Vancouver
This cross country adventure is sure to be something you'll want to do again. Through never ending prairies, towering mountains and then ending at the ocean side, you will embark on a trip that will take nine days to complete. A mix of train travel and hotels stays will be just the right combination for an outstanding vacation. First take the train to Toronto and then ride the Canadian all the way to Vancouver.
Montreal is a playground that feels European but has a little bit of home in all the right places. Taking an excursion from this amazing city, after you have explored, will be a trip that you will always cherish.