Toronto Union Station: A Complete Guide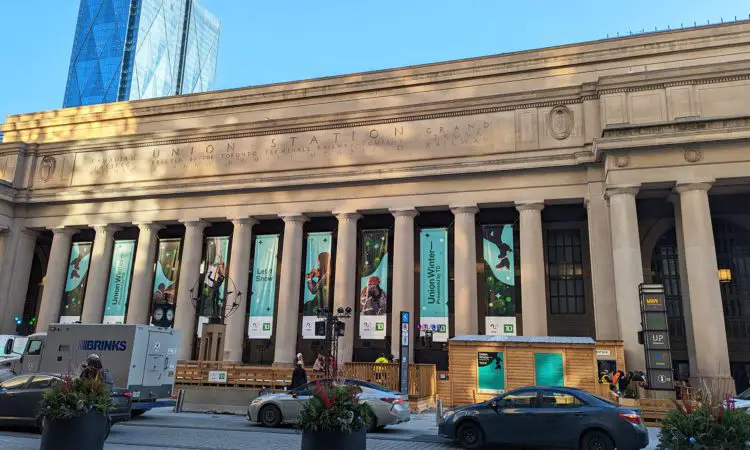 Grounded Life Travel is supported by its audience. When you purchase through links on our site, we may earn an affiliate commission.As an Amazon Associate I earn from qualifying purchases. List of everything we use in our travels.
You know a city that has seven major sports teams, a thriving, car-free community built on islands and a sandwich that is to die for has to be visited. You'll find all of this and more in the Canadian city of Toronto.
Toronto is Canada's largest city and has almost 6 million people walking its streets and living their lives in this vivacious, multicultural town. Visit here, and you will see the likes of the St. Lawrence Market where you can get anything and everything in this bustling shopper's delight.
You can also walk the PATH that is an intricate system that connects retail shops, restaurants, office buildings, train stations and parking garages. This 17-mile walking path is the way to get around without the worry of traffic. Make time to take in some sights such as the Royal Ontario Museum or visit the only castle in North America at the majestic Casa Loma.
When you have spent a few days in this town that has it all, consider taking a trip on a train to another city close by or across the country. Starting at Toronto Union Station is a great way to continue your excursion and see the open wide landscape that unfolds before you.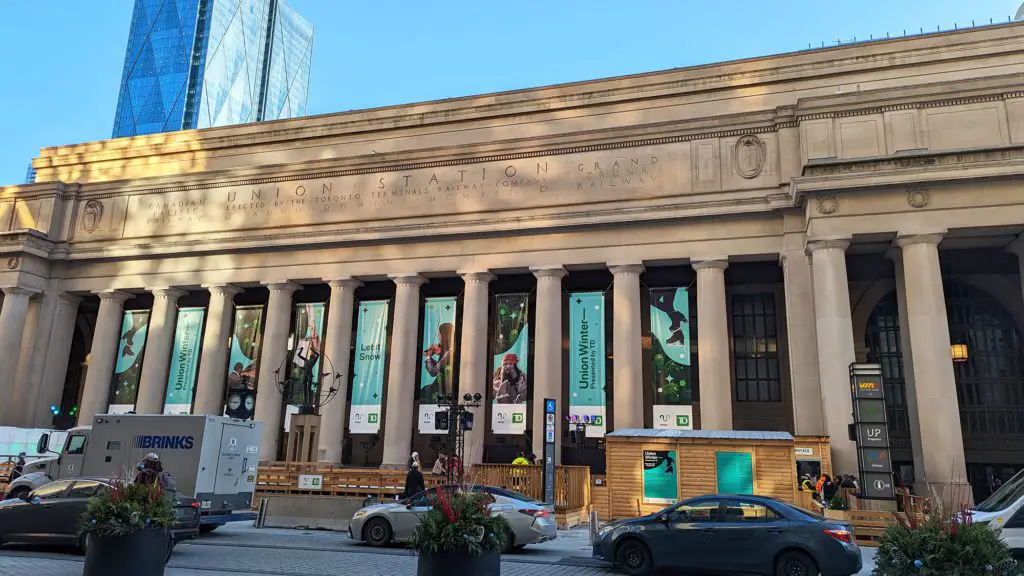 Toronto Union Station Overview
This beautiful, old-world station officially opened its doors in 1927, but took a whopping thirteen years to build due to WWI material shortages. Regardless, this opulent, classical, beaux-arts station is considered the finest example of this style in Canada. It was registered as a National Historic Site in 1975 and stands today as one of the premier ways to travel around this portion of Canada, transporting over 300,000 people everyday.
Toronto's Union Station has that "wow factor" when you enter its Great Hall. With its 4-story high, arched window and 88-foot ceiling, it is definitely something to see. The Prince of Wales commented at the opening ceremony in 1927, "You build your stations like we build our cathedrals".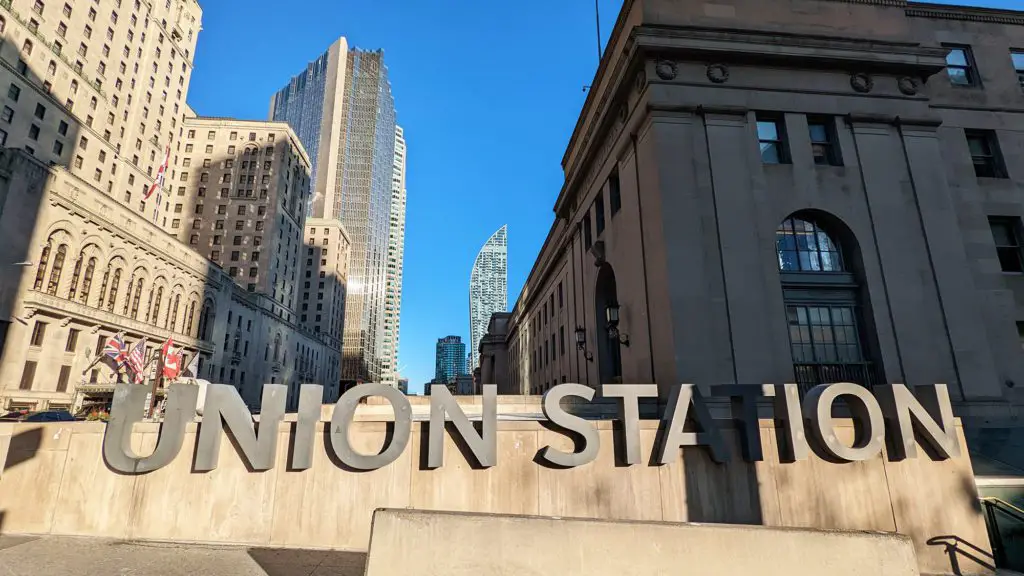 The Information Desk is in the middle of the Great Hall for any questions you may have. Ticketing is to the right of the Great Hall and extra seating is on the left. Baggage claim is to the right of the doors. You will find entry to Via Rail, York Concourse Hall and Bay Concourse Hall all along the wall adjacent to the entry of the building. A visit to Google Indoor Street View will help orient you before your visit.
Take the stairs below and you will find all the platforms via York, Bay or Via Rail. Below, in the York lower concourse, you will find the food court and in the Bay Lower Concourse you will see the food isle and retail shops.
How to Buy Tickets at Toronto Union Station
Booking your tickets online is always a more convenient and faster way to get a ticket for your travel. If you feel you need more information, there are ticket agents at the station that can help you with ticketing, talk to you about any available discounts, and help you navigate through the station. There are also ticket machines throughout the station if you have waited to purchase or have a last minute trip.
Where to eat at Toronto Union Station
Your experience at Toronto Union Station will be enhanced by the quantity and quality of the food there is to savor at this unique train station. There is a dedicated Food Court at York Concouse Hall , where you can get things such as a hamburger at McDonald's, pizza at Pizza Pizza, or sushi on the go at the Sushi Shop. There are also more delectable offerings such a Thai food at Bangkok Buri or Caribbean affair at Roywood's. However, your dining choices don't end there.
The Front Street Promenade has choices to satisfy your hunger. Choose from something as simple as a danish from the Danish Pastry House, to a healthy bowl at Cali Love.
The York Street Promenade also has something for your "on the go" lifestyle or a "sit down and enjoy", lifestyle . Choose from the Bagel Shop or the trusty standby, Starbucks. There are also decadent delights such as Amano and their house-made pasta or a trendy cafe such as Wvrst. Here, you can try their duck fat fries. Now that's not something you can get just anywhere!
Where to Stay near Toronto Union Station
You can stay at many amenity packed hotels within less than .5 miles of the station.
Stay at a 5-star accommodation when you choose the St. Regis Toronto. You will not want for anything when choosing this property that lies only .3 miles from the station. Modern, sleek, yet pet friendly, this hotel has a full service spa and skyline views. Treat yourself to this guilty pleasure for a night or two.
Le Germain Hotel Maple Leaf Square is also a great place to stay if you want to be near the Harbor front and close to the station. Get to the station with only a .2 mile walk. However, enjoy a deluxe continental breakfast before you leave these comfortable accommodations. Free WiFi and a bar to relax in, round out this conveniently located hotel.
Stay in Old Town Toronto and pay a little less at the Omni King Edward Hotel. Union Station is only .3 miles from this property that features a restaurant and bar and is perfect for the couple that is traveling together. Bathrobes and smartphone docking stations in every room make these rooms just that much more comfortable. You can also enjoy a continental breakfast in the morning before your departure.
The closest property to Toronto Union Station is the Fairmont Royal York, which is directly across the street from the station.
The Via Rail Lounge at Toronto Union Station
There is a lounge for sleeper and business car passengers at Union Station. You can check your bags in at the lounge when you enter. There are comfortable places to sit and free snacks and beverages as well.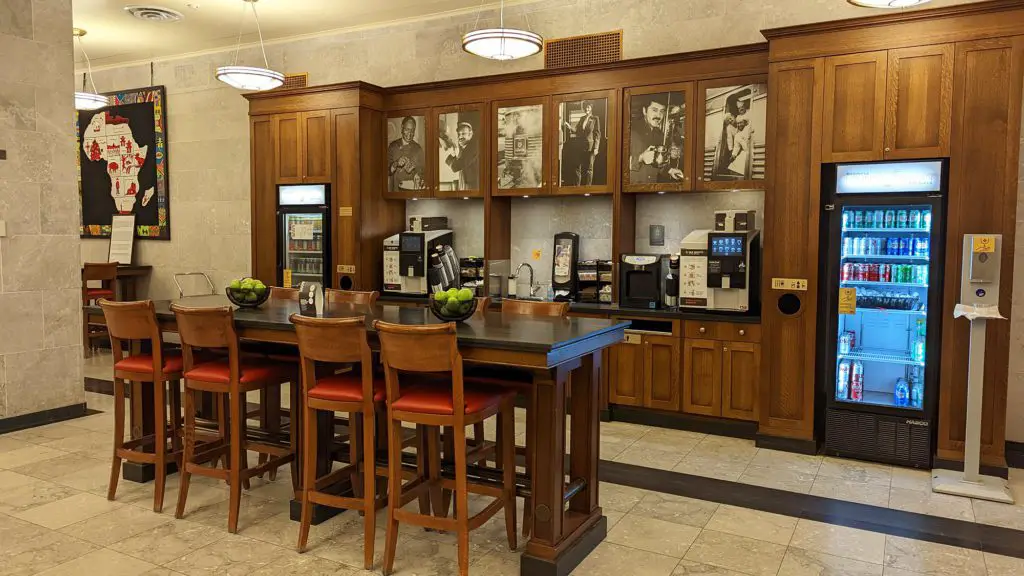 If you are a prestige class passenger there is a special lounge for you in the back of the main lounge.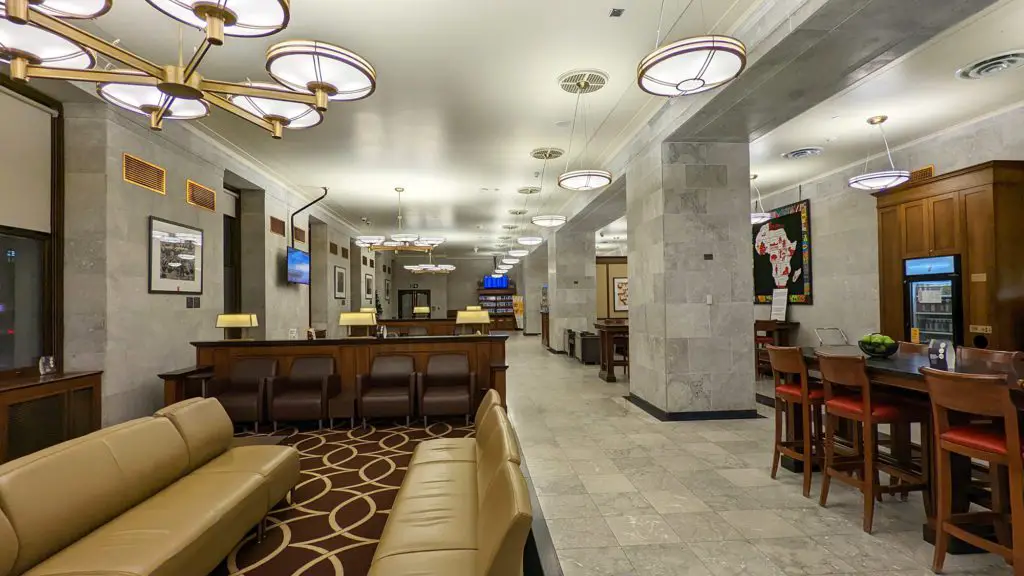 How early do you need to arrive at Toronto Union Station?
If you are new traveler and need to get your bearings, I would get to the station about 45 minutes before your departure time. If you are a seasoned traveler, 20-30 minutes should suffice. Ensure you have your boarding passes and know where your platform is located as well.
Best trips from Toronto Union Station
There are some amazing trips that you can plan with Toronto being your starting point. Consider one of these scenic trips to introduce you to the incredible Canadian countryside and beyond.
Toronto to New York City
This exciting trip on Amtrak's Maple Leaf will take you through some of the most scenic areas of North America. You will ride through the Hudson River Valley and the Finger Lakes Region where you'll see nature at its finest and beautiful sights. When you get to New York City, the world is your oyster, where you can see a show, walk to Times Square or just hang out in Central Park.
Toronto to Vancouver
On this trek across the continent, you will spend four days and nights seeing all that there is to see from Toronto to Vancouver. Plains, mountains and all the wildlife and quaint little towns await you as you traverse the width of the North America. When you arrive in Vancouver, the scenery doesn't stop as the city is nestled by snow capped mountains and the gorgeous Pacific Ocean. This is a trip of a lifetime and will be worth every penny.
Any trip from Toronto is worth taking in this scenic and interesting part of the world. Enjoy a few days in Toronto and then plan an itinerary that is exciting and adventurous on the rails of Canada.