Guide To Visiting Grand Teton National Park In October
Reflection of mountain range in a lake at Grand Teton National Park
Grounded Life Travel is supported by its audience. When you purchase through links on our site, we may earn an affiliate commission.As an Amazon Associate I earn from qualifying purchases.
If you want a dose of beauty and adventure in autumn, then you should visit Grand Teton National Park In October.
In October, you will find the park's waning long days and longer nights to be encroaching on your time a bit, but don't let that deter you. You can find fun and exploration among the giants if you plan accordingly and keep your finger on the ever changing pulse of the weather and park conditions. The cycle of wildlife and the changing of seasons will be a sight to behold while visiting in the autumn.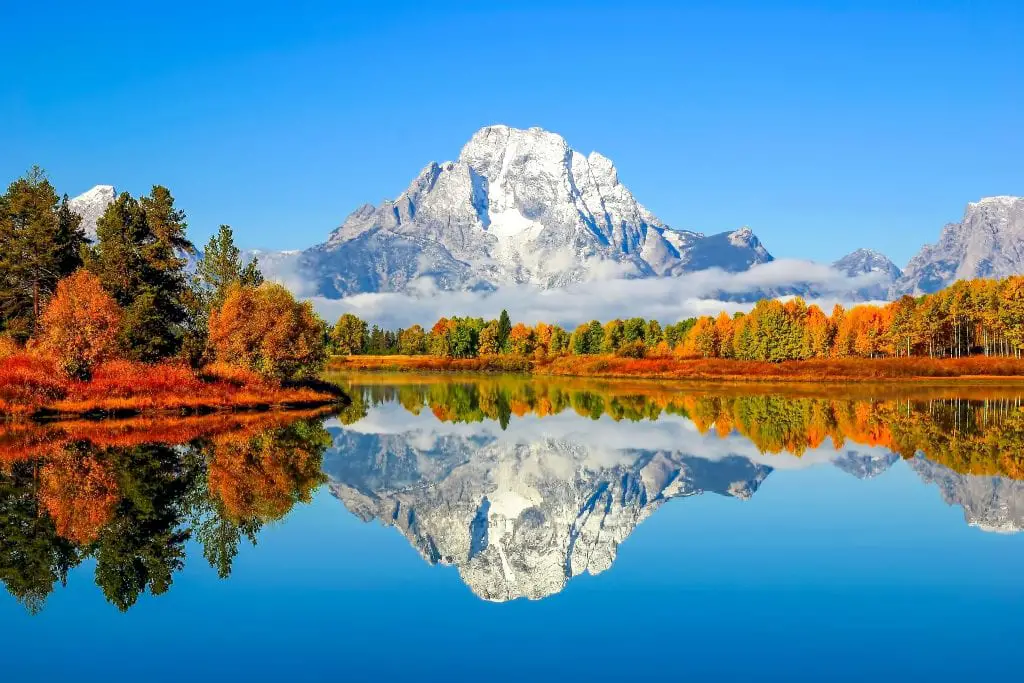 What is the weather like in Grand Teton in October?
In October, the park transforms from a rich green valley, to a golden bowl of changing Cottonwoods and rutting wildlife. October is yet another time of transition in seasons where you will see days that are pleasant and almost summer-like. Then, you will get a sudden hard freeze with six inches of snow within a couple of hours.
October still can be quite pleasant for outdoor activities like hiking and biking. The average high temperature in October is still comfortable at 52 degrees Fahrenheit. When you have your heart pumping, this is the perfect temp. It's the nights that get quite frigid. The average low is 24 degrees, which can keep you by the indoor fire instead of star gazing outside a tent.
The weather seems to have a personality disorder in October and vacillates between summer and winter. We were visiting in early October and arrived at the campground in shorts. We were setting up camp and had to keep wiping the sweat from out face. By that night, temperatures had dropped in the the low twenties and the snow began to fall. We had gotten six inches of snow by morning. This was October 2nd.
The moral of that story is that the weather can dictate your plans in October, so it's good to have a "plan B" in case you experience a sudden snowfall. You have to be ready for anything when visiting in October, but isn't that what makes it so exciting?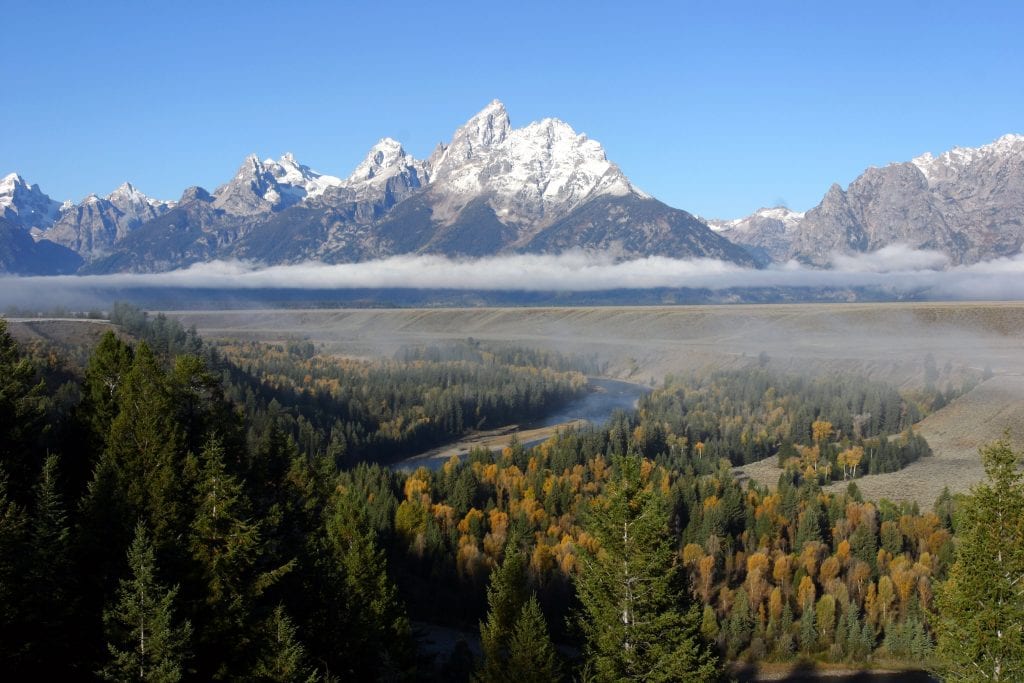 Grand Teton Tips
Here are a few other Grand Teton posts you might find useful:
Where can I find the best wildlife activity when visiting Grand Teton in October?
Visiting Grand Teton National Park in October will bring all sorts of changes in animal behavior in the park. Bears are still foraging and fattening up, male elk are busy finding a mate and you'll find more moose activity.
Moose-Wilson Road
The Moose-Wilson road runs from the small unincorporated town of Moose from the inside the park, to the town of Wilson. This 14.6 mile road is famous for boasting late summer and autumn bear and moose activity. On any given day in October, you are almost guaranteed to see a moose dining on willow twigs or a black bear hunting for berries.
The best time to see this activity is in the early morning or later in the afternoon when animals are looking for food and more active. These two times of day get heavy travel. This is important because the Moose-Wilson Road is very narrow.
We took our Ford F-250 on the road and it was a nail biter many times while passing other cars. I recommend either renting a car or taking one of the Moose-Wilson Road tours. These are great for expert insider information on the animals and their habitats as well as a better chance of seeing wildlife. These tour operators know their craft and the environment, intimately. There are many tours that leave from Jackson or Teton Village.
With half of the road being paved and the other a natural cut through, park officials are constantly walking the fine line of human overexposure and animal habitat needs. On occasion, the road may close due to moose or elk calving or an influx of grizzly activity. The safety of the animals as well as the safety of the public is of utmost importance to park officials. The road could close periodically for maintenance.
National Elk Refuge
The National Elk Refuge is the largest congregation of elk on the planet. Every year thousands of elk migrate from Wyoming, Montana and Idaho to the refuge. They come here to graze on the grass that doesn't get buried in the snow in the lower elevation of the valley of Jackson.
It is here that the elk congregate, live and some even die. Elk death is a source of food for other animals, so your chance of seeing them in the refuge is increased starting in October. You have an optimal chance of seeing bald eagles, hawks, trumpeter swans, moose and even grey wolves.
As soon as the first snow falls, sleigh rides can take you through the refuge to see all the animal activity. Make sure you take your camera to capture the grandeur of all the wildlife of the Teton Valley.
Bison at Mormon Row
If you want to see bison in the Grand Teton National Park in October, Mormon Row is the place to go. Scores of bison make a habit of hanging out in this arresting landscape. Not only can you study the habits of the bison here, but you can enjoy the scenery of the Moulton Barns with the Grand Tetons as an unbelievable backdrop.
This scene coupled with the bison make for some fantastic photography. Infact, the Moulton Barns on Mormon Row are among the big four of the most photographed locations in the park. You will see these images all over Instagram, posters and calendars. Take time to witness the charming and striking images so unique to the Grand Tetons.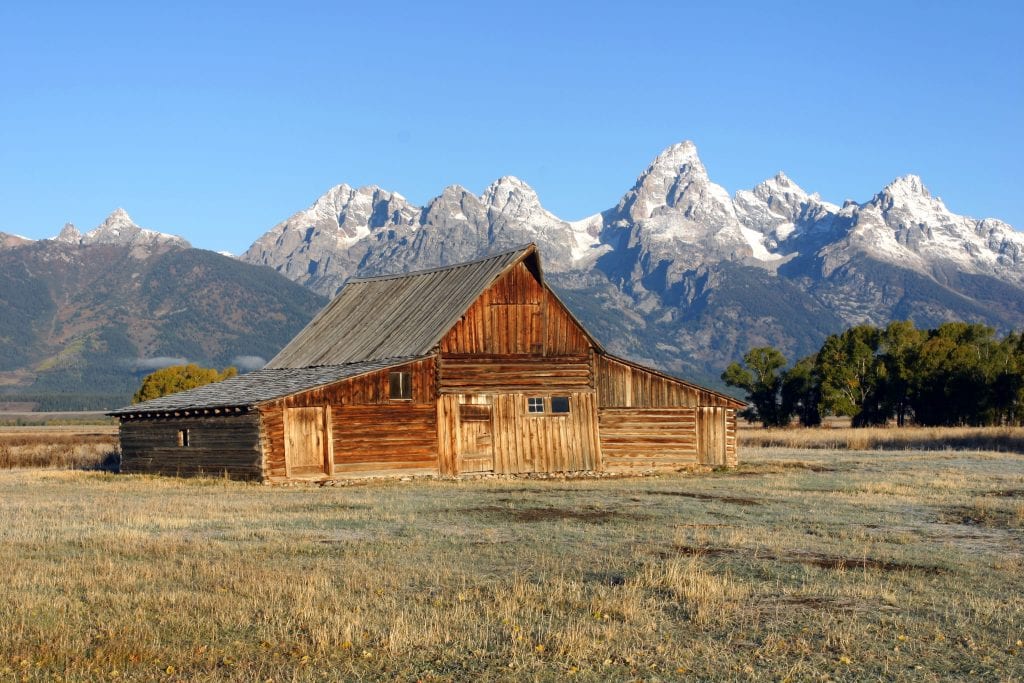 Gros Ventre
Gros Ventre is an area of the park that will give you an excellent chance for moose sightings. Come early in the morning and you will see them congregating and foraging in the campground. You can also come at sunset and see them drinking from the Gros Ventre River and snap some photos.
My family and I camped here for over two weeks and saw moose almost everyday. On our last night, we ate our hamburgers at our picnic table as we watched a bull lay under a shade tree. This was after having a mother bear and her three cubs stroll through our campsite. It was a red banner day for us on that day in terms of wildlife!
What are other unique features of visiting in October?
One of the most grand sights that you will see in the Tetons in October is the fall foliage slowly changing from green to yellow, orange and even red. The aspen in the area turn an intense shade of yellow and the cottonwoods trees turn a brilliant orange and red. If you are blessed to get a snow shower in the mountains during your visit, the vibrant colors against the backdrop of this magnificent range is a sight to behold. This scene is one you will definitely want to photograph.
Taking a hike anywhere in the park in October can be thrilling. From the numerous trails that start at Jenny Lake to the treks available at Jackson Lake and all that are in between, October is the perfect time to enjoy all the sights and scenes of the park.
You can also ride into Jackson and ride the free aerial tram at Jackson Hole Mountain Resort. This is a really entertaining activity to do with your crew and you can catch the view of the Teton range, Snow King Mountain and Yellowstone National Park.
Visiting Grand Teton National Park in October is my favorite time to visit. Wildlife are busy preparing for winter, the colors of the landscape are glorious and the weather is usually quite pleasant save for a few snowflakes here and there. Taking an excursion to the Tetons in October is sure to be one of your favorite holidays.