Guide To Custer State Park Camping Reservations
Grounded Life Travel is supported by its audience. When you purchase through links on our site, we may earn an affiliate commission.As an Amazon Associate I earn from qualifying purchases. List of everything we use in our travels.
We want to help you with your Custer State Park camping reservations in South Dakota. This state is brimming with activities and Custer State Park has so much to offer. When you first start reading about Custer State Park you read about Sylvan Lake, which has lots of activities to offer but this hidden gem has so much more. This beautiful park is situated in the Black Hills of South Dakota. A day visit to this park is a great add on after visiting Mount Rushmore but you can stay the night and truly experience all this park has to offer.
When Is A Good Time For Custer State Park Camping Reservations
The campgrounds in Custer State Park are open from about mid May until mid October. The best time in that window is to go in early June. This is the best time for the weather, minimal rain and the best chance to see baby animals roaming the park. If you go in July or August you will find the park a bit fuller than in early June. There is also a bit more precipitation during these months so you will have to contend with the weather.
How Much Does It Cost To Camp At Custer State Park
Nearly all the campgrounds at Custer State Park are open from mid May until mid October. One of our favorite times to visit this area is September, when the temperatures are fairly mild throughout the day. There are eight campgrounds in the park, ranging from $15-$30 a night. Cabins are also available for $55 per night. Although there are lots of camping spots available, they go fast so make your reservation before heading to the area. June and July are the most popular so those times sell out fast. Reservations can be made online at this website.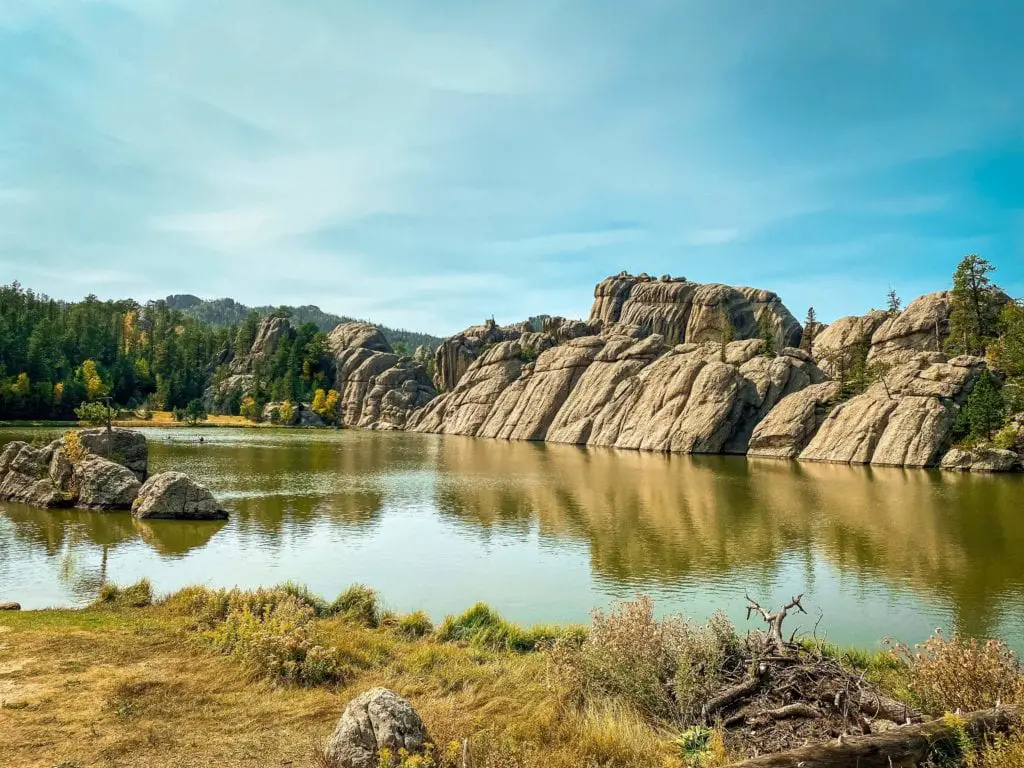 Is Tent Camping The Only Option
If you're like us and tent camping is not your thing, there are other options for camping in Custer State Park. There are five lodges that will offer you those comforts you are looking for while putting you close to the action in the park. There are about 50 cabins in the Custer State Park camping grounds, they cost $55 a night. The cabins are rustic and can accommodate about five people. You will have electricity, air conditioning/heat and a picnic table on the site with a fire pit. There are no restrooms inside the cabins. If you want a more luxurious experience you can rent a resort cabin for four to up to twenty people.
What Is There To Do
Custer State Park sits on 71,000 acres of protected wildlife habitat, wild west landscapes and endless recreation possibilities. You will run out of time before you run out of things to do. If you love the outdoors, Custer State Park is the place for you. From hiking, paddling and a plethora of cultural activities you will find something to do. There is something for everyone and as I mentioned above you will run out of time before you run out of things to do.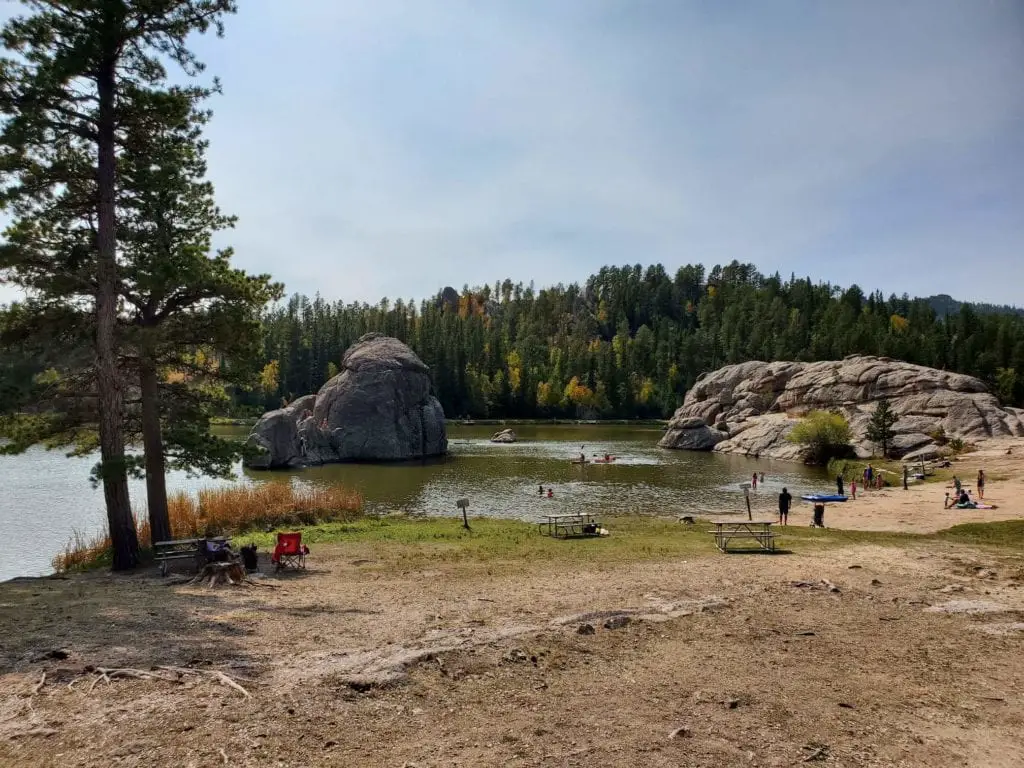 What Is The Best Campground At Custer State Park
Blue Bell is the best campground at Custer State Park in South Dakota. It is open from May 1 to November 1 each year. It offers sites with electric hookup as well as cabins. As this is the best campsite it will fill up quickly, so make your reservations early. Campsites at Blue Bell are usually sold out months in advance.
Bonus Tips
If you like to travel with your pet, you will be happy to know that Custer State Park allows pets, but they must be on a leash that is 10 ft or shorter. The animals are not allowed in the buildings or on the beaches. Custer State Park is the perfect place to unplug. Cell reception is challenging in this area, it's hit or miss, so don't depend on it. There is little to no service in most of the park. Expect to pay the entrance fee upon arrival to the park, the price of admittance is not included in the camping fee.
Tags :
South Dakota