Grand Teton National Park In July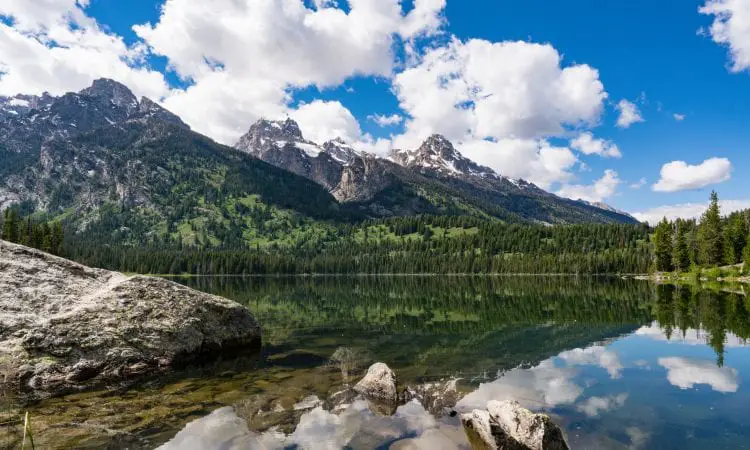 Reflection on Taggart Lake in Grand Teton National Park near Jackson, Wyoming
Grounded Life Travel is supported by its audience. When you purchase through links on our site, we may earn an affiliate commission.As an Amazon Associate I earn from qualifying purchases. List of everything we use in our travels.
Grand Teton National Park in July is nothing short of spectacular.
Every living thing has finally awakened and you can begin to feel that the long spring is finally transforming into summer. Long days and short nights can now fully be enjoyed by the masses that seek a break from the ordinary to experience the extraordinary.
Grand Teton National Park is not only my favorite American national park, but it is the reason I would consider a move out to Wyoming or Idaho. Being in the shadows of the majestic snow covered Tetons as you traverse a stream crossing is the stuff I live for.
Apparently, it's also the stuff that everyone lives for. People know that July is the time to visit the park and they comes in droves. But there's plenty of the park's 485 square miles to go around. You just better get there early!
Do the Tetons have snow in July?
It can snow at any time in Grand Teton National Park. But, you are in luck because it is more likely to be pleasant in July, with an average high temperature of 77 degrees Fahrenheit. You will still need your coat even in July though as the average low is only 41 degrees.
However, even if it doesn't snow, there will be snow. The hiking trails will still have snow covered trails in some spots. In the higher elevations, crampons will still be needed. So, check park trail conditions before you set out in your flip flops, thinking it will be smooth sailing even on some of the easiest hikes.
What should I pack for Grand Tetons in July?
Visiting Grand Teton National Park in July should be treated as a four season trip. Early morning excursions will require a heavy jacket or even a coat and a hat. By mid morning, you will be stripping down to the thin activewear you layered yourself with, in an attempt to cool off.
Since daylight in the Tetons packs a punch of 11 hours, you will then strip to shorts by mid day, then start adding clothing as the sun starts to set. We've hiked until well after 9 p.m. in the summer. If you are moving around it is pleasant, but if you sit for just a few minutes you will get chilly.
Footwear is probably the most important part of your clothing to focus on. I opt for hiking boots over hiking shoes for the extra support they give my ankles. Walking over the rocks and uneven terrain can easily cause a sprain, ruining the rest of your trip. Spend time researching brands and make sure you choose a boot with ample traction.
As always, it's important to cover your head, no matter what the weather brings. A wide brimmed hat, sunglasses and sunscreen on your face should always be a practice when spending time in the outdoors.
Grand Teton Tips
Here are a few other Grand Teton posts you might find useful:
How crowded is Grand Teton National Park in July?
In July, you will have crowds. In 2021, during the month of July, 830,000 people visited the park. The natural progression is for people to visit Yellowstone, then make their way down to the Tetons, due to the fact that they are so close together. This brings hoards of people to the park every summer.
However, crowds are relative in a sense. When you're in a large national park such as Grand Teton, you can go to some places and not see a soul. In July, your best bet to have a solitary hike is to get up early and spring for one of the hikes that takes you deep into the mountains. Once you get about five miles in, you'll definitely see less people.
But, what if you're not that much of a hiker and still want to see some of the most coveted places? You're in luck! There are other notable and beautiful stops in the Tetons that will wow you.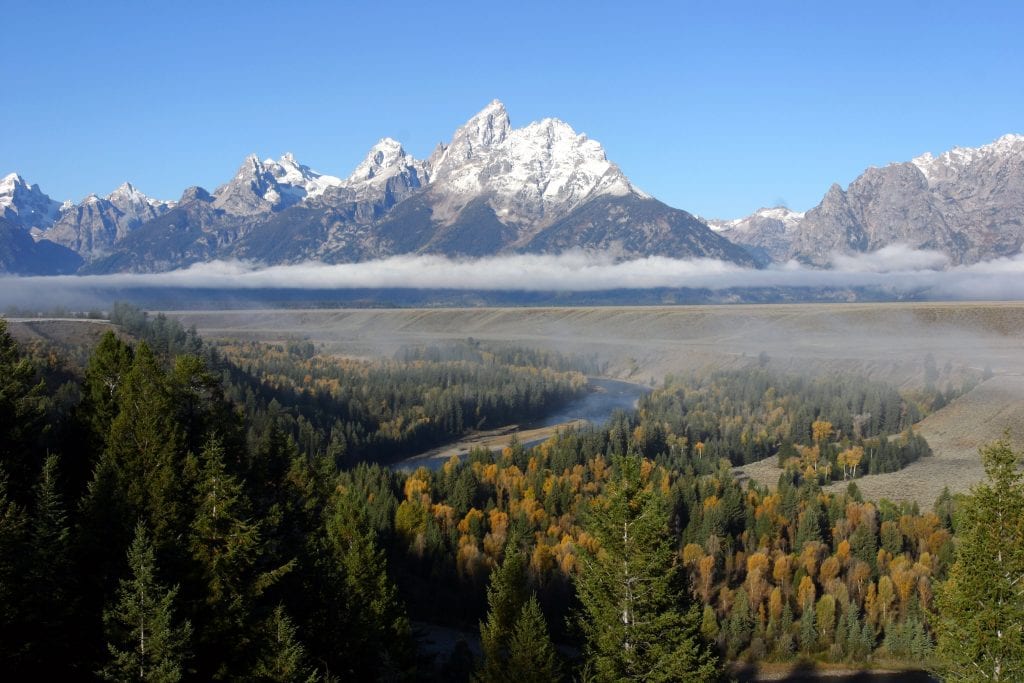 What are some of the best places to stop and explore in the park?
When visiting Grand Teton National Park in July, you'll want to be intentional and plan everyday to get the most of your vacation. There are definitely some places that you will want to put on your agenda that are a must see.
Schwabacher Landing
This place is one of the most photographed areas of the park, and for good reason. This still and picturesque setting is ideal for the early morning photo of the sun rising, or a mid afternoon picnic. The mountain's reflection off of the beaver ponds is what photography dreams are made of.
If you're not a photog, just to walk among the stillness and serenity of this place is an experience in itself. . Although you will see people on the short trail next to the ponds, it feels as though you are in a church with all the reverence, quiet and respect a grand place deserves. My family and I took our pot of chili here on our visit in July. We sat on a blanket staring at the mirrored Tetons before us in complete silence. That is no small feat with a family of five.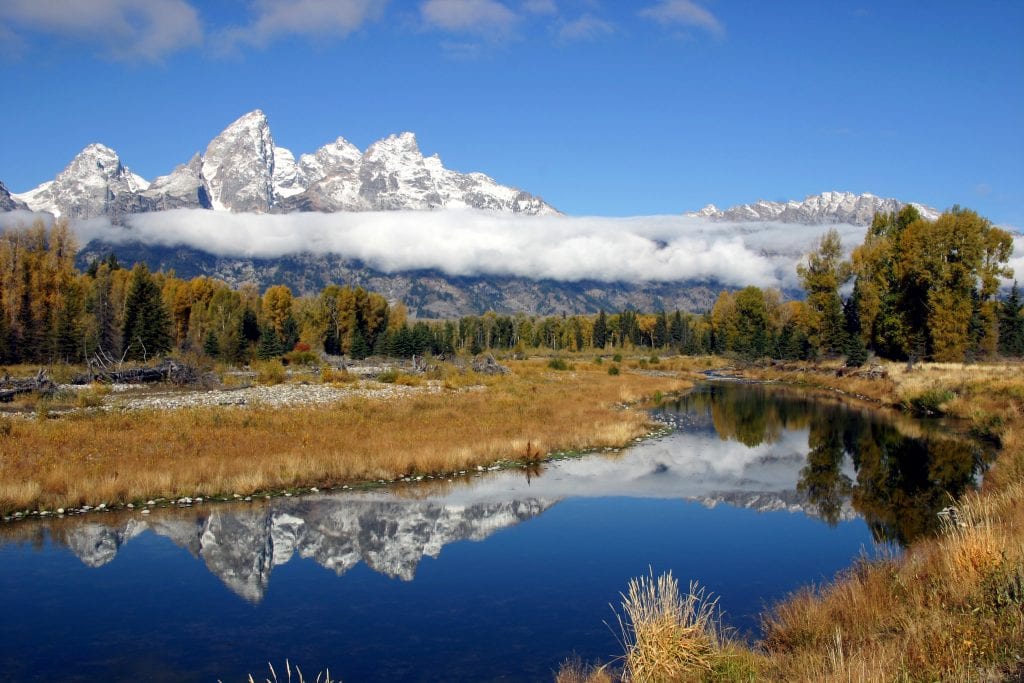 Jenny Lake
Jenny Lake is one of the crown jewels of the national park. Sparkling clear, clean glacial water against a backdrop of the most gorgeous mountains on earth makes for a fabulous day of hiking, picnicking, boating or swimming. You can park and take the ferry across the lake and enjoy the ride to Hidden Falls and Inspiration Point, where you can hike to see these two popular destinations.
Jenny Lake is also the starting point for many backcountry hikes that will take you into the interior of the Tetons. Pack up your tent and your gear and hike to Forks of Cascade Canyon, Lake Solitude or Hurricane Pass. Serious trekkers that like to pie on the miles are always thrilled to conquer these hikes of a lifetime.
Jackson Lake
Jackson Lake is another destination point for visitors to get a dose of the great outdoors in the shadow of these grand mountains. Visitors can boat, camp, fish or hang out at the beach while enjoying this 15 mile glacial lake.
Colter Bay Campground or Colter Bay RV park are two camping areas that will have the modern conveniences that you may be looking for when camping. Colter Bay is also poises you to travel to Yellowstone for a day. Only 57 miles from Yellowstone, Colter Bay can be a good base if you want to see the southern part Yellowstone National Park.
There are so many other notable places to visit while in the park, but these are just a few you must put on your list.
Where should I stay inside the park?
The options are wide and diverse in July. With weather not being a factor you can camp under the stars in your tent or RV or stay at a lodge in the park. There are even cabins that you can rent so that you can still make some home cooked meals after a long day of fun. If staying at a dude ranch is on your bucket list, then you are in the right place as well. You just have to plan accordingly, because there will be a lot of competition for that coveted spot.
Plan early and make reservations as soon as you finalize a date for travel. All campgrounds in the park are now on a reservations system and first-come-first-served no longer exists anywhere in the park. With almost a million visitors in the month of July, you'll want to make sure you are "Johnny on the spot" with this task!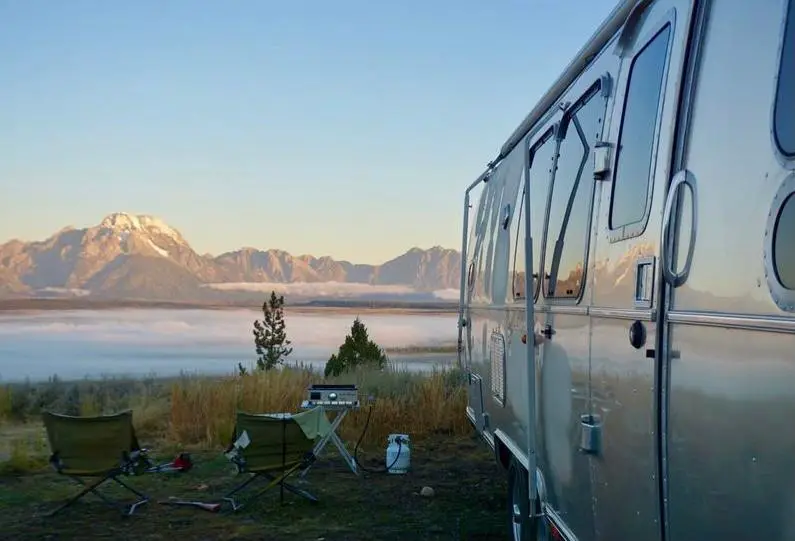 Visiting Grand Teton National Park in July will no doubt be one of the favorite vacations of your lifetime. With planning and preparedness, you and your crew will be able to enjoy this beautiful park and bring the memories that you made home with you.