Kuranda Scenic Railway: 12 Things You Need To Know Before Riding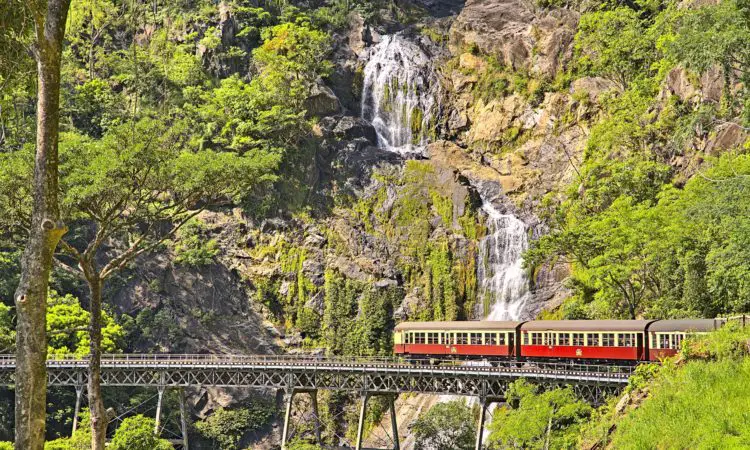 Grounded Life Travel is supported by its audience. When you purchase through links on our site, we may earn an affiliate commission.As an Amazon Associate I earn from qualifying purchases. List of everything we use in our travels.
Cairns is a gorgeous piece of the continent and country of Australia that millions flock to annually to visit The Great Barrier Reef. Its crystal clear, azure waters captivate and enthrall even the most seasoned traveler that has seen it all. Likewise, Kuranda is just as stunning. High in the mountains of the western slope of the Macalister range, is a eucalyptus filled, tropical rainforest that is the keeper of waterfalls, black mountain peaks and breathtaking scenery. Many visitors go to Australia to ride The Ghan or the Indian Pacific, but don't miss out on the Kuranda Scenic Railway. If your travels take you to Brisbane, the Spirit of the Outback should be on your list as well.
Visiting both of these places has never been easier or more enjoyable with a train excursion on the Kuranda Scenic Railway. Ride in style and grace on a Victorian-style, diesel electric train that is sure to give you and your crew memories to cherish.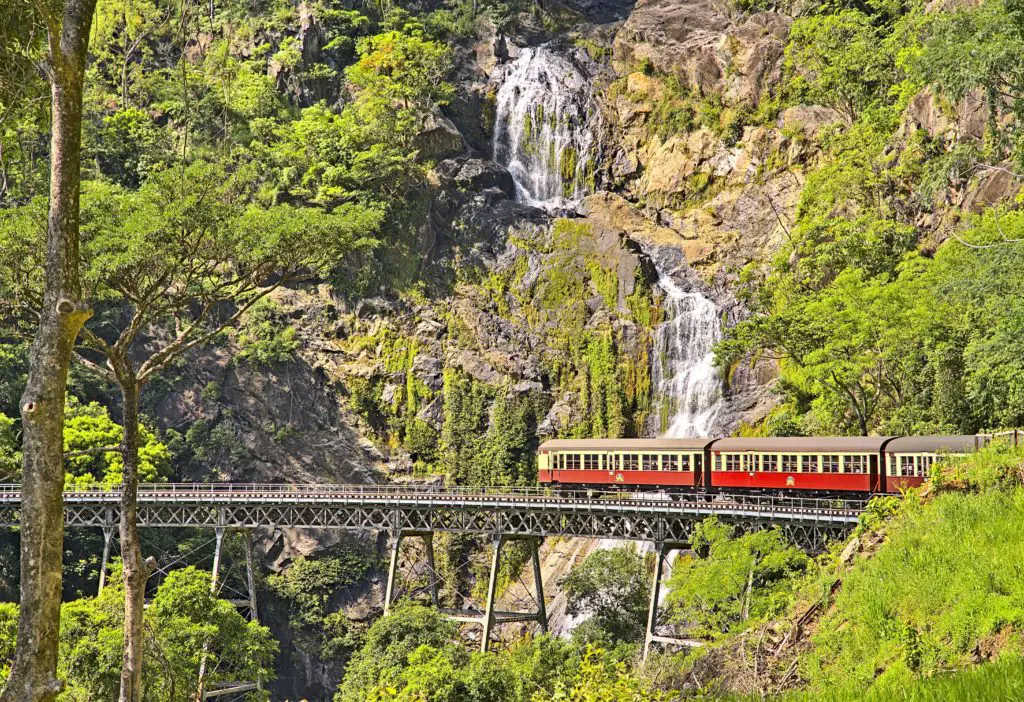 What is the best way to see the region from Cairns to Kuranda?
The best way to see the stretch of landscape that exists between Cairns and Kuranda is to take the Kuranda Scenic Railway. This excursion will take you through Barron Gorge National Park in the midst of a tropical rainforest filled with waterfalls, beautiful canopies and stunning cliff faces.
The Kuranda Scenic Railway travels over 55 bridges, 98 curves and through 15 hand carved tunnels. Since 1891, the railway has been used to transport goods and people, alike. From the coastal region of Cairns over the Great Dividing Range through the wet and lush rainforest, over 1,000 feet above sea level to the gorgeous village of Kuranda.
Do you need to book in advance for the Kuranda Scenic Railway?
You can book a ticket ahead of time or you can purchase a ticket right before your trip. There are also no-commitment tickets that allow you to reserve your spot up to four months in advance, while keeping plans flexible for up to two days before your trip. If you need to cancel, this way of traveling keeps the stress out of sometimes unpredictable travel.
How much is a ticket on the Kuranda Scenic Railway?
A round-trip ticket on the Kuranda Scenic Railway for Gold Class is $174 for an adult, $136 for a child and $582 for a family. In contrast, a Heritage Class ticket is $76 for an adult and $38 for a child.
Does the Kuranda Scenic Railway stop?
The Kuranda Scenic Railway travels from Cairns to Kuranda through the tropical rainforest to the lookout at the 410-foot Barron Falls, where you will stop for ten minutes to enjoy the scenery. Barron Falls is fed by the Barron River that flows with phenomenal force during the wet season. However, during the dry season it can dry up significantly, sometimes reducing to a trickle. Call ahead so that you can set expectations for your trip.
How long is the Kuranda train ride?
The Kuranda Scenic Railway is a 23-mile train ride that takes around two hours one way. There is a ten minute stop at Barron Falls to see the amazing falls and overlook.
Is There A Toilet On The Kuranda Train?
There are toilets available in the 100-year old carriages on the Kuranda Scenic Railway. Toilets are both in the Gold Class carriage and the Heritage Class carriage.
Is the Kuranda Scenic Railway air conditioned?
The Kuranda Scenic Railway is not air conditioned. However, this enables you to really experience the sights, sounds, smells and feel of the rainforest as there are open-air windows bringing the outside, inside.
Is Gold Class Worth It On The Kuranda Train?
Upgrading your ticket to Gold Class on the Kuranda Scenic Railway is worth the extra fare. With your Gold Class ticket, you will be lavished with delicacies such as morning or afternoon tea, gourmet cheeses and coffees, premium macadamias, treats of muffins, mangos and sorbets and lager from the Northern Brewing Company. You will also receive a complimentary gift pack.
The Gold Class also affords you a Victorian Style carriage with comfortable club seating and a dedicated service attending to your every need. You will also enjoy the gift of a souvenir trip guide and a scenic railway badge, pen and postcard.
The Heritage Class ticket includes a ride in a refurbished Heritage carriage decorated with period decor. Audio commentary will inform you of the surroundings and places of interest as you travel through the rain forest. Enjoy a stop at Barron Falls, as well as, filtered water for all passengers.
What is the Skyrail Rainforest Cableway?
The Skyrail Rainforest Cableway is an alternative way to see the rainforest by riding a cablecar either to or from Kuranda. You may choose to take the Kuranda Scenic Railway from Cairns to Kuranda and then take the Skyrail Rainforest Cableway back to Cairns when the time comes for you to return. There are two stops on this trip, at Red Peak and at Barron Falls.
What is there to do in Kuranda Village?
The Kuranda Scenic Railway will take you to Kuranda where there are a wide variety of activities to do and interesting things to see. You can choose to ride to Kuranda, stay for ten minutes, then board back on the train and head back to Cairns. However, many people choose to stay in Kuranda and enjoy the village and all it has to offer. Select from one or more excursions and activities while you visit. These are just a few in which to choose.
Kuranda Riverboat
Do you want to have an excellent chance at seeing some crocodiles in the wild? Then, hop aboard the Kuranda Riverboat on the Barron River and keep you eyes peeled for freshwater fish, crocodiles, turtles, snakes and the flight less Southern Cassowary. This 45-minute guided tour is a great complimentary excursion to your railway trip.
Kuranda Koala Gardens
Holding a koala has got to be at the top of everyone's bucket list. At Kuranda Koala Gardens, you can do exactly that. You can also see some of Australia's most adored creatures such as the wallabies, wombats, snakes, lizards and crocodiles. Feed eastern grey kangaroos and red-legged pademelons, then head to the reptile exhibit where you'll catch a glimpse of all sorts of Australia's cold-blooded and nocturnal creatures.
Rainforestation Nature Park
Here, you can choose from three attractions in this park. See the Army Duck Rainforest Tour where you will tour the rainforest on a WWII Army Duck learning about the plants and wildlife of the rainforest. The Pamagirri Aboriginal Experience is another part of the park where you will learn about Aboriginal culture and learn to play the didgeridoo as well as learn to throw a boomerang. The Koala & Wildlife Park features elevated boardwalks that take you through the habitats of all of Australia's favorite animals such as kangeroos, wombats, koalas and dingos.
Where can I eat in Kuranda?
Kuranda is surprisingly jammed packed with delicious places to whet your appetite. Choose from simple snack and refreshments such as coffee and tea houses and shake shacks. Additionally, you may choose for a more satiating meal such as Asian street food tapas, sushi or a traditional Japanese lunch. Don't forget to visit the village chocolatier before you leave to satisfy your sweet tooth.
Is the Kuranda Railway Worth It?
The Kuranda Scenic Railway is definitely worth the ticket! Experience Australia in a new and interesting way that will elevate your senses and introduce you to the culture and habitats of the ancient rainforest as it has been for thousands of years.