Best Train Journeys in Australia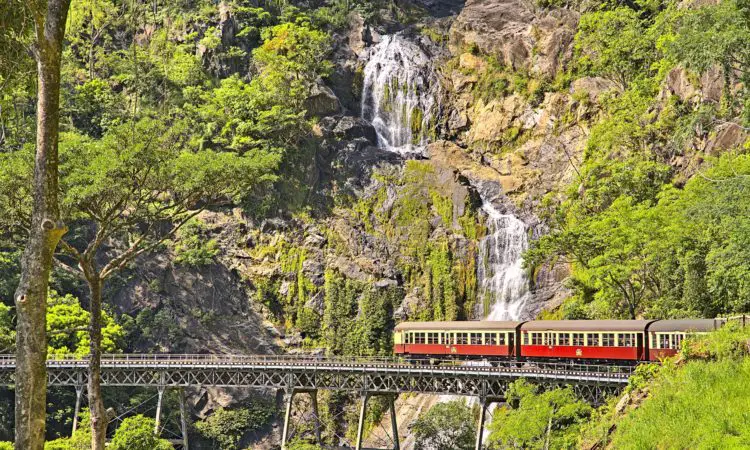 Grounded Life Travel is supported by its audience. When you purchase through links on our site, we may earn an affiliate commission.As an Amazon Associate I earn from qualifying purchases. List of everything we use in our travels.
Australia's landscape is vast and varied. It's a land of extremes in climate, animals and people. It is one of the most sought after vacation destinations in the world for good reason. You can snow ski, relax on the beach and visit the Outback in one trip.
However, if you want to do something extraordinary that will be the talk of every dinner party, take a trek on one of the many fantastic train trips that Australia has to offer. From multi-night luxury trips with gourmet foods and mints on your pillow, to one day excursions that will take you to through tropical rain forests and jagged peaked mountains, there really is a trip for everyone.
The Indian Pacific
The Indian Pacific is one of the best train trips on the planet. Imagine crossing the continent of Australia, while you experience the wonder and beauty of the Blue Mountains, the vast stretches of wide open spaces of the Nullarbor Plains, and the red, sunburned earth of the Outback, before reaching the Western coast.
Pick any trip of three amazing destinations depending on how long and how far you want to go. Traveling transcontinentally will take four days and 2,700 miles from the world class city of Sydney, to the beautiful city of Perth. You can also travel this route in reverse as well. In case you don't have enough time, there is also a trip that stops in Adelaide that is only two days and will still spoil and pamper you like you deserve.
Aboard this luxurious train, you will enjoy chef prepared gourmet meals, fine wines and the highest level of service from its doting staff. There are things to do at stops along the way and additional, once in a lifetime, excursions to take such as visits to Gold Rush mines and cable car rides up craggy cliffs giving you the most stunning views. The Indian Pacific is a bucket list trip that you will never regret taking and might even book again.
The Ghan
After you traverse the country on the Indian Pacific from East to West, you may want to explore more! The Ghan is your answer to yet another cross-country and cross-continental journey that will take your breath away. However, this time, you will be traveling from North to South or vice versa as you make your way from Adelaide to Darwin.
The Ghan is another of the most lavish and impeccable ways to travel. Ride the rails in comfort and style on this four day journey that will take you 1,850 miles from the Adelaide on the coast of the Southern Ocean, northward to the city of Darwin on the central Pacific Ocean. In between these two coast you'll see things you've never imagined, such as tropical rainforests, ancient gorges, the Red Centre Outback and the majestic Flinders Ranges. In addition to planned sight seeing at every stop, you can add on a pleasure trip and see these sights by helicopter and dine under the Outback stars.
Living aboard The Ghan is a dream come true with comfortable cabins that have all the conveniences needed for a relaxing stay. International chefs and fine wine, along with panoramic views will make this a trip to remember.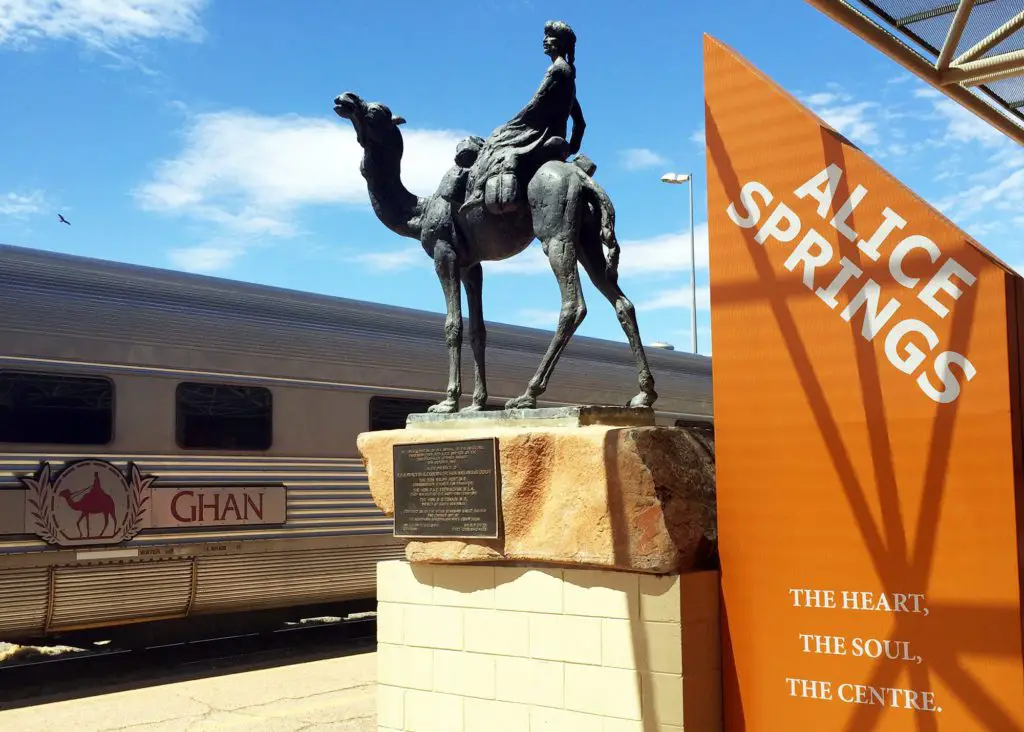 Spirit of the Outback
Travel 820 miles from Brisbane to Longreach on the Spirit of the Outback and get a taste of what the great country of Australia has to offer. In this 26-hour trip you will experience the Australian history of the Outback.
With a stop at Australian Stockman's Hall of Fame, Outback Heritage Centre and Qantas Founders Museum, you will get a dose of Australia that you may have not known. In addition to these noteworthy places, you will also glide through the open plains, jagged mountains and sleepy towns filled with history as you dine in your cabin, with friends or in the comfort of your seat.
With a choice of First Class or Economy Class cabins, you can have your choice of an upgraded experience or one that matches your budget. Either way, you will be watching the Australian landscape pass by your window with wonder and awe.
The Overland
If you only have a day, The Overland is for you and your crew! The Overland took its maiden voyage on November 13, 1887 and has been traveling from Adelaide to Melbourne ever since. For a century people have peered out expansive windows as the green and yellow grasses of western Melbourne become craggy with sandstone and dotted with groves of eucalyptus. Keep your eyes peeled for a glimpse of the emu for whom the famed train was named. A relaxing 10-hour ride on The Overland is just what a weary trekker of Australia didn't know they needed and will be the perfect compliment to your overall Australian travels.
Aboard the Overlander you will enjoy the choice of two classes of service. The Red Premium Service affords travelers an all-inclusive breakfast, lunch and afternoon tea, as well as in-seat dining. Relax in your oversized reclining chair complete with overhead light as you watch the world go by.
The Red Service traveler will be comfortable in a reclining seat with ample legroom and a reading light. Visits to the Café 828 Carriage will keep your hunger satiated with hot meals and snacks. The Overland is a great way to travel from city to city or as an experiential all-inclusive trip. Take your pick!
Kuranda Scenic Railway
If you really want an adventure that will knock your socks off, the Kuranda Scenic Railway is a chance to wow your senses. Starting in Cairns, this railway experience isn't quite like any other. Board this historical train and you will go from the coastal home of reefs and shipwrecks through a tropical rainforest, up almost 1,100 feet, passed black rock cliff faces and stunning waterfalls to the magical town of Kuranda.
After passing through the Barron Gorge National Park and traveling over 55 bridges, 98 curves and through 15 hand carved tunnels, Kuranda will welcome you with a multitude of activities to partake in and cultural experiences in which to participate. Stay a while and board the Rainforestation boat that will take you through the lush tropical forest with chances to see wildlife like no other place in the world. Kuranda Koala Gardens is also something to see if you enjoy lovable creatures like koalas, wallabys and kangeroos. Eating in the forest is a treat with delectable choices from the Orient and beyond.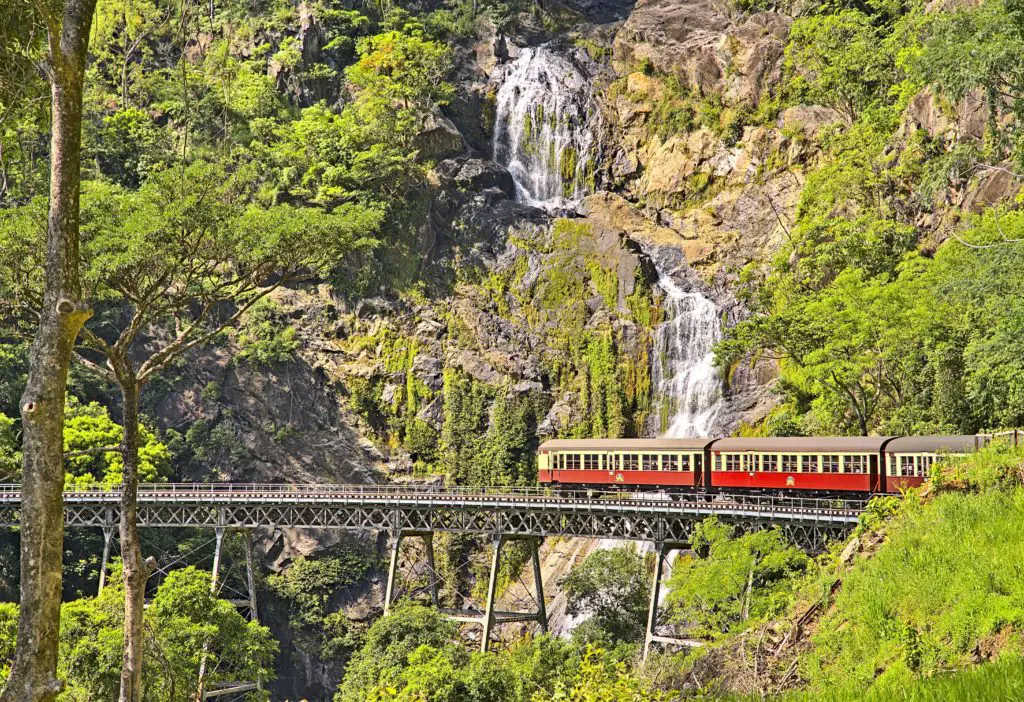 When it is time to disembark, choose between a return trip on the Kuranda Scenic Railway or take a trip down through the canopy on the Skyrail Rainforest Cableway. This 90-minute ride through the tropical and lush canopy can be enjoyed with a view of the forest from all angles, all the way to Cairns. Add a glass bottom floor to your tour package and have a chance at seeing what lives in the trees up close. Have your camera ready for those creatures that are usually camera shy and out of reach.
Taking a ride on a train is an experience that is really unmatched by any other mode of transportation. It is a leisurely way to explore a country that is fulfilling and fun in every way.