22 Best Things To Do In Dubai
Grounded Life Travel is supported by its audience. When you purchase through links on our site, we may earn an affiliate commission.As an Amazon Associate I earn from qualifying purchases. List of everything we use in our travels.
Dubai is at the top of the bucket list of travel lovers around the world. We had wanted to travel here since we saw the completion of the Burj al Arab on TV years ago. We arrived in Dubai via cruise ship. It was the final port in our 21 day cruise around Europe, Africa and the Middle East. We decided to stay in Dubai for a week after our cruise but it was not enough time. Dubai is flooded with things to do. In this blog we will break it down to the top 22 things you must do.
1. Cruise The Dubai Marina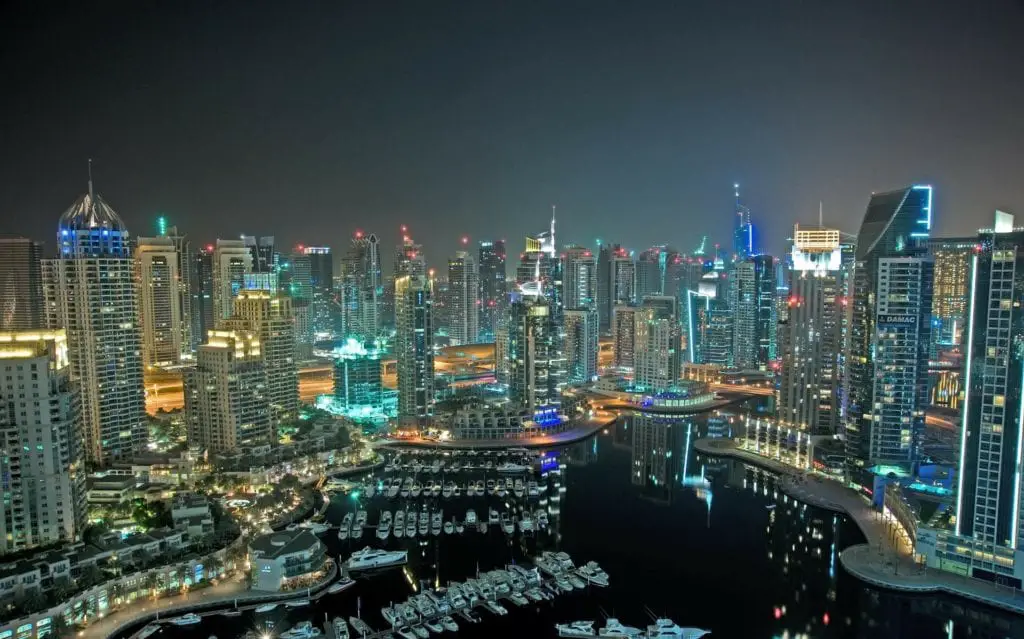 A cruise around the Dubai Marina is a unique and unforgettable experience in Dubai. You can admire the luxurious yachts, skyscrapers and the gorgeous skyline at night. Many cruises offer a meal and drinks.
2. Dubai Miracle Garden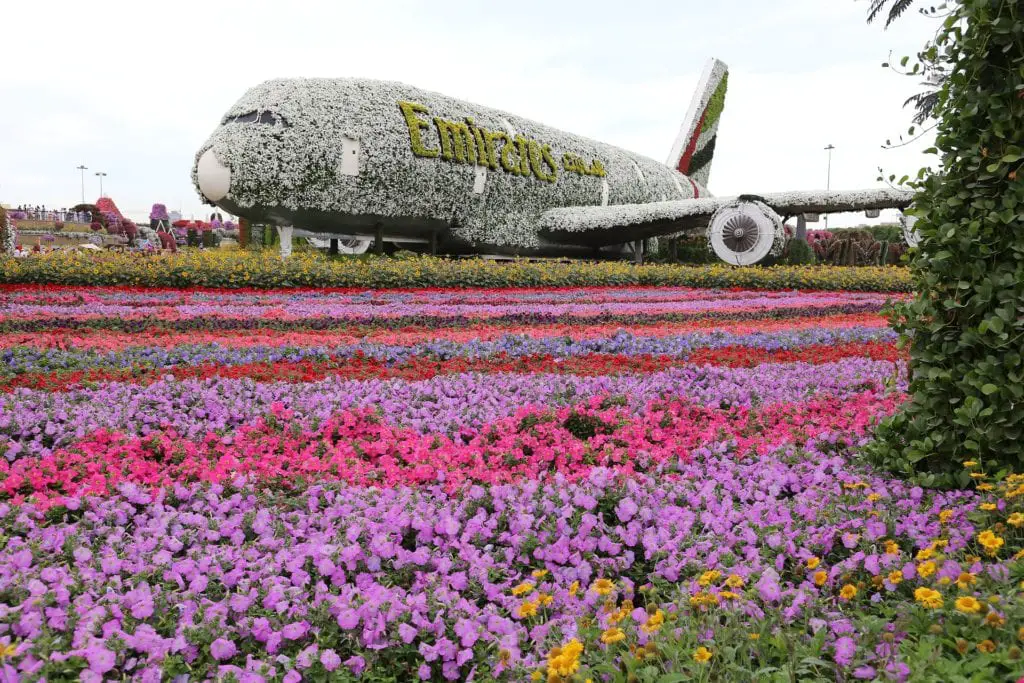 It is not names Miracle Garden for nothing. When you think about it, it is certainly a miracle that they can grow this many flowers in the middle of the desert. As you walk around this oasis, you will enjoy all the multicolored flowers arranged in the most ingenious structures. The garden is open from November to May each year.
3. Dubai Frame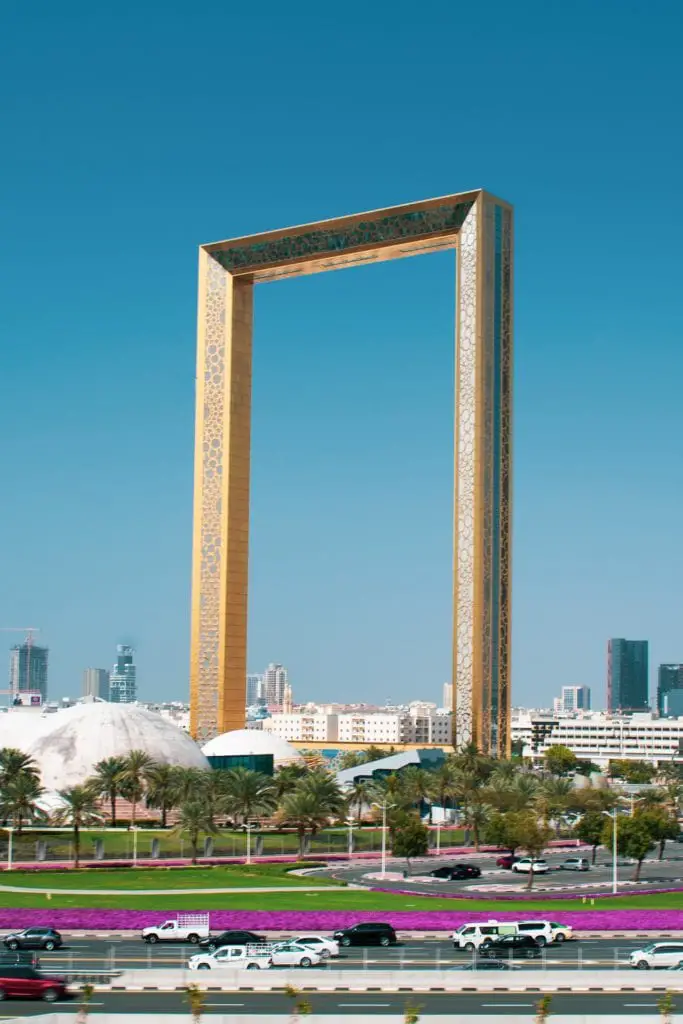 Dubai Frame can be found in Zabeel Park. It opened just a few years ago. The frame is 150m high and is incredibly impressive in person. Your visit to this frame has 3 stages. The most interesting is stepping out on the glass floor. It is ideal to visit the fame early in the morining for sunrise.
4. Dubai Fountain Show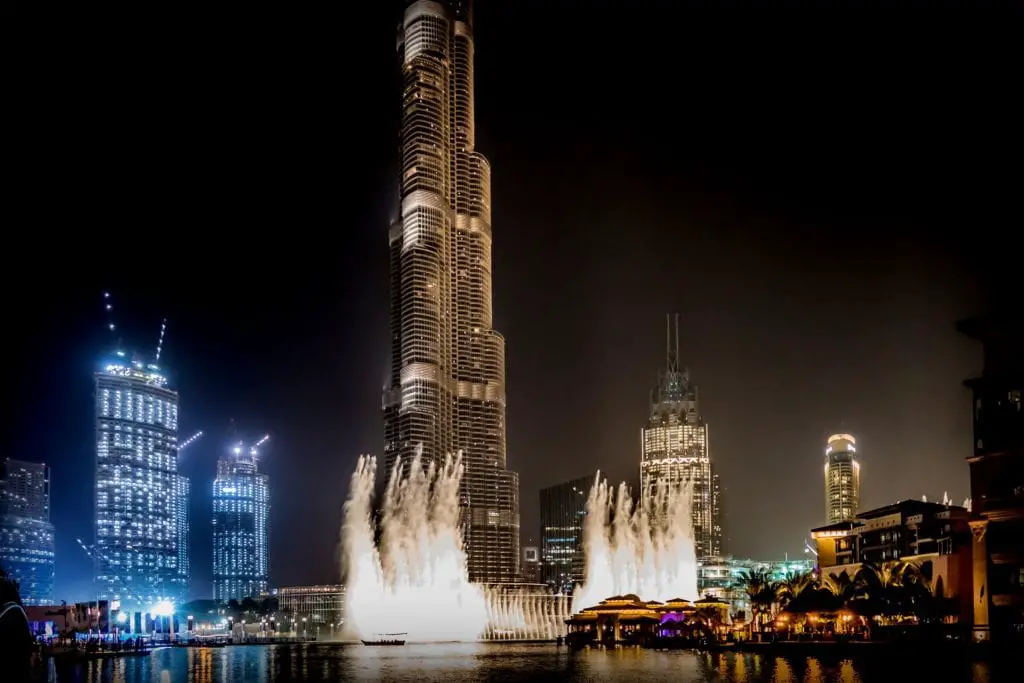 While you are visiting the Burj Khalifa or the Dubai Mall, you will see the fountains around the park outside. The fountain show is every, every 30 min. The show varies in length depending on the song used. We had the "pleasure"of hearing Baby Shark as the fountains danced. The Fountain Show is accompanied with a light show on the Burj Khalifa. Dubai has one of the most impressive skylines we've seen, ranking right up there with Hong Kong.
5. Dubai Parks and Resort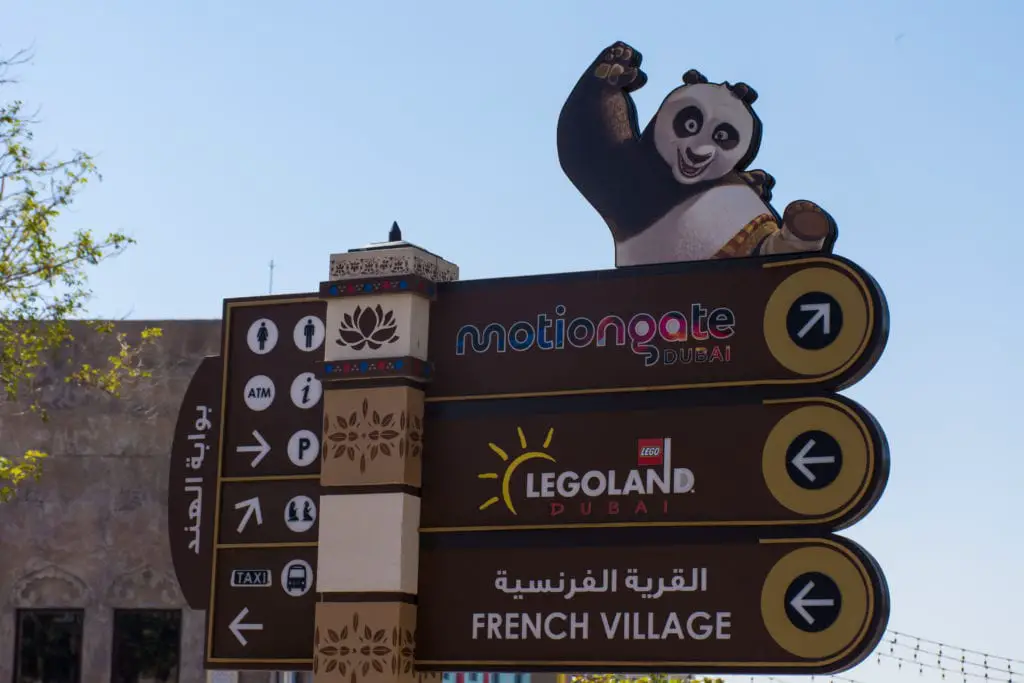 Dubai does everything big and amusement parks are no exception. This lavish area is spead out over 25 million sq ft with over 100 rides, show and attractions. Exploring this area will take an entire day, so plan accordingly. You can choose between Motiongate, Bollywood Parks, Legoland and Legoland Waterpark or visit them all.
6. Lunch At Al Mahara in Burj al Arab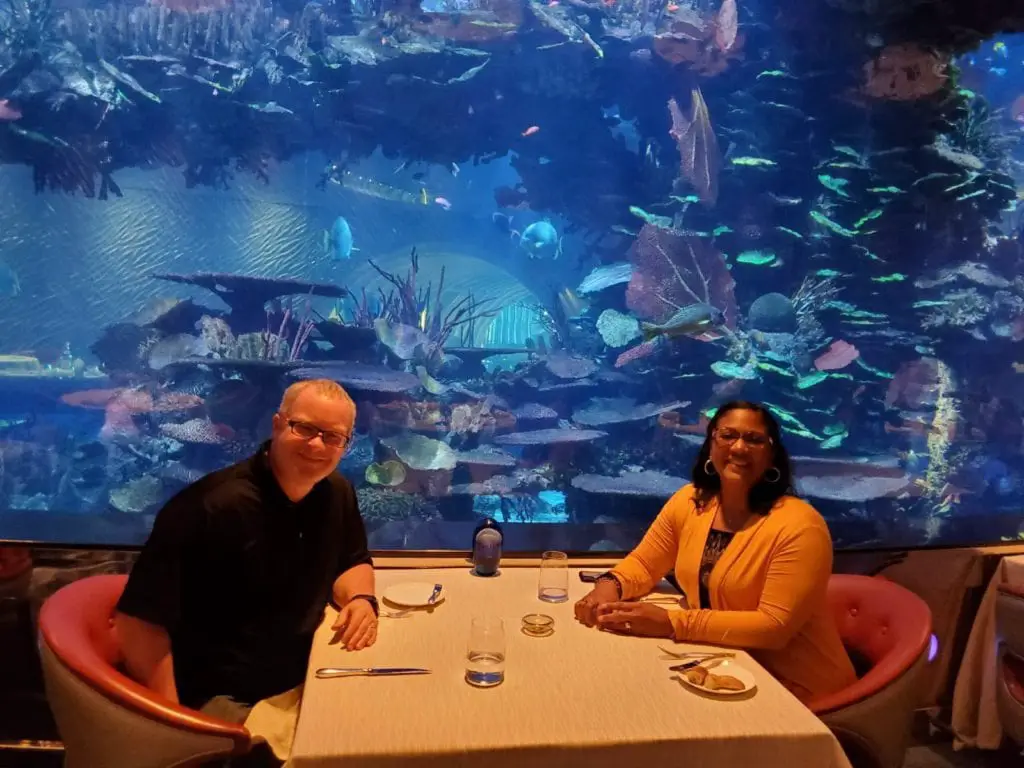 If you are looking to get into the prestigious Burj al Arab you are going to need proof of reservation in the hotel or in one of the restaurants or spa services. There guards at the entrance of the small island to contain the masses who want to get a picture of the sail shaped building on this man made island. Al Mahara is located in the lower level of the hotel in the middle of the "fish" tank. We had a magnificient lunch experience here.
7. Hop On Hop Off Bus Tour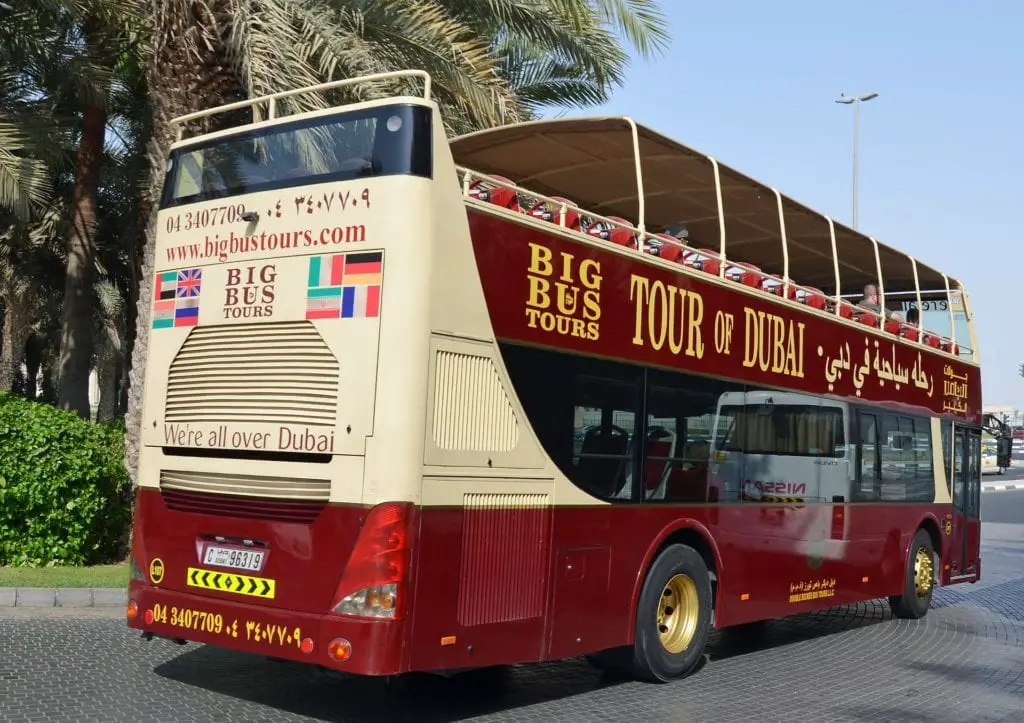 A hop on hop off tour is always a great idea. If you don't have a lot of time to explore, you can grab one of these buses and see it all in a few hours. The city is very spread out and traffic can be an issue so a bus tour is ideal instead of driving.
8. Dubai Desert Safari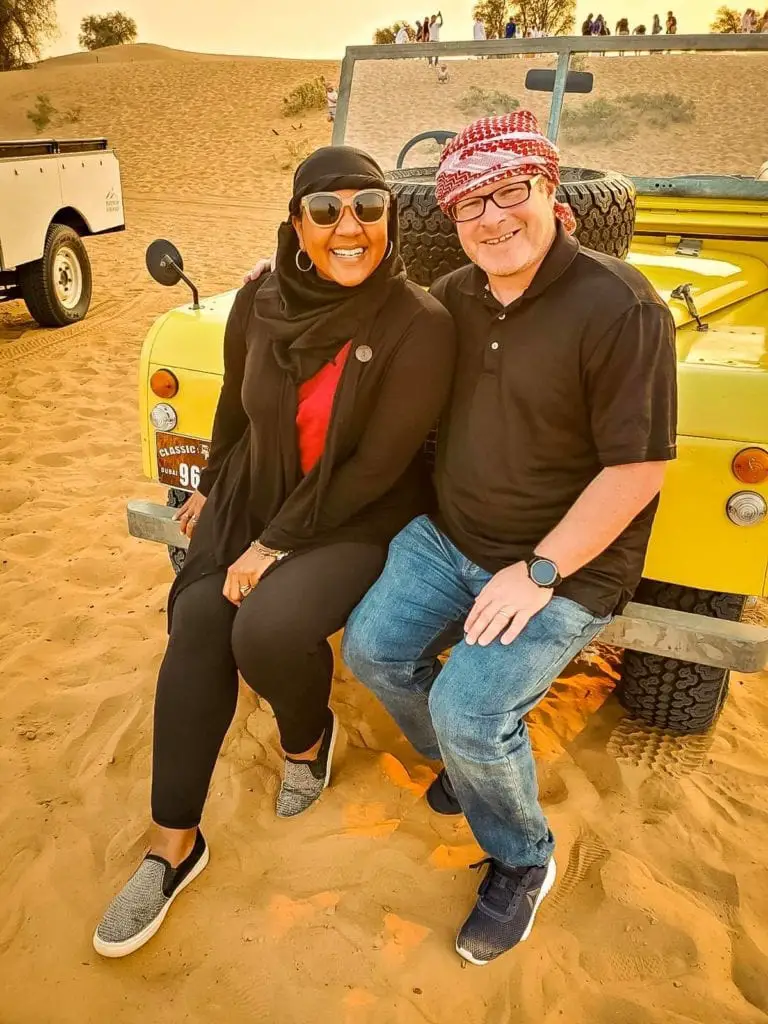 You simply can not miss out on a desert safari in Dubai. We chose the iconic Platinum Heritage for our tour and we have nothing bad to say from our experience. We had an incredible day in the classic Land Rovers, learned about falconry and finished our night enjoying the sunset from a Bedouin camp and enjoying a great meal.
9. Al Fahidi (Bastikiya)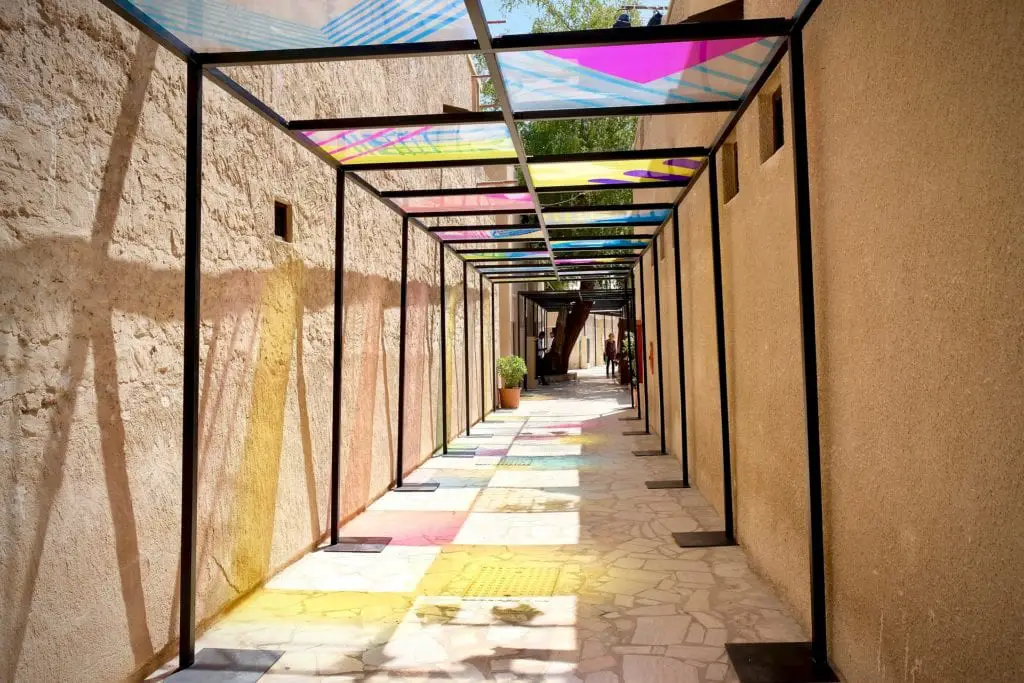 In what seems like a very distant departure from the opulence of the city, this old neighborhood will take you back to what it used to be. The houses blend in with the desert and you can stroll the neighborhood and take in the environment around you. This is one of the many free activites you can do in Dubai.
10. Burj Khalifa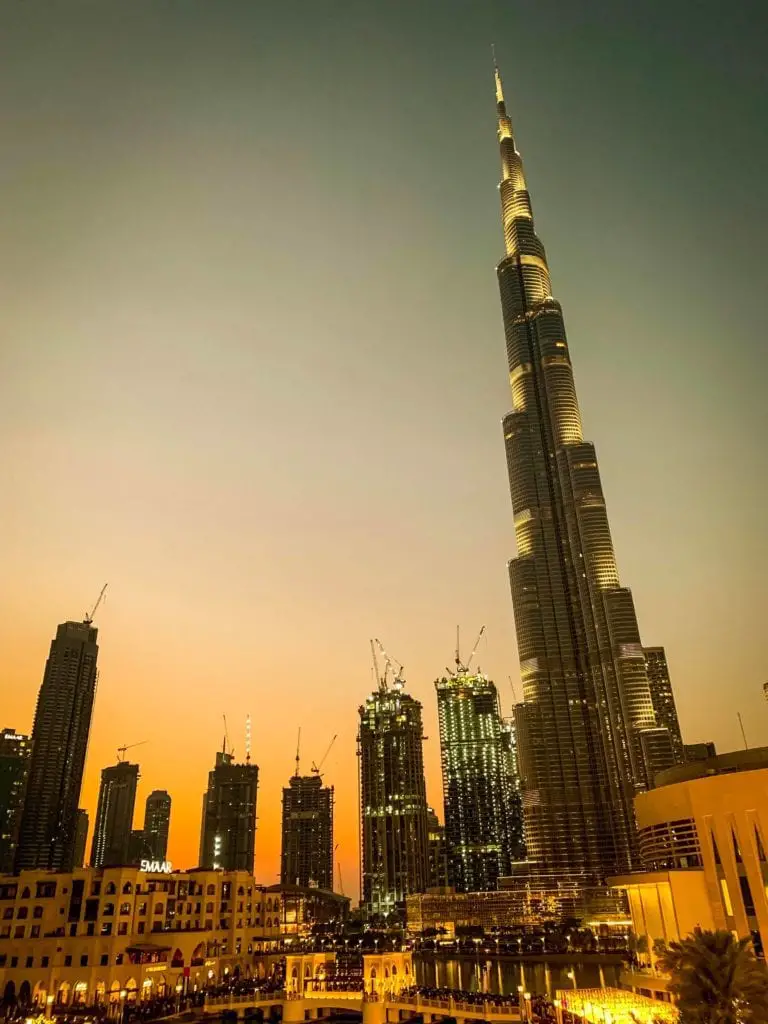 The Burj Khalifa is the tallest building in the world. It is 828 meters tall and you can't miss it from nearly anywhere in the city. We could actually see it from the cruise port when we arrived. This massive building is unmissable, you can see it up close from the Dubai Mall or you can visit inside and go to the top. There are also some bars and restaurants inside.
11. Dubai Mall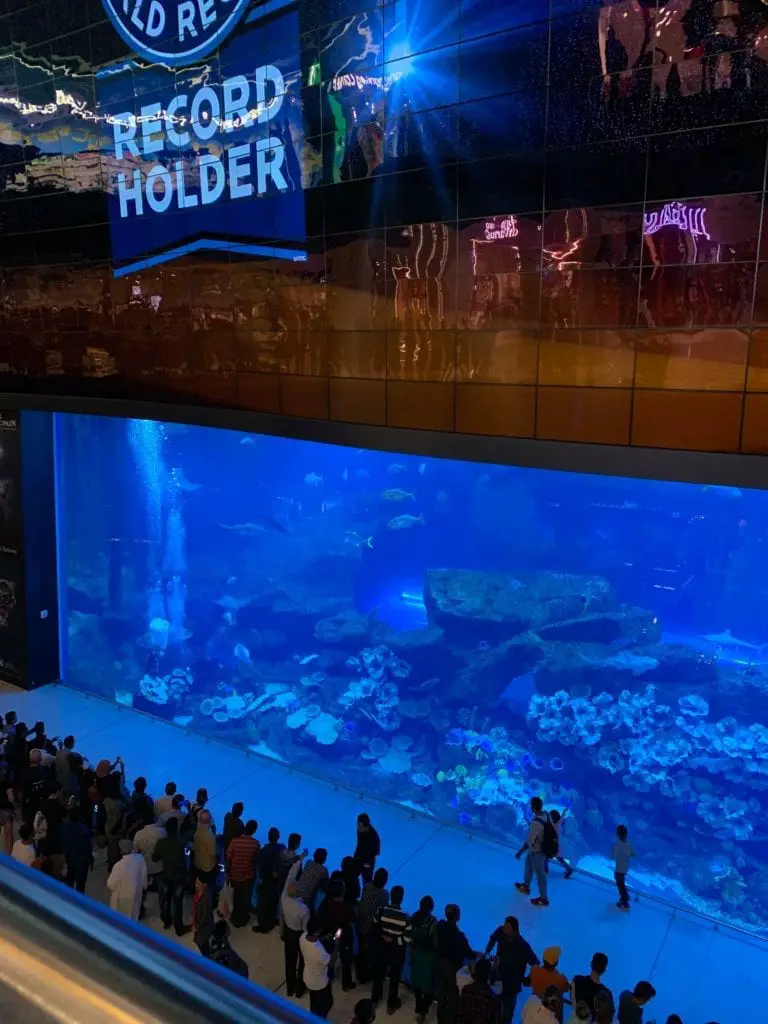 The Dubai Mall is not just a mall. It is an experience. This mall sits below the Burj Khalifa and is the largest indoor shopping center in the city. You will find a range of luxurious stores and restaurants to well shops and American brands. You can spend hours here. The mall also houses the Dubai Aquarium, you can enjoy the giant tank that faces the mall for free or you can purchase a ticket and go inside.
12. Wings Of Mexico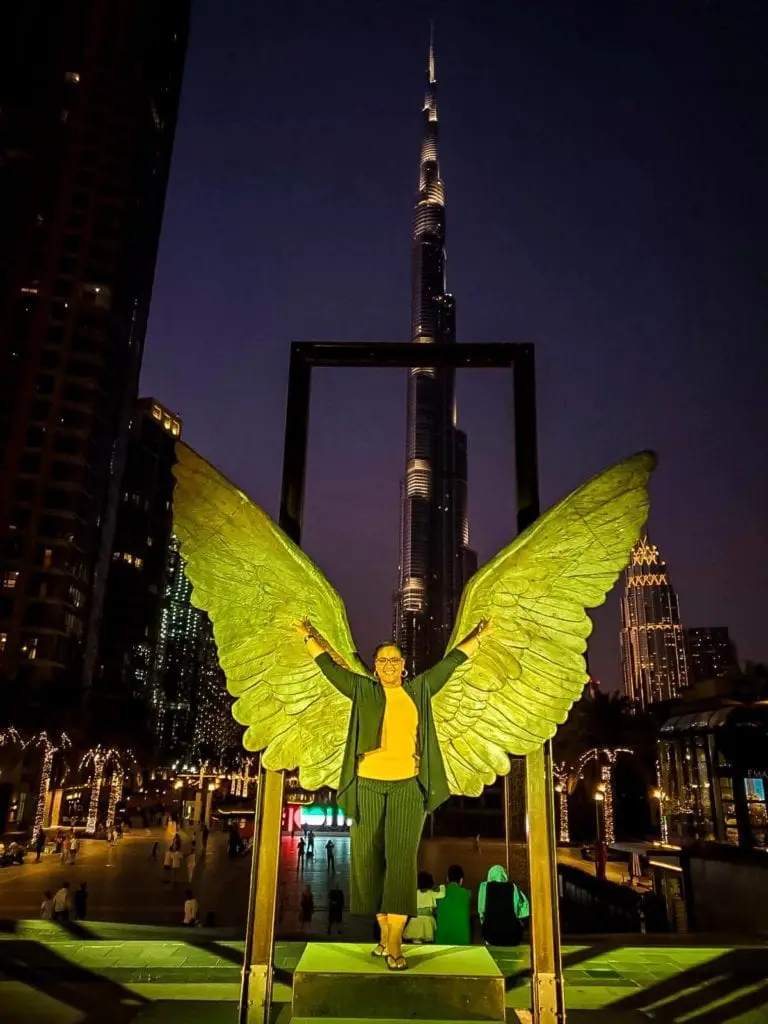 This was one of my favorite installations in Dubai. The wings are perfect to get a great shot with the Burj Khalifa in the background. We went a couple times and it was not very crowded. The line moves quickly. This is another one of those free things to do in Dubai, so take advantage and don't miss out.
13. Day Trip To Abu Dhabi
Abu Dhabi is a part of the United Arab Emirates (the capital) . It's a short drive from Dubai, thus making it a great day trip opportunity. One of the best things to do there is to visit the Sheikh Zayed Mosque. This oppulent mosque is the the largest in UAE. It is visited by millions each each year. Keep in mind they are VERY strict on the dress code, either come dressed with appropriate clothing or be prepared to borrow clothes there.
14. Go Skiing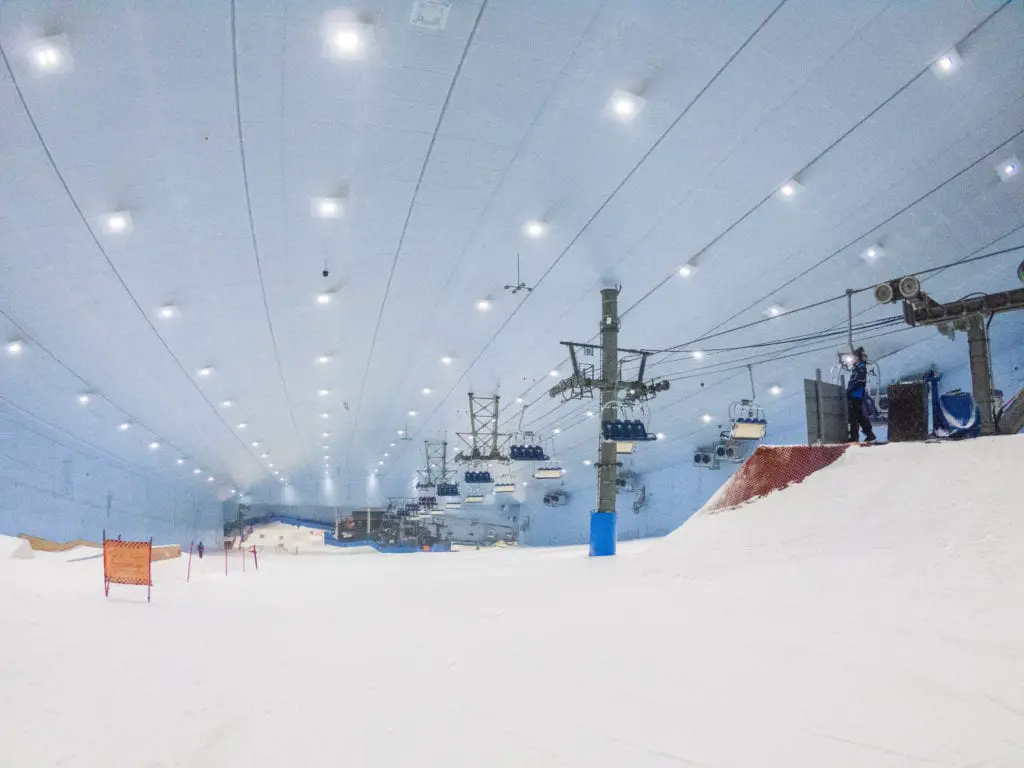 Yes, you read that correctly. I am telling you to go skiing in the middle of the desert. No, it doesn't snow there but there is nothing stopping them from making their own snow indoors. You can find the indoor ski center at the Mall of the Emirates. You will also get a chance to see penguins there.
15. Dubai Creek Harbour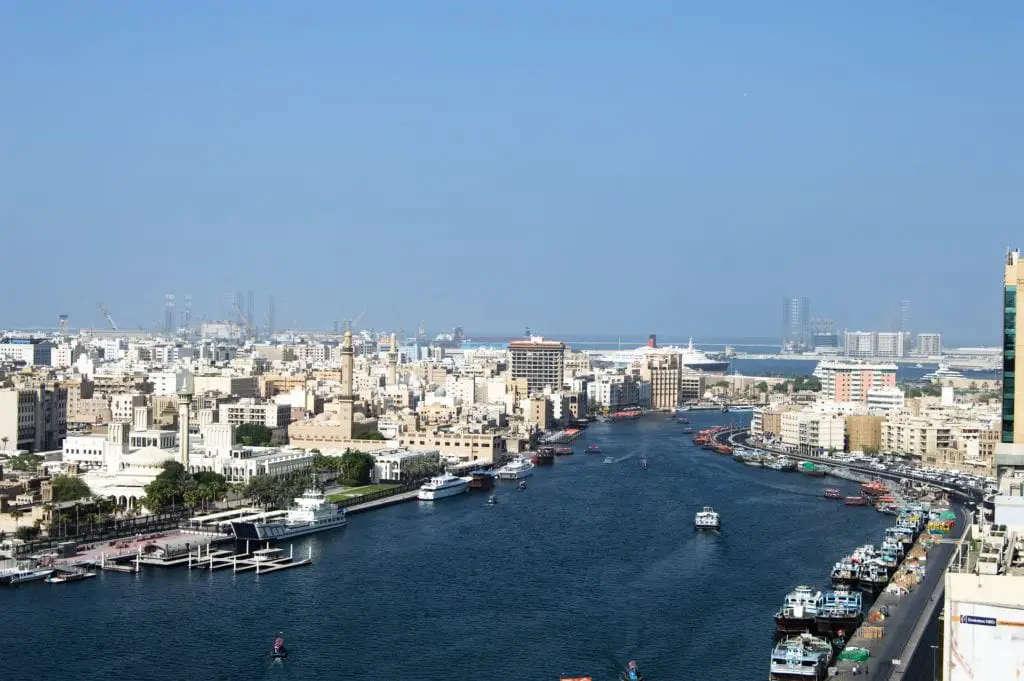 This is a relatively new area. It is actually still under construction in some areas but it is open to the public. You will get to see some amazing views of the city from this vantage point. It is one of the best photoshoot spots in Dubai. Because it is so new, it's not yet crowded. Although the name says "creek" this is different than Dubai Creek.
16. Palm Jumeirah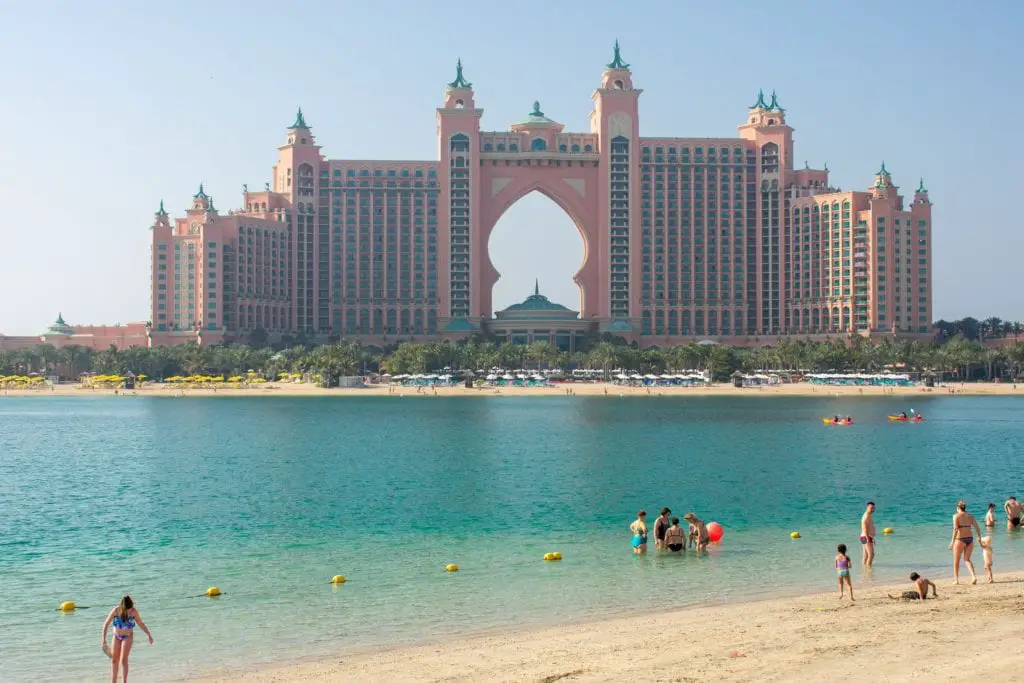 This legendary location is known for it's artificial palm tree shaped archipelago.
17. Burj Park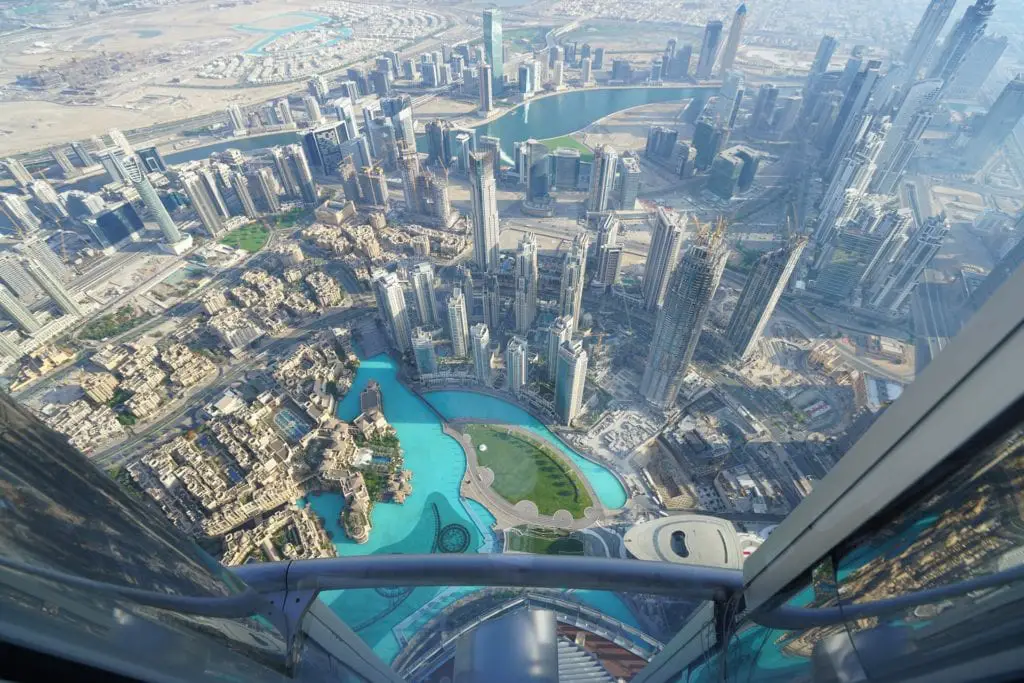 If you are looking for the perfect spot to take a picture of the whole Burj Khalifa tower this is the spot. This park is a beautiful lush area in the middle of the concrete jungle. The whole park has stunning views to offer.Keep in mind you can not shoot pics here with a professional camera. You can only shoot pics with your phone.
18. Palace Downtown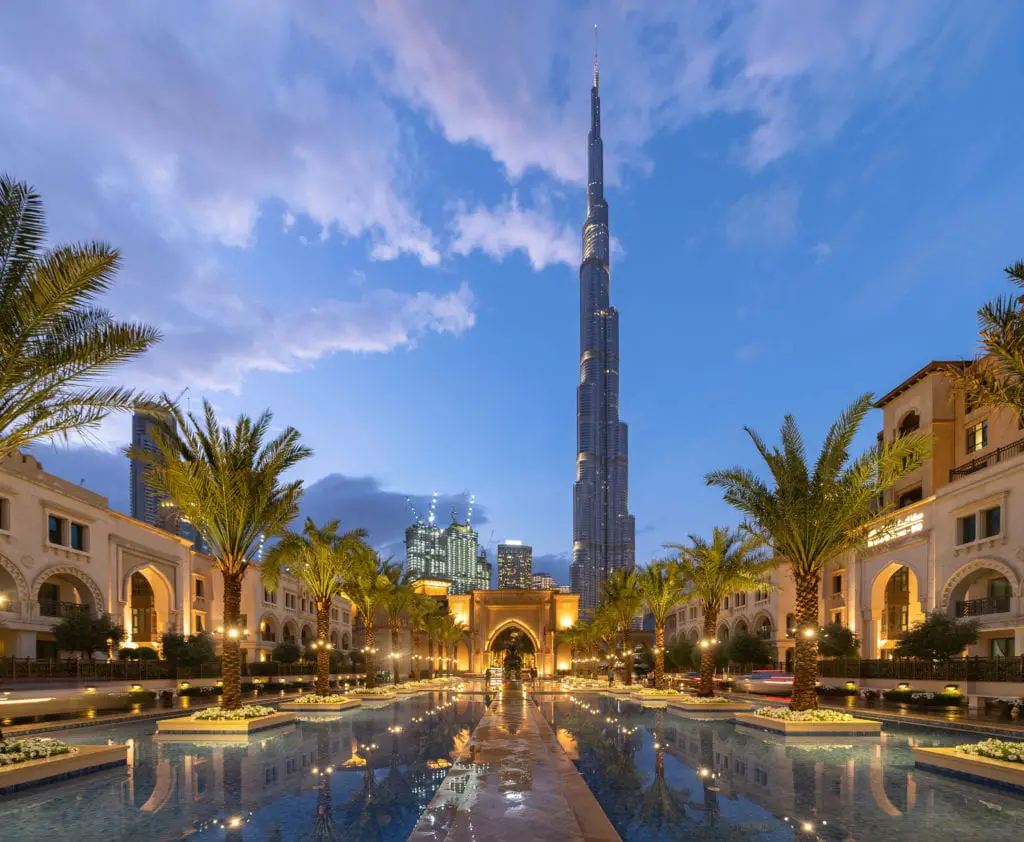 This is one of the most beautiful hotels it also has incredible views. The pool area is gorgeous and you are allowed to visit, even if you are not a guest. From the pool area you can spot the Burj Khalifa so be sure to grab some pics from here.
19. Jumeirah Beach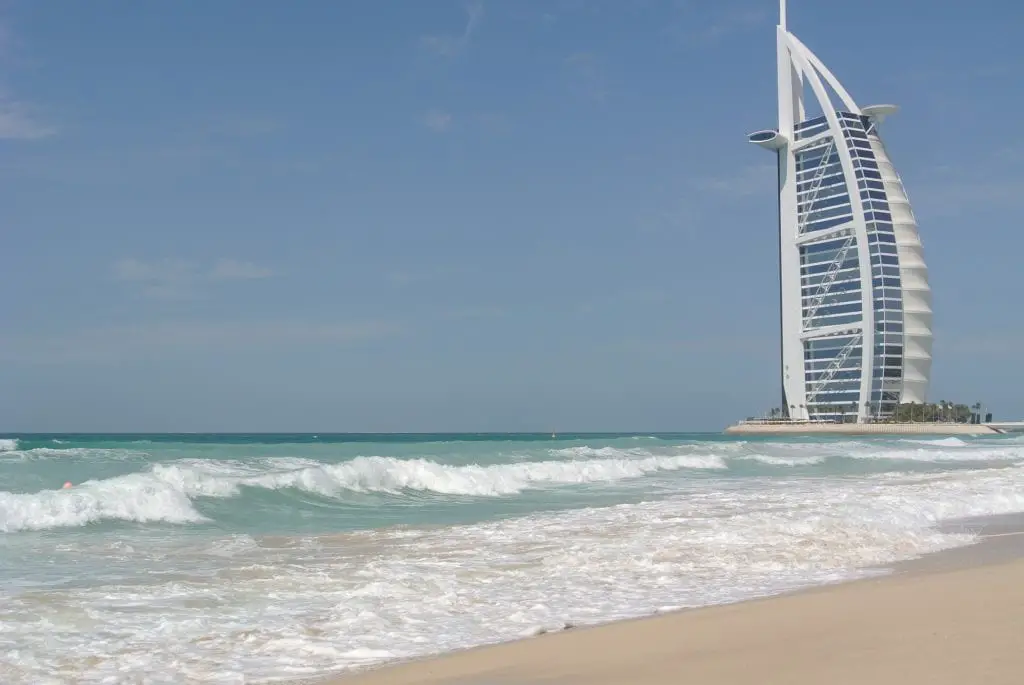 You can take a walk along the boardwalk or you can even take a dip in the nice, warm sea after being in the hot sun. Most of the beachfront has been taken over by the opulent resorts but there are some stretches of beach open to the public. Remember, you can only wear your swimsuit on the beach, you can wear them in restaurans off the beach. Be prepared and bring clothes to cover up afterwards.
20. Madinat Jumeirah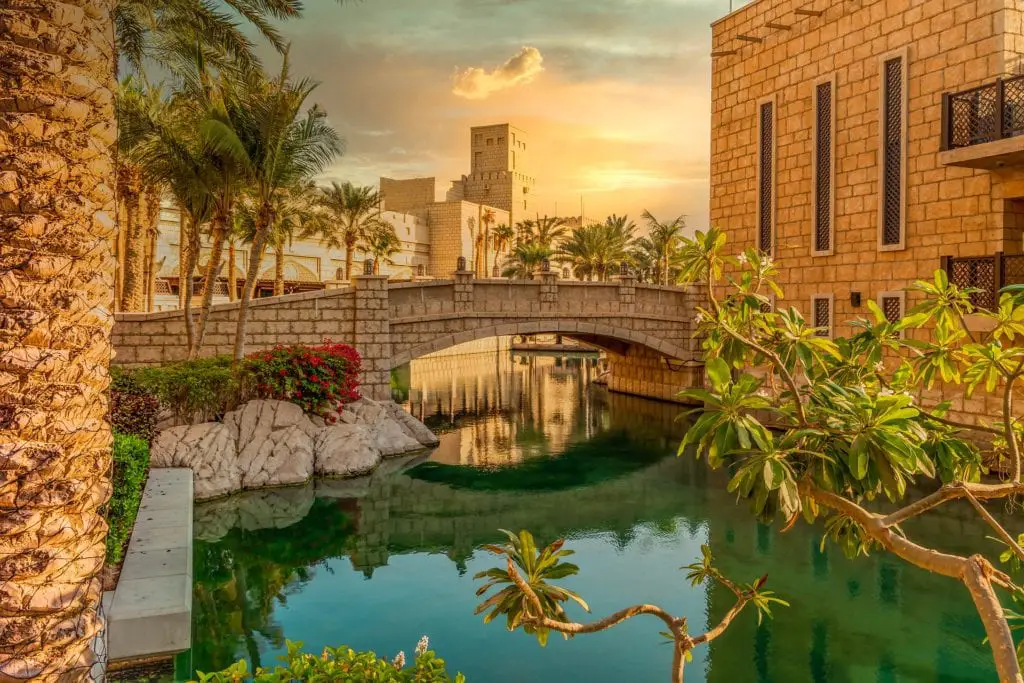 This place is practically a city in itself. It is a 5 star luxury resort complex with 3 hotels, 29 summer houses and 7 villas. You don't have to be a guest to explore the area. The design is inspired by Ancient Arabia. There are 3 miles of man made waterways and canals as well as a private beach, restaurants and bars. They even have their own souk (market).
21. Madinat Souk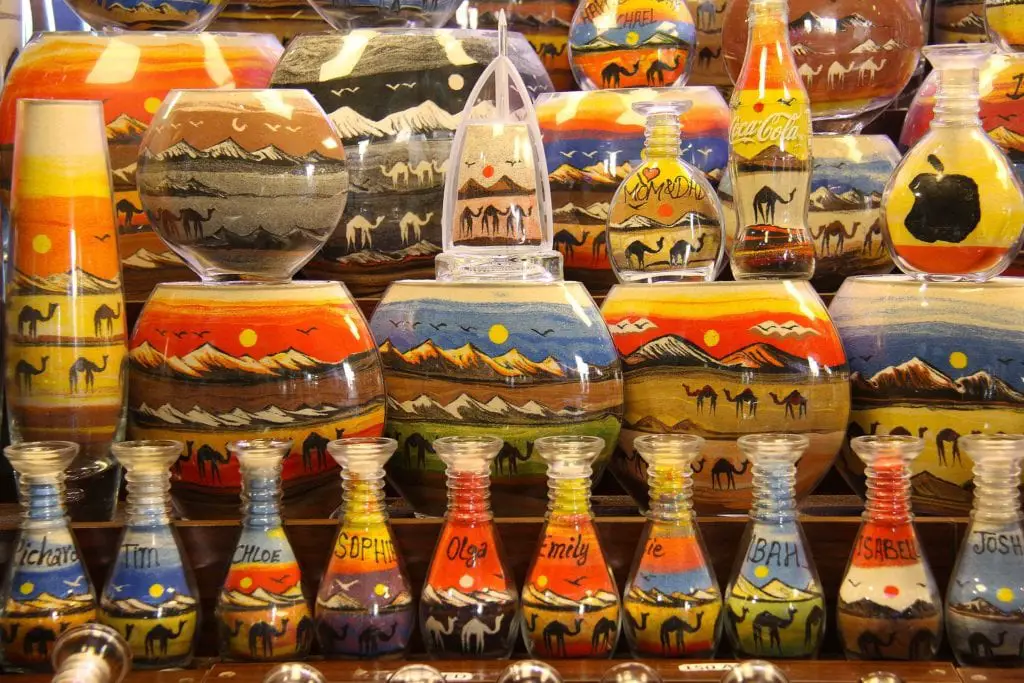 This is a very different experience than the other souks in Dubai. This modern bazaar has over 75 shops and boutiques. You can take your time browsing through Persian rugs, jewelry, traditional clothing and handcrafted souveniers. It is certainly worth your time to stroll through this delightful souk.
22. Abra Ride Across Dubai Creek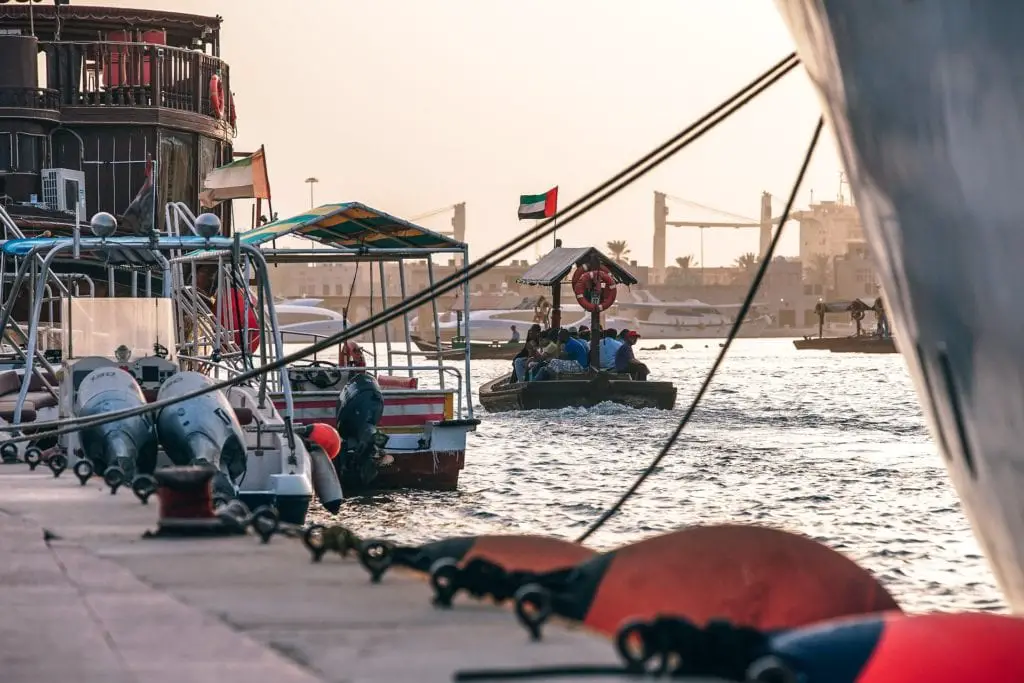 There are several places to take a traditional abra ride, like Burj Khalifa or even Madinat Jumeirah Hotel but Dubai Creek will you the very best experience. This ride will have a more authentic feel and will also cost a lot less. You can hop on while you wandering around in the Old Souk area. They go back and forth from Dubai to Deira, it's a short ride but only about 25 cents in USD.
Tags :
dubai