Vienna Central Station: A Complete Guide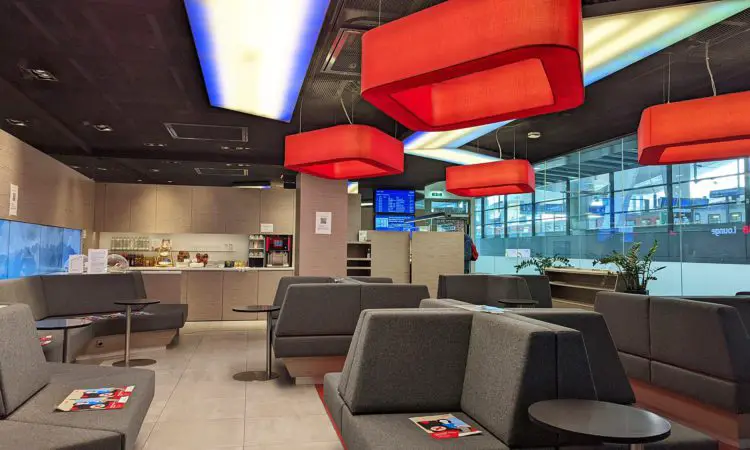 Grounded Life Travel is supported by its audience. When you purchase through links on our site, we may earn an affiliate commission.As an Amazon Associate I earn from qualifying purchases. List of everything we use in our travels.
Known for its parks, picnic areas and beautiful landscapes, Vienna has been named the "Greenest City in the World". Yet, it is also the intellectual and artistic capital of Europe, cultivating the likes of Freud, Beethoven and Mozart. Was it the wide open green spaces enveloped by the distant Alps that inspired them to such exquisite creativity and passion?
When visiting, make sure you hit the highlights of this amazing city. Schönbrunn Palace is a great place to start where Mozart entertained the masses as a mere six year old. Then, have lunch or simply a coffee at the Café Central Vienna. For 150 years, the best minds in Europe have been meeting here, creating, conspiring and making the world a better place.
However, don't leave the city without enjoying the great outdoors. Visit Vienna Woods and its vineyards in Perchtoldsdorf. After a tasting, go on a short hike where you can catch views of the Alps from one of the many cliffside outcrops.
Whether its gorgeous outdoor spaces or charming historical architecture, this bustling city awaits your exploration. Traveling around Europe by train is definitely the way to see everything on your itinerary in a convenient and enjoyable way. Vienna Central Station is the perfect place to kick off your tour by riding the rails.
Vienna Central Station Overview
You will find the largest railway station in Vienna, serving 145,000 passengers per day at Vienna Central Station. It is also one of the newest stations in the world, having opened in 2015. The vision was to have a central hub for transportation that was fed by urban city living and ample retail space. What resulted is a progressive and modern area that is the new heart of the city. Vienna Central Station has since replaced the previous three dead end terminals with a through terminal that has allowed travel through Vienna to be seamless and uncomplicated with fewer transfers and more destinations.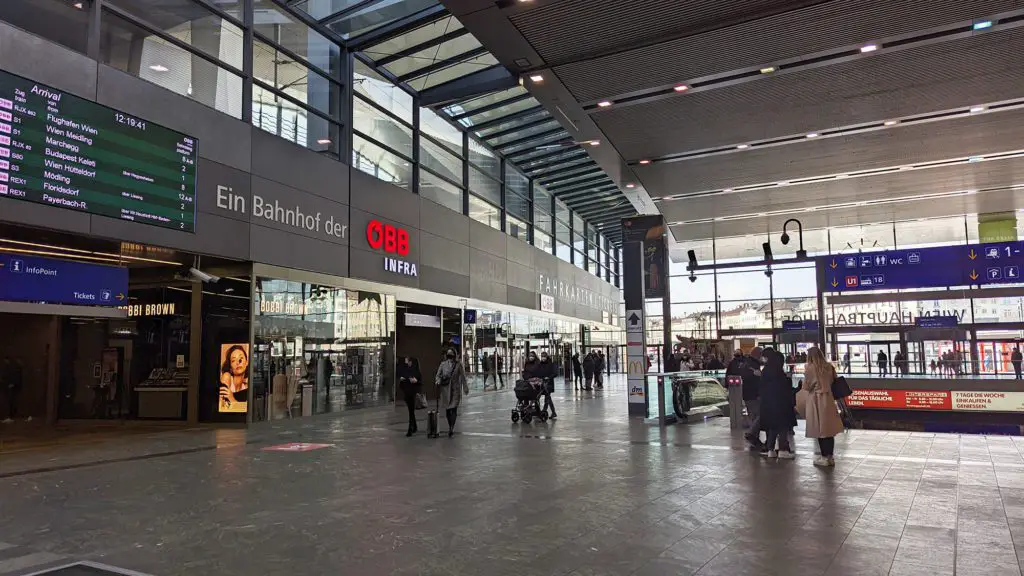 The layout of Vienna Central Station kept the modern traveler in mind with its efficiency and navigability. Entering in through the Main Entrance on the Northern side of the station is the most convenient, as it is closest to the city center. Once inside, you will see an atrium lined with shops and restaurants. The Ticketing Office and the First Class Lounge are also on the main level along with an Interspar Supermarket near the Southside Entrance.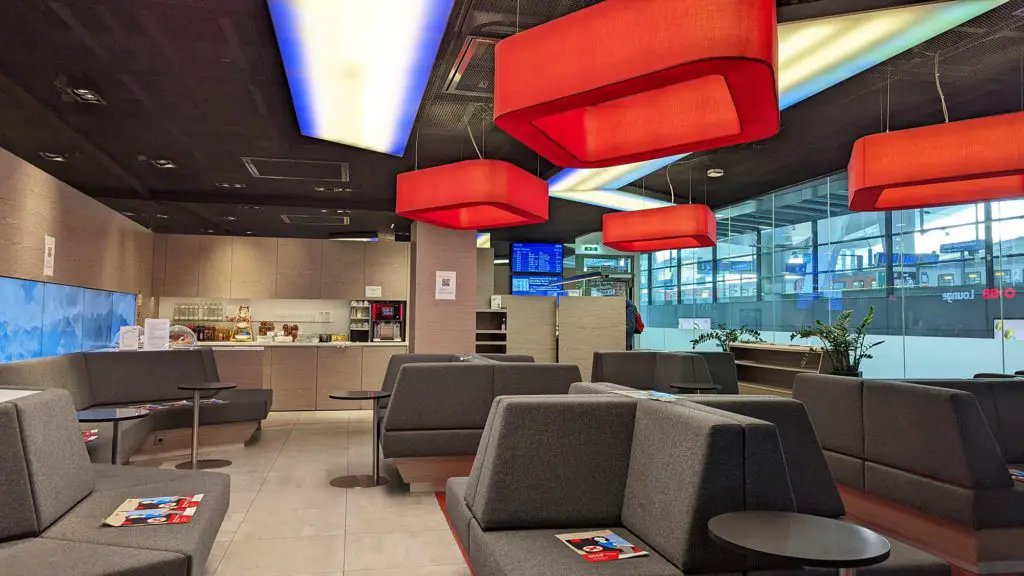 To the right of the main entrance are the stairs and escalators for platforms 3-12 that are one level up from the ground level. If you are to take the staircase to the left, Platforms 1-2 can be reached on the underground level. Here, you can also access left luggage, toilet areas and coin changers.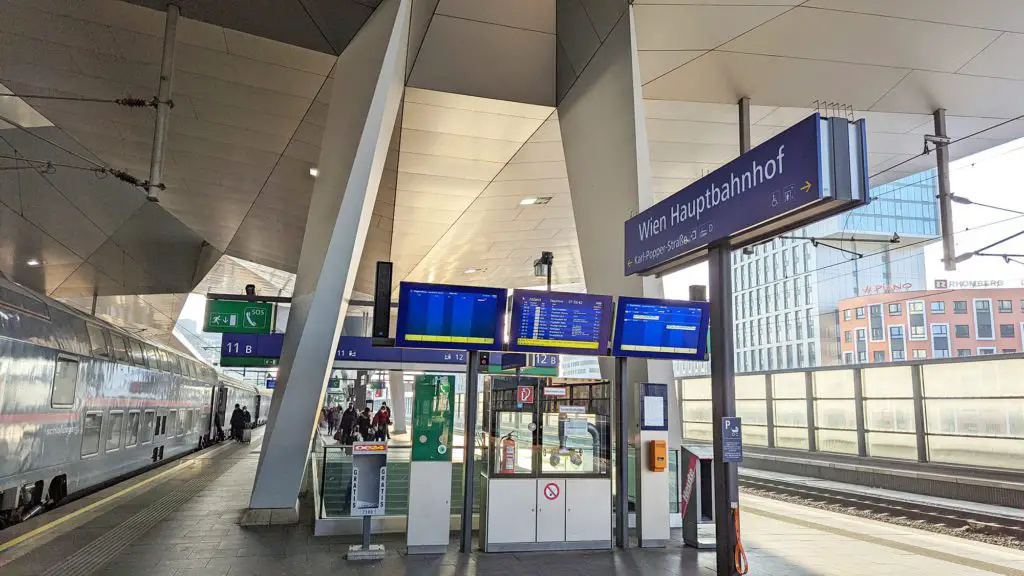 How to Buy Tickets at Vienna Central Station
There are three ticketing offices at the station. The main Ticketing Office is located on the main floor on the Northern side of the tracks. You can get information from ticketing agents about any needed travel as well as itineraries that might meet your needs. If you find yourself needing a Westbahn or Regiojet ticket, their offices are by the First Class lounge also located on the main level.
We book our train tickets in Europe using either Trainline or Rail Europe. These services offer an easier customer experience as we've found our credit cards work better when booking through these sites. Eurostar Tickets can be booked on either platform. In addition Rail Europe offers rail passes if you are planning a longer trip.
Where to Eat at Vienna Central Station
If the Interspar Supermarket does not serve your needs, there are many other places to provision and dine in or near the station. If you don't want to go far from your platform due to a quick stop, there are many fast food venues and cafés to curb your appetite.
However, if you have time before you depart, try some of the places in the BahnhofCity Mall adjacent to the station. For some mouth-watering pizza, try L'Osteria and savor their authentic, made to order pizzas, that will transport you to the Italian Riviera. For a great poke bowl try Bali Bowls and get yoru fix of "fresh" before you set off on your next adventure. If you need to get away from the chaos that can come with travel, go across the street to Der Ringsmuth for some delicious schnitzel and a pint that is sure to calm your nerves and revitalize.
Where to Stay Near Vienna Central Station
Located just steps from the station you can find the AZIMUT Hotel Vienna just a 3 minute walk from the station. Here, you can enjoy a gym, sauna and an outdoor area to enjoy some lawn games. Comfortable beds and spacious tubs round out this stay and make a great place to hang your hat for a few days.
One of the newest places to stay near the station is Motel One Wien-Hauptbahnhof just, located just 0.2 miles from the station. With it's grand opening in 2015, this motel is clean, modern and has all the conveniences you need to rest up for your next adventure. Walk to your platform is less than five minutes.
If you are hoping to stay in a historical building, yet have the modern conveniences you expect, try Ruby Lissi Hotel Vienna. This18th century hotel will shower you with the finer things in life. With its lavish decor of cherry hardwood floors, heavy wainscoting, opulent chandeliers and fine fabrics, you will feel like royalty. Subway access will have you on your platform before you know it, rested and ready for your trek.
How Early do you Need to Arrive at Vienna Central Station
Because of the modern and beneficial layout, you can virtually show up moments before your train is scheduled to depart. It is said, even if you arrive without a ticket in hand, it is easy to get a ticket and be on your train in no time. However, you may want to satisfy your inner shopaholic inner self and arrive early to browse through BahnhofCity Mall before you go onto the next exciting city.
Best Trips From Vienna Central Station
Switzerland
One of the best places you can go from Vienna is Switzerland. Check out our list of the most scenic train rides in Switzerland for some inspiration for your trip.
Saltzburg
You can't leave Austria without visiting Salzburg. With its wide open spaces and views of the most beautiful mountains in the world, it's worth the trip just for this alone. However, there are so many other options for recreation in Salzburg. From the quiet historic streets of Old Town Salzburg, to dominating fortresses, Salzburg is a place everyone should visit at least once. In under 2.5 hours, you can be gazing up at the massive ceiling of St. Peter's Church or strolling the gardens of Mirabell Palace (Sound of Music). One thing is for sure in that Salzburg can't be missed.
Budapest
Budapest is just a short 2.5 hour train ride and boasts some of the most beautiful scenery in Europe. Step off the train and behold the magnificent architecture that envelops you. Tour St. Stephen's Basilica and then take a walk down Andrássy Avenue to get a sense of just how special Budapest's architecture truly is. Next, you have to make time to try one of the 123 hot springs or nine medicinal baths around Budapest. Széchenyi Thermal Baths is the largest medicinal bath in Europe. Soak in the steaming hot water that contains calcium, magnesium, hydro-carbonate, as well as containing sodium and sulphate and feel rejuvenated for your next adventure.
Vienna has culture, beauty and so much to do, you will have to plan to stay a week to get it all in. When it is time to say goodbye, Vienna Central Station will be calling to take you to your next destination on your trip of a lifetime around Europe.