Paris Gare Du Nord Station: A Complete Guide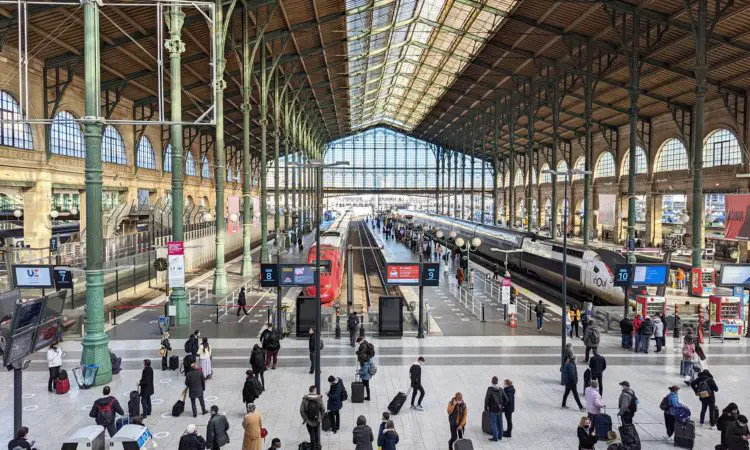 Grounded Life Travel is supported by its audience. When you purchase through links on our site, we may earn an affiliate commission.As an Amazon Associate I earn from qualifying purchases.
With over 19 million people visiting this amazing city every year, Paris gets the #2 spot in the most visited places in the world for a reason. Paris is beautiful, exciting and there is always something going on. The history and architecture of this city is almost unmatched by any other place in Europe and the Paris Gare Du Nord station is responsible for bringing many of those visitors to the city.
With twenty arrondissements or districts within the city limits of Paris, there are many personalities that Paris exudes. It could take years to really explore everything this city has to offer, but you can try and hit as many highlights on your vacation as possible. Don't leave without visiting the 7th arrondissement, which includes the Eiffel Tower, the Musée d'Orsay museum and the Les Invalides. The 1st arrondissement is also the place to be in Paris. The Lovre, the Place Vendôme and the Palais-Royal quarter must be visited to get the full flavor of Paris.
On your European tour, you will eventually be ready to explore other areas although it will be tough to pull yourself away from "gay Paris". When it's time to go, the Paris Gare Du Nord is your gateway to exploration. This train station will make leaving Paris easy and stress-free.
Paris Gare Du Nord Station Overview
If you want to get to anywhere in Northern France, Belgium, Germany, the Netherlands or the U.K., the Paris Gare Du Nord station will be your starting point. In fact, as soon as the station opened in 1846, engineers, designers and architects realized that the station would be too small for the boom that was being seen in train travel, and plans to demolish and expand the station began.
Even today refurbishments, remodeling and additions are underway to make room for the influx of passengers that the 2024 Olympics will bring. Remodeling and construction will modernize and bring all the amenities that a world class destination station requires.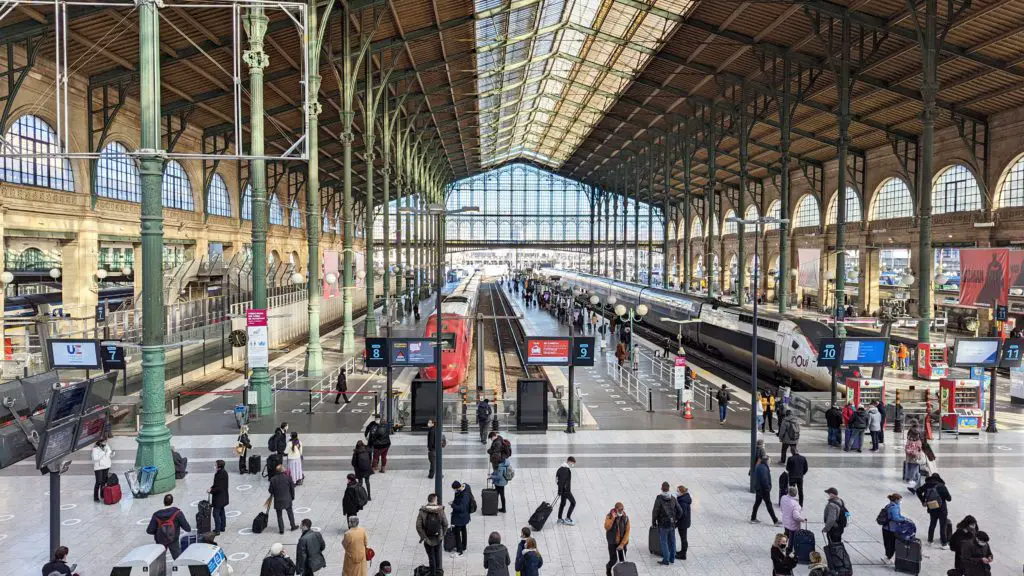 How To Navigate Paris Gare Du Nord
At Gare Du Nord you will be entering the busiest train station in Europe. The facade is a fabulous sight to see and you are greeted by 9 statues that represent the cities that were served by the original rail company, the Chemins de fer du Nord.
Once inside, you will see the incredible arched roof that spans the entirety of the station. You will find access points to the RER/Metro, Eurostar, Thalys and hundreds of high speed trains to get you to your destination.
The station consists of four areas to enjoy the station and also catch your train. The Eurostar Terminal boasts shops to buy gifts or just peruse the various goods. The Quai Transversal is the soul of the station where all the platforms lie. Levels one and two are there for hundreds of thousands of passengers to arrive and depart on their journeys.

There are a wide variety of shops, kiosks and services to cater to all passengers while the station is open 4:30 a.m. to 1 a.m. daily. There are 36 platforms at the Gare Du Nord, therefore, ensure you are keeping up with arrivals and departures on the board above so you can make it to your platform on time. The layout of Gare du Nord is quite complex so you may want to arrive early if you are not familiar with it.
There are also plenty of shopping and dining opportunities at the station. In addition to the mall that currently operates, a grand scale renovation is underway that will make this station a destination for not only travel, but for leisure and shopping opening before the 2024 Olympics begin.
How To Buy Tickets At Paris Gare Du Nord Station
The ticket office is down the escalators to the Metro. You will also find ticket machines that can save time if you are purchasing a ticket last minute. If you do plan ahead you can buy a ticket online to save on time when you get to the station.
We book our train tickets in Europe using either Trainline or Rail Europe. These services offer an easier customer experience as we've found our credit cards work better when booking through these sites. Eurostar Tickets can be booked on either platform. In addition Rail Europe offers rail passes if you are planning a longer trip.
Where to eat at Paris Gare Du Nord Station
There are a multitude of places to choose from when your tummy tells you it needs to be filled. From a bagel and coffee at Costa Coffee, to the Pradier House for a quick scone or pastry with tea, you can definitely grab something, hurriedly.
If you have time on your hands you can peruse the shops that permeate the station. Visit chocolatiers, florists and even phone stores. After, take a quick walk across the street to have something more substantial for lunch. Terminus Nord Brasserie serves up oysters and seafood platters as well as French desserts that will send you to heaven.
Where to stay near Paris Gare Du Nord Station
Finding a great place to stay close to the station will be no problem in the 10th arrondissement that surrounds the station. From deluxe to economy, you will be covered for a place to rest you weary head.
Measuring only 394 feet from the station, Hotel Hor Europe will keep you close to the station for that early morning walk to your platform. If you have time, enjoy there terraces and gardens for guests to relax. Free WiFi is also included in your stay.
If you prefer a bed and breakfast, A Room in Paris may be the choice for you. Walk 853 feet and you can be loading your train from this charming property. Feel right at home along with the right mix of Parisian flare that will welcome and comfort you as you slumber.
If you are looking for quarters that are a little more private, try a home sharing app that can take you to this great property that is just .7 miles from the station." Appartement design avec terrasse" is a room with a view and you can even walk to the Seine River from this property.
How early do you need to arrive at Paris Gare Du Nord Station
In any situation, you should always arrive to the station at least 20-30 minutes before your departure. However, there is so much to see and do at this station that you might want to allow 45 to one hour to walk the shops, buy a gift or have a coffee. People watching is also a fun activity if you have the time. I mean, how many times will you be in the busiest train station in Europe?
Best trips from Paris Gare Du Nord Station
In only 2.5 hours, you can travel from "The City of Lights" to the city "Where Royalty Lives". The Eurostar high speed train will take you through the Chunnel to see all the best that a world class city like London boasts. See Big Ben, Windsor Castle and eat in an authentic London Pub, all before noon! Then, be back in Paris to see the Eiffel Tower at sunset. What a perfect day!
Hop on a train and take it to one of the most famous places in the world. The Palace of Versailles can be toured alone or by guided tour after a quick 35 minute trip by rail. Enjoy the sights, take some photos and walk its 1800 hectares of gardens that will put you in sensory overload.
If you have a full day and you love wine, a trip from Paris to Burgundy should be on your itinerary. In 3.5 hours you can be wine tasing, having lunch in a vineyard or touring the gorgeous countryside that is one of the most famous wine regions in the world.
Paris is a must when traveling Europe. There are so many other places also accessible by train from this impressive and magnificent city. Enjoy a day or a week, but no matter what, you will want to come back for more!