Madrid Atocha Train Station: A Complete Guide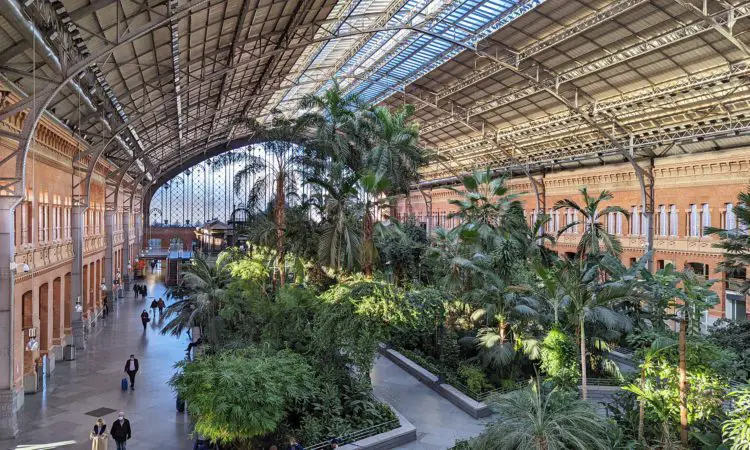 Grounded Life Travel is supported by its audience. When you purchase through links on our site, we may earn an affiliate commission.As an Amazon Associate I earn from qualifying purchases. List of everything we use in our travels.
Madrid, Spain takes the cake for being the coolest city in Europe. Madrid is the home of a stunningly beautiful landscape, outrageously delicious food and enough museums and historical places to fill a week. Heck, you may even need a month to explore this city top ranked for one of the best places to spend your time in Europe.
Peruse art museums that boasts the incredible works of Goya, Picasso and Velázquez. Relax on a rooftop deck with a view as you dine on exquisite Spanish fare. Shop one of many markets such as the Mercado de Vallehermoso, where you'll find foods from around the world as well as other entertaining antics. There is so much to experience in this city, so make sure your itinerary includes a variety of things that this rich culture has to offer.
Eventually, you will have to tear yourself away from this exceptional city in Europe to further your travels. Taking the train is the mode of transportation of choice as you meander around Europe. The Madrid Atocha Train Station will give you many options for traveling domestically as well as internationally.
Madrid Atocha Train Station Overview
Madrid Atocha Train Station is a vast expanse of train track, escalators and gardens.
Wait, Gardens?
Yes, Madrid Atocha not only features three train stations in one, but also an enormous and historic train shed that was erected in 1892 and designed partly by Gustave Eiffel. Because of the popularity of train travel, this shed was abandoned for trains and converted to a 43,000 square foot indoor garden that today is more reminiscent of a jungle.
You will also find wonderful shops and restaurants in this older part of the station for your amusement. You can buy everything from cosmetics to clothing to tobacco. It's safe to say, you may miss your train if you get too wrapped up in shopping, so check your watch!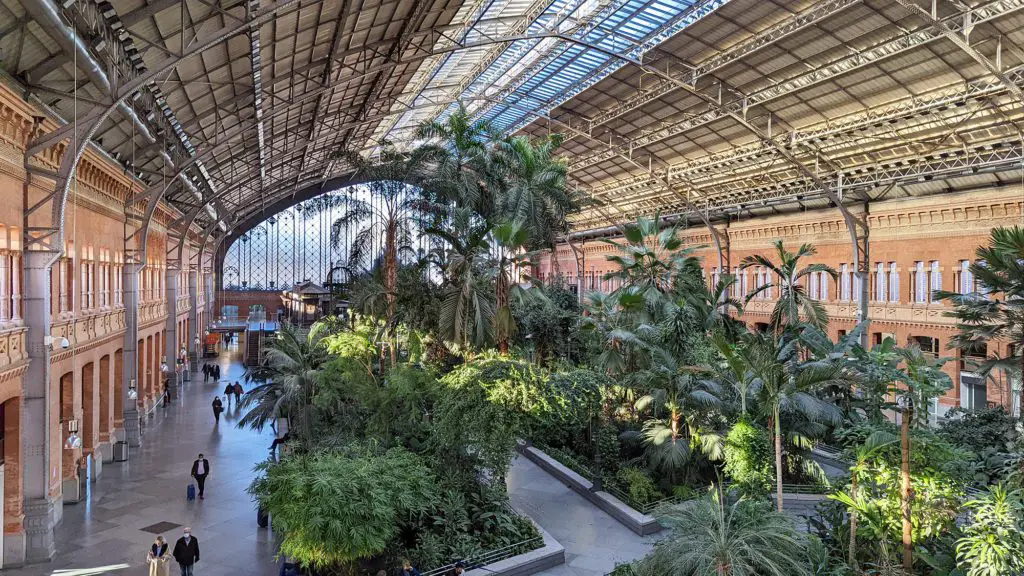 Madrid Atocha Station is made up of three smaller stations. Madrid-Puerta de Atocha, Madrid-Atocha Cercanías and Atocha Renfe all form a network of high speed, regional and metropolitan trains that, together are the largest and busiest in the country. You can get to many places in Spain such as Barcelona, Cádiz, Córdoba, Granada, Málaga, Seville, Valencia and even Paris.
There are four levels at this station. On Level(-1), lies the tracks for the Cercanias Station where local trains as well as non high speed trains depart. Going up one level to Level (0)or Puerta de Atocha is the Planta Baja departure hall, the main ticket office, ticket machines, left luggage lockers and most of the shops at the station. The indoor garden is also on this level as well as pay "luxury" toilets. Level (1) is at street level and contains the Planta Primera departure hall. Level 2 is where you will find the departure for taxis and the tracks for all high speed departure trains.
Make sure you pay attention to all of the signage throughout the station as you navigate to your platform. All directions are bilingual so you will be able to easily get to where you are going as you traverse the various levels of the train station.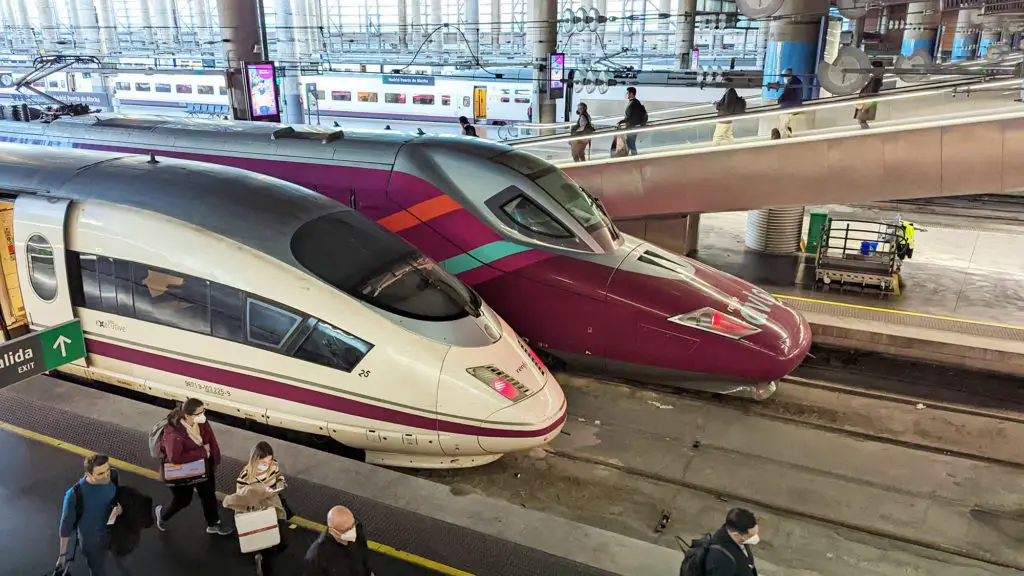 How to Buy Tickets At Madrid Atocha Train Station
If you are traveling locally and using the Cercanías you have no choice but to purchase tickets at the station as there is no online purchasing available for these tickets. When using high speed services through Puerta de Atocha you can buy online or at the station. You can save time by buying tickets at the ticket kiosks at the station if you don't need to speak with a ticketing clerk for advice or directions. However, these helpful humans are always a wealth of knowledge whether it be your first time to the station or your 100th.
We book our train tickets in Europe using either Trainline or Rail Europe. These services offer an easier customer experience as we've found our credit cards work better when booking through these sites. Eurostar Tickets can be booked on either platform. In addition Rail Europe offers rail passes if you are planning a longer trip.
Where To Eat At Near Madrid Atocha Train Station
When you are in a rush and need a bite to eat pop into Puro Gusto, Metro Coffee or La Pausa for a quick coffee and pastry or a sandwich on the go. However there are some really great restaurants just steps away from the station if you have time to wander.
Try Meson Restaurante As Fontes for some authentically delicious Spanish tapas. Just a five minute walk will have you dining on perfectly prepared Galician monkfish and laing, a must if in Madrid. Empanadas Las Muns – Atocha has the best little handheld bites of goodness you ever have tasted. Additionally, you won't regret carving out time for quintoelemento where you can get a perfect combination of Mediterranean, Latin American and Asian food in a fabulously beautiful atmosphere.
Where To Stay Near Madrid Atocha Train Station
The train station can be reached by many nearby hotels the day of your departure. From luxury to economy, you can find what you are looking for close to the station.
When looking for a room with a view, try 60 Balconies Art. This hotel explains everything that it is in its name and is only steps to the station. Modern rooms with a hip vibe and clean lines are framed by a balcony with a view at this hotel. Kitchenettes, hardwood flooring throughout and free WiFi round out this fun find in the heart of Madrid.
If rock and roll, memorabilia and a comfortable place to lay your head is your idea of a great hotel, then you'll find it at Hard Rock Cafe Madrid. Soak in your garden tub as you bask in the city lights from your view. It doesn't get much better. Eat breakfast in the garden in the morning before your departure for your next big adventure.
There are 69 hostels in Madrid. Hostels are aplenty in this wonderful Spanish town. Most are very close to the station or just a quick taxi ride away. Choose from Oxygen Hostel or Hostal Noche y Día for an affordable way to stay in Madrid and see the sites.
How Early Do You Need To Arrive At Madrid Atocha Train Station
Because Madrid Atocha is a large and busy station, getting to the station early is a good practice. Your bags will need to be X-rayed before departure, therefore, at peak times you may need to get to the station with time to spare. Getting to the station 30-45 minutes early is a good idea even if you know the station like the back of your hand. The up side to getting there early is that if it isn't busy, you can shop or get a pastry and coffee as you wait for your train.
Best Trips From Madrid Atocha Train Station
Segovia
Segovia, in the beautiful and historical Castile and León region, can be reached in 2 hours and 15 minutes by train from Madrid. Where else can you find a Roman aqueduct older than the bible and still in use, a royal palace and one of the most stunning cathedrals in all of Europe?
You can carve out an action packed day as you visit this amazing town, or stay the weekend. Not only is this sweet Spanish town brimming with things to do, but you can stay overnight for next to nothing in a four star hotel with elegant rooms and lavish spas. Now, that's my kind of vacation!
Ávila
Step off the train into a fairy tale land complete with a medieval wall, towers and and statues that date back over two and a half millennia. In a little over an hour you can be walking the street of this incredibly ancient town where charm and character flow.
Don't miss the Catedral de Avila, which dwarfs its visitors with towering stain glass windows and stone buttresses. Walk about the Plaza de Santa Teresa for some shopping and a great Spanish meal.
Valencia
This gorgeous port city on the Spanish Mediterranean Sea is a travelers favorite. Beaches and old architecture make this a holiday to remember. However, there are also many fantastic museums to explore in this vibrant town.
Explore the Oceanogràfic sea life center, where you'll see the best collection of ocean life and artifacts in Europe. Stop by the Principe Felipe Science Museum where you'll learn and experience the wonders of science and space under the magnificent architecture of this unique and humbling building.
Lastly, you can round out the day by visiting at one of the fabulous beaches in Valencia. Spend a day at El Cabanyal Beach and relax on the beach or take a mast ship ride down the coast. Take in the sights of the wide sandy beach of Las Arenas Beach. You can bask in the sun and then take in the happening night life that abounds after the sun sets. You really can't go wrong with this plan for ending your day.
Madrid is definitely not a city to overlook on your European travels. Stay in the city and spend some time soaking up the history and sights or get on a train from Madrid Atocha Train Station to a nearby or far way town. Whatever you do, make sure you include Madrid and train travel as a part of your European getaway.