The Blue Train-15 Things You Need to know About This Luxury South African Train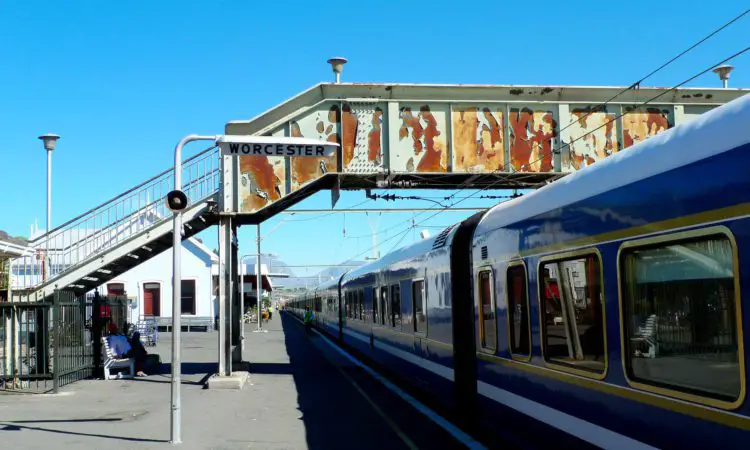 Grounded Life Travel is supported by its audience. When you purchase through links on our site, we may earn an affiliate commission.As an Amazon Associate I earn from qualifying purchases. List of everything we use in our travels.
Africa is a playground not only for wildlife but also for adventurous people that love Mother Nature and all the things she encompasses. From the desert sands to the plains that champion the most prized safaris, Africa is one of the most amazing, yet mysterious places on Earth.
South Africa is a part of Africa that is refined yet untamed in all the right places. There's Capetown and it's beautiful beaches. Johannesburg has giant skyscrapers, galleries and historic sites. Likewise, you can never miss out on Krueger National Park and the grand safaris to be had. All of this is waiting in one of the best vacations you can ever take, and you can see it all by train.
The Blue Train is one of the most prized ways to travel in Africa , as well as all the world. Take a long weekend, and experience the grandeur of Africa by train.
Does the Blue Train still exist in South Africa?
The Blue Train is alive and well in South Africa! Its stand out royal blue color is befitting for a train that does just that, treats you like royalty. Passengers will enjoy everything on board, from its luxurious dining car, to the spacious and lively observation carriage, to its five-star accommodations, nothing has been left out on this excursion of a lifetime!
How long is the Blue Train ride in South Africa?
The Blue Train travels a 994-mile journey over two nights, which has been called a "slow journey", allowing you to experience everything inside and outside the train that is available. All senses will be on high alert as you watch the varied and beautiful African landscape pass you.
Where does the Blue Train travel?
The Blue Train will begin and end in either Pretoria or Cape Town, South Africa and travel to its destination. There will be several scheduled stops between point to point in order for passengers to stretch their legs and shop or to go on a provided excursion. Some of the things passengers can do:
Pretoria- Start at Pretoria Station where you can enjoy the lounge and its refreshments before you embark on a new adventure.
Midrand- This will be a relatively short stop but will give you enough time to check out the Midrand City Shopping Centre as it is the largest shopping mall in South Africa.
Vereeniging- This is a short stop just 45 miles from Johannesburg.
Kimberley-Visit the Kimberley Open Mine Museum and The Big Hole. Learn about South African mining history
Cape Town- This is where you will disembark and enjoy either a night in Cape Town. Grab a bite to eat and relax in your hotel, or spend the night out on the town.
What are the accommodations like on the Blue Train?
The Blue Train operates two train sets on a weekly basis. One train features a Deluxe Suite configuration, while the other train set operates with a Luxury Suite configuration.
Both the Deluxe and Luxury Suites are lavishly appointed with elegantly decorated Italian marble and gold-plated fittings. All contain either twin or double sleeping quarters. They also all have an ensuite bathroom adjoining and a Butler's quarters to serve your every need, day or night. The Deluxe Cabins are 8 square meters of space while the Luxury Cabins are 10 square meters of space. You will also enjoy unbelievable views from your cabin from the huge windows in each space bringing the outside in.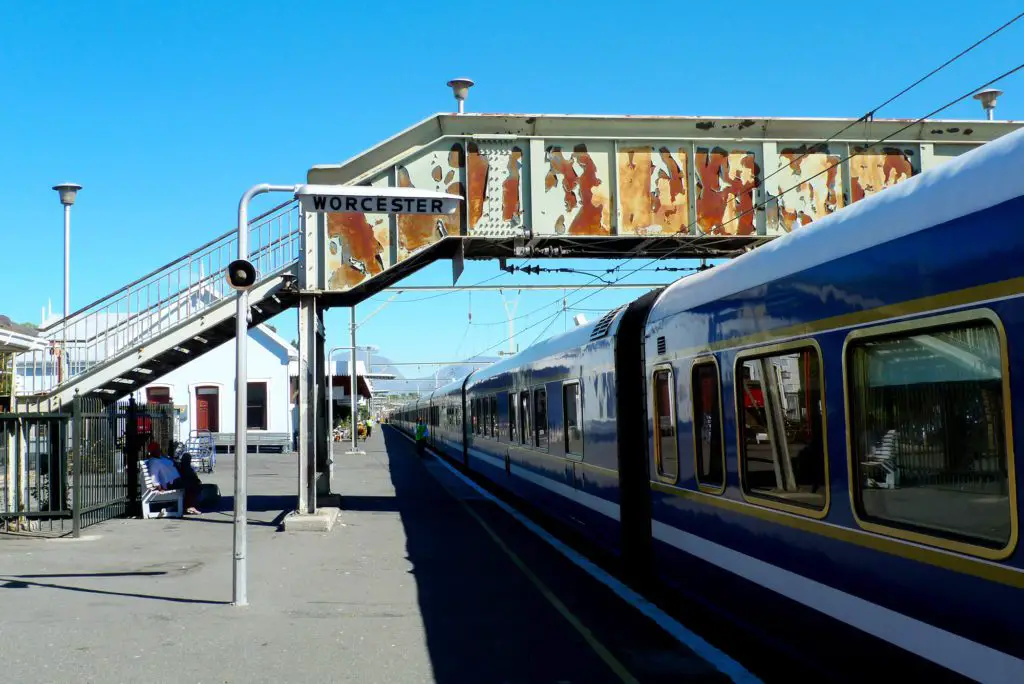 What is the dress code for Blue Train meals?
The dress code discourages attire such as cut off shorts and flip-flops but would encourage smart dress attire. At night you may even want to ramp it up a notch and where a suit and tie along with a dress of the fancier persuasion to celebrate your five-star meal.
Is there WiFi on The Blue Train?
There is WiFi available on the Blue Train. In fact, there is a Conference Car on the Blue Train that makes this train quite unique. Do you have a company meeting that you would like to have on the train? You can take advantage of the Conference Car, which seats up to 22 people and is equipped with the modern technology you would expect. Ports for laptops, multi-media outlets and projectors are also available.
How many passengers does the Blue Train take?
There are two trains that operate as the Blue Train and both of them have separate passenger capacities. The first train can accommodate up to 54 guests, while the second train can handle a larger load of up to 82 guests.
How many nights is the Blue Train?
The Blue Train runs routes that are 2 nights in length.
What is included on the Blue Train?
The Blue Train is an all-inclusive experience that will provide you with all meals, snack, non-alcoholic and alcoholic beverages as well as excursions and additional transportation. Features that are an additional charge include, caviar, French Champagne and external telephone calls.
What is dining like on the Blue Train?
Dining on the Blue Train is sure to be an unforgettable experience. You will enter the dining car and find it a five-star restaurant. Crystal, silver and elegantly places settings will invite you in for a before dinner cocktail. Award winning chefs will dazzle your tastebuds with meals such as Karoo lamb, venison, Knysna oysters and award-winning Cape caviars. If you require certain food alternatives, gluten-free and vegan meals can be served along with Kosher or Halaal meals.
Can you smoke on the Blue Train?
You can smoke on the Blue Train. There is actually a dedicated observation car that allows smoking as if you stepped into the 1920's. For those non-smoking patrons, there is also an observation car that will be smoke-free.
Should you tip on the Blue Train?
Tips are not necessary. However, if you feel you have received impeccable service and wish to acknowledge this, there is a gratuity box located at the entrance of the smoking club car where you can leave a tip. The gratuity collected will be evenly distributed among the staff at the conclusion of the trip.
What is the cost for riding the Blue Train?
In the low season, fares range from around $2,000 per person to around $4,200 per person depending on the carriage package you choose. Prices range from around$2,600 to $4,800 in high season.
Does the Blue Train offer private charters?
The Blue Train does offer private charters. Do you have a wedding, birthday party or corporate event you would like to celebrate on board the Blue Train? Then, a private charter is a perfect option for gatherings and celebrations. You will begin with a tour around Kruger National Park, then move through Durban, Port Elizabeth and finish in beautiful Cape Town to conclude your trip. A five-star meal and cocktails will be served on board to complete your amazing evening.
Is the Blue Train worth it?
The Blue Train is one of the best ways to explore the lower part of the African continent. It is elegant, comfortable and can expose you to a place you could never have dreamed of. Meals, entertainment, and socializing is taken care of on this trip so you won't have to think of anything. This trip will undoubtedly go down as the best you have ever taken.