Rovos Rail-10 Things You Need to Know Before Riding This South African Luxury Train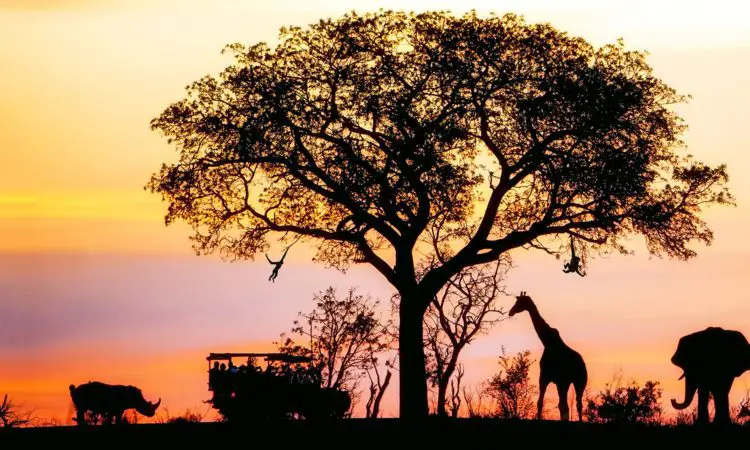 Silhouette of African safari scene with animals and vehicle
Grounded Life Travel is supported by its audience. When you purchase through links on our site, we may earn an affiliate commission.As an Amazon Associate I earn from qualifying purchases. List of everything we use in our travels.
When you think of Africa you probably think of tigers and elephants in the wild in the hot desert heat eying each other in a fight for survival. You probably also think of hot and sweaty safaris with binoculars glued to your retinas as you try to spot that hyena that is fodder for the jaguar that you have been tracking all afternoon.
This is exactly what you wanted. An adventure in Africa like no other. Tracking and spotting and quietly observing. You just didn't realize it would be so hot or so dirty!
What if there was another way? What if you could do all of this but with the opulence of a queen? Well, there is a way and it is through the Rovos Rail and their Pride of Africa Tour by train. This fabulous way to travel will show you all the spectacular, adrenaline inducing, terrifyingly beautiful country and its inhabitants but with all the rich surroundings of one of the most luxurious trains in the world.
What is the most luxurious train in Africa?
The Rovos Rail is the most luxurious train in Africa. It is a fleet of 7 diesel and electric locomotives that are part of a family owned business started by Rohan Vos in 1989. Seeking a fun way for his family to see the country, he bought a locomotive and a fleet of carriages to explore Africa. This hobby soon expanded into a booming business that has seen success ever since.
The train consists of restored Rhodesia Railways coaches that are some of the most lavish and luxurious that you will find in the world. From its teak lined interior to its elegant dining room to its astonishingly beautiful accommodations, Rovos Rail was built with ultimate luxury in mind. A bygone era of the 1920's, pays homage to when train travel was at its height and the most elegant.
Where does the Rovos Rail go?
Rovos Rail has a multitude of itineraries in which to take. It is truly one of the most epic adventures in which to ever embark. From African safaris to once in a lifetime golf tours, Rovos Rail has an excursion for you and your travel companions.
Cape Town
This three night 995 mile journey from Durban will take you through the golden grasslands and the spectacular mountain ranges to Cape Town. You will experience diamond mines, historic villages and indescribable views.
Durban Safari
This two night and 500-mile journey exposes you to the wilds of Africa through a game drive on the Nambiti Conservancy. Also explore the Zulu people and their beautiful Ardmore Ceramics. Lastly, you will travel through the Valley of a Thousand Hills into Durban.
Victoria Falls Journey
On this 870 mile 4-night trek from Pretoria, you will experience the wonder of an African national park complete with bushmen caves, rockart, dramatic granite summits and, of course, the stunning Victoria Falls.
Golf Safari
This 1300-mile 9 night journey combines the best of African adventures with your favorite sport of golf. Witness the beauty of African safaris mixed with some of the most renowned 18-hole courses in the world. Game reserves, candle making in Zululand and a Birds of Prey Rehab Center round out the trip.
Namibia Safari
A 2,100 mile and 11 night trip from Pretoria will have you swooning. You will experience national parks, game reserves. diamond mines and quaint German towns before landing in the fabulous Walvis Bay.
African Collage
Travel 2,300 miles and 11 nights from Pretoria where game drives are the driving force of this trip. Also explore caves, ostrich farms and wine country among all the dazzling cities and country vistas you will experience along the way before landing in Cape Town.
Southern Cross
The Southern Cross itinerary is a 1,550 mile and 11 nights trip from Pretoria to Victoria Falls with game viewing, national park touring, monument browsing and the wondrous Victoria Falls, itself.
African Trilogy
This two-week vacation of a lifetime won't only take you 3,100 miles across the African landscape, but will show you everything that makes the continent of Africa so special. Wildlife reserves, botanical gardens, deserts, dunes, bush dinners, cheetah conservations and national parks will dominate your time on this amazing excursion.
Dar Es Salaam
The most famous of all routes, the Dar Es Salaam will take you through South Africa, Botswana, Zimbabwe, Zambia and Tanzania. Enjoy Matjiesfontein, the diamond town, the Madikwe Game Reserve, Victoria and Chisimba Falls and the Selous Game Reserve. All this before landing in Dar es Salaam to complete your trip.
Trail of two Oceans
This transcontinental trek of over 2,600 miles and 15 nights will show you the two coasts plus the interior of this thrilling continent. Enjoy game reserves, a two night safari, and two city tours.
Copper Trail
On this two week, 2,000 mile adventure you will traverse across Zimbabwe, Zambia, the democratic Republic of Congo and Angola. You"ll experience safaris, national parks, the Copper Trail and Victoria Falls to end in a perfect vacation.
Where does the Rovos Rail begin?
Most tours if not being taken in reverse will begin at Capital Park Station in Pretoria, South Africa.
How much does the Rovos Rail cost?
Rovos Rail has a range in cost from $1,600 to $23,600, depending on what excursion you take, what time of year and which accommodation package you choose.
Is Rovos Rail all-inclusive?
Rovos Rail is all-inclusive. Transportation, all meals, excursions and entertainment are included in your fare.
What is dining like on Rovos Rail?
Crystal wine glasses and sparkling silver greet you as you dine for one of your three delicious meals that are served daily. Here you will enjoy cuisine such as ostrich filet, Cape Town Rock Lobster and Garlic Lemon Prawns. If you are on board for a two week trek you will have eventually eaten 35 meals on board, each more sumptuous than the last.
What are the accommodations like on the Rovos Rail?
You can choose from three accommodation packages on Rovos Rail. Designed with beautiful teak paneling, elegant linens and beautiful Victorian ambiance, you are sure to find one that suits you and your travel companion perfectly.
Royal Suite
Encompassing half a carriage, this is the most luxurious of all the accommodations choices. With double or twin beds, en suite bathroom with soaking tub, fully stocked refrigerator with refreshments of your choice, robes, slippers and even tea facilities, your dedicated hostess has thought of everything and is there at your every whim.
Deluxe Suite
The Deluxe Suite is absolutely lovely with the same furnishings and decor as the Royal suite. With the absence of the soaking tub, you can still enjoy an ensuite bathroom with all the amenities, a lounging area and a dedicated hostess.
Pullman Suite
The Pullman Suite is perfect for short journeys and has everything you need. The Sofa-seat converts to a comfortable bed in the evening. Before you settle in, you can freshen up in your en suite bathroom that completes the suite and its cozy setting.
What is the dress code on the Rovos Rail?
Smart casual is called for on Rovos Rail, however, due to the formality of the dining room in the evenings you may want to opt for even more formal attire with a suit and bow tie and an elegant dress to really enjoy all the aspects and ambiance of the train.
Is there wifi on the Rovos Rail?
There is no WiFi available on Rovos Rail. However, you can find WiFi at the Cape Town Lounge, Rovos Rail Station, Tau Game Lodge and Victoria Falls Hotel. If you are planning to get some work done on your vacation, you should plan to do so at these chosen stops.
Is traveling on Rovos Rail worth it?
You work very hard all year and you deserve a break. Taking a vacation on the Rovos Rail will undoubtedly be the most relaxed and unencumbered holiday you can take. With all the plans having been made for you, there's nothing left to do but purely enjoy.