Grounded Life Travel is supported by its audience. When you purchase through links on our site, we may earn an affiliate commission.As an Amazon Associate I earn from qualifying purchases.
Bimini is a new port in the Bahamas that should quickly become a favorite of cruisers for its easy access to beaches and activities. There are however a few tricks to getting the most for your money in Bimini.
Arrival at the Pier in Bimini Bahamas
Your ship will dock at the pier and you'll be able to walk right into the port. It is a flat and wide pier, with plenty of room for all passengers.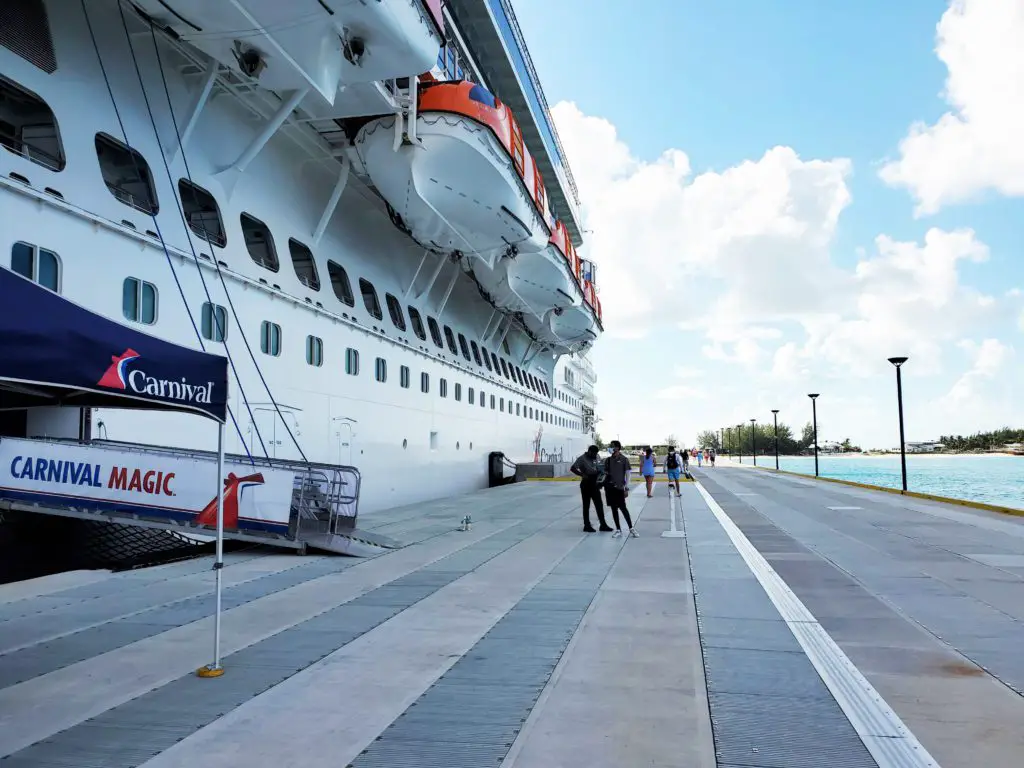 At the end of the pier you'll come to a parking lot that acts as a pickup station for the island tram, which is run by Resorts World. The tram is free and will take you to most of the Resorts World properties and activities. You should plan on riding the tram.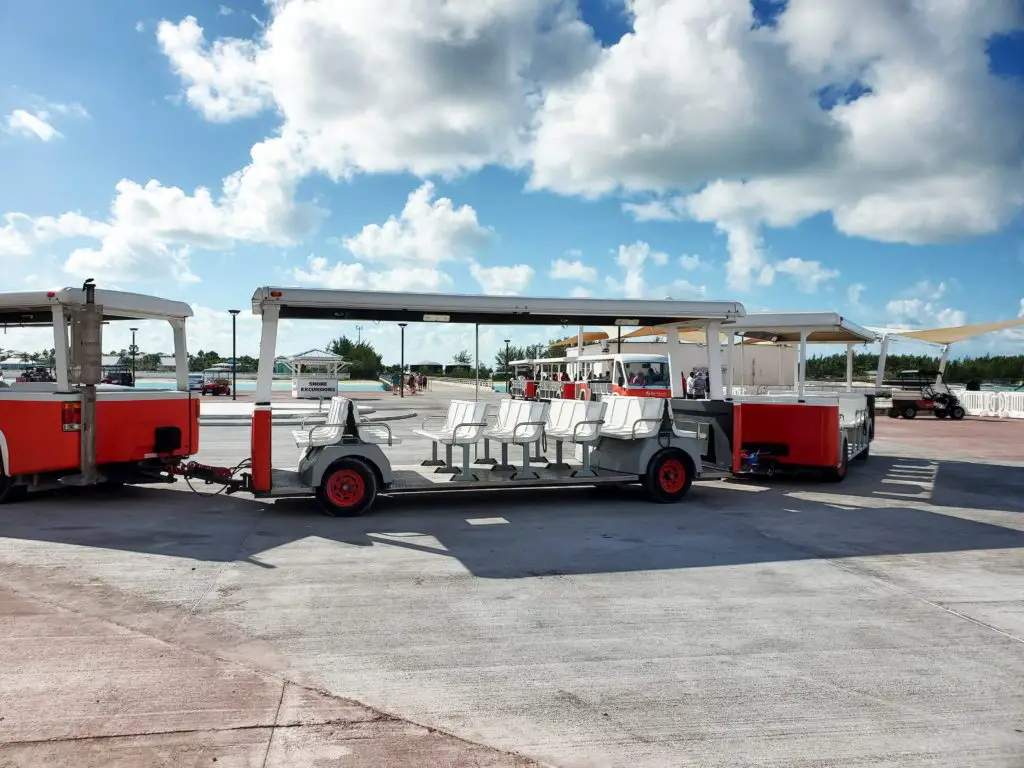 You could also walk across the bridge into town for direct access to Kayak Beach, Fisherman's Village, golf cart rentals, and taxis, but the tram also stops at Kayak Beach and Fisherman's village. Unless you really just like walking in the heat, take the tram to one of those stops if you are wanting to go there.
Many people were making that walk, likely because it looks like the tram is only for passengers on shore excursions, but we confirmed with staff that it is free for everyone.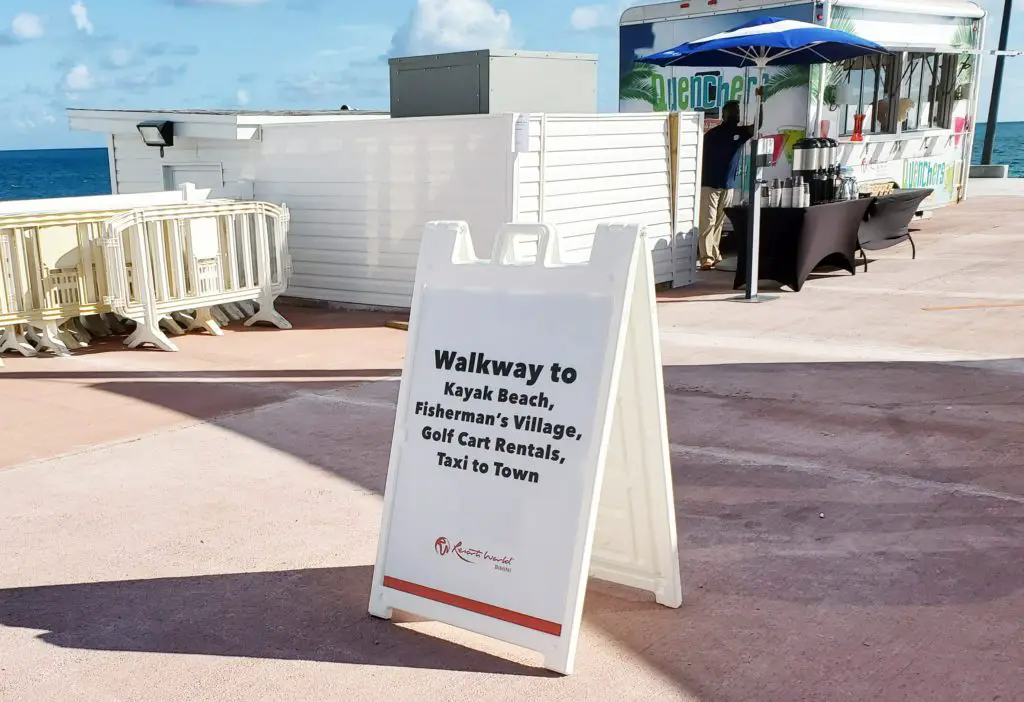 Kayak Beach Bimini
The first stop on the tram is Kayak Beach. The water here is not as good as the upcoming beaches, and there is no reason to get off here unless you just want to get to the beach as quickly as possible. You could also pick up a taxi at this stop. As noted by the lack of people in the picture, there are better beaches to come!
Fisherman's Village
The 2nd tram stop is Fisherman's Village, which is mostly shopping. If you'd like to get a few gifts from the Bimini Cruise Port, this is the place to do it.
Resorts World Bimini Beach
The third stop for the tram is Resorts World Bimini Beach. We booked a shore excursion, which is basically a day pass to the resort for $39 on our cruise ship. Included in that price was a welcome drink, but no lunch. Many people will get off at this stop as it is the same stop as Beach 360.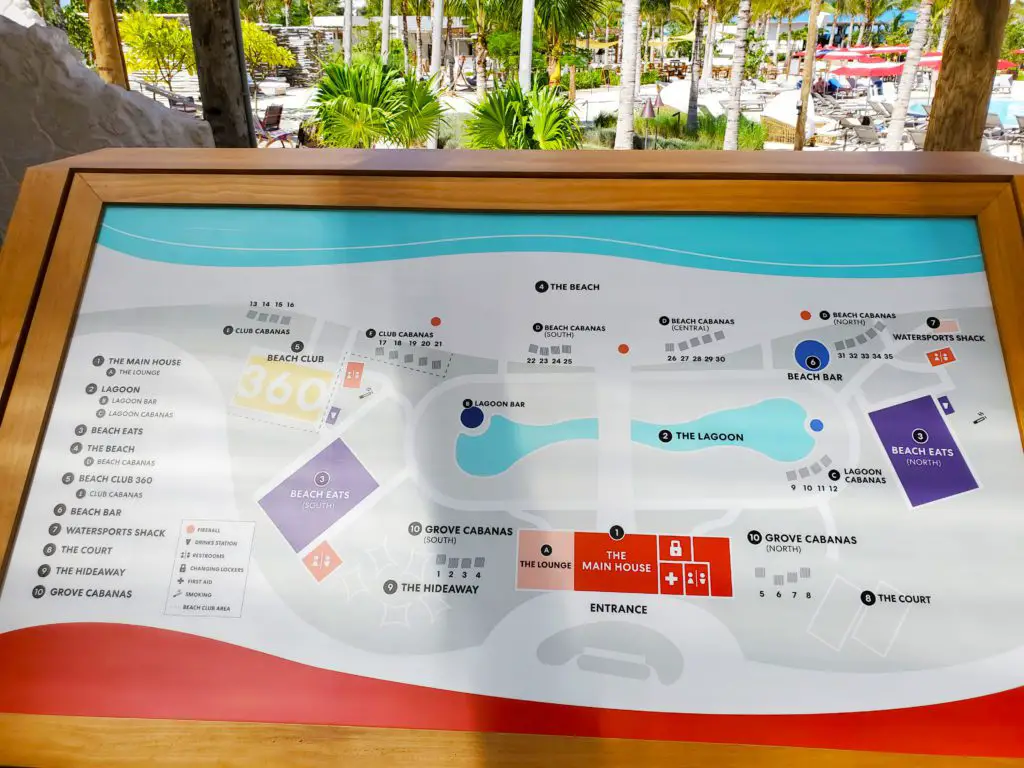 Resorts World is amazing, with crystal clear water and resort style pools, food and restrooms. It is everything you could ask for in a day at the beach. Deck chairs and umbrellas were provided by the pool at no cost and there was no trouble finding an open spot as the resort is large.
If you are looking for the best beach and want access to facilities, this is the place you should go.
There was an option on our cruise to book the resort with lunch included for an extra $25. The price seemed high and this was confirmed by looking at the menu once we got there. All meals were $15, so it was a $10 markup by the cruise ship on lunch. Skip the included lunch and just buy what you would like when you get there.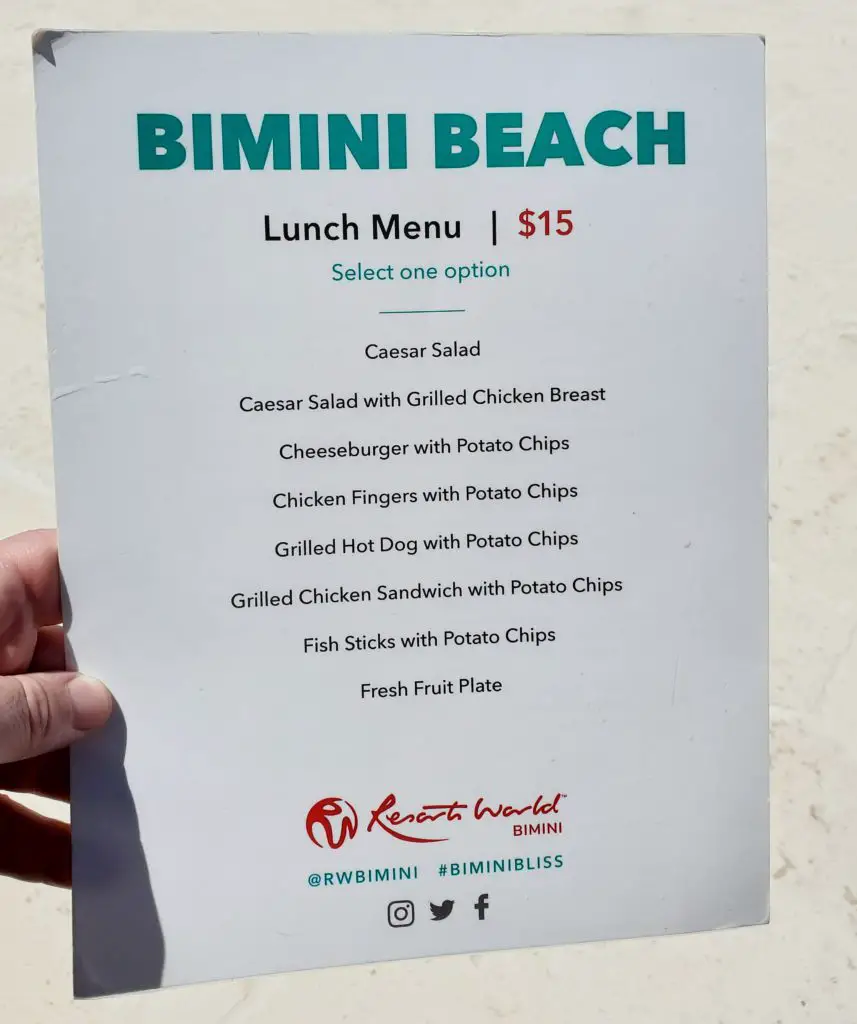 Resorts World Bimini Beach has two resort style pools, one for adults only and one for families. We found neither to be crowded and there were great places to sit all around.
Another option you might be tempted by is the pool cabana. These seemed like they were really overpriced at $399, we didn't see anyone in them the entire time we were there.
Your excursion will include a welcome drink, and you do need to pick it up on arrival, but don't get too excited about it. The voucher is not good for any drink you want at the bar.
Bimini Cruise Port Best Free Beach
The best free option is Paradise Beach, which is located directly next to the Resorts World Beach. In fact while at Resorts World Bimini Beach we walked up to Paradise Beach because it was much less crowded.
To reach Paradise Beach, get off at the stop after Resorts World. You'll have access to a free beautiful beach, and food trucks, but no resort amenities. The main downfall to this beach is there is nowhere to wash off the saltwater after going in the water, but an excursion here would be completely free.
Our cruise was offering an excursion to Paradise Beach with a snorkel for $75 per person. The beach and tram are free though, so you are basically renting a snorkel for $75!
Where you go on Bimini will come down to if you want restrooms and a resort freshwater pool, and if you are willing to pay $39 for that. If you want that, go to Resorts World Bimini Beach, if not, go to Paradise Beach for free.
Resorts World Casino
On the way back to the ship the tram will stop at Resorts World Casino (and Fisherman's Village again). Get off here if you'd like to play in a casino during your Bimini Cruise Port stop.