20 Must See Route 66 Attractions
Winslow, Arizona
Grounded Life Travel is supported by its audience. When you purchase through links on our site, we may earn an affiliate commission.As an Amazon Associate I earn from qualifying purchases. List of everything we use in our travels.
The mother road holds so many gems but here are the 20 must see Route 66 attractions you can not miss. If you are looking for the All American road trip, Route 66 is the way to go. Route 66 runs from Chicago, Illinois to Santa Monica, California covering 2,448 miles. There are so many unique places to stop and see so lets take off with this list of our favorite Route 66 attractions.
Twin Arrow Outpost
Twin Arrows outpost is one of our favorite Route 66 attractions. You can see Twin Arrows on the side of the road as you make your way from Williams, Arizona to Winslow, Arizona. You'll need to get off at the exit, then turn right and then right again on the road. The abandoned gas station is a great place to take pics, especially at night.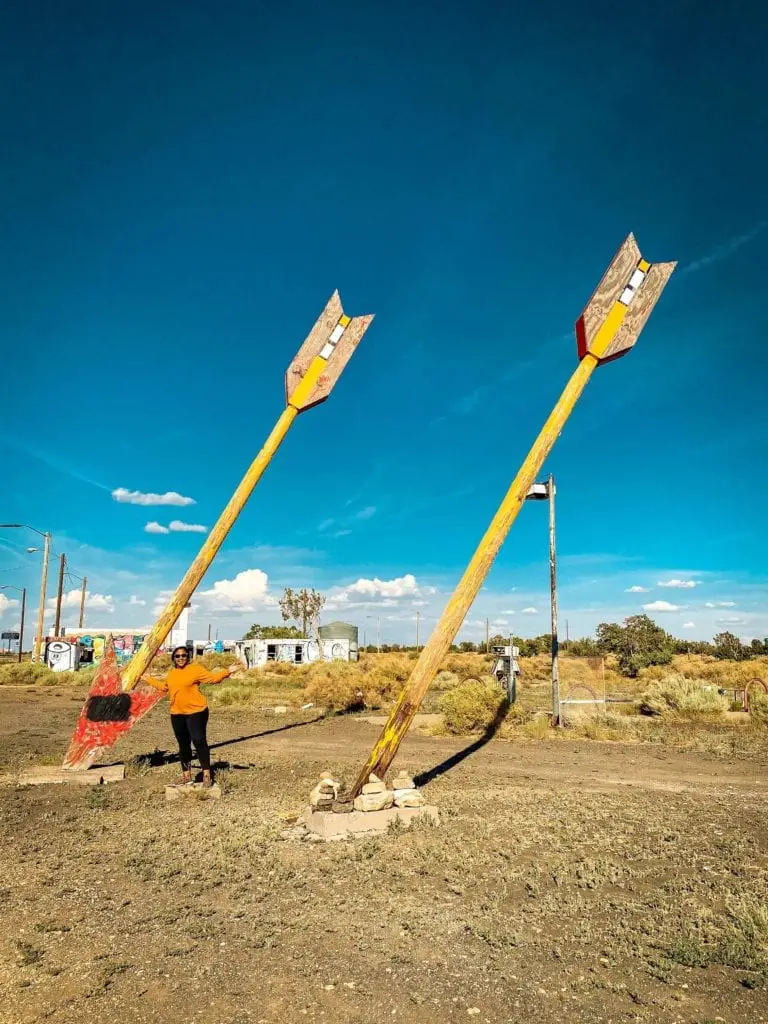 Cadillac Ranch
As you are arriving into Amarillo, Texas you will see this art installation from the road. There are no signs but you should get off at the next exit. You will easily see how to arrive. Bring your own can of spray to leave your mark on the iconic cars. This is a fun stop for any Disney Pixar Cars movie fans. This art installation was featured in the movie as Cadillac Range. Be sure to take any trash you have back out with you, don't litter at the sight. Don't leave this one off your list of Route 66 attractions to see.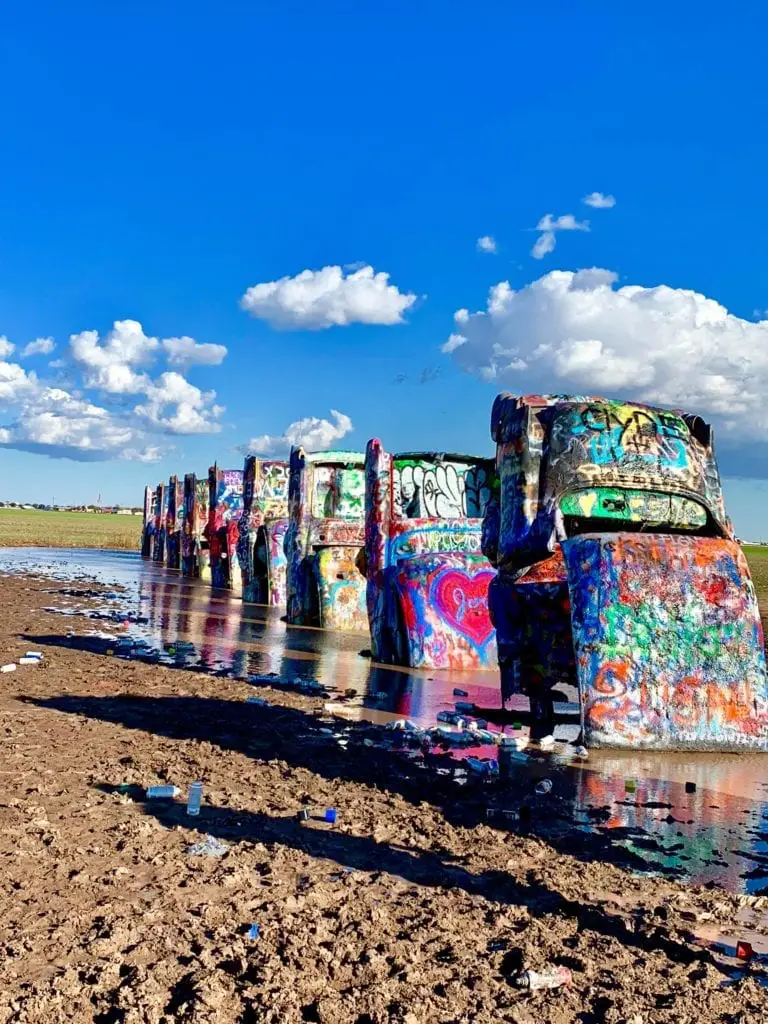 Two Guns
If you are traveling between Williams and Winslow, Arizona you will likely see this abandoned gas station and think nothing of it. During the day it may not be much to look at but wait until dark and it's a whole different story. This spot turns pitch dark and is only lit from the occasional car or truck passing on I-40. You would think this spot would be busy but we had it all tour ourselves on this night.
Williams
Williams, Arizona is known as "the gateway to the Grand Canyon" via the Grand Canyon Railway. This historic town boasts classic Americana from it's heyday as a prominent part of Route 66. You will find the Route 66 Zipline as well as Pete's Route 66 Gas Station Museum and lots of classic diners. We had a great time in this town.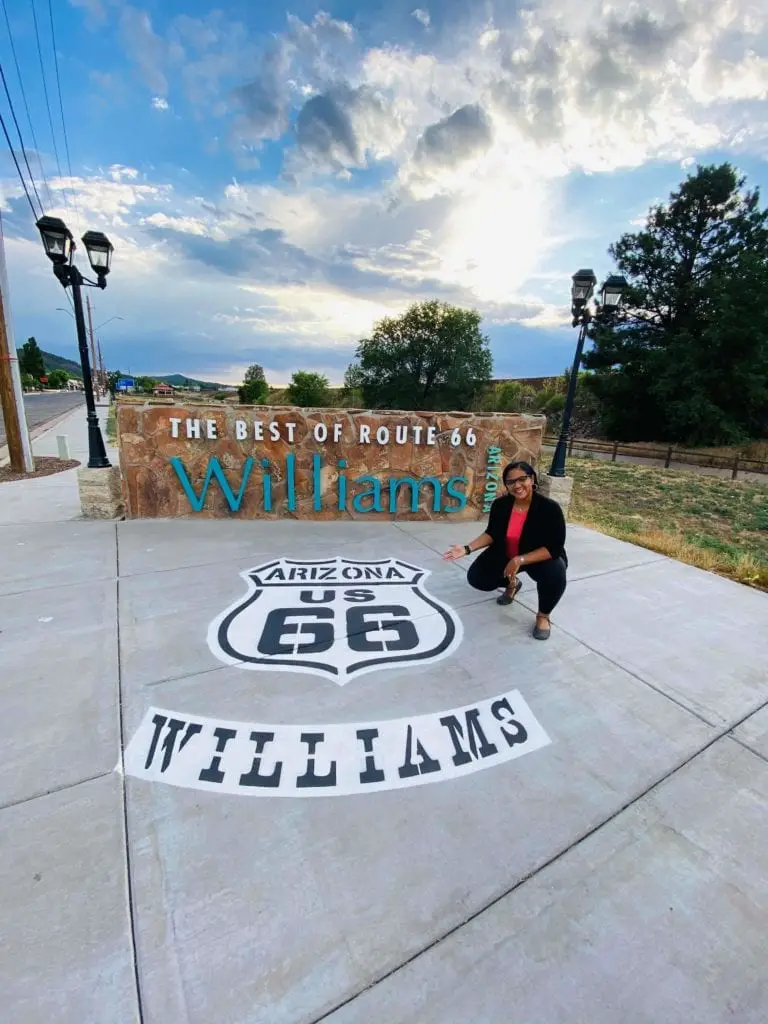 Winslow
Even if you are not an Eagles fan, you have likely heard the song, "Take It Easy". The 1972 song put the classic Route 66 town on the map. Today, Winslow, Arizona is still famous today because of this song. The Standin' On The Corner Foundation raised funds and put up this homage to the song to continue to attract visitors.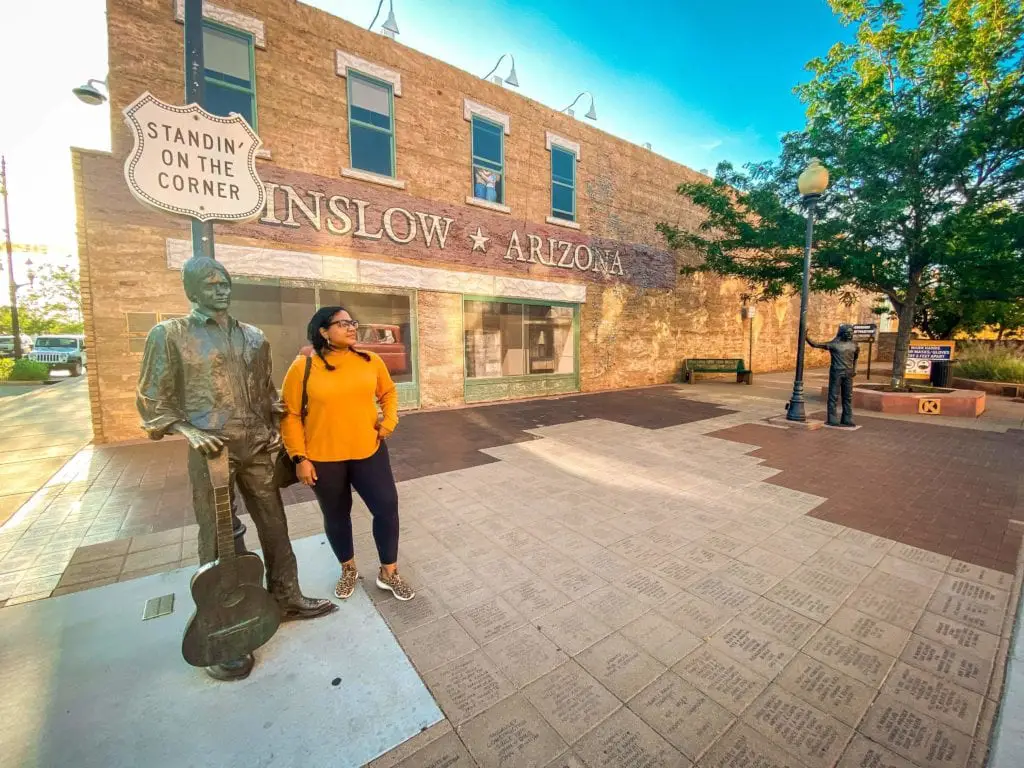 Blue Swallow Motel
If you've seen the Disney Pixar movie Cars, you've seen a semblance of this iconic Tucumcari motel. The Blue Swallow has kept the original look and feel of the popular motels of the Route 66 era. The rooms have been updated a bit but still maintain the nostalgic feel of the time.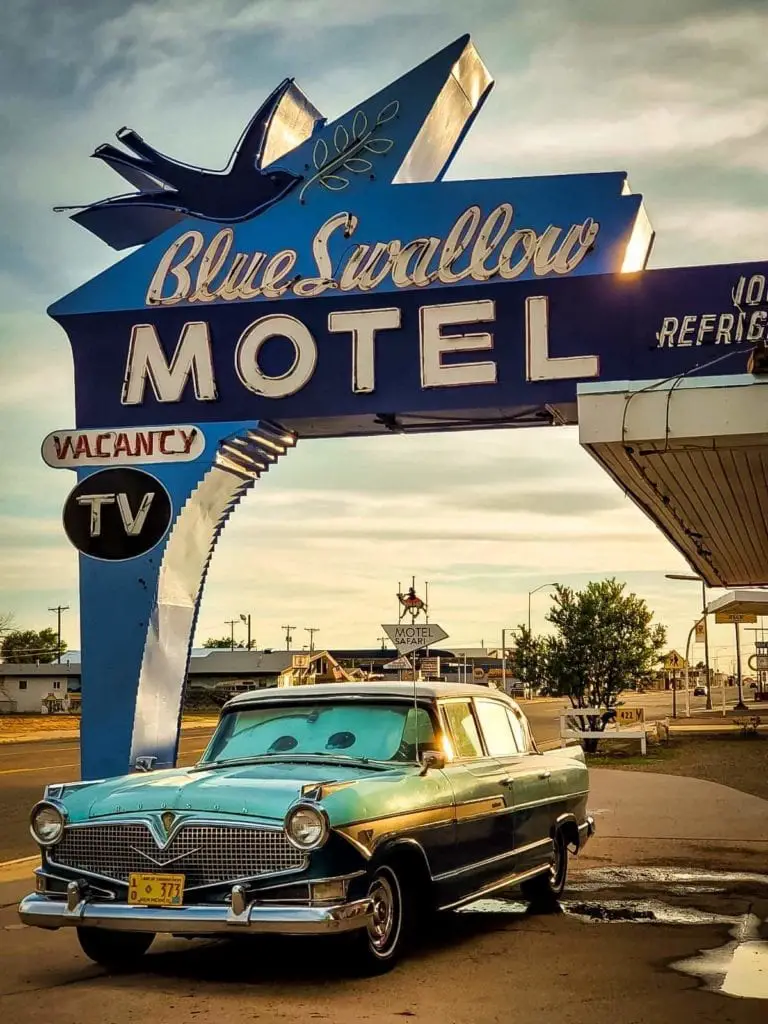 Wigwam Motel
Along I-40 you will see many signs asking "have you slept in a wigwam lately". This sign was the original advertising for the famously misnamed Wigwam Motel. There were several franchises but only three remain, this one in Holbrook, Arizona, one in Mammoth Cave, Kentucky and one in San Bernadino, California. It's a fun experience on your way to the Petrified Forest National Park.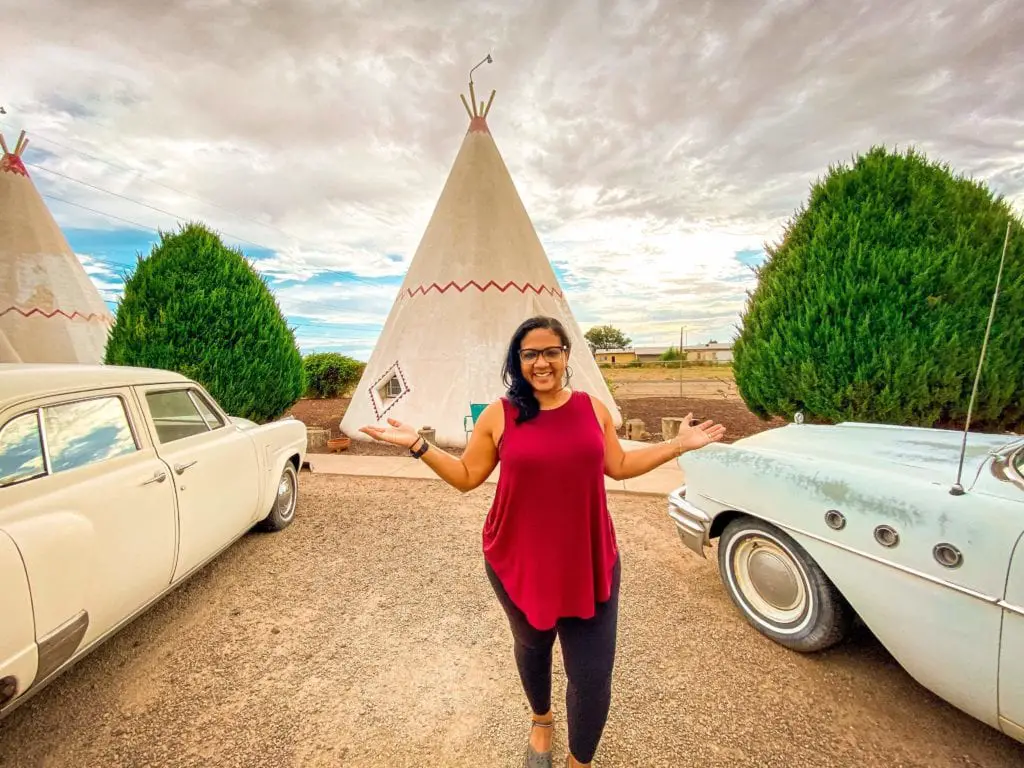 Here It Is Sign
Again, Disney Pixar movie Cars fans will recognize this sign but it has a car in the movie instead of a jackrabbit. The sign was a marketing campaign to attract visitors to the shop and restaurant at this stop on along Route 66. Today all that remains is a small shop where you can purchase Route 66 memorabilia and souvenirs.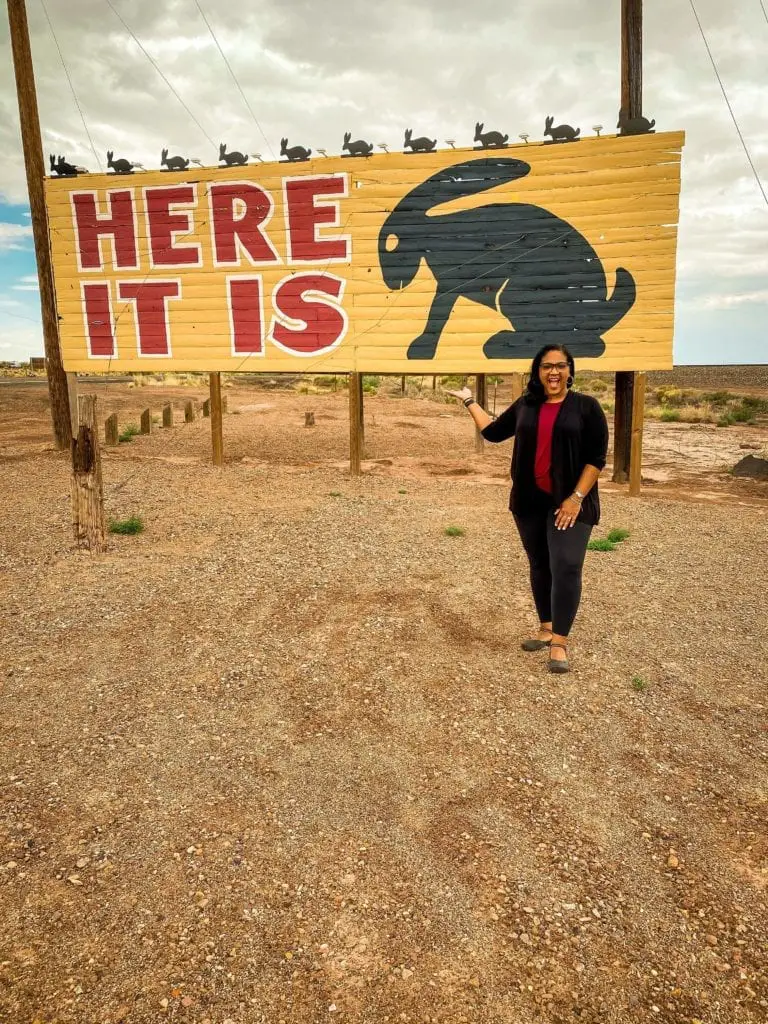 Roy's Motel
This once iconic stop along Route 66 in Amboy, California was a very welcomed rest for weary travelers. The motel, cafe, gas station and auto repair shop is now defunct. You can still purchase gas and snacks along with a few souvenirs. The entire area is under the stewardship of a private preservationist. It certainly deserves a place on our list of Route 66 attractions you must see.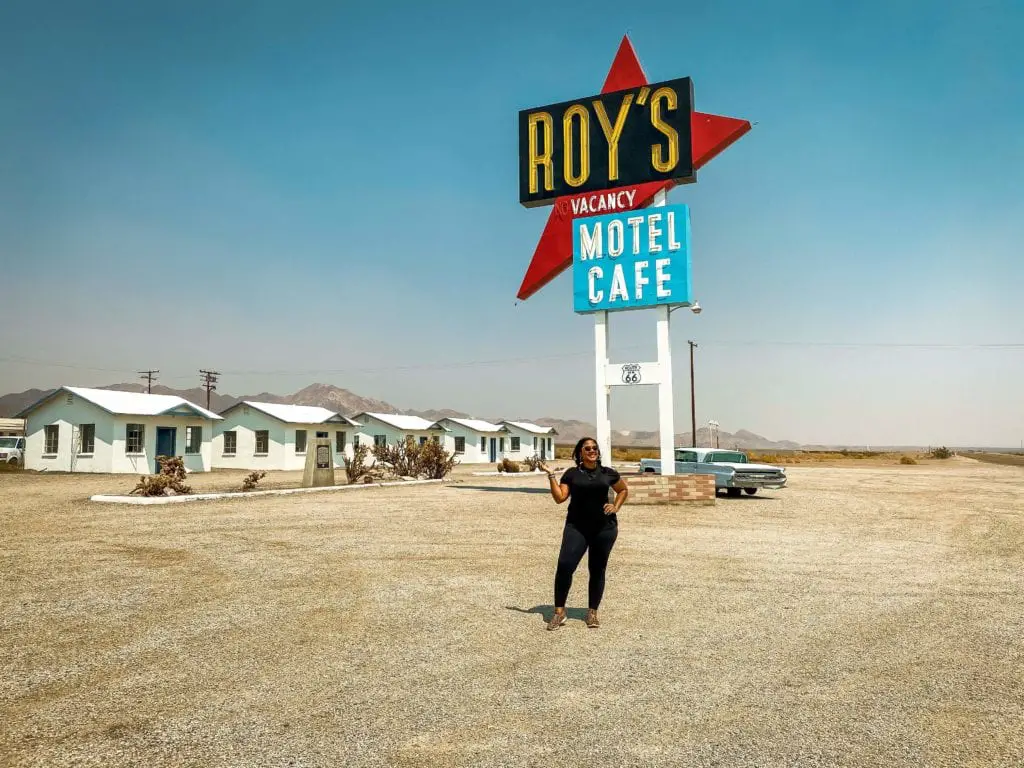 Delgadillo's Snow Cap
In the small town of Seligman you will find a fun little roadside eatery that is certain to put a smile on your face. The staff delivers corny joke after corny joke until you give in and laugh along with them. The drive in was built by Mr. Delgadillo in the 1950's. Take a walk in the garden out back to really get the feel of the Juan's sense of humor. In his research for the Disney Pixar movie Cars, John Lasseter stopped to chat with Juan and his brother about the town and what happened after I-40 was built. They are both mentioned in the credits for the movie. This is one of the most entertaining Route 66 attractions.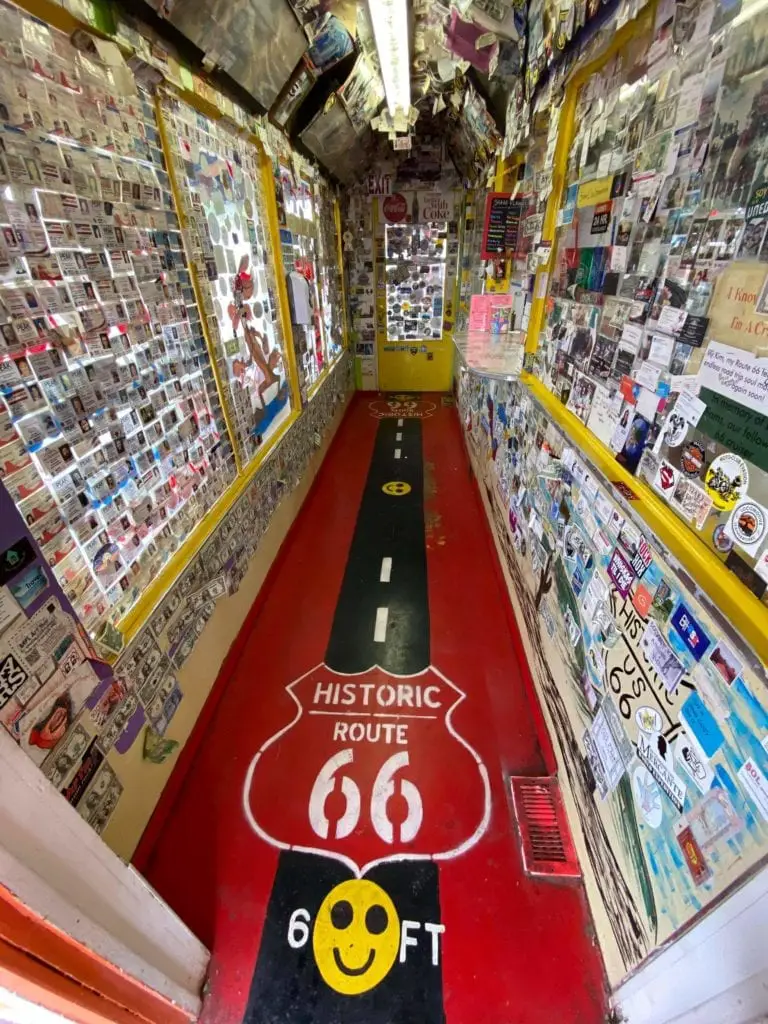 Giganticus Headicus
Giganticus Headicus is a roadside attraction just outside of Kingman, Arizona. This 14 foot tall tiki style is sculpted of metal, wood, chicken wire, styrofoam and cement. It sits outside what was once the Kozy Corner Trailer Court.It is a fun stop as there are other fun attractions here, including an original phone booth, although it's no longer functioning. Be sure to add this one to your list of Route 66 attractions to stop at.
Hackberry General Store
One of my favorite places in the Disney Pixar movie Cars is the Curio Shop and Hackberry is the inspiration for the movie version. You will not only find amazing Route 66 souvenirs and endless photo opportunities. The best attraction is to stop in the garage in the back and take a pic with the inspiration for Tow Mater. Be sure to stop inside and grab a Route 66 soda before you hit the road again. As far as Route 66 attractions go, this one is a must see.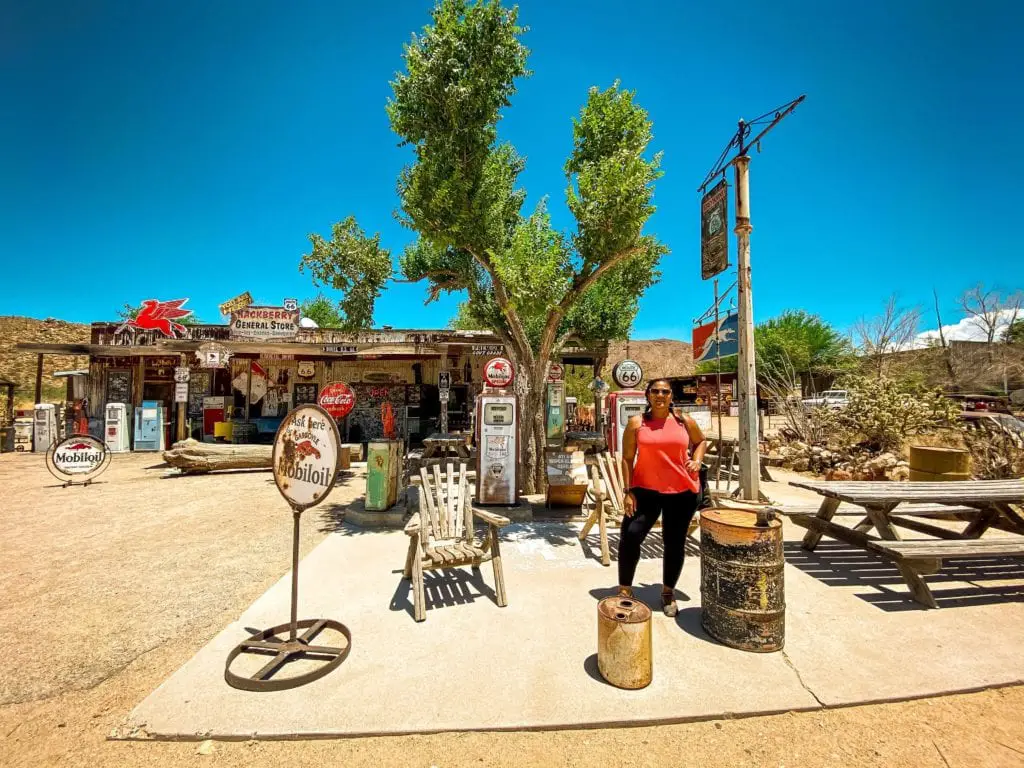 Roadkill Cafe
I was a little concerned about eating in this place after I saw this sign. But I am happy to report, roadkill is not really on the menu, although they use the word in the menu, it's just for fun. This restaurant in Seligman, Arizona was once a bustling depot. If you find yourself driving this section of Route 66, stop by and grab a bite to eat. It's a delicious addition to our Route 66 attractions you must see.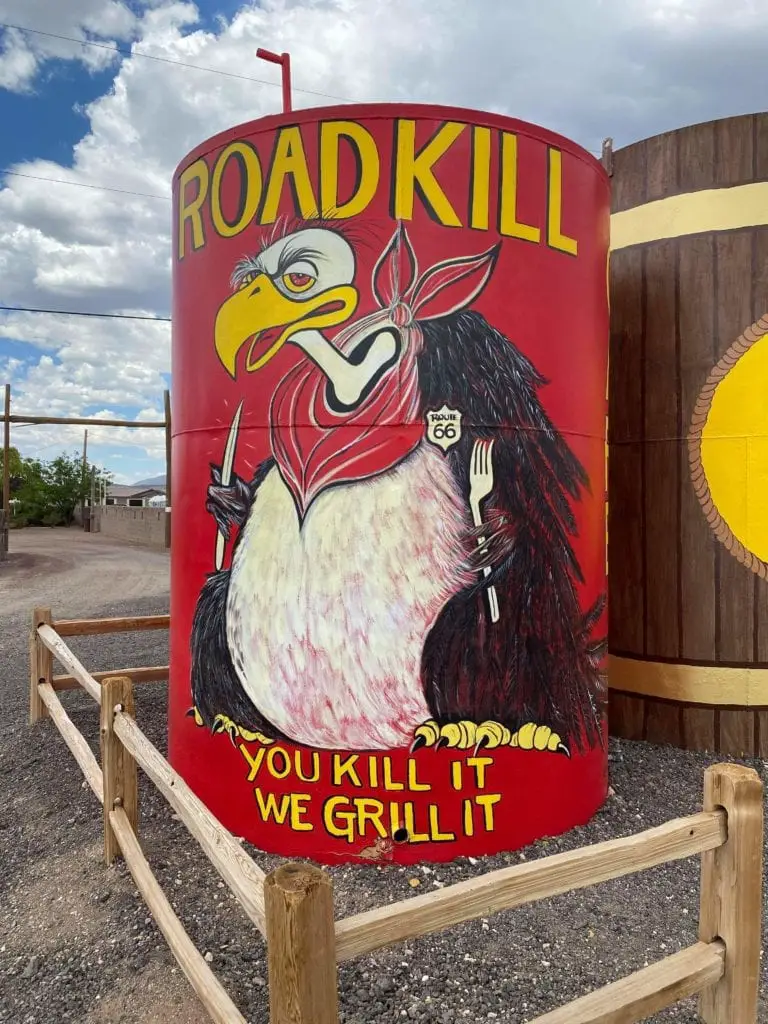 Mr. D'z
This is one of my favorite Route 66 attractions. Mr. D'z is a classic, iconic diner in Kingman, Arizona. The restaurant is busting with vintage Americana. You can get a classic Root Beer float and a burger at the counter or grab a booth with your sweetie. The gas station is gone but the cafe is still going strong. There are lots of great photo opportunities.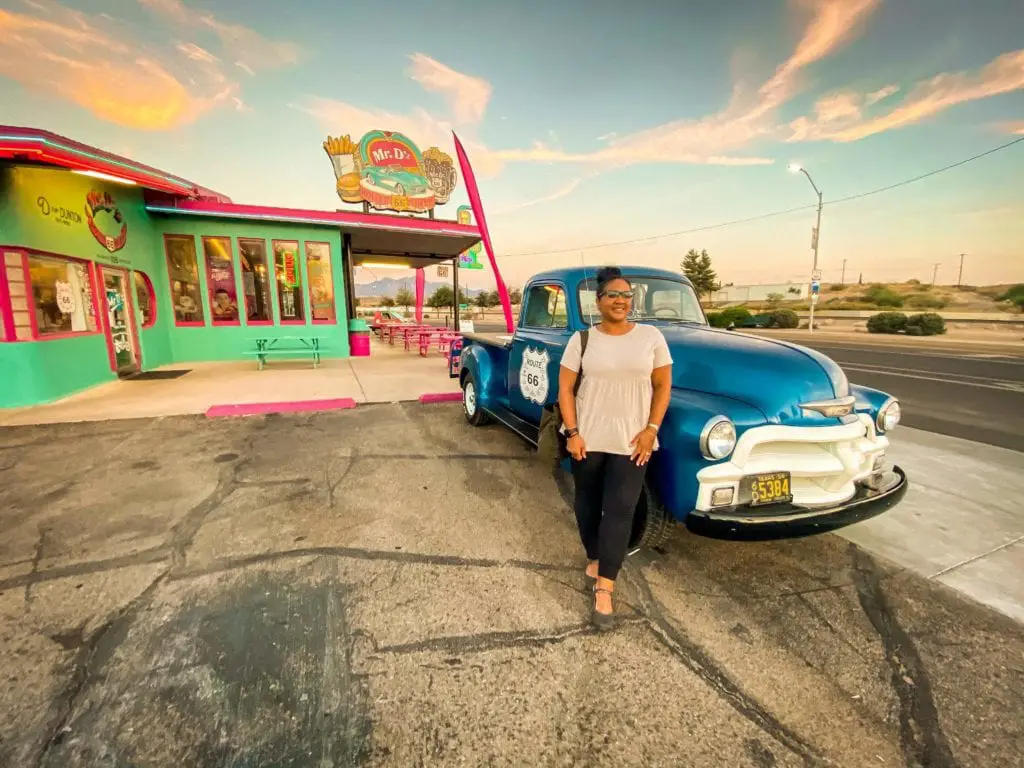 Route 66 Museum
This was a fun surprise after our visit to Mr. D'z across the street. The two floors of this museum will take you through the history of Route 66 and you end up walking through the history of the electric car. Bring cash with you as the museum does not accept credit cards for the entry fee. You will enjoy one of the fun Route 66 attractions.
Petrified Forest National Park
Petrified Forest National Park is the only national park Route 66 ran through. This marker is the last remaining evidence of where the famous road ran inside the park. Hop out and take some pics and you can even see the Route 66 replacement, I-40, in the distance.
Roadrunner Lodge
Roadrunner Lodge is one of many great motels still operating in Tucumcari, New Mexico. It made our list of top 20 Route 66 attractions because of it's nostalgic feel. We spent a couple nights in this fun lodge and we even rented a room with the famous "magic fingers" in the bed!
Motel Safari
This iconic motel has been a part of the Route 66 landscape for over 60 years in Tucumcari, NM. It has been under new ownership for several years but they have restored the motel back to the original feel with modern conveniences. Be sure to get a picture with Clyde in the lobby after you check in.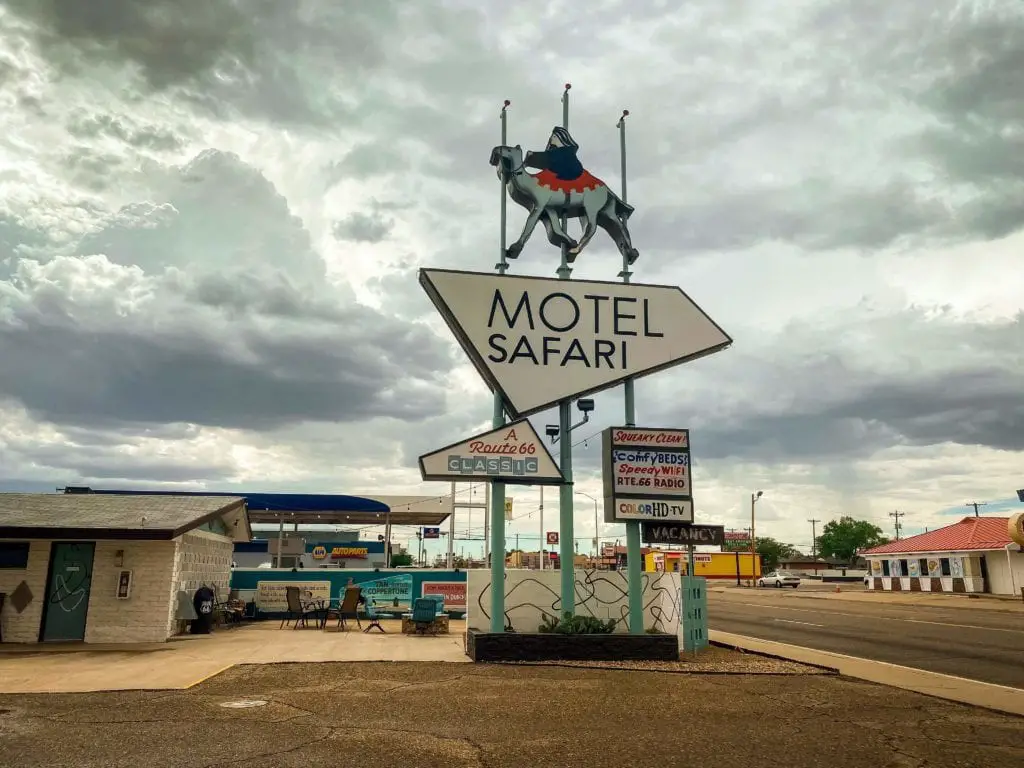 Grand Canyon Caverns
Grand Canyon Caverns is a natural wonder in Arizona but as you pull into the parking lot you get the feeling you have gone back in time. We felt like we were driving a car from the future. You pull in and all you see are antique cars. There are so many cool ones, you'll want to hop out and take some pics.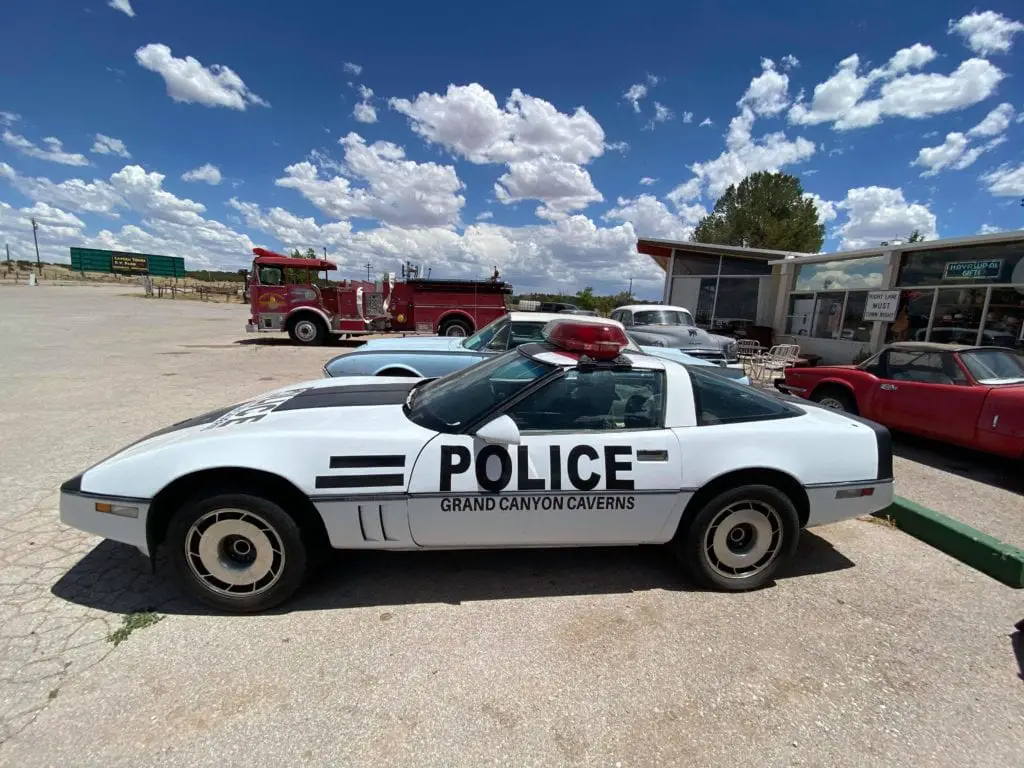 Frontier Motel
Along the longest continuous stretch of Route 66 you will come across the now defunct Frontier Motel in Truxton. Although there is not much to do here but take pics, it's a nice place to get out and take a walk back in time. This motel and cafe was once a hub and welcomed place for weary travelers along the route.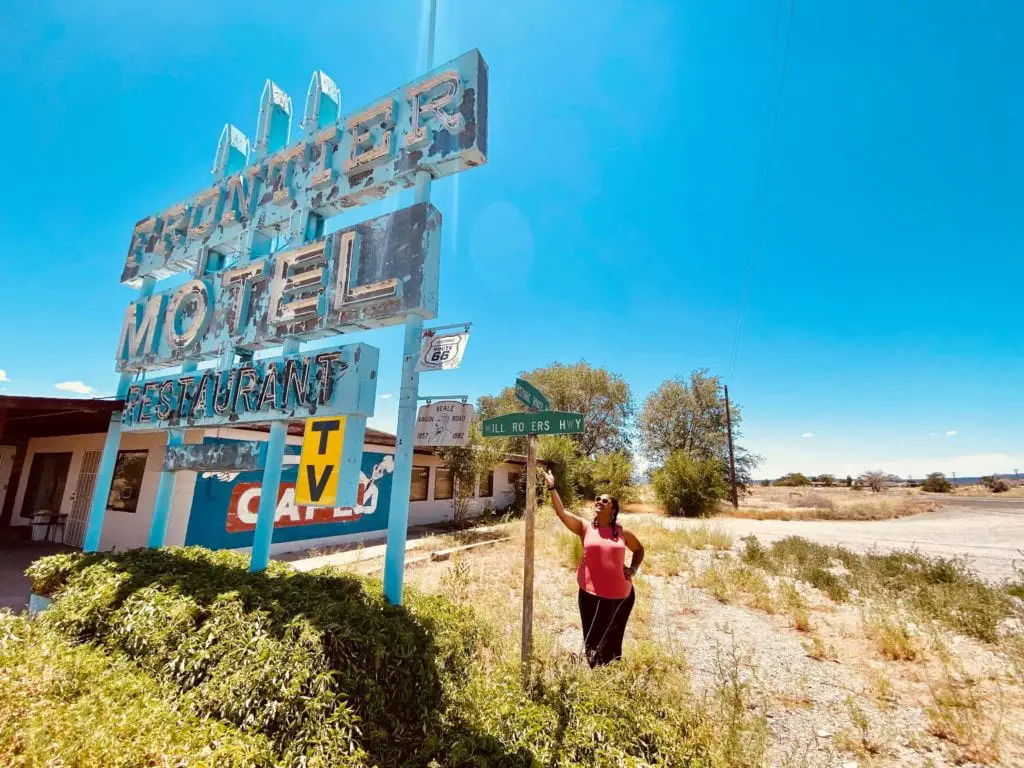 Route 66 Attractions
As you can see, there are plenty of Route 66 attractions to keep you busy for a while. These are just 20 of our favorite stops along the mother road.
Tags :
route 66