The Northern Explorer: 10 Things You Need to Know Before Riding this New Zealand Train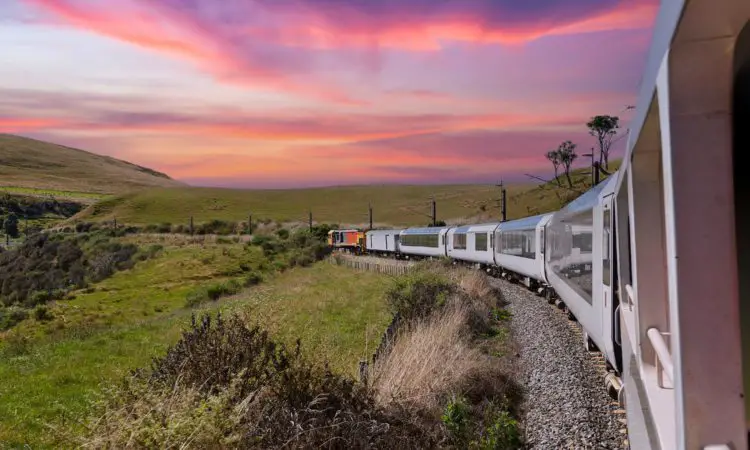 Railroad journey in the summer
Grounded Life Travel is supported by its audience. When you purchase through links on our site, we may earn an affiliate commission.As an Amazon Associate I earn from qualifying purchases. List of everything we use in our travels.
New Zealand is a magical places that has been made famous by centuries-old tales and folklore story books. It has mountains, volcanoes, riparian environments, lush rainforests and all the animal life, both wild and tamed that make this amazing place their home.
If you are lucky, you may get to take a holiday and explore this beautiful country. You can ski, lay on the beach, hop through a hobbits hole and have dinner in a world class city, all in one day. After you make your acquaintance with the urban side of this country, explore the inner sanctum and get to know what makes its heart tick.
Taking a trip by rail is the best way to do this. A journey on the Northern Explorer train can be the highlight of your trip, or an integral part in a series of rail travel that can ultimately showing you what makes this whimsical country so special.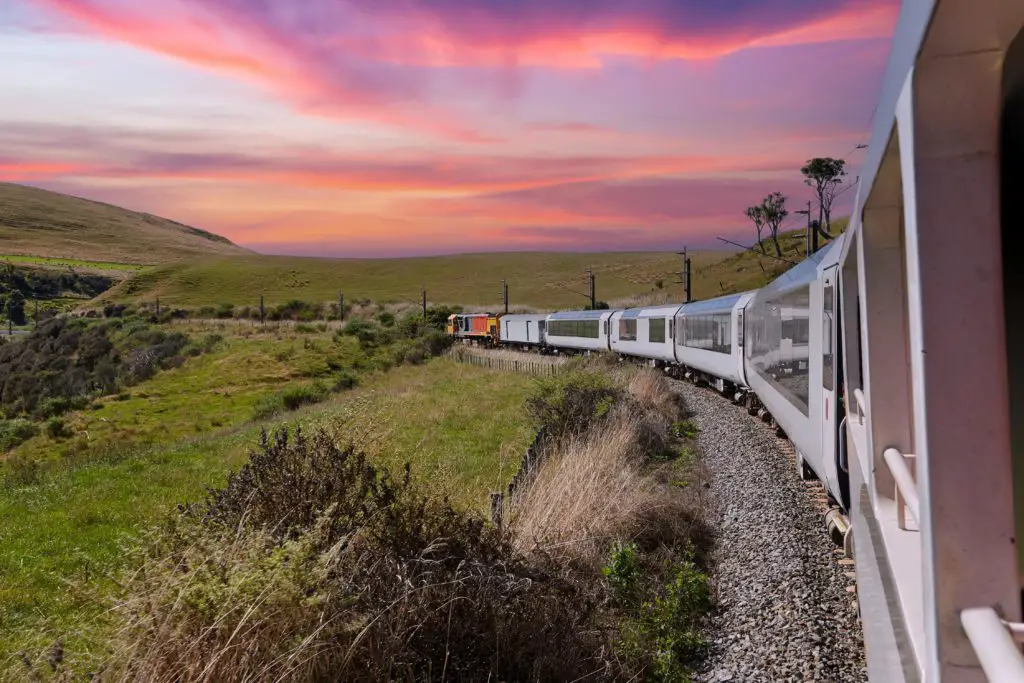 Is the Northern Explorer train still running?
The Northern Explorer train is still running and has been since 1908. The dreams of visionary Julius Vogel would finally came to fruition after thirty years of excavating, blasting, carving and building one of the most gargantuan engineering feats of its time. Today, the route between Auckland and Wellington is a means from one point to another and one of the most scenic trips you can take on the planet.
How long does the Northern Explorer train take?
Taking the Northern Explorer train is a full one-day journey that is 423 miles and will take nearly 12 hours to complete. Leave bright and early from either Auckland or Wellington and arrive just before dinner time, ready to explore a fabulous city and its surroundings.
One thing is for sure. You will be entertained, delighted and spellbound by this scenic and interesting trek from the northern part of the North Island of New Zealand to the southern portion of the island, exposing every terrain and landscape that New Zealand has to offer the modern day explorer.
Where does the Northern Explorer train go?
The Northern Explorer train winds through the landscape of the North Island and makes stops at many interesting and beautiful places along the way. After leaving the great city of Auckland, the train stops at six points along the way before reaching Wellington. Cities in which the train stops include, Hamilton, Otorohanga, Taumarunui, Tongariro National Park, Ohakune and Palmers North. You may choose to arrange an itinerary that gives you time at each stop, or simply stretch your legs and hop back on.
Does the Northern Explorer train have sleeper carriages?
The Northern Explorer does not include sleeper carriages as it is designed as a one-day excursion and overnight accommodations are not needed. Before the route for the Northern Explorer was built, the only way to get from Auckland to Wellington was with a boat and by skirting around the coast. This was a multi-day trek, taking much time and resources and was exceedingly more treacherous than taking a train that traverses the island.
Does the Northern Explorer train have a First Class?
The Northern Explorer train does not have a First Class per se. However, it does have a one-class seating concept called the Scenic Service that includes all passengers. You will want for nothing on this excursion as it is impeccably staffed and stocked. Food and beverages are outstanding and you'll be informed of the view surrounding you by the audio headphones provided during your trip.
Do you need to book in advance for the Northern Explorer train?
You need to make reservations for the seating for your party in advance as guaranteed seating is not available on the day of the trip. It is best to buy your tickets for the Northern Explorer train by phone, this way you can request a preference of where you would like to sit.
Your request is not a guarantee, but will be noted on your ticket. Seats are assigned right before departure and your request has a good chance of being granted if there aren't others wanting the same seats. If you make your reservations online, you can also call the rail line and make a request for seating and it will be noted.
How much do tickets for the Northern Explorer train cost?
The Northern Explorer train is $219.00 per ticket in the low season and $259.00 per ticket in the high season. Children's tickets are $159.00. All prices are one-way and are available all times of the year.
What scenery will you see on the Northern Explorer train?
From Auckland, you will first see a spattering of extinct volcanoes broken up by farmland and suburban scenes. After your first stop at Hamilton the landscape starts to change from farmland, and grazing animals to the great sight of Mt. Pirongia. After this scene, the topography stays lush and green as you wind through hills and valleys laden with rivers, lakes and beautiful scenery.
You will then enter a thick rainforest that includes hairpin turns, winding track and tunnels. This is called the Raurimu Spiral and is world famous for the amazing feats of engineering that took so long to build. At the top of the spiral you will enter Tongariro National Park. After this stop, get ready for crossing over huge gorges, imposing viaducts and unimaginable human made structures. This continues until you start descending and inch closer to your destination. Rich farmland and green pastures with rivers running through it dominate the views as you begin to get closer to the coast. Porirua Harbour comes into view as you enter the town of Wellington.
What is the train like on the Northern Explorer train?
Until 2012, the Northern Explorer used the old style 1930's carriages that weren't quite as comfortable. Today, You will travel in style in a modern, panoramic sightseeing carriage that makes the most of your spectacular view.
Seats are aligned in groups of two or four with some seating around a table. Remember, if you would like to request a certain seating arrangement for a group of four, you must contact KiwiRail to request your reservation preference. It is not guaranteed, but you may have a greater chance of getting the assigned seat you are desiring by this request. The legroom at your seat is more than ample and you have plenty of room for your unchecked, lightweight, carry-on luggage.
When you are not tucked away, enjoying the view from your seat, you can take a walk to the open-air carriage that is perfect for photography and getting close to the sights, sounds and feeling of nature. There is nothing like gazing out at the stunning countryside that surrounds you and feeling the rush of wind flowing passed you.
The Northern Explorer does not have the option of a four-course meal served at your seat. However, a Café Carriage is available for hot or cold meals while you ride. Beer, wine, tea and coffee, along with other beverages are also available for purchase. You can also arrange for your order to be served at your seat.
Is the Northern Explorer train worth it?
The Northern Explorer train in exceedingly worth every penny you spend and more! You will glide through every fabulous biome that is available in New Zealand, giving you a special love and appreciation for this beautiful country.